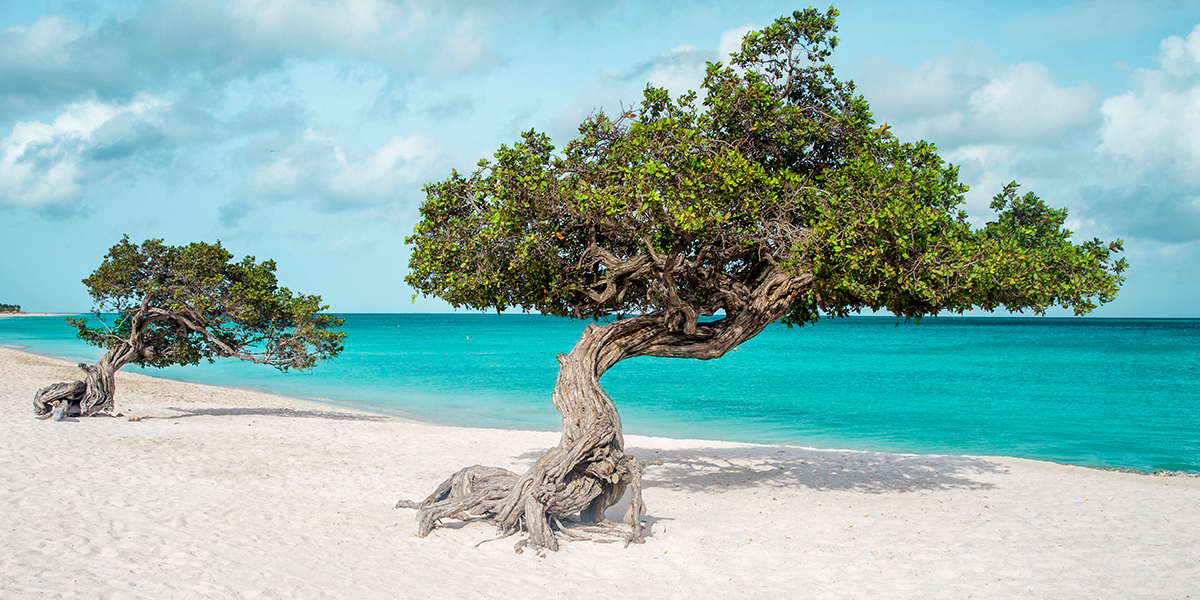 By Destination
The Ultimate Aruba Packing List
Aruba claims the most sunny days of all the Caribbean islands—reason enough, for many, to visit the Dutch-Caribbean gem lying just off the coast of Venezuela. Add in the fact that the island has some of the region's best beaches, a cosmopolitan culture (home to more than 90 nationalities), and is fortuitously located below the hurricane belt, and you quickly realize that now is as good a time as any to start planning a trip. Before you touch down, make sure you have all you need to make the most of your "One Happy Island" vacay. Here are the essentials we recommend.
THE LUGGAGE
When it comes to packing, it's all about the right bag for the right job. If you've been making do with a beat up old duffle or an ancient carry-on with a sticky wheel, you'll be amazed at how a new bag makes travel so effortless. Every smart traveler should have three key pieces of luggage: a weekender bag for quickie getaways, a carry-on suitcase for week-long trips, and a larger suitcase for longer stays or travelers that overdo it on souvenirs. (Guilty!) For a weekender, we're fans of the Away Everywhere bag. This little dynamo has separate pockets for your laptop, pens, reading materials, and phone, plus a waterproof umbrella compartment—genius when you visit a rainy destination. For a one-week trip, it's hard to beat Away's Carry-On—it changed the suitcase game with an ejectable battery for phone charging, smooth spinner wheels, and a lifetime warranty. And for any trips lasting two weeks or longer, go for the Travelpro Platinum Elite. There's a reason flight crews swear by this luggage brand. This checked bag has gliding spinner wheels, a telescoped handle, and two-inches of zippered expansion. Consider yourself packed.
THE PACKING GEAR
Every packing hurdle is made easier with this trio of travel gear. Got a hotel room or cruise ship cabin with little counter space? This hanging toiletry bag will give you elbow room at the sink plus provide dedicated pockets for all your creams, gels, and sprays. Hang it on the bathroom door or over the towel rack to keep everything upright, protected, and in place. If you have an issue with overpacking—who doesn't?—then packing cubes are a game-changer. This four-piece set will keep all your things, from underpants to electronics, organized and condensed, saving you precious suitcase space. And rather than depend on the freebie toiletries at the hotel (that harsh hotel soap will zap all the moisture from your skin), bring your own tried-and-true toiletries in these TSA-approved squeeze bottles.
THE IN-FLIGHT ESSENTIALS
Only travel amateurs get on a flight without bringing the essentials. A sleep mask not only blocks out cabin lights—it provides the privacy you need to get some Zs. The Trtl travel pillow is a travel editors' favorite for keeping your neck and head comfortable as you nod off. And Comrad compression socks' moisture-wicking technology keeps feet comfy and protects you from deep vein thrombosis. (Yikes!) Fly like a pro with these packing essentials.
ARUBA OUTFIT INSPIRATION
Forget neutral colors and all-black outfits; this is the Caribbean—home of joyful color and riotous pattern—so if you want to blend in, get with the program! Ladies should consider maxi dresses (which will take you from the beach to the nightclub with just a change of accessories); swimsuits that double as tops/bodysuits, and statement-making sunnies that transform even the simplest outfit into a showstopper. Guys will need little more than a few smart button-downs and graphic T-shirts, swimwear, shorts, and slacks for evening. But don't be shy about throwing a little pattern and/or color into the mix for a dash of island flavor.
Women's Outfits
For info on these editor-selected items, click to visit the seller's site. Things you buy may earn us a commission.
Men's Outfits
For info on these editor-selected items, click to visit the seller's site. Things you buy may earn us a commission.
THE 3 PAIRS OF SHOES YOU'LL NEED FOR EXPLORING ARUBA
Straps that dig in, flip-flops that flop off, and slides that rub: we know the folly of wearing inappropriate footwear and how it can really spoil the day. So we've found three styles for women and men that will take you pretty much everywhere you want to go on your Aruban adventure, whether that's off-roading through Arikok National Park, gambling at Palm Beach casinos, or touring the Aruba Aloe Factory & Museum.
Women's Shoes
Men's Shoes
Your suitcase packing checklist
Click items to view travel editor-approved options
WHAT NOT TO PACK FOR ARUBA
Aruba's weather calls for a warm-weather wardrobe of quick-drying, sweat-wicking, Caribbean-cool clothing, so forget the heavy sweaters and jackets and fill your bag instead with linen and cotton pieces in colors as vivid as the island itself. Ditching umbrellas, suits, and formal wear (a colorful maxi dress or a smart slacks-and-shirt combo is all you'll need for evening) leaves more room for souvenirs (Aruba aloe products, anyone?). Other items to leave at home include a travel iron or steamer, bulky beach towels and snorkel gear, as almost every resort here provides all three.
THE MOST FUN THING WTP EDITORS ALWAYS PACK FOR ARUBA
Despite what your Instagram feed may have you believe, flamingoes aren't actually native to Aruba; they're brought in to Renaissance Aruba Resort & Casino's private Flamingo Beach, on Renaissance Island, for photo ops. Even if your beach isn't graced with these famous pink waders, these inflatable drink holders are a welcome addition to any Aruba beach or pool outing. Use it to stay hydrated with Aruban tap water—some of the cleanest, safest drinking water on the planet. And OK, yes, it's also good for transporting rummy Aruba Aribas from the bar to the sand. Whatever beach it's on and whatever liquid it holds, these playfully kitsch cup holders make for Aruba selfie gold.
ARUBA'S WEATHER AND SEASONS
With temps that average in the low 80s year round, constant cooling breezes, minimal rainfall (only about 15 inches in an entire year), and low humidity, Aruba's weather is the kind some other Caribbean countries wish they had! In the daytime, dress for heat in shorts, sleeveless tops, and sweat-wicking fabrics. Ladies may want to pack a wrap for aggressively air-conditioned restaurants and breezy evenings. Guys, follow the gals' lead in shorts and short-sleeved button-downs, which you can swap for dress shirts and slacks at dinnertime. And everyone should include pops of color in their vacay wardrobe—it's the Aruban way!
Note: This data comes from our friends at Weather.com. We recommend using this together with a traditional forecast as you get closer to your departure date.
JANUARY
Plan for day temps between 76 and 85
What to Wear in Aruba in January: It's probably brisk at home but its positively balmy in this part of the world. Dress accordingly in airy clothing!
FEBRUARY
Plan for day temps between 76 and 85
What to Wear in Aruba in February: Taking a Valentine's Day vacay? Pack this pink- and red-hued swimsuit ranging from sizes 2-24.
MARCH
Plan for day temps between 77 and 86
What to Wear in Aruba in March: Spring has sprung but it already feels like summer here, so keep your cool in sweat-wicking, quick-drying, beach-worthy gear.
APRIL
Plan for day temps between 78 and 87
What to Wear in Aruba in April: On average, Aruba only gets a half-inch of rain this month, so prep for dry days with sun-blocking necessities.
MAY
Plan for day temps between 79 and 88
What to Wear in Aruba in May: Although it's warm, Aruba may also start to get a little breezier this month. Ward off the Caribbean "chill" in these long-sleeved pieces.
JUNE
Plan for day temps between 80 and 89
What to Wear in Aruba in June: This time of year, there's no denying: It's hot! So keep your cool by the pool (and beach) in some stylish swimwear.
JULY
Plan for day temps between 79 and 88
What to Wear in Aruba in July: It's sweltering and sunny during the day, so don't forget your sunglasses.
AUGUST
Plan for day temps between 80 and 89
What to Wear in Aruba in August: It's the height of summer. Cover all of your bases (and every inch of your body) with UV-thwarting sunscreen, cover-ups, and accessories—rashguards, SPF, wide-brim hats, the works.
SEPTEMBER
Plan for day temps between 80 and 89
What to Wear in Aruba in September: Temps may be cooling at home, but here in Aruba, it's an endless summer. Stock up on these warm-weather staples before fall fashions hit the racks.
OCTOBER
Plan for day temps between 80 and 89
What to Wear in Aruba in October: Rainy season starts now and persists until mid-January. Expect short showers rather than day-long deluges, and stay dry and comfortable in these pieces.
NOVEMBER
Plan for day temps between 79 and 87
What to Wear in Aruba in November: While everyone else is bundling up back home, you'll be stripping down and showing some skin.
DECEMBER
Plan for day temps between 77 and 85
What to Wear in Aruba in December: The festive season is nigh, so dress like it in party pieces that will definitely get you noticed.
FREQUENTLY ASKED QUESTIONS ABOUT ARUBA

What are the top three beaches in Aruba that I can't miss?
The calm and clear shallows of the southern strand at Baby Beach are ideal for families with small children. Two-mile-long Palm Beach, bordered by Aruba's high-rise resorts, is a coastal hub, with restaurants, casinos, and shops just steps away. Flamingo Beach, on an island that's part of Renaissance Aruba Resort & Casino (free for guests and open to walk-ins for a fee), is a must for Instagram-worthy selfies with the photogenic flock of long-legged birds.
What currency is accepted in Aruba?
The official currency is the Aruban Florin, but U.S. dollars are widely accepted.
What's the best way to get around Aruba?
Explore the island's 70 square miles in a rental car or fixed-rate (non-metered) taxi; both are safe and plentiful. Other options include the public bus service—Arubus—and bicycle and scooter rentals.
Is Aruba safe? Are there any travel advisories?
The island has a reputation as one of the safest in the Caribbean, and the U.S. government hasn't issued any special advisories for travel to the island at this time. Visitors from certain Central American and Latin American countries may be required to have the vaccination for yellow fever; go to airportaruba.com for more info.
What is the Aruba "sin" tax?
Intended to discourage consumption of alcohol and tobacco products, this tax was established in 2019 and applies to wine, alcoholic spirits, and cigarettes and cigars, which are now taxed at increased rates.
1. WHAT TO WEAR ON THE BEACH IN ARUBA
No doubt, hitting the beach will be top of your to-do list, whether you're wading in the crystal-clear shallows at Baby Beach, basking on the island's widest strip at Eagle Beach, or strolling Palm Beach's family-friendly two-mile-long shore.
2. WHAT TO WEAR EXPLORING NATURE IN ARUBA
Though it's just 70 square miles, Aruba offers so much more than sun, sea, and sand. Visitors can explore the cacti-studded desert terrain of 8,000-acre Arikok National Park, where the volcanic-rock-ringed Natural Pool (also known as Conchi) is a remote but refreshing spot to cool off. Easier to reach is California Lighthouse, the highest vantage point on the island, where panoramic views over the northeast coast are the reward for climbing more than 100 steps. Swing by at sunset for the best photos. When visiting either of these attractions, build your outfit around closed-toe shoes (essential if you plan to ride a horse, bicycle, or ATV) and headwear (that desert dust gets everywhere) and you'll be good to go.
3. WHAT TO WEAR ON THE WATER (SNORKELING, SAILING) IN ARUBA
Beyond just basking on the beach, there are plenty of ways to enjoy the warm turquoise waters that have made Aruba famous. Snorkeling is tops at sites such as Arashi Beach and Catalina Cove, kite- and wind-surfers harness the trade winds at Malmok Beach, and you can even pilot your own transparent kayak at Boca Catalina. And there's always catamaran sailings to add to your itinerary. Just be sure to wear clothing that's comfortable, quick-drying, and offers SPF protection.
4. WHAT TO WEAR HORSEBACK RIDING IN ARUBA
Saddling up? Yeehaw! Aruba has horseback adventures for every rider, from novice to expert. At The Gold Mine Ranch, for example, equine adventures include rides along beaches, through ruins of a gold mill, and to Hidden Valley and Hidden Lagoon. Just know that most tour operators require riders to wear long pants and closed-toe shoes, and that you'll need a hands-free bag for your phone, camera, water bottle, and any other essentials.
5. WHAT TO WEAR DINING OUT IN ARUBA
You gotta eat, right?! And you'll have plenty of options here, from The Flying Fishbone in Savaneta and Barefoot Restaurant in Oranjestad, where you dine with your toes in the sand, to vegan fare at Nourish Cafe and international cuisine at Papiamento, named for the island's indigenous language and set in an elegant 19th-century mansion. But wherever you choose, dress appropriately. Here, that means with respect for island norms (no bare feet or flip-flops, unless you're on the sand) and never in anything overly formal. Find the sweet spot between casual, cool, and colorful—typified by these two outfits—and you'll be golden.
Related Stories