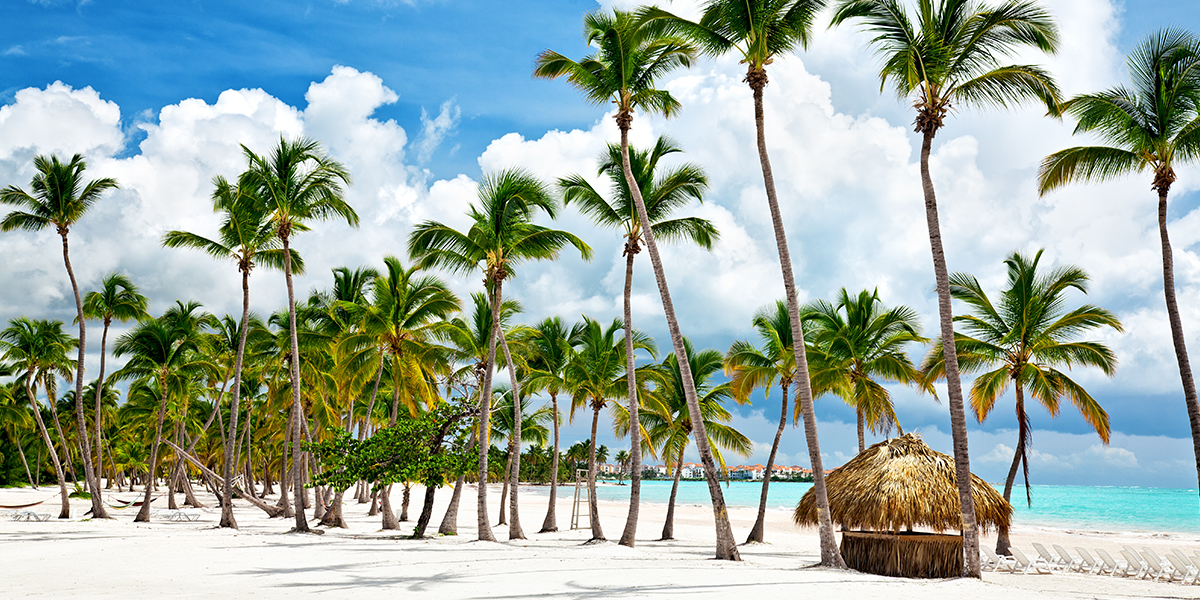 By Destination
The Ultimate Punta Cana Packing List
Craving miles of pristine white sand bordered by turquoise waters and leaning coconut palms? Punta Cana, the Dominican Republic's most famous resort town, will deliver. A vacay here typically means relaxing at one of the many all-inclusives, sunning yourself on 30 miles of blissful beaches, and getting your heart racing on action adventures (hot air ballooning at sunrise, anyone?). Flights from the U.S. are typically plentiful—this is, after all, the most popular Caribbean destination for North Americans. But before you board, make sure you've got all the right stuff for your week of sun, sand, snorkeling, and ceviche. Here's everything we recommend: packing lists, shoe suggestions, perfect outfits, and more.
Your suitcase packing checklist
Click items to view travel editor-approved options
THE PERFECT LUGGAGE
When it comes to luggage, size really does matter. Too small and you may have to sit on your case to get it closed (or risk leaving things behind). Too big and, depending on the airline, you may be forced to check it, or you'll be tempted to fill it to the brim and end up paying hefty overweight charges. For a long weekend in Punta Cana, you can't go wrong with Paravel's Main Line Duffle, a handsome and understated coated canvas weekender with a lockable zipper and leather accents. We're also fans of Arlo Sye's zipper-less carry-on, which looks sleek and packs plenty of handy features like a removable portable charger, smooth and silent wheels, and shoe and laundry bags. If you're there for longer, first of all—lucky you! Consider Dakine's roomy wheeled duffel, which opens like a book to reveal separate top and bottom compartments so you can pack with ease. Mesh dividers help you keep stuff organized, and the bag folds flat for easy storage once you return home.
THE 3 PAIRS OF SHOES YOU'LL NEED FOR EXPLORING PUNTA CANA
Guy or gal, you'll need three essential pieces of footwear to take you from the breakfast buffet to Bavaro Beach to the pool bar for sunset drinks. We've tracked down day-to-night sandals, water shoes that are stylish enough for beyond-the-waves wear, and sporty sneakers that work whether you're running tropical trails or simply posing under your palapa.
Women's Shoes
Men's Shoes
WHAT NOT TO PACK FOR PUNTA CANA
You've come for the sun and, trust us, you won't leave disappointed. Punta Cana's year-round balmy temps and warm breezes mean that you can leave all your heavyweight outerwear and boots at home, making space for clothing made from light, quick-drying, sweat-wicking fabrics. Brief tropical showers (we like to think of them as "liquid sunshine") could call for an umbrella or waterproof jacket, but we prefer to interpret rain as a sign to linger over one more frosty Coco Loco. Other items to leave at home: A travel iron (wrinkled linen is a look, we swear!) and bulky beach towels and snorkel gear (every resort has both). Precious jewelry is easily lost and can make you a potential mark for pickpockets. So we leave the good stuff at home and always stash our wedding rings in the in-room safe.
THE *ONE THING* WTP EDITORS ALWAYS PACK FOR PUNTA CANA
If you're going to Punta Cana, you're probably staying at an all-inclusive resort. (Case in point: of the nearly 100 Punta Cana hotels reviewed on Oyster, our sister site, a whopping 75 of them offer all-inclusive rates.) This means your hotel room, food, drinks, and some activities/entertainment are all paid for in advance. Nevertheless, you're still going to want a little cash on hand for tipping resort staff—the porter or bell person who brings your luggage to the room, the driver of the courtesy shuttle, and the bartender at the end of a big night of margaritas and Mama Juana (a local favorite made from rum, red wine, and honey). This darling little wristlet is perfect for stashing away a few dollars—plus your room key and iPhone for safekeeping. —WTP Editors
STYLE FOR PUNTA CANA

You're in the Caribbean, one of the most colorful and dynamic regions in the world. So dress like it! Now's the time to ditch your head-to-toe black ensembles and understated neutral separates in favor of vivid hues and simple shapes, throwing in as many body-con silhouettes as you feel comfortable with. Men can get by with lightweight slacks for night and khaki shorts by day, but should feel free to pair them with colorful button-downs and T-shirts (and go wild with patterned swim shorts). Ladies, this is your time to shine! Florals, stripes, neon and all the pom-poms and tassels are appropriate. Maxi dresses will take you from the beach to the club, and standout sunnies will elevate even the simplest T-shirt-and-shorts combo.
WOMEN'S STREET STYLE
Punta Cana Style for Women
MEN'S STREET STYLE
FIVE FOOLPROOF OUTFITS FOR YOUR TRIP TO PUNTA CANA
1. What to wear to go sightseeing in Punta Cana
We don't blame you for wanting to spend every moment on the beach, but Punta Cana has so many sights beyond the sand. So book at least one excursion, perhaps to the historic capital of Santo Domingo or the surreal reproduction of a Mediterranean village at Altos de Chavon. Then plan your outfit around comfy walking shoes and shorts like these, and you'll be good to go.
Women's Outfit for Sightseeing in Punta Cana
Men's Outfit for Sightseeing in Punta Cana
2. What to wear to the beach
Let's face it: the beach is likely the number one reason you're in Punta Cana. And when you first set sight on the sands at Cap Cana, you'll know you made the right choice. Anchored by colorful swimwear and fun flip-flops, this seaside ensemble will have you ready to soak up the sun—and admiring stares.
Women's Beach Outfit for Punta Cana
Men's Beach Outfit for Punta Cana
3. What to wear for dinner and dancing in Punta Cana
If you're planning to hit the clubs in Punta Cana, better hit 'em hard! These sequin-y outfits (that dress, that jacket!) guarantee you'll dazzle on the dance floor at CoCo Bongo or Oro. Your only competition will be the disco ball.
Women's Dinner/Dancing Outfit for Punta Cana
Men's Dinner/Dancing Outfit for Punta Cana
PUNTA CANA'S WEATHER AND SEASONS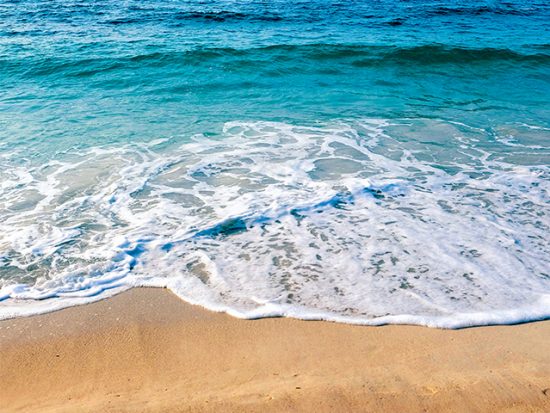 Punta Cana's tropical temperatures average between the mid-80s to the mid-90s during the summer months, and cool by about 10 degrees in the winter. This means that regardless of the season, you can expect warm weather and should pack accordingly. There's more rain May through October, but we're not talking all-day deluges here. Instead, expect afternoon showers, which may be heavy but are very short. Our advice: When you're not in your swimwear, dress as the locals do, in lightweight dresses and T-shirts and button-downs with shorts or khakis. For evenings, bring a light jacket or wrap. It'll come in handy for aggressively air-conditioned restaurants and the (rare) cool night alfresco.
Note: This data comes from our friends at Weather.com. We recommend using this together with a traditional forecast as you get closer to your departure date.
JANUARY
Plan for day temps between 71.4 and 81.9 temps
Expect 2.6 inches of precipitation in January
What to Wear in Punta Cana in January: Punta Cana's "winter" still means summertime wear, but pack a light jacket, long sleeves, or a wrap, just in case.
Recommendations: Maxidress, kimono, anorak
FEBRUARY
Plan for day temps between 71.2 and 81.7 temps
Expect 2.1 inches of precipitation in February
What to Wear in Punta Cana in February: Sexy reds are a weather-appropriate way to celebrate Valentine's Day the Dominican Republic way.
Recommendations: Minidress, sunglasses, beach cover-up
MARCH
Plan for day temps between 71.6 and 82.6 temps
Expect 2.1 inches of precipitation in March
What to Wear in Punta Cana in March: It's officially spring but it already feels like summer here, so choose pieces that offer coverage while still keeping you cool on the beach, by the pool, or on one of Punta Cana's 10 golf courses.
Recommendations: Men's UPF shirt, baseball cap, cotton-blend shorts
APRIL
Plan for day temps between 72.5 and 83.7 temps
Expect 2.7 inches of precipitation in April
What to Wear in Punta Cana in April: This just might be the perfect month to visit. Temps are balmy and the rainy season is at least a month away, so bust out all your lightweight cover-ups.
Recommendations: Beach pants, Birkenstock sandals, cotton shirt
MAY
Plan for day temps between 73.8 and 85.3 temps
Expect 4.9 inches of precipitation in May
What to Wear in Punta Cana in May: With May comes the start of the rainy season. Sail through those short afternoon showers with gear that's rain-ready but still colorful and Caribbean-appropriate.
Recommendations: Lightweight unisex raincoat, men's waterproof slides, rain boots
JUNE
Plan for day temps between 75.4 and 86.5 temps
Expect 4.1 inches of precipitation in June
What to Wear in Punta Cana in June: Yes, it is hot in heeeerre! But you'll still look cool if you stick to styles in sweat-wicking fabrics.
Recommendations: Cropped jumpsuit, flip flops, brimmed hat
JULY
Plan for day temps between 76.3 and 86.9 temps
Expect 3.1 inches of precipitation in July
What to Wear in Punta Cana in July: Sweltering mid-summer days turn into sultry (OK, sweaty!) nights, so pack evening wear that's cool in every sense of the word.
Recommendations: Linen shorts, tie-dye swimsuit, maxidress
AUGUST
Plan for day temps between 76.6 and 87.3 temps
Expect 4.1 inches of precipitation in August
What to Wear in Punta Cana in August: There's no escaping the Dominican sun this month, so give your UV-protection game your all.
Recommendations: UV aviators, men's UPF 40 shirt, SPF 100 sunscreen
SEPTEMBER
Plan for day temps between 75.9 and 87.6 temps
Expect 4 inches of precipitation in September
What to Wear in Punta Cana in September: It may be cooling down in your hometown, but you'll still be feeling the heat as you lounge on Bavaro Beach or by your resort pool. A stylish cover-up will help protect against fierce midday rays.
Recommendations: Men's rashguard, women's rashguard, men's board shorts
OCTOBER
Plan for day temps between 74.5 and 86.9 temps
Expect 6 inches of precipitation in October
What to Wear in Punta Cana in October: This is likely Punta Cana's wettest month but rain doesn't have to put a damper (ahem!) on your vacay. Pack a lightweight slicker and you're good to go.
Recommendations: Rainbow raincoat, men's waterproof flip-flops, women's water-resistant flip-flops
NOVEMBER
Plan for day temps between 73.8 and 84.9 temps
Expect 4.6 inches of precipitation in November
What to Wear in Punta Cana in November: Temperatures are finally dropping but it's always shorts weather here. So whether you're rocking Daisy dukes, cargo shorts or something in between, let's see those knees!
Recommendations: Men's slim shorts, cover-up maxidress, straw visor
DECEMBER
Plan for day temps between 72.1 and 82.6 temps
Expect 3.1 inches of precipitation in December
What to Wear in Punta Cana in December: Celebrate the festive season—and your good fortune to be at the beach in the middle of winter!—with party wear that's appropriately merry and bright.
Recommendations: High-low dress, floppy hat, swim trunks
FREQUENTLY ASKED QUESTIONS ABOUT PACKING FOR PUNTA CANA

What is the official language of Punta Cana? Can I get by with English?
Spanish is the official language of the Dominican Republic. You'll find, however, that many people in tourist hubs such as Punta Can also speak English. Still, it's only polite to learn a few Spanish words and basic expressions to communicate with your hosts. Hola, por favor, como esta? and con permiso go a long way!
Do you have to pay to use the beaches in Punta Cana?
All the beaches in the Punta Cana area are public. Of course you won't have to pay to access the beach at your resort, and certainly not at outside beaches. But at swanky beach clubs and restaurants, access may be restricted to members and guests or you may have to dine to use the facilities.
Are there nude beaches in Punta Cana?
Some resorts may have swimsuit-optional sections of their beach, but there are no official nude beaches in Punta Cana, and topless and nude bathing is frowned upon. In most cases, if you're on a beach or at a pool beyond your resort (and particularly if there are children around), keep your swimwear on!
Is the ocean sandy or rocky? Do I need water shoes?
You'll certainly appreciate water shoes for wet activities such as excursions to waterfalls or afternoons at your resort's water park (yes, several Punta Cana resorts, such as Grand Bahia Principe Punta Cana, have their own!) But aqua socks definitely aren't required on Punta Cana's beaches, where powdery white and golden sand stretches for miles.
Can I drink the tap water in Punta Cana?
Most large Punta Cana resorts serve bottled or filtered water (at no charge), and provide bottled water in bathrooms for teeth brushing. Our recommendation: Stick to bottled water and always wash unpeeled fruit to avoid any stomach troubles.
Related Stories
All products have been hand-picked by our writers and editors. Items purchased through links may earn us a commission.