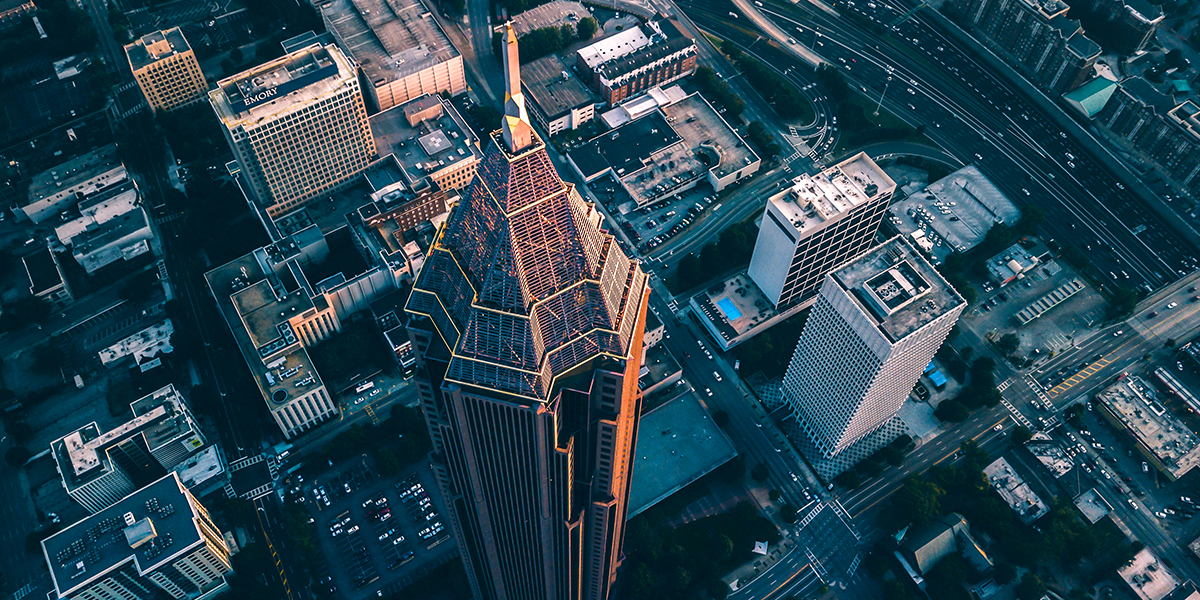 By Destination
The Ultimate Atlanta Packing List
Mention Atlanta and people immediately think of peaches, heat, and—thanks to Donald Glover—lemon pepper wings from J.R. Crickets (ordered "wet," if you're in the know). But there's much more than that. In fact, "Hotlanta," its most popular nickname, pays tribute to all the fun stuff you can do in the city—from picnicking in Piedmont Park to sampling pineapple and melon Fanta at the World of Coca-Cola museum and cooling down with frosés at the Hotel Clermont's rooftop bar. Oh, and if you're worried about traveling with children, don't be. ATL is home to the Georgia Aquarium and Zoo Atlanta, where the kid-friendly activities include family yoga. Read on for our expert tips on experiencing Atlanta like a local, and how to make sure you have everything you need while you're there.
YOUR SUITCASE PACKING CHECKLIST
*Keep these items in your carry-on
Clothes to Pack
Underwear
Bras/camis/undershirts
Socks/tights
PJs
T-shirts
Pull-on/button-up shirts
Shorts/skirts
Sweaters/sweatshirts
Swimsuit
Shoes to Pack
Heels/dress shoes
Sandals/flip-flops
Sneakers
Boots
Accessories to Pack
Purse
Windproof umbrella
Hats/scarves/gloves
Jewelry*
Belts
Ties
Fold-down tote
Toiletries to Pack
Toothbrush/toothpaste/dental floss
Body wash/soap
Deodorant
Face wash/makeup remover
Moisturizer
Contact lenses/solution
Razor/shaving cream
Shampoo/conditioner
Dry shampoo
Brush/comb
Nail clippers/file
Tweezers
Earplugs/eye mask*
Tissues*
Hair-dryer/styling tools
Hair elastics/hair accessories
Tampons/pads*
Birth control/condoms*
Hand sanitizer*
Bandages
First-aid ointment
Medications/vitamins*
Tech to Pack
Phone/charger*
Portable battery charger
Laptop/tablet/e-reader*
Device chargers*
Power adapter (international travel)
Camera/video camera*
Memory card/film*
Other Essentials to Pack
Wallet (credit/debit cards/ID/cash)*
Passport/visa*
Keys*
Medical insurance card*
Snacks/gum*
Books/magazines/guidebook*
Laundry bag
Stain remover
Mini lint roller
Helpful Printouts to Pack
Emergency contacts*
Boarding pass/hotel and car rental reservations*
Maps/directions*
Bank/credit card contact info*
Copies of passport (if coming from outside the U.S.)/ID*
ADD/SUBTRACT THESE ITEMS FOR LONGER/SHORTER TRIPS TO ATLANTA
Long Weekend
Underwear: 5 pairs
Bras/camis/undershirts: 5
Socks: 3 pairs
T-shirts: 4
Jeans/pants: 2 pairs
Two-Week Trip
Underwear: 9 pairs (more if you won't have laundry access)
Bras/camis/undershirts: 9
Socks: 6 pairs
T-shirts: 10
Jeans/pants: 4 pairs
THE PERFECT LUGGAGE
If you're hitting ATL for a long weekend, then we suggest L.L Bean's Signature Leather Duffle, a compact bag with canvas lining for added protection. Heading south for a week? Go with something a little larger such as Eastpak's Tranverz S carry-on. The travel case is super-lightweight and water-resistant, and features compression straps to ensure you can fit in every last souvenir. For trips that are two weeks or longer, we recommend a larger option, like Samsonite's sleek and scratch-proof Silhouette 16 garment suitcase, whose horizontal design allows you to hang clothing on one side.
THE 3 PAIRS OF SHOES YOU'LL NEED FOR EXPLORING ATLANTA
We're not gonna lie: to get around Atlanta is to get around by car. That's not to say there aren't plenty of hiking trails and bike paths to enjoy on foot—just plan on getting from point to point in a vehicle. The plus side of all that sprawl is that Atlanta is a place where you can have a little fun with your footwear. For the days spent kayaking the Chattahoochee River or exploring Centennial Olympic Park, aim for something comfortable and cushioning. If you're planning on checking out some of the museums and restaurants in Inman Park, go with a stylish shoe that you can comfortably walk in. Round out your shoe wardrobe with a dressy option to wear at one of Atlanta's nightlife spots. Below, our faves for each category.
Women's Shoes
Men's Shoes
WHAT NOT TO PACK FOR ATLANTA
Any Atlanta native will tell you that while it can get cold during the winter, for the most part the weather is pretty temperate all year round. That being said, this is one trip where you can feel free to leave your shearling-lined parkas and snow boots at home. Another important note to remember is that you'll be in a big metropolis. So while you can choose to pack your own bug spray, bandages, and first aid kit, you don't need to. A 24-hour CVS, Walgreens, or other drugstore will never be too far. Save that suitcase space for local goodies such as peanut brittle from Miss Ds New Orleans Pralines and Popcorn or a candle Atlanta-based beauty brand Little Barn Apothecary.
THE *ONE THING* WTP EDITORS ALWAYS PACK FOR ATLANTA
Atlanta is the sort of place where, should you forget your swimsuit, you'll find yourself dashing to Target to pick up a cheapie on day one. We say, avoid the in-a-pinch purchase by bringing solid swimwear that you actually love. Even if you're visiting outside of prime pool season, there are year-round swimming pools at most Atlanta hotels—from the luxurious Four Seasons in Midtown to the budget Country Inn & Suites by the Atlanta Braves ballpark. Even the historic Atlanta landmark, The Georgian Terrace Hotel, housed in a handsome 1911 Beaux-Arts building, has a rooftop pool with stunning panoramic city views to enjoy when the weather is nice. —WTP Editors
$99.70 (for the set) at Shopbop
ATLANTA'S WEATHER AND SEASONS

The nickname Hotlanta takes on new meaning when it comes to weather in Atlanta. The good news is that you are pretty much guaranteed to get some sort of sun every month of the year—even in November or December. The bad news is that with the sun comes heat, humidity, and heavy rainfall at random. Typically when it rains, it's short and intense. For this reason, locals typically stash an umbrella or raincoat somewhere in their car. Summer months mean high temperatures that barely seem to cool after the sun sets. Even winter can see some unusually daytime high temps, though we still a warm coat or jacket for the chilly evenings. Scroll on for a breakdown of what to pack for every month of the year.
JANUARY
Plan for day temps between 37° F and 46° F
Temps will drop near 22° F at night and into the early mornings
Expect 22 inches of precipitation in January
What to Wear in Atlanta in January: This is typically the coldest month of the year—bundle up with a warm coat and accessories.
Recommendations: Women's shearling jacket, women's Chelsea boots, cozy socks
FEBRUARY
Plan for day temps between 46° F and 54° F
Temps will drop near 34° F at night and into the early mornings
Expect 17 inches of precipitation in February
What to Wear in Atlanta in February: Things are still on the cooler side in February. Plan for added warmth with a cozy hat and gloves.
Recommendations: Wool beanie, tech-friendly gloves, scarf
MARCH
Plan for day temps between 44° F and 54° F
Temps will drop near 30° F at night and into the early mornings
Expect 19 inches of precipitation in March
What to Wear in Atlanta in March: Temperatures start to rise this month. Pack for sunny days and cooler nights.
Recommendations: Women's trench coat, cat-eye sunglasses, tennis shoes
APRIL
Plan for day temps between 49° F and 60° F
Temps will drop near 36° F at night and into the early mornings
Expect 23 inches of precipitation in April
What to Wear in Atlanta in April: The upward temps continue in April, though with a higher chance of precipitation. Make sure you're rain-ready with a compact umbrella and a jacket that repels wind and rain.
Recommendations: Travel umbrella, packable raincoat, anti-frizz hair sheets
MAY
Plan for day temps between 66° F and 75° F
Temps will drop near 54° F at night and into the early mornings
Expect 15 inches of precipitation in May
What to Wear in Atlanta in May: This is the beginning of peak travel season! Prepare for fun in the sun.
Recommendations: Men's linen short-sleeve shirt, polarized aviators, men's sneakers
JUNE
Plan for day temps between 70° F and 80° F
Temps will drop near 63° F at night and into the early mornings
Expect 14 inches of precipitation in June
What to Wear in Atlanta in June: Temperatures can hit the mid-eighties in June. Make sure your suitcase is full of easy-fitting tees, shorts, and dresses—and your dopp kit contains high-SPF sunscreen.
Recommendations: Mineral sunscreen, women's culottes, waist-tie sundress.
JULY
Plan for day temps between 72° F and 81° F
Temps will drop near 68° F at night and into the early mornings
Expect 29 inches of precipitation in July
What to Wear in Atlanta in July: It's a scorcher. Prepare for the hottest month of the year with cotton clothing and open-toe shoes.
Recommendations: Men's tee, polarized Wayfarers, men's slide sandals
AUGUST
Plan for day temps between 71° F and 80° F
Temps will drop near 64° F at night and into the early mornings
Expect 28 inches of precipitation in August
What to Wear in Atlanta in August: As the heat wave continues, opt for outfits that are low on time but high on style.
Recommendations: Chambray jumpsuit, round sunglasses, rose gold cross-strap sandals
SEPTEMBER
Plan for day temps between 72° F and 81° F
Temps will drop near 69° F at night and into the early mornings
Expect 2 inches of precipitation in September
What to Wear in Atlanta in September: Atlanta's summer is still full throttle throughout September. Keep clingy clothes at bay and stick to cottons and linens.
Recommendations: Men's cotton tee, men's linen pants, men's sandals
OCTOBER
Plan for day temps between 58° F and 68° F
Temps will drop near 43° F at night and into the early mornings
Expect 22 inches of precipitation in October
What to Wear in Atlanta in October: October's the time to start sprinkling in layerable pieces, like open-front dusters for ladies and bomber jackets for men.
Recommendations: Duster kimono, short-sleeve blouse, skinny jeans
NOVEMBER
Plan for day temps between 42° F and 51° F
Temps will drop near 27° F at night and into the early mornings
Expect 26 inches of precipitation in November
What to Wear in Atlanta in November: Rain and cold are both likely this month. Make sure to have a chunky knit and umbrella on hand.
Recommendations: Travel umbrella, women's raincoat, women's chunky cardigan
DECEMBER
Plan for day temps between 42° F and 49° F
Temps will drop near 28° F at night and into the early mornings
Expect 41 inches of precipitation in December
What to Wear in Atlanta in December: It's officially cold(ish) again. You'll need warm odds and ends—a hat, gloves—but not your heaviest gear.
Recommendations: Men's lightweight puffer, tech-friendly gloves, men's duck boots
STYLE FOR ATLANTA

There's no single look that defines Atlanta; the city's many neighborhoods have a distinct aesthetic to call their own. If you're hanging out in Buckhead, you'll notice clothing skews preppy, complete with designer labels and matching handbags. Then there's the Old Fourth Ward, where you can experience some of the city's historic sites alongside its emerging street art scene. When dressing for OFW, we opt for outfits that are bright and bold, with vintage flair sprinkled in. At the end of the day, though, all that matters is that you own whatever look you decide to rock.
WOMEN'S STREET STYLE
Atlanta Street Style for Women
MEN'S STREET STYLE
Atlanta Street Style for Men
FIVE FOOLPROOF OUTFITS FOR YOUR TRIP TO ATLANTA
1. What to wear to see sports in Atlanta (the Atlanta Falcons, Atlanta Hawks, or Atlanta Braves)
If you're cheering on the Atlanta Falcons (football), Hawks (basketball), or Braves (baseball), then you're going to want to keep things easy and effortless. A great pair of leggings and a cute top is the perfect way to achieve chic game-day style.
Sporty Atlanta Outfit for Women
Nothing says "Go team!" like some official merch. You'll feel like a local in vintage-style NFL gear—plus it makes a fun souvenir for remembering the game. Win win.
Sporty Atlanta Outfit for Men
2. What to wear to Six Flags Over Georgia or the Georgia Aquarium
When looping on super-coasters and braving frontier-style mining trains, comfy and non-restrictive clothing is essential. Same goes for trying to see the some 100,000 creatures at Georgia Aquarium—one of the largest in the world. These are excursions that call for ultra-soft tees and relaxed shorts (especially if you're planning an aquarium sleepover among dolphins, stingrays, and reef sharks).
Women's Outfit for Six Flags or the Georgia Aquarium
A 95-foot free fall and tasty theme park food call for stretchy pants. Layer on comfort and style with a pair of joggers, a denim jacket, and a crewneck T-shirt.
Men's Outfit for Six Flags or the Georgia Aquarium
3. What to wear to get artsy at the High Museum of Art of the Atlanta Contemporary Museum
A day spent touring the exhibition halls at the High Museum or Atlanta Contemporary arts center means a chance to play with your wardrobe. Spruce things up with a printed jumpsuit and spicy suede sandals (whose stacked block heels stay comfy gallery after gallery).
Women's Atlanta Art Museum Outfit
Classic chinos made from Japanese twill and a pajama-like cotton-blend shirt make the perfect mix of casual and chic. Just the thing to wear while checking out Kara Walker's large-scale cut paper installation and then grabbing a cold brew at nearby Octane Coffee.
Men's Atlanta Art Museum Outfit
4. What to wear to go shopping in Atlanta
Atlanta's shopping scene ranges from antique emporiums to funky, upscale warehouse (Ponce City Market, Krog Street Market) to large outdoor malls (Atlantic Station) anchored by national department stores. Wear a fun frock that's easy to take on and off in the dressing rooms, slip-on-and-off shoes, and a jean jacket to combat the intense AC.
Women's Outfit for Shopping in Atlanta
A simple tee-and-jeans combo makes the perfect canvas for browsing at upscale Buckhead Atlanta (land of Tom Ford and Moncler) or Phipps Plaza.
Men's Outfit for Shopping in Atlanta
5. What to wear to be out in nature in Atlanta visiting the Atlanta Botanical Garden, Chattahoochee River, or Piedmont Park
Whether you're smelling colorful blooms and walking through woodlands at the Atlanta Botanical Garden or kayaking the Chattahoochee River, you'll feel prepared in slouchy pants and a stretchy tank.
Women's Outfit for Outdoor Activities in Atlanta
Joggers and a hoodie make walking, biking, or scooting (Birds, Limes, and JUMPs are scattered about) through Piedmont Park a breeze. Parents with young kids should visit the park's Playscapes playground, designed by Isamu Noguchi as a way to make sculpture a functional part of daily life.
Men's Outfit for Outdoor Activities in Atlanta
FREQUENTLY ASKED QUESTIONS ABOUT PACKING FOR ATLANTA

What are some good bars/restaurants in Atlanta?
Atlanta's food scene has been booming for years; the cosmopolitan city is arguably the foodie capital of the Southeast. If you're in Old Fourth Ward, go full southern with a plate of pork chops and cheese grits at The Mercury, one of the many food options at Ponce City Market. Afterward, take a digestive stroll along the BeltLine, a railway corridor-turned-walking path (Atlanta's answer to the High Line in New York). While in historic Inman Park (thought to be Atlanta's oldest neighborhood), stop by Bartaco for duck tacos and margaritas or Ticonderoga Club, a basement cocktail bar/Asian-influenced American restaurant with an ever-changing menu. In Westside, we love the neon-lit, tucked-away Little Trouble for Tokyo-inspired nibbles and drinks; Bocado for mouth-watering burgers and cocktails; and The Optimist, an oyster bar with crudos, wood-roasted fish, and a Saturday-night raw bar happy hour. Our favorite Buckhead spots include Umi Sushi (plan ahead for this one—scoring a reservation here is no easy feat) and the French Bistro Niko; the chicken biscuits and spicy Bloody Marys make Buttermilk Kitchen worth the 10-minute drive. Don't miss Babette's Cafe, a local institution for French food, if you're going to the Little Five Points area.
I'm planning on renting a car in Atlanta. What is parking like?
Parking can be tricky in Atlanta, so it's always a good idea to research ahead of time to avoid driving around in circles for a spot. Make sure to download the ParkMobile app.
I want a night on the town. What does nightlife look like in Atlanta and where should I go?
Atlantans take their nightlife seriously. Those wanting to party hard head to the city's high-end, multi-room dance clubs like The Havana Club and CosmoLava; those wanting a chill evening gather on O-Ku's rooftop bar for sake cocktails, sushi, and (hopefully) a glorious sunset. Other offerings include themed drag shows at Lips and all-night dance parties at Johnny's Hideaway.
How safe is it to walk in Atlanta at night?
Atlanta is 100 percent a driving city—not because of safety issues, but rather because of distance. Things are fairly spread out, so even if you're just trying to grab dinner and then head to a bar for drinks, you're going to want to grab an Uber.
Hartsfield-Jackson Atlanta International Airport is one of the world's busiest airports—how can I make sure my belongings stay safe?
As always, keep an eye on your carry-on bags and luggage at all times. Be sure to zip up purses and backpacks after you open them, and keep cards extra safe by storing them in some sort of RFID-blocking case.
Related Stories