By Destination
The Ultimate Myrtle Beach Packing List
If the words "Myrtle Beach" conjure up images of sun, sand, and surf…well, then you'd be exactly right. The South Carolina coastal town is home to 60 miles of beaches where visitors can swim, play volleyball, or simply lounge in their favorite swimsuit and sunglasses. Not a fan of sand and surf? Not to worry, there are also botanical gardens, historic homes, and tons of theme parks, aquariums, and other entertainment options to enjoy. With so much to do, there really is only one question left: how do you prepare for it all? Don't worry; we've got you covered. Read on for an insider's guide on what to pack for Myrtle Beach.
Your suitcase packing checklist
Click items to view travel editor-approved options
THE PERFECT LUGGAGE
When it comes to Myrtle Beach luggage, our philosophy is go hard or go home. In other words, whatever bags you use need to be sturdy enough to withstand the potential bumps and scuffs of traveling. If you're headed to Myrtle Beach for a weekend, then we recommend the Large Landon Carryall from Dagne Dover. This organization-friendly duffle is made from cushioning neoprene and includes a shoe bag, mesh pouch, and laptop compartment. Getting away for an entire week? Then try Bric's B|Y Ulisse carry-on. Durable and lightweight, the hardtop case is shock-resistant, features an ergonomic telescopic handle, and comes with its own USB port for easy phone or tablet charging at all times. Trips lasting two weeks or longer call for large, preferably expandable, cases. Enter Kenneth Cole's Renegade Upright Suitcase—it's made from sturdy ABS and features molded, reinforced corners and an expansion zipper at the main compartment. Get ready to bring home all the (purchased and artificial) seashells and local treats you can get your hands on.
THE 3 PAIRS OF SHOES YOU'LL NEED FOR EXPLORING MYRTLE BEACH
Women's Shoes
Men's Shoes
Not having the right shoes is one surefire way to ruin a trip. After all, how are you supposed to enjoy a ride on the SkyWheel, if all you can think about is how much your feet hurt? Don't despair, we've done the legwork to make sure you (and your toes) are guaranteed good vacation vibes all day and night. As it happens, all you really need to put your best foot forward are three shoes: First up is your walking shoe. Between the Myrtle Beach State Park (the oldest in South Carolina) and Huntington Beach State Park, there are more than 2,800 acres of nature trails, forest, and beach to explore. Which means shoes that are cushioned and supportive. Evenings call for something a little dressier and danceable—perfect to enjoy musical acts and live performances at The Carolina Opry or House of Blues. Lastly, there's your action shoe, i.e. a pair that's up for a day spent kayaking, cycling, and golfing without compromising on style or comfort.
STYLE FOR MYRTLE BEACH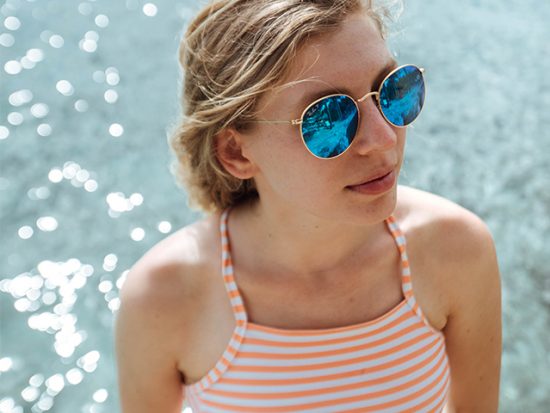 In case it wasn't clear by now, there's a lot to do in Myrtle Beach—and your clothing choices should reflect that. Which means wearing something comfy (read: stretchy) to comfortably explore the city's bike trails, beaches, and nature walks, but then also being able to switch into a more fun look for a night on the town. And don't worry about looking like a tourist. Unsurprisingly, fashion in Myrtle Beach is all about channeling the coastline city's relaxed vibes. Locals like to keep things casual. Expect to see a lot of distressed denim, layer-friendly outerwear, and light, flowing fabrics—key in a place that experiences, on average, 215 sunny days a year. Oh, and lest we forget, this is a beach town. Which means everyone makes sure their swimsuit and cover-up game is on point. So rock that one-piece, bikini, board short, or speedo with confidence and you'll be good to go. Just don't forget the sunscreen—nothing looks (or feels) worse than a sunburn.
WOMEN'S STREET STYLE
Women's Street Style for Myrtle Beach
MEN'S STREET STYLE
Men's Street Style for Myrtle Beach
FIVE FOOLPROOF OUTFITS FOR YOUR TRIP TO MYRTLE BEACH
1. WHAT TO WEAR AT THE BEACH
Combining a bold bikini with an easy cover-up is the perfect way to go from beach to boardwalk. Bonus points for a chic tote that's spacious enough for your towel, sunscreen, and arcade winnings.
Women's Beach Outfit for Myrtle Beach
A day spent exploring Broadway at the Beach means you need to be ready for anything. No really, the attractions on offer include zip lining, go-karting, and escape rooms. Our suggestion? Aim for a mix of fashion and function.
Men's Beach Outfit for Myrtle Beach
2. WHAT TO WEAR EXPLORING MURRELLS INLET
When exploring a historic fishing village, you never know what you might find. Murrells Inlet is home to waterfront dining, live music, and the world's largest collection of outdoor sculpture. Go for a look that's equal parts comfort and style.
Women's Outfit for Exploring Murrells Inlet
A sunrise kayaking adventure followed by a day of deep sea fishing requires clothes that are comfy and water-friendly. Add a hat and sunglasses for maximum sun protection.
Men's Outfit for Exploring Murrells Inlet
3. WHAT TO WEAR AT MYRTLE BEACH WATER PARK OR MYRTLE WAVES
In addition to the requisite bathing suit (a one-piece is sure to stay in place on even the fastest rides), water parks mean clothing that dries quickly and comes off easily. Enter pull-on pants, an oversized shirt, and clips to keep wet hair out of your face.
Women's Outfit for Visiting Myrtle Beach Water Parks
This water-friendly outfit will keep you cool (and dry) as you head to Myrtle Waves, a.k.a. South Carolina's largest water park. Experience more than 20 waterslides, Tsunami FlowRider®s, and family-friendly activities such as the wave pool and every grown kids' favorite: the lazy river.
Men's Outfit for Visiting Myrtle Beach Water Parks
4. WHAT TO WEAR GOLFING IN MYRTLE BEACH
Given the variety of fun activities Myrtle Beach has to offer, the fact that the area is also home to almost 80 golf courses to enjoy is just par for the course. This sporty look is guaranteed to get a perfect score.
Women's Outfit for Golfing in Myrtle Beach
For those who want to enjoy the lighter side of golf, there are more than 50 putt putt courses to play. Get into the spirit of one of the oldest (and most beloved), Mt. Atlanticus, with a whimsical Polynesian print and sporty pair of Tevas.
Men's Outfit for Golfing in Myrtle Beach
5. WHAT TO WEAR TO SEE MYRTLE BEACH'S PELICANS
You can't visit Myrtle Beach without taking in a Pelicans game. We recommend an easy and relaxed-fit dress for optimal comfort and hot dog-eating possibilities. Bonus points for incorporating pelican-themed earrings.
Women's Outfit for a Pelicans Game
Root for the home team by wearing their colors! Shades of blue and white ensure your Pelican team spirit stays strong all game long.
Men's Outfit for a Pelicans Game
WHAT NOT TO PACK FOR MYRTLE BEACH
Considering that temperatures can reach 57° in January, it's fairly safe to say that Myrtle Beach is one trip where you can leave your heavy parkas and mittens at home. The same goes for chunky footwear options such as snow boots and Uggs. You're much better off sticking with lightweight shoes that are suited to the wide variety of activities (beach, mini-golf, biking) available to enjoy. We also suggest leaving behind weighty tools such as hair dryers. These days, almost all hotels and Airbnbs have access to one, meaning you'll have more room in your suitcase for Myrtle Beach memorabilia.
THE *ONE THING* WTP EDITORS ALWAYS PACK FOR MYRTLE BEACH
There's nothing better than spending an entire day on the sand in Myrtle Beach. Splashing in the waves, taking a scenic stroll, having a beach picnic, building a sandcastle, and falling asleep on a towel with a paperback in hand are prime vacation hours spent. But before you can bliss out on the beach, you need to load up all your gear. Enter: L.L. Bean's iconic canvas Boat and Tote Zip-Top beach bag. It's available in four sizes, but we say go for the extra large option. It'll neatly hold your family's towels, sunscreen, snacks, books, and beach toys. In fact, the handles can hold up to 500 pounds and the overlapped seams are double stitched to prevent tearing. Choose from five classic colors and add a cute monogram to your bag to really make it vacation special.
MYRTLE BEACH'S WEATHER AND SEASONS
When most people think of Myrtle Beach, they think of sun. There's a reason so many travelers flock to this city for spring and summer vacations. Happily, the weather does not disappoint. January and December are typically the coldest, and 2018 saw temperatures stay in the 50s and 60s for both months. In fact, some days even got up to the 70s. The point is that you can reasonably expect warmish days in Myrtle Beach at any time of year. One important factor to keep in mind as you plan your trip is that peak travel season (and unsurprisingly the hottest time to visit) is between the months of May and August. The latter part of the summer is known for being incredibly humid and thunderstorms are common. It's probably a good idea to bring an umbrella or raincoat with you if visiting the area in July or August.
Note: This data comes from our friends at Weather.com. We recommend using this together with a traditional forecast as you get closer to your departure date.
JANUARY
Plan for day temps between 34 and 57
Expect 4.12 inches of precipitation in January
What to Wear in Myrtle Beach in January: The "coldest" month of the year still brings spring-like temps. Err on the side of caution, however, with layer-friendly coats and scarves.
Recommendations: Women's Denali Jacket, embroidered white scarf, men's smartwool gloves
FEBRUARY
Plan for day temps between 37 and 61
Expect 3.53 inches of precipitation in February
What to Wear in Myrtle Beach in February: The possibility of cooler temps continues this month, so plan accordingly with sweaters and cozy socks.
Recommendations: Men's crew neck sweater, bright knit socks, soft wool beanie
MARCH
Plan for day temps between 44 and 68
Expect 3.92 inches of precipitation in March
What to Wear in Myrtle Beach in March: Temperatures are on the rise so load up on styles you can layer.
Recommendations: Long cardigan, warm tights, long-sleeve T-shirt
APRIL
Plan for day temps between 51 and 76
Expect 3.05 inches of precipitation in April
What to Wear in Myrtle Beach in April: Spring weather is officially here! Break out the distressed denim and sunglasses.
Recommendations: Straight-leg jeans, sunglasses, kimono jacket
MAY
Plan for day temps between 60 and 83
Expect 3.19 inches of precipitation in May
What to Wear in Myrtle Beach in May: The heat has arrived. May kicks off peak travel season, so break out the warm-weather wear.
Recommendations: Men's drawstring shorts, Quay Australia sunglasses, baseball hat
JUNE
Plan for day temps between 69 and 88
Expect 4.63 inches of precipitation in June
What to Wear in Myrtle Beach in June: It's getting hotter this month, so be sure to pack lightweight clothing that won't cling.
Recommendations: Midi dress, embellished bird slides, straw boater hat
JULY
Plan for day temps between 72 and 91
Expect 6.81 inches of precipitation in July
What to Wear in Myrtle Beach in July: Prepare for the hottest month of the year with fun, lightweight clothing and LOTS of sunscreen.
Recommendations: Tropical print pants, matching tropical print top, Unseen sunscreen
AUGUST
Plan for day temps between 71 and 90
Expect 7.38 inches of precipitation in August
What to Wear in Myrtle Beach in August: In addition to hot days, August brings a high chance of rain. Pack a bathing suit and raincoat to ensure you're ready for both types of water.
Recommendations: One-piece swimsuit, lightweight rain coat, embroidered caftan 
SEPTEMBER
Plan for day temps between 65 and 80
Expect 5.52 inches of precipitation in September
What to Wear in Myrtle Beach in September: Pack an umbrella! The chance for rain is still higher than most months in September.
Recommendations: Black Converse sneakers, bubble umbrella, men's swim trunks
OCTOBER
Plan for day temps between 54 and 77
Expect 3.55 inches of precipitation in October
What to Wear in Myrtle Beach in October: Temperatures (and the chance of rain) begin to drop this month. Prepare for the cool down with a good lightweight jacket.
Recommendations: Linen pants, cotton crew-neck, women's bomber jacket
NOVEMBER
Plan for day temps between 45 and 69
Expect 3.5 inches of precipitation in November
What to Wear in Myrtle Beach in November: The advent of winter brings decidedly cooler days and nights—dress for warmth.
Recommendations: Fringed scarf, cropped cardigan, wooly socks
DECEMBER
Plan for day temps between 37 and 60
Expect 3.48 inches of precipitation in December
What to Wear in Myrtle Beach in December: The cold is well and truly here, so it's time to break out the warm(er) coat and shoes.
Recommendations: Desert boots, fleece gloves, light down vest
FREQUENTLY ASKED QUESTIONS ABOUT MYRTLE BEACH

Is Myrtle Beach a good spot to spend Spring Break?
Absolutely! With its family-friendly resorts, gorgeous beaches, and acres of nature to get lost in (figuratively, that is), Myrtle Beach is a popular choice for spring break vacations. Some hotels and motels are geared more towards college-aged partiers, while others remain family-friendly with quiet hours. It's best to do your research if you prefer to vacation with one group over the other, especially in March and April when many colleges are on vacation.
Are coolers allowed on Myrtle Beach?
Yes, coolers are allowed on the beach. Alcohol and glass, however, are not.
What are some good rainy-day activities in Myrtle Beach?
Myrtle Beach has tons of indoor entertainment for adults and children alike. Indoor amusement park WonderWorks, Ripley's Aquarium, and the Children's Museum of South Carolina are just a few options.
What is the Myrtle Beach juvenile curfew?
Unless in the company by a parent or guardian, teenagers under the age of 17 are required to be off the streets between midnight and 6 am. Penalties for violating the juvenile curfew can cost as much as $500 and/or 30 days in jail. Parents can also be charged. Exceptions to this rule can be found here.
Where is the best place for ice cream in Myrtle Beach? 
Three hundred-plus reviews hail local, family-owned store Kirk's Ice Cream Parlor as THE PLACE to go for delicious milkshakes, malts, classic banana splits, and more. Find your favorite flavor or something new from the 40 choices on offer.
Related Stories