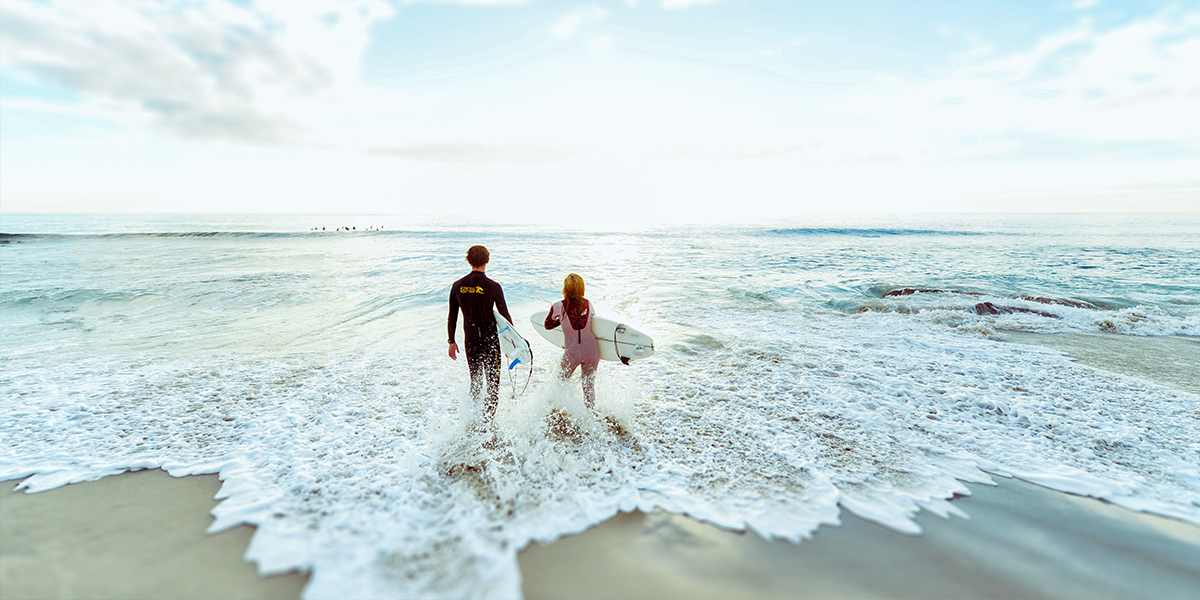 By Destination
The Ultimate San Diego Packing List
A San Diego getaway means getting outdoors. From exploring the 17 museums of Balboa Park to visiting the 3,500 animals in the San Diego Zoo to indulging in the 16.5 blocks of bars and restaurants in the historic Gaslamp Quarter, there's so much to do and see by foot—and we haven't even mentioned the beaches! Needless to say, your perfectly packed bags should include outfits and shoes that move well and look good—and at least one swimsuit. San Diego's weather really is as nice as they say all year round, so let's get down to packing for your fun-in-the-sun vacation.
YOUR SUITCASE PACKING CHECKLIST
*Keep these items in your carry-on
Clothes to Pack
Bras/camis/undershirts
Socks/tights
PJs
T-shirts
Pull-on/button-up shirts
Shorts/skirts
Light sweater/sweatshirt
Shoes to Pack
Sandals/flip-flops
Sneakers/hiking shoes
Accessories to Pack
Purse
Hat
Lightweight scarf
Sarong
Jewelry*
Belt
Toiletries to Pack
Toothbrush/toothpaste/dental floss
Body wash/soap
Deodorant
Face wash/makeup remover
Moisturizer
Contact lenses/solution
Razor/shaving cream
Shampoo/conditioner
Brush/comb
Earplugs/eye mask*
Tissues*
Styling tools
Hair elastics/hair accessories
Tampons/pads*
Birth control/condoms*
Hand sanitizer*
Bandages
First-aid ointment
Bug spray
Medications/vitamins*
Stain remover
Tech to Pack
Phone/charger*
Portable battery charger
Laptop/tablet/e-reader*
Device chargers*
Power adapter (if coming from outside the U.S.)
Camera/video camera*
Memory card/film*
Other Essentials
Wallet (credit/debit cards/ID/cash)*
Passport/visa* (if coming from outside the U.S.)
Keys*
Medical insurance card*
Snacks/gum*
Books/magazines/guidebook*
Laundry bag
Helpful Printouts
Emergency contacts*
Boarding pass/hotel and car rental reservations*
Maps/directions
Bank/credit card contact info*
Copies of passport/ID
ADD/SUBTRACT THESE ITEMS FOR LONGER/SHORTER TRIPS
TO SAN DIEGO
Long Weekend
Underwear: 4 pairs
Bras/camis/undershirts: 3 pairs
Socks/tights: 4 pairs
T-shirts: 4 pairs
Jeans/pants: 2 pairs
Two-Week Trip
Underwear: 15 pairs (7 if you'll have access to laundry facilities)
Bras/camis/undershirts: 5 pairs
Socks: 15 pairs
T-shirts: 12 pairs
Jeans/pants: 4 pairs
THE PERFECT LUGGAGE
A California-bound trip calls for California-made luggage. Our SoCal luggage of choice, CALPAK, is created and manufactured in Los Angeles, not San Diego, but the brand's durable designs, on-trend colors, and functional features make it ideal for Golden Coast adventures. For weekend trips, we love their Murphie Under-Seat Soft Sided Carry-On, which features seven pockets (three inside, four outside) and its own set of wheels. The brand's Ambeur 20-Inch Rolling Spinner Carry-On fits the bill for trips in the week range. Designed for overhead storage spaces, the lightweight hard-shell has a zipper divider and expansion sleeve to keep your stuff neat, plus a TSA-approved lock to keep everything safe. For extra-long stays in San Diego, consider this fabulous travel trunk—courtesy of CALPAK'S collab with celebrity hairstylist Jen Atkin's collab with CALPAK. The statement-maker features a light-yet-durable polycarbonate hard-shell body and Hinomoto 360-degree double spinner wheels, plus stickers to customize your bag. (And who doesn't love stickers?)
THE 3 PAIRS OF SHOES YOU'LL NEED FOR EXPLORING SAN DIEGO
Women's Shoes
Men's Shoes
Any trip to San Diego will include a fair amount of walking, so it's best to bring a few different pairs of shoes to keep weary arches and blisters at bay. Our three must-packs are sandals, walking shoes, and dress shoes. A pair of go-anywhere flip-flops in neutral nude or gray, like TKEE's shimmery thongs and padded flip flops, are an obvious choice for beach trips, pool time, and even Balboa Park museum visits. The platform slide sandals by Pikalinos—a brand known for cloud-like comfort—are similarly versatile, as they'll wear comfortably through a whole day at the San Diego Zoo and transition right into fireside dinner and drinks on the veranda at Rancho Bernardo Inn. For evenings in the Gaslamp Quarter, heels for women and dressier shoes for men are the way to go. Stay comfortable while you walk from bar to bar in a pair of classic derbies or block heeled huarache sandals, a nod to San Diego's beachy boho style.
SAN DIEGO FASHION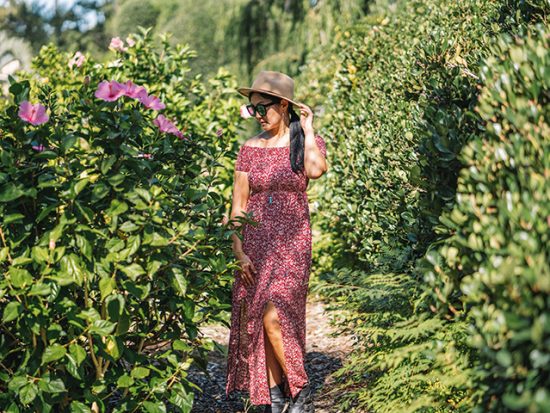 San Diego style is laid-back, faintly preppy, a touch bohemian, and always ready for an impromptu post on the 'gram. For a healthy dose of SD style inspo, check out local stylist Conni Jespersen's recent #OOTDs, where you'll see a parade of on-trend denim, pastel hues, and adorably mixed and matched prints. (Bonus: you'll get some ideas for San Diego's most colorful and insta-perfect murals, flower fields, and other backdrops.) Men's street style in San Diego is also very heavy on the denim, which is often paired with retro or athletic brand T-shirts for laid-back looks that fit in on the beach, at a Padres game, or at a late brunch of breakfast pot pie and Bloody Marys at Snooze.
San Diego Street Style for Women
San Diego Street Style for Men
FIVE FOOLPROOF OUTFITS FOR SAN DIEGO
1. WHAT TO WEAR TO VISIT SAN DIEGO ZOO
The San Diego Zoo (penguins, pandas, snow leopards—oh my!) is a massive 100-acre park, with enough walking paths to get your 10,000 steps in—and then some. Wear comfortable shoes and clothing you'll feel good in all day (especially in the Elephant Care Center, because how can you not feel good when watching elephants get a foot bath!).
Women's San Diego Zoo Outfit
Men's San Diego Zoo Outfit
2. WHAT TO WEAR TO EXPLORE BALBOA PARK AND ITS MUSEUMS
Clothing that's comfortable and on the nicer end of casual is perfect for a day in Balboa Park, where activities range from wandering the 1935 cactus garden to seeing the mineral, fossil, and gem gallery. A few of our favorite attractions include the Japanese Friendship Garden, the Botanical Building and Lily Pond, and the San Diego Art Institute.
Women's Balboa Park Outfit
3. WHAT TO WEAR TO SEE AND SNORKEL LA JOLLA CAVE
The water in La Jolla cove and its caves is on the warmer side for most of the year—from March to October—but if you get cold easily, or if you're snorkeling in the off season, you'll want to pack a suit with sleeves or a rashguard. Wetsuit rentals are easy to come by in the area, but we recommend packing your own wet shoes.
Women's La Jolla Cave Outfit
Men's La Jolla Cave Outfit
4. WHAT TO WEAR TO DO A DINNER CRUISE IN SAN DIEGO
Not all dinner cruise options have a set dress code, but those that do request diners wear business to dressy casual attire. Since this is a special occasion for many couples and families, it's a great opportunity to dress up.
Women's San Diego Dinner Cruise Outfit
Men's San Diego Dinner Cruise Outfit
5. WHAT TO WEAR TO TOUR SAN DIEGO'S GASLAMP QUARTER
San Diego's Gaslamp Quarter offers a nightlife experience like no other, with many great upscale bars within walking distance of each other. Most bars enforce a dress code, especially on weekend nights, with rules including no flip-flops, active wear, shorts, or ball caps. Cocktail attire is encouraged, and gentlemen must wear a collared shirt, pants, and closed-toe shoes.
Women's Gaslamp Quarter Outfit
Men's Gaslamp Quarter Outfit
WHAT NOT TO PACK FOR SAN DIEGO
We'd be very surprised if you'd find any use for a wool sweater or heavy down coat on your trip, so go ahead and leave your winter gear behind. The same is true for foundation or other heavy makeup products—instead, pack a tinted sunscreen or BB cream, multitaskers that provide barely-there coverage but tons of sun protection (you'll need it). If your hair is naturally curly or wavy, leave your styling tools and hair-product arsenal at home. The Pacific Ocean saltwater is the only texture product you'll need. Let your hair air-dry in the California sun, and relish that sexy beach hair. All of this is to say is: forget about items that you weigh you down. Use your San Diego getaway as an excuse to slow down, enjoy the sunsets, and chill—it's the San Diego way.
THE *ONE THING* WTP EDITORS ALWAYS BRING TO SAN DIEGO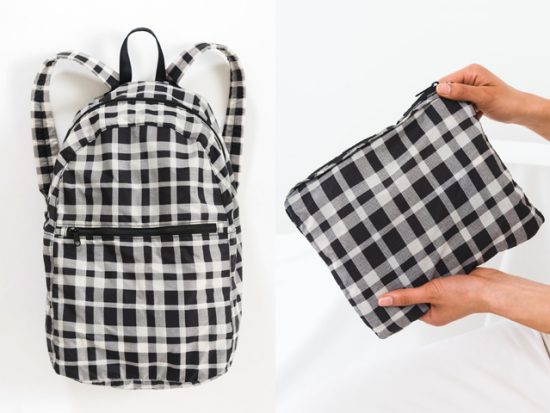 Hitting up one of San Diego's farmers' markets is a must. Weighing virtually nothing, Baggu's packable backpack folds into its own pocket when not in use and opens up into a full-size, surprisingly strong sack—perfect for stashing dreamcatchers, candles, and other souvenirs from the Pacific Beach Tuesday Farmers' Market. If you're in town over the weekend, don't miss the Little Italy Mercato on Saturdays, where you can fill your Baggu with cheese, a crusty batard, spicy jalapeno relish, pomegranate ginger beer (don't worry, it's non-alcoholic), and other locally made treats, then head to Sunset Cliffs Natural Park for an oceanside picnic. —WTP Editors
SAN DIEGO'S WEATHER AND SEASONS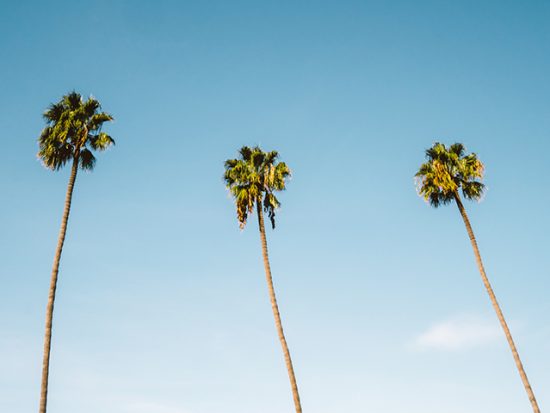 Don't get too jealous, but San Diego's weather is pretty much perfect year round. It's never really too hot, never really too cold, and seldom are San Diegans caught in massive downpours. In fact, you can probably skip packing the umbrella or raincoat (though we do have a rec for a cute floral one below). Plan for sea breezes and warm sunshine, just about any time of the year. But don't forget a light jacket for the early mornings and late nights.
Note: Below is a packing forecast, not a traditional forecast. A packing forecast focuses on how cold it's likely to be in the early mornings and evenings based on historical data. We recommend using this together with a traditional forecast as you get closer to your departure date. This data comes from our friends at Weather Underground.
JANUARY
Plan for day temps between 52° F and 59° F
Temps will drop near 41° F at night and into the early mornings
Expect 0.08 inches of precipitation in January
What to Wear in San Diego in January: A long henley for layering, a cashmere-blend scarf for wrapping, and wool-lined boots for snugly stepping are great go-tos in January.
Recommendations: Women's thermal tee, women's silk wrap, women's shearling boots.
FEBRUARY
Plan for day temps between 51°F and 56° F
Temps will drop near 41° F at night and into the early mornings
Expect 0.09 inches of precipitation in February
What to Wear in San Diego in February: February in San Diego is pleasantly temperate, with cooler nights and early mornings. A mid-weight tee and pair of faded jeans topped with a cotton-flannel lined canvas jacket should do the trick.
Recommendations: Men's canvas jacket, men's cotton crew tee, men's jeans. 
MARCH
Plan for day temps between 56° F and 61° F
Temps will drop near 47° F at night and into the early mornings
Expect 0.03 inches of precipitation in March
What to Wear in San Diego in March: Temperatures are rising! Channel your inner bohemian with a long-sleeve maxi dress, a classic jean jacket, and retro chunky clogs.
Recommendations: Floral maxi dress, clog sandals, jean jacket.
APRIL
Plan for day temps between 59° F and 64° F
Temps will drop near 53° F at night and into the early mornings
Expect 0 inches of precipitation in April
What to Wear in San Diego in April: Gentle daytime temps call for a jersey tank maxi dress with a swingy shape and flirty hem. At night, add a suede jacket that strikes the perfect balance between soft and tough.
Recommendations: Lavender suede jacket, tank dress, women's low-rise sneakers.
MAY
Plan for day temps between 59° F and 64° F
Temps will drop near 54° F at night and into the early mornings
Expect 0 inches of precipitation in May
What to Wear in San Diego in May: Whether you're exploring and taking in the epic views of San Diego Bay and the Pacific from Point Loma or strolling around the lily pond at Balboa's Botanical Building, denim palazzo pants, a relaxed-fit tee, and braided block heels will keep you feeling comfy and put-together.
Recommendations: Wide-leg chambray pants, block-heel sandals, women's cotton V-neck.
JUNE
Plan for day temps between 65° F and 68° F
Temps will drop near 60° F at night and into the early mornings
Expect 0 inches of precipitation in June
What to Wear in San Diego in June: Come June, you may just want to spend every minute of your San Diego vacation on the sand. (May we recommend Torrey Pines State Beach and Swami's Beach?) Make the most of it with a colorful stunt kite and a frisbee. Ward off powerful UVs with sunscreen that isn't the least bit sticky or greasy.
Recommendations: Beach kite, frisbee, all-over sunscreen.
JULY
Plan for day temps between 68° F and 75° F
Temps will drop near 60° F at night and into the early mornings
Expect 0.08 inches of precipitation in July
What to Wear in San Diego in July: Dress for the outdoors! Rompers and sundresses, and swim trunks and tees are all very welcome in San Diego this month.
Recommendations: Lightweight minidress, women's reflective sunglasses, platform espadrilles.
AUGUST
Plan for day temps between 75° F and 78° F
Temps will drop near 70° F at night and into the early mornings
Expect 0 inches of precipitation in August
What to Wear in San Diego in August: Consider your swimsuit your base layer in August. Step up your sun-protection with high-factor sunscreen, polarized shades, and a brimmed hat.
Recommendations: SPF 100 spray, baseball cap, men's polarized sunglasses. 
SEPTEMBER
Plan for day temps between 67° F and 72° F
Temps will drop near 63° F at night and into the early mornings
Expect 0 inches of precipitation in September
What to Wear in San Diego in September: School may be starting, but the beach weather is still great in San Diego. Keep your shorts and tees in rotation, paired with your favorite sturdy sandals.
Recommendations: Men's drawstring shorts, men's striped tee, unisex slide-on sandals.
OCTOBER
Plan for day temps between 66° F and 69° F
Temps will drop near 57° F at night and into the early mornings
Expect 0.02 inches of precipitation in October
What to Wear in San Diego in October: It's officially sweater season, but in San Diego, a long-sleeve maxi dress will work juuust fine. Take a light jacket with you at night if the evenings are starting to feel chilly.
Recommendations: Beaded maxi dress, women's denim jacket, wedge espadrilles.
NOVEMBER
Plan for day temps between 62° F and 66° F
Temps will drop near 50° F at night and into the early mornings
Expect 0.02 inches of precipitation in November
What to Wear in San Diego in November: A short-sleeve plaid pullover and button-front mini skirt paired with knee-high boots makes for a cute and cozy San Diego Thanksgiving outfit.
Recommendations: Plaid top, button-up skirt, knee-high boots.
DECEMBER
Plan for day temps between 52° F and 59° F
Temps will drop near 41° F at night and into the early mornings
Expect 0.03 inches of precipitation in December
What to Wear in San Diego in December: Consider a light sweater and jeans your San Diego uniform come December. Carry a hooded jacket with you at night for extra warmth.
Recommendations: Women's cashmere sweater, women's hooded jacket, women's high-waisted jeans.

FREQUENTLY ASKED QUESTIONS ABOUT PACKING FOR SAN DIEGO

Are San Diego beaches warm? How much do I need to cover up and should I consider a rashguard or any added sun protection?
While the summer swim season in San Diego is warm (and sometimes hot) enough to enjoy in nothing but a bikini or trunks, both water and air temperatures cool down in the off season. If you plan to swim, surf, or snorkel in the winter, we definitely recommend using at least a rashguard, if not a wetsuit. At the beach or further inland, always use sun protection—even when skies aren't their usual sunny and clear selves.
How bad is San Diego traffic? And is there anything locals use to get around that I should consider?
Like any major city, San Diego traffic can be a major bummer during rush hour, and we especially recommend avoiding the 5, the 805, and the 8 during peak hours whenever possible. Side streets around beaches and beach parking lots also get congested on weekends. For public transportation, the Trolley is a great way to get around the center of the city. San Diego also offers Lime scooter rentals—a nice way to see downtown or Balboa Park.
Is it possible to do a day trip from San Diego to LA? How far is it and what should I keep in mind if I'd like to go there?
No matter if you take Amtrak or drive the 5 in the express lane, you will likely spend three hours (at least) traveling the distance from San Diego to Los Angeles one way—which means the round trip requires six hours or more of driving in just one day. It can be done, but we don't recommend it. Los Angeles itself is a city filled with traffic, so you'd likely travel from San Diego just to do more driving. If you want to enjoy your time in the City of Angels, we strongly recommend at least staying one night, if you can swing it.
All this being said, we do know Angelenos who have made the reverse trek from L.A. to San Diego and back in one day for one reason: brunch. San Diego's brunch scene is absolutely bananas, with places like Great Maple (the popovers!) and Hash House A Go Go inspiring day pilgrimages from L.A.-based French toast lovers.
What about an extra trip across the border into Mexico?
Yes! A day trip to Mexico is much more doable and enjoyable from San Diego than a day trip to L.A. The border is only 20 miles away, and you can even take the Blue Trolly Line from downtown to San Ysidro. From there, it's a 10-minute walk to the border (look for the signs for customs), then a 30-minute walk or short cab ride to Tijuana. The trip is worth it for the tacos at Telefonica Gastro Park alone. Just remember to bring your passport or other approved proof of citizenship with you—you must have it to re-enter the U.S.
I'm coming for an event (San Diego Comic Con, Pride, Fleet Week), should I be worried that the city will be overrun?
The answer is…yes. San Diego will be overrun. There's just no way around it. So book your hotels, restaurant reservations, and other travel accommodations well in advance, and if you start to feel claustrophobic, escape to North Park where it may be less crowded.
Related Stories