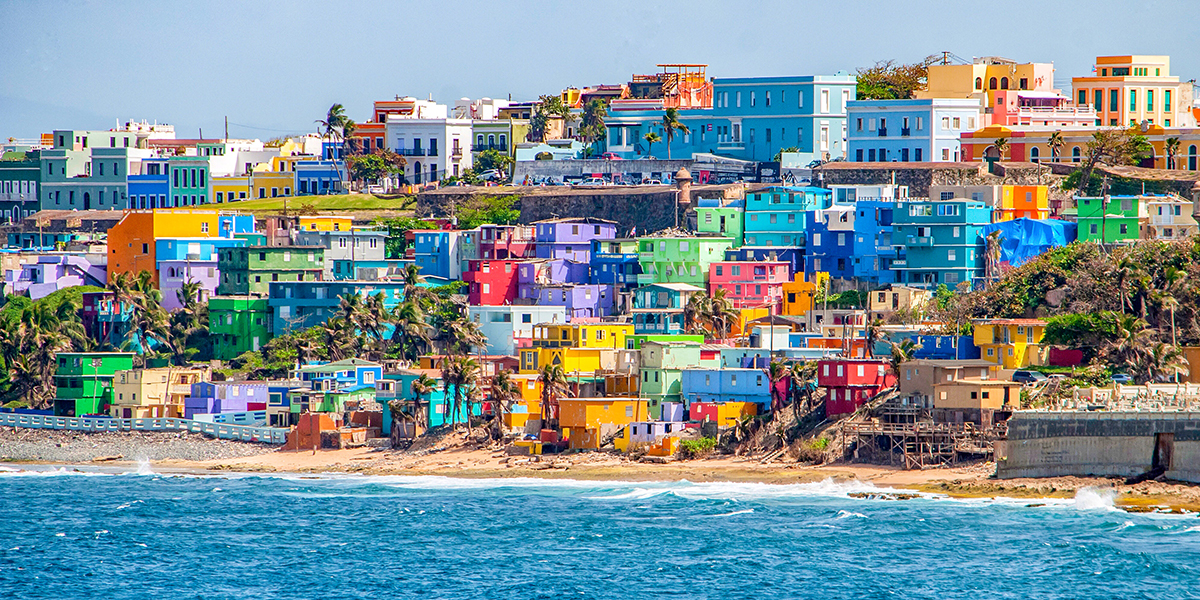 By Destination
The Ultimate San Juan Packing List
Silky gold-sand beaches, swanky resorts, colonial-era architecture, proximity to verdant tropical forest, and it's just a four-hour flight from NYC? Sign us up. San Juan, Puerto Rico is a U.S. territory, but the destination has a whole lot of Caribbean flavor. Beyond the beach, San Juan is a cosmopolitan city, with a buzzing bar scene, steamy salsa clubs, and restaurants pushing the boundaries of traditional comida criolla. Of course, all that fun stuff aside, you're probably wondering how the island is faring a year and half post-Hurricane Maria—and we're happy to report that San Juan is on the road to recovery. Travelers will still see signs of the storm's devastation (potholes, overgrown flora, and the occasional power outage), but tourism dollars are helping the resilient island get back on its feet one day at a time. Now that that's sorted, we delve into everything one should pack for a trip to Puerto Rico's colorful capital and an overview of what weather to expect. Brush up on your basic Spanish, throw some cobblestone-friendly shoes in your carry-on, and get ready for the trip of a lifetime.
Your suitcase packing checklist
Click items to view travel editor-approved options
THE PERFECT LUGGAGE
Packing is rarely fun, but with the right bag, it can be tolerable. If your San Juan sojourn is a long weekend or less, you'd do more than fine with Longchamp's Le Pliage bag. The 17 ¾ x 20 ½ x 9-inch tote is durable, water resistant, and expandable with a zip inset that lets you nearly double the bag's interior capacity. It's also available in a handful of colors, like black, navy, and gunmetal. If your trip is a week or more, it's time to graduate to something with wheels. Chester's 22-inch carry-on meets domestic and international airline requirements and offers 38 liters of internal storage, as well as three interior organizers and a removable laundry bag—AKA up to five outfits-worth of space. You can choose from a variety of colors like pink, sky blue, charcoal and black. A telescoping handle and spinner wheels make it a breeze to roll around the airport and hotel. Once your trip surpasses the two-week mark, it's time to invest in a checked bag like Travelpro's Platinum Elite 29-Inch Expandable Spinner. The nylon suitcase features a tip-resistant design, an interior tie-down system, accessory pockets, and a built-in, fold-out suiter, so you can keep dressier outfits—like your salsa shirt and chinos—wrinkle-free. Best of all, a lifetime limited guarantee ensures that your bag is covered in the event of cargo accidents or baggage claim blunders.
THE 3 PAIRS OF SHOES YOU'LL NEED FOR EXPLORING SAN JUAN
San Juan calls for a small assortment of shoes—but anything more than three pairs is definitely overkill. Ladies will want to pack sneakers suitable for long days on cobblestone streets and hikes through El Yunque National Forest; comfortable neutral sandals for less strenuous activities like shopping, brunching, and lounging on the beach; and heels for nice dinners and salsa dancing. Likewise, guys will want sporty sneakers, flip-flops or sandals, and a smart oxford or derby. Below, a few of our top picks from cult-favorites like Adidas to investment-worthy M. Gemis and versatile Soludos.
Women's Shoes
Men's Shoes
WHAT NOT TO PACK FOR YOUR TRIP TO SAN JUAN
Layers are an absolute must on most packing lists, but in San Juan, where daytime temps soar into the high 80s year-round, you won't be needing any sweaters or coats. At most, you should pack a super lightweight raincoat for occasional downpours and visits to the waterfalls in El Yunque National Forest. Basic creature comforts like snacks and toiletries aren't hard to come by in town, so you can easily pick those up if you don't have any at your Airbnb or hotel. Likewise, ATMs and banks are easy to locate (and San Juan uses the American dollar) so you don't have to bring too much cash.
THE *ONE THING* WTP EDITORS ALWAYS PACK FOR SAN JUAN

Just visiting Puerto Rico and spending tourism dollars in and all around San Juan is a huge boon for hurricane relief efforts and the island's jobs and economy. As responsible and conscious travelers, we like to take things a step further and donate to charities directly responding to the aftermath of the hurricane and providing assistance on the island. Bringing supplies to Puerto Rico is really only a good idea if you know someone on the island and they've specifically asked for individual-use school supplies, over-the-counter medicines, or clothing. Otherwise, the logistics and customs procedures of bringing supplies is too complicated for tourists. Volunteering with local groups who need help is another way to show your support for Puerto Rico. Just know that these opportunities need to be arranged well in advance.
SAN JUAN, PUERTO RICO'S WEATHER AND SEASONS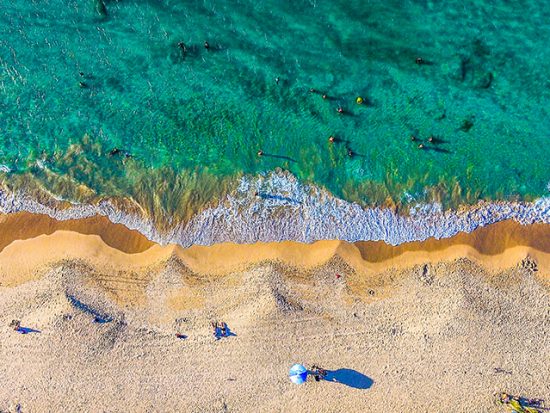 Thanks to a tropical monsoon climate, San Juan enjoys hot, humid days year-round. Temperatures are pretty consistent month to month, generally hovering in the mid to high 80s and rarely falling below 70 degrees. Like most Caribbean destinations, Puerto Rico slips into hurricane season June 1st to November 30th. Note that it's safe to travel during this time, you'll just want to keep an eye on the weather and have multiple indoor and outdoor options on your itinerary. Even outside of hurricane season, most months average 18 days of precipitation—so don't avoid San Juan in summer or fall just because of the potential for rain. No matter what time you visit, you'd be lucky to squeeze by without a few days of showers. Given the city's high temperatures and humidity, it's smart to pack breezy, breathable fabrics like linen. Though shorts, swimsuits, and sandals will do just fine on the beach, you'll also want to bring full-length pants, closed toe shoes, and button ups for nights out. San Juan is a cosmopolitan city, so beach garb just won't cut it in trendy restaurants, salsa clubs, and cocktail bars. Below, what weather to expect and how to pack accordingly.
Note: Below is a packing forecast, not a traditional forecast. This data comes from our friends at Weather.com. We recommend using this together with a traditional forecast as you get closer to your departure date.
January
Plan for day temps between 72 and 83 degrees
Expect 3.76 inches of precipitation in January
What to Wear in San Juan, Puerto Rico in January: Looking to escape gnarly winter storms back home? San Juan's daily temperatures rarely fall below 75 degrees (and don't exceed 83 degrees) this month. Pack a variety of warm weather essentials, including sun dresses, comfortable sandals, breathable tops, and sunglasses.
Recommendations: Embroidered mini dress, ankle strap sandals, cat-eye sunglasses
February
Plan for day temps between 72 and 84 degrees
Expect 2.47 inches of precipitation in February
What to Wear in San Juan, Puerto Rico in February: February is one of San Juan's coldest months, but travelers should have a hard time noticing, as temperatures still hover in the high 70s and low 80s. Just keep in mind it can also be rainy this time of year. While shorts and tank tops will still work, you'll also want to have an umbrella on hand.
Recommendations: Pineapple-print umbrella, cut-off jean shorts, halter top 
March
Plan for day temps between 73 and 85 degrees
Expect 1.95 inches of precipitation in March
What to Wear in San Juan, Puerto Rico in March: Sunscreen is a traveler's best friend come March when San Juan's UV index rockets to 11—the most "extreme" end of the scale. To contend with nine hours of sunshine each day, pack a sun hat, sunglasses, and water bottle, and be sure to seek out shade whenever possible.
Recommendations: Woven hat, pale pink sunnies, Tayeka water bottle
April
Plan for day temps between 74 and 86 degrees
Expect 4.68 inches of precipitation in April
What to Wear in San Juan, Puerto Rico in April: April is typically an exceptionally rainy time of year for much of the northern hemisphere. Daytime temps remain in the mid- to upper-80s, so pack your suit and beach essentials because beach days are plentiful.
Recommendations: Printed bikini top, matching bottom, floppy hat, caftan
May
Plan for day temps between 76 and 88 degrees
Expect 5.90 inches of precipitation in May
What to Wear in San Juan, Puerto Rico in May: In case you haven't caught on yet, San Juan's seasons are "wet and hot" and "wet and hot." In May, nearly two-thirds of days see rain. Pack shorts, tank tops, sundresses, and an umbrella, but don't worry too much about spring showers—they help remedy sweltering daytime temps.
Recommendations: Men's flat-front shorts, sweat wicking t-shirt, polarized sunglasses
June
Plan for day temps between 78 and 89 degrees
Expect 4.41 inches of precipitation in June
What to Wear in San Juan, Puerto Rico in June: June often sees San Juan's hottest temperatures. Whether you're hitting the beach or one of the city's many summer events— SoFO Culinary Week or the Aibonito Flower Festival, perhaps—you'd do well to carry a backpack or tote with sunblock, a hat, sunglasses, water bottle, and, our favorite refresher, Evian facial mist.
Recommendations: Sunscreen milk, mini backpack, collapsible water bottle
July
Plan for day temps between 78 and 89 degrees
Expect 5.07 inches of precipitation in July
What to Wear in San Juan, Puerto Rico in July: This month is the start of hurricane season—and that means a whole lot of rain (like even more than usual). While downpours are common, temperatures are still balmy and it's off season. On nice days, you won't have to work too hard to find a secluded spot on the beach or around the pool. Pack your swimsuit, sandals, sunglasses, and a good book.
Recommendations: Men's swimsuit, water-friendly Birkenstocks, Ray-Ban gradient sunglasses
August
Plan for day temps between 78 and 89 degrees
Expect 5.46 inches of precipitation in August
What to Wear in San Juan, Puerto Rico in August: August is one of San Juan's warmest months with both air and water temperatures climbing into the high 80s. If you're planning some time outdoors at El Yunque National Forest, don't forget sneakers or hiking sandals and a suit and towel.
Recommendations: Women's swimsuit, cotton caftan, oval sunglasses
September
Plan for day temps between 78 and 89 degrees
Expect 5.77 inches of precipitation in September
What to Wear in San Juan, Puerto Rico in September: Warm weather shows no sign of stopping come September. The UV index still tips the scales and temps climb to the high 80s. To contend with high humidity, pack lots of breathable pieces like gauzy tops and flowy sundresses.
Recommendations: Textured cami top, white jean shorts, multi-strap sandals
October
Plan for day temps between 77 and 89 degrees
Expect 5.59 inches of precipitation in October
What to Wear in San Juan, Puerto Rico in October: Autumn is nothing but a name in San Juan, where the traditionally brisk season sees nine hours of sunlight per day and temperatures in the mid to high 80s. Pack lightweight summer essentials and don't forget your travel umbrella—rain is expected to fall.
Recommendations: Men's cotton crew, men's denim shorts, Birkenstock sandals 
November
Plan for day temps between 75 and 86 degrees
Expect 6.35 inches of precipitation in November
What to Wear in San Juan, Puerto Rico in November: Hurricane season is still alive and well this month, so you'll experience plenty of rainy days. Showers (and downpours) aside, daytime temps are still in the mid 80s, so you'll be able to enjoy time outdoors when the weather cooperates. Pack tees, shorts, dresses, and other warm weather options.
Recommendations: Striped jumpsuit, straw bucket hat, tie leg sandals 
December
Plan for day temps between 73 and 84 degrees
Expect 5.02 inches of precipitation in December
What to Wear in San Juan, Puerto Rico in December: Despite the fact that December isn't considered hurricane season, this month sees its fair share of rain. Like the rest of the year, the weather is still otherwise pleasant, with temperatures in the low 80s. Pack your regular summer clothes and an umbrella for inevitable sprinkles.
Recommendations: Travel umbrella, leather flip-flops, drawstring shorts
STYLE FOR SAN JUAN, PUERTO RICO

There's no arguing about it—San Juan is a hot, humid, and exceptionally sticky destination. That said, locals know how to work within weather's bounds to curate chic outfits. Even outside of San Juan Moda—the city's twice-annual fashion week—visitors will find that natives dress to impress, forgoing flip-flops for smart sneakers or heels, and graphic tees for polished button ups or blouses. Gauzy sundresses are a go-to, as are linen pants and tailored cotton shirts for men. It's expected that tourists will wear tees, shorts, and sandals during casual daytime activities, but just be sure to pack at least one a pair of chinos (or dark jeans) and some closed-toe shoes as many restaurants enforce a dress code come dinnertime. Likewise, salsa clubs call for more refined attire. Don't overdo it on the tropical prints and colors, either. Yes—San Juan is a vibrant island destination, but locals still appreciate neutrals.
WOMEN'S STREET STYLE
Women's Street Style for San Juan
MEN'S STREET STYLE
Men's Street Style for San Juan
FIVE FOOLPROOF OUTFITS FOR YOUR TRIP TO SAN JUAN, PUERTO RICO
1. What to wear to shop the craft markets and flea markets in San Juan
Women's Craft Market Outfit
Planning to peruse the clothing, handmade jewelry, and other artisan fares at San Juan's flea and craft markets? You can really wear whatever you're most comfortable in—be it jeans and a t-shirt or a sundress and sandals. Just consider what your after-market plans are, because if a nice dinner is in the cards, you'll want to be dressy enough to go straight to the restaurant without changing.
Men's Craft Market Outfit
Like the ladies, men can really wear whatever they want at the market. Don't forget a backpack or tote to carry all your goodies and souvenirs. If you have dinner or drink plans post-shopping, you may want to trade shorts for pants and sandals for nice sneakers as many restaurants and bars enforce a dress code.
2. What to wear for a day at the beach in San Juan 
Women's Beach Outfit for San Juan
Whether you're hitting Condado Beach, Ocean Park Beach, or Isla Verde Beach your main consideration will be a swimsuit. There's sunbathing and dips in the ocean, of course, but you can also snorkel or arrange for water sport rentals. When you're on the sand, you'll also appreciate a pair of sunnies and a towel to stretch out on. We recommend stowing a Turkish towel in your tote as they take up little space, are super fast-drying, and can be fashioned as a sarong in a pinch.
Men's Beach Outfit for San Juan
There really is no dress code on the beach—throw on some boardshorts and you'll be good to go. If you plan to relax on the sand with a book or podcast, don't forget some shades and a towel. Of course, you'll also want sunscreen on hand as San Juan's UV index is frequently off the charts. Men should also bring a Turkish towel for drying off and laying out.
3. What to wear to tour the historic sights in Old San Juan 
Women's Historic Sights of Old San Juan Outfit
Old San Juan is a hilly part of town with many cobblestone streets. Because of this, comfortable footwear is a necessity. You can definitely get by with a pair of sandals; you'll just want to make sure it's not your first time wearing them as this is no time for blisters. If you don't have any beach plans on the day you hit OSJ, leave your swimsuit and flip-flops behind. San Juan is a trendy place and locals are quite chic, so you'd do well with a jumpsuit or sundress.
Men's Historic Sights of Old San Juan Outfit
Atmospheric Old San Juan calls for a lot of walking, so you'll want to wear comfortable sneakers. Just like for the ladies, it's best to wear something a bit more polished than beachwear, like chambray shorts and a button-down t-shirt. It's also not a bad idea to carry a backpack with essentials like a water bottle, sunglasses, baseball cap, and sunscreen.
4. What to wear to go salsa dancing in San Juan 
Women's Salsa Dancing Outfit
San Juan is no stranger to salsa. You'll find that various bars, cafes, and hotels throughout the city—La Placita in Santurce is a favorite—host nightly salsa dancing events. While it's always smart to check your venue's website for an official dress code, ladies can usually get away with heels and a pair of skinny jeans and a dressy top, or a bodycon dress that ends around the knees. Loose clothes are a salsa dancing no-no as they'll get caught up as you fly around your partner.
Men's Salsa Dancing Outfit
Leave your shorts and flip flops back at the hotel, guys. Beach attire will bar your entrance into most of the city's salsa venues. Instead, opt for a pair of dark chinos or jeans, dress shoes, and a long-sleeved button-up shirt. Since it's already hot out and you'll be working up a sweat on the dance floor, make sure you go with lightweight materials like linen. Also, if you know you'll sweat right through a white shirt, go with a black one as it'll better hide perspiration.
5. What to wear to visit El Yunque National Rainforest
Women's El Yunque National Rainforest Outfit
Hiking trails, waterfalls, and 29,000 acres of unspoiled tropical rainforest inside El Yunque National Rainforest call for active clothes. While you'll see warnings posted for poisonous plants, these are far off the beaten path, so you'll be fine with shorts, a tank or tee, sneakers (with traction), and a swimsuit. Bring a daypack to stow sunscreen, bug spray, a water bottle, and quick-drying towel.
Men's El Yunque National Rainforest Outfit
Treks through El Yunque definitely call for sporty clothes, but don't worry about hiking boots or specialty packs. Swim trunks, a solid pair of sneakers, and a t-shirt will be just fine. We like the Yeti water bottle for staying hydrated.
FREQUENTLY ASKED QUESTIONS ABOUT PACKING FOR SAN JUAN, PUERTO RICO

Is Puerto Rico still devastated from Hurricane Maria?
There's no doubt that San Juan is still recovering from the devastation of Hurricane Maria. The category 5 storm made landfall in September 2017, and it came hot on the heels of equally catastrophic Hurricane Irma, giving the island little time to breathe and recuperate. The tourism board reports that the most noticeable differences—for tourists—are damaged roads, overgrown weeds in some areas, and run-down residential areas (further outside of town). This March, nearly 18 months after Maria, the last of San Juan's remaining residents were reconnected to the U.S. power grid. But that said, electricity is still touch and go (a cat recently caused a surprise outage), so you'd do well to pack a power bank or two to charge up your electronics. All that said, San Juan's further reparation hinges on continued financial support, so tourism dollars are much appreciated.
What currency is used in San Juan?
Because San Juan is a U.S. territory, American dollars and credit cards are accepted everywhere. You won't have any trouble finding ATMs or American banks, so it's not necessary to carry around large amounts of cash, either. If you'd feel more comfortable stowing small bills (good for tips at restaurants and hotels) in a money belt, we recommend the Eagle Creek Silk Undercover.
Is it safe to walk around Old San Juan at night?
Overall, San Juan is considered a generally safe place to walk around—even at night. But like in any major city, it's best to stick to tourist areas and leave valuables in the safe at your hotel. The rule of thumb for Old San Juan is to check out the bars and clubs of Fortaleza Street, but to avoid the La Perla and Puerta de Tierra neighborhoods, as well as the beach (there is no night patrol). If you need help with directions, you'll also notice there's a large police presence. These officers are bilingual, so you can ask for help.
I'm a foodie. What food is Puerto Rico known for? Where are the best places to eat in San Juan?
When it comes to food, comida criolla is San Juan's signature cuisine. Though the phrase translates to "Creole cooking" in English, it's not what most in the States would recognize as Creole. Instead, dishes are a mix of indigenous Spanish, African, and American influences. Must-try dishes include mofongo (mashed plantain and fillings), lechon (spit-roasted suckling pig), asopao (gumbo), and alcapurrias (fritters). Of course, that's just scratching the surface. You can find these eats at every price point, so it's up to you if you want to splurge on elevated dishes at a sit-down spot or grab some local grub at a beach stand.
How far is San Juan from El Yunque National Forest?
Depending on traffic and where you're staying in San Juan, El Yunque National Forest is about a 40- to 50-minute drive from San Juan proper. If you're driving yourself, you can take Route 3 out of the city and then connect to Route 191 to reach the forest. That said, you may run into issues with your GPS as many "shortcut" streets were washed away by Hurricane Maria. Because of that, it's smart to have a physical map on hand or to download a map that won't require any data to access (service is spotty when you reach the forest). If you're worried about getting lost, you can always hire a car to take you or arrange for a group tour. Most hotels can suggest guided tour operators (which includes the cost of transportation) for roughly $50 to $100 per person. Or, arrange one yourself ahead of time on Viator.
Related Stories