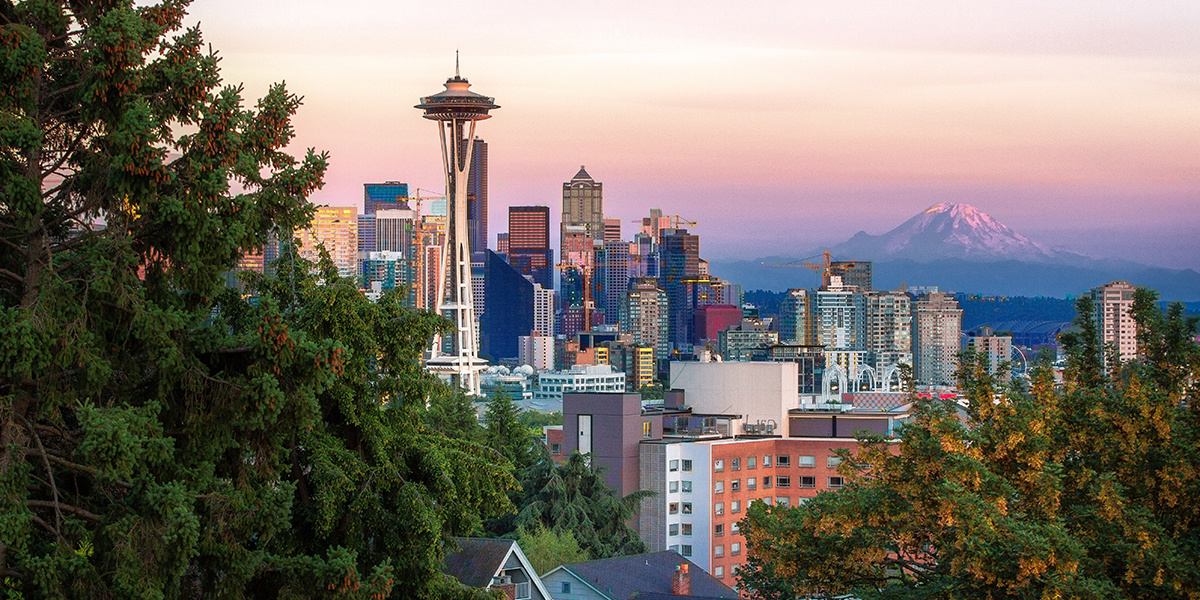 By Destination
The Ultimate Seattle Packing List
We say "sleepless," you say… "Seattle." And if that wasn't your first thought, then clearly you aren't as '90s romcom obsessed as we are. Meg Ryan and Tom Hanks aside, the city of Seattle is the culture capital of the Pacific Northwest. It lays claim to re-inventing coffee customs (thank you original Starbucks) and is home to over 100 museums, galleries, and theater companies. And let's not forget music. Check out one of the city's numerous live music venues and you could end up listening to the next big thing—after all, Seattle is the birthplace of such legends as Nirvana, Jimi Hendrix, and Pearl Jam. The Emerald City, so named for the beautiful year-round greenery, has more than 400 parks and natural areas to explore. So pour a cup of your favorite java, scroll down, and read on for our foolproof list of what to pack for Seattle.
YOUR SUITCASE PACKING CHECKLIST
*Keep these items in your carry-on
Clothes to Pack
Underwear
Bras/camis/undershirts
Socks/tights
PJs
T-shirts
Pull-on/button-up shirts
Shorts/skirts
Sweaters/sweatshirts
Swimsuit
Shoes to Pack
Heels/dress shoes
Sandals
Sneakers/hiking shoes
Boots
Accessories to Pack
Purse
Hats/scarves/gloves
Jewelry*
Belts
Ties
Fold-down tote
Toiletries to Pack
Toothbrush
Dental floss
Body wash/soap
Deodorant
Face wash/makeup remover
Moisturizer
Contact lenses/solution
Razor/shaving cream
Shampoo/conditioner
Brush/comb
Earplugs/eye mask*
Tissues*
Hair-dryer/styling tools
Hair elastics/hair accessories
Tampons/pads*
Birth control/condoms*
Hand sanitizer*
Bandages
First-aid ointment
Bug spray
Medications/vitamins*
Stain remover
Tech to Pack
Phone/charger*
Portable battery charger
Laptop/tablet/e-reader*
Device chargers*
Power adapter (international travel)
Camera/video camera*
Memory card/film*
Other Essentials to Pack
Wallet (credit/debit cards/ID/cash)*
Passport/visa*
Keys*
Medical insurance card*
Snacks/gum*
Books/magazines/guidebook*
Laundry bag
Helpful Printouts to Pack
Emergency contacts*
Boarding pass/hotel and car rental reservations*
Maps/directions*
Bank/credit card contact info*
Copies of passport/ID*
THE PERFECT LUGGAGE
Weekends away in Seattle call for luggage that is easy, versatile, and above all, compact. Enter Samsonite's Armage 2X Expandable Weekender. With its multiple pockets and durable material, this sturdy, organization-friendly bag is the clear choice for a quick trip to the Emerald City. Best of all? It has two levels of expansion, which means you'll be able to bring back as many souvenirs as you like.
The magic of our week-trip in Seattle pick lies in its name: "underseater." Not only is Kenneth Cole's carry-on suitcase spacious enough to fit seven days worth of clothing, shoes, and toiletries, it doesn't even need to be stored in the overhead bins. This slender two-wheeler slides easily under your seat, meaning you never have to worry about having enough overhead space for your case.
For Seattle trips that last two weeks or longer, we suggest taking a larger suitcase such as Nordstrom's 29" Spinner. This lightweight case features a durable hard shell, zippered interior dividers, and expansion sleeves to ensure maximum organization and space while traveling. Even better? It comes with a matching carry-on bag for even more storage opportunities.
THE 3 PAIRS OF SHOES YOU'LL NEED FOR EXPLORING SEATTLE
Women's Shoes
Men's Shoes
When it comes to packing shoes for a trip to Seattle, less is more. You might think you want those super cute combat boots to tap into Seattle's grunge roots, but that will change when you realize they're the reason you can't fit your spoils from Pike Place Market in your suitcase. When vacationing you rarely ever need more than three pairs of shoes. For Seattle, the shoe list includes something fun (and functional) for days spent pounding the pavement and taking in the sights, a fancy option for nights on the town, and then a good pair of hiking boots. Not only are you in the center of the Puget Sound region, but there are six different mountains you can climb. Access to that kind of natural beauty demands its own type of footwear.
STYLE FOR SEATTLE
Here's the thing, in Seattle, clothing tends to heavily skew towards function and comfort. This is one city where the great outdoors is a way of life. What does that mean, exactly? Allow us to break it down: layers to ward off the cold, hooded jackets to brave random rain showers, and water-resistant boots to battle deeper-than-they-seem puddles. That isn't to say that the locals don't also play around with their looks. Bold colors and yes, flannels and plaid, are enjoyed and encouraged in Seattle. The good news is that you can pack all of your favorite comfy clothes without fear of ever looking out of place. The bad news…well, there isn't really any bad news. Feel free to do you—especially if "you" includes a lightweight rain jacket. Don't believe us? Check out the Museum of History and Industry's exhibition, Seattle Style: Fashion/Function for the official take on local style.
Seattle Street Style for Women
Seattle Street Style for Men
FIVE FOOLPROOF OUTFITS FOR YOUR TRIP TO SEATTLE
1. WHAT TO WEAR TO TOUR THE SPACE NEEDLE AND PIKE PLACE MARKET
Pike Place Market's nine acres include farm shops, crafts markets, more than 200 stores, and over 80 restaurants. Wear something that'll take you from day-to-night, so you can go from sightseeing to fine dining without taking a break to change.
Women's Pike Place Market Outfit
If your day includes a visit to the Space Needle, opt for comfy shoes that can withstand potential long lines. Pro tip: go early to beat the crowds and get to the top for the best selfies and views of Mt. Rainier.
2. WHAT TO WEAR TO HANGOUT IN SEATTLE'S COFFEE SHOPS
Checking out the city's numerous coffee shops offers an opportunity to relax and enjoy the perfect cup of joe (or an iced latte macchiato with extra whip, no judgment). Bring a good book, notebook, or whatever else helps you chill and soak up the atmosphere.
Women's Coffee Shop Outfit
If you're struggling to find your perfect brew, then check out a coffee cupping. Available at cafes around Seattle, these weekly tastings help you to identify the best notes, aroma, and taste for your palate. Bring a notebook to write it all down.
3. WHAT TO WEAR TO VISIT THE WOODLAND PARK ZOO
Pack some fun animal prints and walk on the wild side as you explore the African Savanna, Australasia, the Tropical rainforest, and other must-see Woodland Park Zoo exhibits. This cowboy-inspired hat will keep the sun off your face.
Women's Woodland Park Zoo Outfit
Want to combine music with animal sightings? Check out the Woodland Park Zoo's summer concert series, Becu Zootunes, for live performances by such artists as Feist, Flock of Seagulls, and the Indigo Girls. Birkenstocks will fit in nicely and keep your feet comfortable.
Men's Woodland Park Zoo Outfit
4. WHAT TO WEAR TO TOUR THE SEATTLE ART MUSEUM
Channel your artistic surroundings with a rosy colored midi dress. If time—and weather—allows, be sure to stop at the Olympic Sculpture Park to enjoy stunning artwork across nine acres of beautiful waterfront land.
Women's Seattle Art Museum Outfit
Take a break from Seattle's usual fashion code of athletic wear and hiking gear, and go for something a bit more bold to explore the art scene.
Men's Seattle Art Museum Outfit
5. WHAT TO WEAR TO HIKE AROUND MOUNT RAINIER
A day of hiking calls for comfy leggings, good shoes (read: offers strong traction and support), and a lightweight backpack. Oh, and don't forget your water bottle.
Women's Mount Rainier Hiking Outfit
All-day hiking means being prepared for anything. These convertible pants have got you covered for cold or hot weather—they quickly transform into a pair of shorts with two easy zips.
Men's Mount Rainier Hiking Outfit
WHAT NOT TO PACK FOR SEATTLE
Even in July and August the average temperature doesn't get much above 75° in Seattle. This is one trip when you can leave your sarongs and barely-there summer gear at home. We still suggest bringing a swimsuit if you have access to a pool or hot tub at your hotel. While it doesn't rain as much as rumor would have you believe, it does still rain a fair amount. It's a good idea to skip any footwear made from suede or other water-intolerant materials. It's true a little dry brush can revive these fabrics, but why bother if you don't have to, right? Seattle is also a casual city, and locals prefer comfy workout and performance gear over three-piece suits and high heels. Skip the formal wear, unless you're in Seattle for something with a specific dress code.
THE *ONE THING* WTP EDITORS ALWAYS PACK FOR SEATTLE
In Seattle, it's okay to tone down the glam. This is one vacation spot where it's acceptable, and even encouraged, to step away from the full face of makeup, elaborate hairstyles, and fussy outfits. And on vacation, that less look is more attitude can be very liberating and relaxing. A messy ponytail, swipe of lip gloss (cruelty-free, of course), and your favorite athleisure or performance gear can take you from the coffee shop to a hike around the Chain Lakes Loop to a global infusion dinner at Nue. We lean into that carefree and outdoorsy fashion vibe with a well-made plaid shirt from Rails. The black-and-white plaid top is tailored to women's proportions, and offers just a touch of Seattle's famous grunge vibe, while still looking polished. We pair it with jeans or leggings, and it's an excellent layering piece if you want to throw a sweater over it, or wear it open to show off your favorite Nirvana t-shirt.
SEATTLE'S WEATHER AND SEASONS
Weather in Seattle is pretty temperate all year round. You won't have to deal with below freezing temperatures or heavy snowfall in the winter months, or extreme heat and humidity in the summer. You will, however, have to plan for rain. November through January are the rainiest months of the year in Seattle, so if you're visiting over one of those months then we strongly recommend packing some rain boots in addition to your travel umbrella and raincoat. Don't believe the hype though—while there are months of heavy rain, there are also plenty of seasons when the chance of precipitation is low. During June through September the city averages more than 230 hours of sunshine a month, which means you'll have plenty of nice weather to enjoy Seattle's outdoor activity options.
Note: This data comes from our friends at Weather.com. We recommend using this together with a traditional forecast as you get closer to your departure date.
JANUARY
Plan for day temps between 36 and 47
Expect 5.24 inches of precipitation
What to Wear in Seattle in January: On average, January is the coolest month of the year. Layer up with a warm sweater and hooded coat.
Recommendations: Star-patterned sweater, cashmere scarf, women's down coat
FEBRUARY
Plan for day temps between 37 and 51
Expect 4.23 inches of precipitation
What to Wear in Seattle in February: Temperatures rise—if only slightly—this month. Continue to stay warm with a woolly hat and boots.
Recommendations: Ribbed beanie, shearling-lined boots, touchscreen-capable gloves
MARCH
Plan for day temps between 39 and 55
Expect 3.92 inches of precipitation
What to Wear in Seattle in March: In recent years, Seattle has seen record highs in March. Prepare for both possibilities with long-sleeve tops and a cozy cardigan.
Recommendations: Boyfriend cardigan, women's turtleneck, black high-rise jeans
APRIL
Plan for day temps between 43 and 59
Expect 2.73 inches of precipitation
What to Wear in Seattle in April: Surprisingly, the chance of rain drops this month. However we'd still grab a travel umbrella—just in case the season brings April showers after all.
Recommendations: Travel umbrella, baseball hat, lightweight raincoat
MAY
Plan for day temps between 48 and 65
Expect 2.03 inches of precipitation
What to Wear in Seattle in May: May offers the best sightseeing weather outside of peak travel season. Don your comfiest shoes to take advantage of fewer crowds around the city.
Recommendations: Floral Nikes, belt bag, knit sweater dress
JUNE
Plan for day temps between 53 and 70
Expect 1.55 inches of precipitation
What to Wear in Seattle in June: Summer has officially begun! As the chance of rain dies down, break out your warmer weather gear.
Recommendations: Distressed jeans, slip-on sandals, sunglasses
JULY
Plan for day temps between 56 and 75
Expect 0.93 inches of precipitation
What to Wear in Seattle in July: July brings the hottest month of the year: it's time to wear all the shorts and sunglasses.
Recommendations: Men's shorts, sunglasses, printed short-sleeve shirt
AUGUST
Plan for day temps between 57 and 75
Expect 1.16 inches of precipitation
What to Wear in Seattle in August: Grab your hiking boots and performance-friendly gear—hiking and biking season has arrived.
Recommendations: Leggings, hiking boots, collapsible water bottle
SEPTEMBER
Plan for day temps between 53 and 70
Expect 1.61 inches of precipitation
What to Wear in Seattle in September: Dry and sunny weather means September is still peak travel season for Seattle. Get ready to see the sights with comfortable shoes and bold sunnies.
Recommendations: Espadrille sandals, round sunglasses, floral maxi dress
OCTOBER
Plan for day temps between 46 and 60
Expect 3.24 inches of precipitation
What to Wear in Seattle in October: Temperatures start to cool this month so grab some layer-friendly sweaters and tops to stay warm and comfy.
Recommendations: Cardigan, long-sleeve henley, cashmere sweater
NOVEMBER
Plan for day temps between 40 and 52
Expect 5.67 inches of precipitation
What to Wear in Seattle in November: The chance of rain increases significantly this month. Be sure to have a raincoat on hand, and you won't be mad at a pair of warm boots.
Recommendations: Travel umbrella, raincoat, shearling-lined boots
DECEMBER
Plan for day temps between 36 and 47
Expect 6.06 inches of precipitation
What to Wear in Seattle in December: Rain is at an all time high in December. We suggest having some Wellies on hand.
Recommendations: Ribbed beanie, scarf, rain boots
FREQUENTLY ASKED QUESTIONS ABOUT SEATTLE

What is the best coffee shop/cafe in Seattle?
Trying to choose the best coffee shop in Seattle is like picking the best bakery in France—nearly impossible! (Though personally we're partial to Boulangerie Utopie in the 11th). The birthplace of Starbucks, Seattle has as many coffee shops as New York does Duane Reades. While we can't say which of these is truly the best, some especially popular spots include Victrola Coffee Roasters, Herkimer Coffee, and Slate Coffee Bar. You'll have to try them all and decide for yourself. Don't forget that coffee beans make excellent souvenirs.
Does it really rain a lot in Seattle? How can I prepare?
Popular myth would have you believe that it rains every day in Seattle. That isn't the case. Typically, the city experiences some sort of rainfall about 150 days of each year—and January, November, and December are the months that see the heaviest amount of that rain. The easiest way to be prepared is to make sure you pack a travel umbrella and/or some sort of raincoat whatever month you decide to visit. There are some rumors that locals never use umbrellas, opting for hooded raincoats instead. We say, go with whichever option makes you comfortable.
How does Seattle compare to Portland? And can I visit Portland as a day trip?
While Portland and Seattle do have a lot in common (growing craft brewing scene, appreciation of hiking and other outdoor activities, popular live music venues), Seattle definitely pulls ahead in the sheer number and variety of things to see and do. One area that Portland takes the lead, however, might be food. Don't get us wrong, Seattle has some amazing restaurants, but Portland is home to a number of culinary institutes and also has a strong food cart culture. While we'd suggest a weekend trip if you can swing it (about a three-hour drive), a day trip to Portland is very easy: There's an Amtrak that frequently runs between the two cities, or if you'd rather fly you can hop on a quick 20-minute Alaska Airlines flight.
Where can I check out the music scene in Seattle?
After coffee and well, rain, music is probably the thing Seattle is most known for. Luckily, the city has a number of live music venues to check out well-known and homegrown talent. Neumos is your go-to to catch a wide variety of musical genres. While Tula's and The Crocodile have the local jazz and rock 'n roll scenes covered, respectively.
What do I need to know about buying marijuana in Seattle?
Washington state's recreational marijuana industry is ever-growing, includes more than 500 bustling retailers, and is 100% legal. Seattle's slice of the marijuana market covers the ultra high-end, the all-green-everything, and the community-oriented, to name a few. Honestly, the entire process is easy—you just need to be over the age of 21 to participate. One word of caution: just because you bought marijuana in a state where it was legal, doesn't mean you can fly with it. TSA will not take your originating or destination cities into account and if found with marijuana, you could find yourself in trouble. Play it safe and stick to enjoying cannabis in the state where you bought it.
Related Stories