By Destination
The Ultimate Seoul Packing List
If you're plugged into the travel scene, you're probably aware that Seoul is something of an "it" destination. The South Korean capital offers an intoxicating mix of culture, palaces, nature, and food and nightlife—this is a place where you could hike a mountain during the day, then spend your night dancing all over town. Such diverse attractions can make packing a bit of a nightmare. On top of everything, Seoul is a frontrunner for fashion and beauty trends that the rest of the world eventually picks up on. So if you want to fit in with locals, pack items that are versatile, flexible, and make a statement. Read on for the best items to bring with you to Seoul in any season, plus killer outfit ideas, shoe recommendations, and more.
Your suitcase packing checklist
Click items to view travel editor-approved options
THE PERFECT LUGGAGE
The first step in packing for your Seoul adventure is nailing down your luggage situation. If you're going for just a few short days, consider Bric's sleek leather-trimmed duffle bag. The minimalist yet spacious bag is water-resistant and features a zip pouch that can be totally removed and worn as a crossbody bag. Longer stays require larger cases, like Calpak's Ambeur Carry-on, a ridiculously cool-looking hard-shell that comes with a padded retractable handle and smooth, multi-directional wheels. Travelers in town for a week or more (or to do serious shopping) will do well with Samsonite's textured Silhouette Spinner. The 29-inch, scratch-resistant case comes with a removable pocket that's perfect for toiletries and other potentially messy items, plus it expands to give you an extra—and crucial!—inch and a half of space. Something that will definitely come in handy when packing the million sheet masks you're gifting to friends back at home (i.e., keeping for yourself).
THE THREE PAIRS OF SHOES YOU'LL NEED FOR EXPLORING SEOUL
Activities in Seoul run the gamut. In one day, you can stroll through centuries-old palaces, boat on the Han River, and belt out K-pop songs in a noraebang (karaoke lounge). As such, you'll need shoe options, but really just three should do the trick: A comfy-cute pair for taking in the sights, an athletic pair suitable for outdoor activities, and a dressier style for nights out. Hiking is an especially popular South Korean pastime, so you'll definitely want shoes that can handle Seoul's mountains, hiking trails, or even gym-playgrounds!
Women's Shoes
Men's Shoes
STYLE FOR SEOUL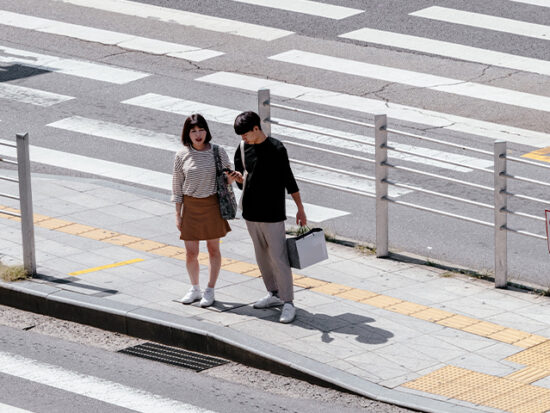 Seoul's sidewalks basically double as catwalks, but that doesn't mean you have to pack a parade of designer looks. Instead, aim for a mix of high and low. Streetwear-inspired trends—bucket hats, bomber jackets, chunky sneakers—are big in Seoul, and easy to tap into via reasonably priced retailers like Urban Outfitters, Topshop, and Asos.
Of course you're going to want to do some on-the-ground shopping. Ask locals where to go and they'll likely tell you Ewha Woman's University Shopping Street and Dongdaemun. Both areas offer trendy clothing at prices that appeal to even limited budgets—as in, you can get a pair of jeans for around 10,000 won (about $8). If you want more of an upscale shopping experience, head to Cheongdam-dong (home to Korea's version of the Avenue des Champs-Elysees) or Garosu-gil, where you can find the boutiques of many local Korean designers.
FIVE FOOLPROOF OUTFITS FOR SEOUL
1. WHAT TO WEAR FOR SIGHTSEEING IN SEOUL
Fun fact: people who wear traditional Korean ceremonial garb (hanbok) to visit South Korea's palaces—including Gyeongbokgung, Changdeokgung, Changgyeonggung, Deoksugung, and Gyeonghuigung—get in for free! But if you're not comfortable donning customary dress to visit the country's royal heritage sites, we recommend sticking to easy, breathable pieces that layer well, plus a great pair of walking shoes. Other sites not to be missed include the National Folk Museum of Korea (located inside Gyeongbokgung Palace), Dongdaemun Design Plaza, the popular Lotte World adventure park, and the National Museum of Korea—the largest museum in the country, with more than 10,000 Korean artifacts on display.
Women's Seoul Sightseeing Outfit
Men's Seoul Sightseeing Outfit
2. WHAT TO WEAR HIKING AND EXPLORING SEOUL'S NATIONAL PARKS AND OUTDOOR AREAS
If you're familiar with Korean dramas, then you know that enjoying the beautiful outdoors is a popular leisure activity for South Koreans. Cushioned trainers and on-trend athleisurewear ensure you stay comfortable whether hiking up Mt. Namsan, strolling along Cheonggyecheon Stream, or simply enjoying one of Hangang Park's many recreational spaces. And if you're reading this and thinking, I haven't seen any Korean dramas?!, might we recommend "Secret Garden"? It won't disappoint.
Women's Hiking Outfit for Seoul
Men's Hiking Outfit for Seoul
3. WHAT TO WEAR SHOPPING IN SEOUL
Planning to pound the shopping-paradise pavements of Myeongdong Shopping Street (a tourist favorite), Namdaemun Market (one of the oldest public markets in Korea), or the Common Ground (a mall made from hundreds of shipping containers)? Anything goes, style-wise. However, in the interest of making trying on hoards of clothes as easy as possible, we suggest simple on/off items like T-shirt dresses, stretchy pants, and laceless shoes.
Women's Shopping Outfit for Seoul
Men's Shopping Outfit for Seoul
4. WHAT TO WEAR TO DINNER IN SEOUL
Depending on where you're headed to dinner, the dress code can vary greatly. Your best option is to wear something you can easily dress up or down. The looks below work whether your plan is to fill up on street food at the century-old Gwangjang Market or have the feast of a lifetime at one of the city's Michelin-starred restaurants. P.S.: It's worth waiting in the long line outside of Tosokchon Samgyetang for the ginseng chicken soup alone.
Women's Dinner Outfit for Seoul
Men's Dinner Outfit for Seoul
5. WHAT TO WEAR FOR A NIGHT OUT IN SEOUL
Dancing the night away in ultra-hip Hongdae—a nightlife district known for its underground music scene and hip-hop clubs—calls for bringing your fashion A game. K-pop fans can get their fix at Hongdae hot spot Club I Love K-Pop, or the pop-group-themed SMTOWN (where you can catch 3D hologram concerts).
Women's Nightlife Outfit for Seoul
Men's Nightlife Outfit for Seoul
WHAT NOT TO PACK FOR SEOUL
Unless you're planning on visiting Jeju Island (and if you have the time, you totally should!), then there's no need to bring resort wear—sarongs, wide-brim sunhats, and the beachy like. You won't wear such items in the city and they will just take up precious suitcase space. This doesn't mean you won't have opportunities to relax in Seoul, however. Channel the spa life by visiting a jjimjilbang (Korean sauna), and enjoy healing steam rooms, hot springs, and more.
THE *ONE THING* WTP EDITORS ALWAYS PACK FOR SEOUL
You'll put Baggu's nylon 3D Zip Set—a trio of cute printed zippered bags—to such good use in Seoul. Dedicate one of the three ripstop pouches as a receptacle for empty wrappers, receipts, ticket stubs, and other small pieces of trash or recyclables you amass throughout the day—aside from in train stations, you won't find public trash cans around the city. Instead, tuck the day's detritus in this washable pouch and dispose of it when you reach your hotel or Airbnb. As for the other two? Use them for clean or dirty delicates, toiletries, electronics/cords—whatever suits your needs. Depending on the Korean bathhouse you visit in Seoul, you may want to bring a terrycloth spa wrap and a full arsenal of beauty products (including shampoo, conditioner, face moisturizer, and body oil). All will fit in the largest foldable pouch—it's bigger than it looks.—WTP Editors
SEOUL'S WEATHER AND SEASONS
The weather in Seoul can be somewhat unpredictable. Winters are typically cool and mild, but there is also the possibility of chilly frost. Summer temperatures can soar, yet they're often tempered by clouds and precipitation. In fact, May through September are the months that get the most rain, with July being the wettest month in the city. As such, it's important to be prepared no matter when you're visiting and always keep an umbrella or foldaway raincoat handy. If the chance of rain isn't your thing, then we suggest visiting in the winter—December, January, and February are the driest months of the year. It's also important to note that due to the high volume of people and buildings, the temperature in the city will always be a few degrees higher than that of the country.
Note: This data comes from our friends at Weather.com. We recommend using this together with a traditional forecast as you get closer to your departure date.
JANUARY
Plan for day temps between 21 and 33
Expect 0.82 inches of precipitation
What to Wear in Seoul in January: January is the coldest month of the year. Take advantage of low temps by wrapping up in stylish, layer-friendly knits and accessories.
Women's Recommendations: Ribbed turtleneck, cashmere scarf, fleece gloves
Men's Recommendations: Faux-fur parka, ribbed beanie, leather gloves
FEBRUARY
Plan for day temps between 25 and 38
Expect 0.98 inches of precipitation
What to Wear in Seoul in February: Temperatures are still on the cooler side in February—thick corduroy pants, chunky-knit beanies, and waterproof combat boots ensure you stay warm (and cute) all month long.
Women's Recommendations: Cozy cardigan, cable-knit beanie, merino wool socks
Men's Recommendations: Waterproof cold-weather boots, corduroy jeans, plaid scarf
MARCH
Plan for day temps between 35 and 49
Expect 1.86 inches of precipitation
What to Wear in Seoul in March: Things are starting to warm up in March—though only slightly. Plan your travel wardrobe around chic trench coats, bomber jackets, and other layer-friendly gear.
Women's Recommendations: Turtleneck, trench coat, loafers
Men's Recommendations: Button-down shirt, combat boots, bomber jacket
APRIL
Plan for day temps between 46 and 62
Expect 2.54 inches of precipitation
What to Wear in Seoul in April: Turns out April really does bring showers—at least in Seoul, that is. The chance of rain begins to increase this month, so make sure to have a travel umbrella or anorak on hand just in case.
Women's Recommendations: Travel umbrella, Chelsea boots, kerchief scarf
Men's Recommendations: Trench coat, bucket hat, cotton crewneck
MAY
Plan for day temps between 55 and 72
Expect 4.17 inches of precipitation
What to Wear in Seoul in May: Spring (and warmer temps) are officially here! And so is an increased probability of rain. Stay cool and dry with breathable distressed denim and rain-ready footwear.
Women's Recommendations: Flare jeans, anti-frizz hair sheets, waterproof booties
Men's Recommendations: Chinos, cotton henley, chukka boots
JUNE
Plan for day temps between 64 and 79
Expect 5.24 inches of precipitation
What to Wear in Seoul in June: June heralds the beginning of hurricane season in Seoul. Packing essentials for this month include windbreakers, bucket hats, and anything else to battle rain and potential high winds.
Women's Recommendations: Cropped pullover, trench coat, bucket hat
Men's Recommendations: Windbreaker, waterproof high-tops, baseball cap
JULY
Plan for day temps between 71 and 82
Expect 15.54 inches of precipitation
What to Wear in Seoul in July: We've officially hit the wettest month of the year. Maintain a stellar sightseeing sitch at all times by packing raincoats and waterproof shoes and boots.
Women's Recommendations: Hiker rain boots, rain jacket, anti-frizz hair sheets
Men's Recommendations: Water-friendly sneakers, anorak, travel umbrella
AUGUST
Plan for day temps between 72 and 84
Expect 14.34 inches of precipitation
What to Wear in Seoul in August: August, otherwise known as the warmest month of the year, is when it finally begins to feel like summer in Seoul. Keep your cool (literally) by sticking to lightweight clothing that won't cling.
Women's Recommendations: Breezy dress, waterproof sport sandals, baseball cap
Men's Recommendations: Short-sleeve shirt, chinos, slides
SEPTEMBER
Plan for day temps between 63 and 77
Expect 6.67 inches of precipitation
What to Wear in Seoul in September: The rain finally dies down in September. Grab your athleisurewear and sneakers to explore the city's amazing outdoors, taking advantage of the dryness and still-warm temps.
Women's Recommendations: Pull-on sneakers, seamless leggings, track jacket
Men's Recommendations: Backpack, baseball cap, sunglasses
OCTOBER
Plan for day temps between 51 and 66
Expect 2.04 inches of precipitation
What to Wear in Seoul in October: Comfortable temperatures and a low chance of rain make October one of the most popular times to visit Seoul. Evenings can be chilly though, so make sure to have a jacket or cozy wrap at the ready.
Women's Recommendations: Drapey trench coat, cotton crewneck, extra-long scarf
Men's Recommendations: Fleece corduroy jacket, flannel shirt, ribbed beanie
NOVEMBER
Plan for day temps between 38 and 51
Expect 2.07 inches of precipitation
What to Wear in Seoul in November: Temperatures drop considerably in November. Amp up your style (and warmth levels) by packing chic blazers, sleek parkas, and other fashion-meets-function fare.
Women's Recommendations: Wool blazer, cashmere gloves, ribbed beanie
Men's Recommendations: Short parka, leather gloves, wool beanie
DECEMBER
Plan for day temps between 27 and 38
Expect 0.85 inches of precipitation
What to Wear in Seoul in December: December brings cold, dry weather. Bring winter staples such as cashmere sweaters and extra-strength hand cream to ensure you stay warm and moisturized during your travels.
Women's Recommendations: Cashmere crewneck, knit beanie, hand salve
Men's Recommendations: Windproof parka, cold-weather boots, fleece gloves
FREQUENTLY ASKED QUESTIONS ABOUT SEOUL

What do I need to know about the Seoul Metro? What about the Namsan cable cars?
Celebrated for its cleanliness, ease of use, and Wi-Fi accessibility, the Seoul Metropolitan Subway is super-convenient for getting around the city. Stops are announced in Korean and English and exits detail nearby attractions. A rechargeable T-money card—good for trains, buses, and taxis—is the best way to navigate the metro and also gets you a slightly discounted fare (savings of 100 won). Cards are available for purchase at almost all subway booths and convenience stores, though note that refills can only be done with cash. Also keep in mind that the subway doesn't run around the clock—it typically operates from 5:30 a.m.-1 a.m. on weekdays and from 5:30 a.m. to midnight on weekends. If you're looking to head to the top of North Seoul Tower and don't want to hike up the walkway, hop in a Namsan Cable Car. The all-glass aerial tramway runs from the base of Mt. Namsan in central Seoul to North Seoul Tower and offers a stunning view of the Downtown skyline.
How do I get to Gyeongbokgung Palace from Seoul Station? How do I get to Changdeokgung Palace?
The fastest and easiest way to get to Gyeongbokgung Palace from Seoul Station is to take one of four buses to the Gyeongbokgung Palace Bus Stop. Buses 1711, 708, 11 and 7022 all make this route. You can also reach the palace from Seoul Station by subway, but it involves two train lines and a short walk (about 10 minutes). There are three different subway routes you can take to get to Changdeokgung Palace from Seoul Station, but again, the bus is the faster option: hop on either the 151 or 162 and dismount at the Changdeokgung stop. From there, it is an eight-minute walk to the palace. Pro tip: definitely download Citymapper for your trip to Seoul. The app offers clear instructions for the simplest routes and up-to-the-minute train and bus times.
What should I do and buy in Insadong?
One of the city's artistic hubs, Insadong is the place to go for traditional Korean wares such as Hanji paper, ceramics, and tea. Though delicate, handmade Hanji paper makes a beautiful souvenir for friends back home if packed carefully in one's case. This area is also home to old-school teahouses and offers the chance to try some regional teas that you might not find elsewhere. Be sure to visit the interactive Alive Museum, where you can walk right into the 100-odd works of art for fun trompe l'oeil photo ops (your Insta feed will thank you).
Where can I find the best street food in Seoul? Where can I buy Korean fire noodles?
You can find good street food all over Seoul. One of the most popular places is Gwangjang Market, one of the oldest functioning markets in Korea. Specialties here include kimbap, the Korean equivalent to sushi, and bindaetteok, a vegetable/mung bean pancake. Myeongdong Street Food Alley is another favored spot. Make sure to try such classics as tteokbokki, odeng, and bungeobbang—aka spicy rice cakes, fish cakes, and fish-shaped red bean buns, respectively. If you're interested in the city's food truck culture (and why wouldn't you be?), head to the Seoul Bamdokkaebi Night Market on Friday and Saturday nights, April through October. For those of you hoping to complete your very own Korean fire noodle challenge, you're in luck. You can buy the spicy noodles (otherwise known as Samyang Ramen) at a supermarket or convenience stores such as 7-Eleven, Mini Stop, CU, and GS25.
Where can I see a K-pop concert in Seoul?
The Gocheok Sky Dome, Blue Square entertainment halls, Jamsil Sports Complex, and SMTOWN Coexartium are just a few of the places you can take in a K-pop concert around Seoul. Concerts are usually announced a month or so in advance and tickets can be purchased on sites such as Yes24 and Melon.
What is the best bathhouse in Seoul? What etiquette pointers should I know before going?
Bathhouses, or jjimjilbangs, are found all over Seoul and range from the bare-bones to elaborate multi-story affairs featuring hair salons, outdoor swimming pools, and karaoke rooms. One of the most famous is Dragon Hill Spa, an eight-floor space favored by celebrities and K-pop stars. Bathhouses are always segregated by gender, with the actual baths limited to same-sex use, while the sauna and steam room areas are communal. Guests are given matching short and T-shirt sets to wear in the communal areas. If you're planning on using the bath, however, you are expected to be completely nude and to cleanse yourself prior to getting into the tubs. While soap and lotion are usually provided, shampoo and conditioner aren't.
Related Stories