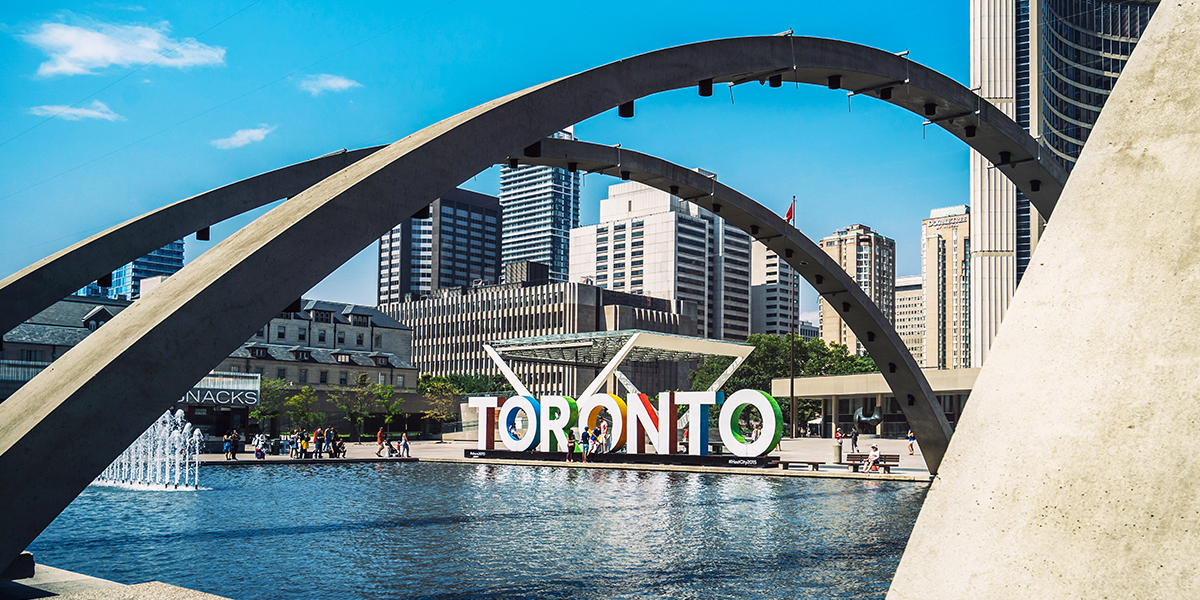 By Destination
The Ultimate Toronto Packing List
The 6ix, T.Dot, the Big Smoke…Toronto's many nicknames point to the fact that it's many things to many people. Business travelers gravitate to buttoned-down Bay Street, Canada's financial capital, while shoppers are lured by the country's richest retail opportunities, and sports fans flock to watch beloved pro teams play. (Let's go Blue Jays, Maple Leafs, and Raptors!) Visitors will also find world-class museums and theaters, a vivid food scene, even sandy beaches lapped by a lake that is justifiably called "Great." (Michigan knows what we're talking about.) Oh, and did we mention the city's buzzy nightlife? It's fueled by a local music scene—though, admittedly, legalized cannabis helps too. Of course, the seasons here—ranging from freezing cold winters to blistering hot summers—are as diverse as the activities. Ditto for the residents themselves: some six million people, about half of whom identify as "visible minorities." If you're wondering how to pack for such a place, don't worry. Our advice below will send you off in style.
By Sue Lee and Sophie Whitcomb
Your suitcase packing checklist
Click items to view travel editor-approved options
THE PERFECT LUGGAGE
OK, time to put your best bag forward. For a weekend break, skip the army surplus knapsack and grab an expandable duffel like Longchamp's Le Pilage. Sold in seven colors, this leather-trimmed number has a classic look and a water-resistant body that withstands nasty weather. For longer trips, it's hard to beat Away's urbanely understated choices. Ideal for a week-long vacay, The Carry-On comes in two sizes (both designed to fit in the overhead bin on most major airlines). If you're opting for checking your bags for an extended stay, scale up to The Medium model. All feature a polycarbonate shell that's billed as "unbreakable," TSA-approved locks, handy interior compression systems and even hidden laundry bags. Plus their 360° wheels are sturdy enough to rumble over snow-clogged sidewalks. As an added bonus, they're available in at least 10 shades and can be customized at extra cost—which makes identifying your bag on the airport carousel easier.
THE 3 PAIRS OF SHOES YOU'LL NEED FOR EXPLORING TORONTO
Women's Shoes
Men's Shoes
Toronto is home to the eye-popping Bata Shoe Museum, so folks here know their footwear. Assuming the weather cooperates (read: no snowy forecasts), you should opt for a classic sneaker for sightseeing, preferably in a darker shade that looks clean longer. You'll also want club-friendly shoes for after dark: block-heeled booties work for women whether you're dancing non-stop or just slipping out for a drink, while dressier sneakers (ideally Jordans, hometown hero Drake's fave) are the guys' go-to since streetwear is in on nights out. Anticipating stormy weather? Traditional yet trendy water-resistant boots (tall Hunters for women, Blundstones for men) keep feet dry; when warmth matters, you can use fleece liners with the former and opt for an insulated version of the latter.
STYLE FOR TORONTO

Canada as a whole could be called the land of flannel; "casual" and "cozy" are the priority. But Torontonians—proud of their big-city status—tend to take a more polished approach. Hence, the style here is not quite as casual as elsewhere up north. Fitting in isn't hard though. In winter, you can simply swap out that practical jacket for a coat that's both functional and fashionable. (Guys, if you need inspiration, look no further than hometown tastemakers like Drake and The Weeknd.) In summer, adding some on-trend accents to your standard hot-weather wardrobe will suffice. Toronto's multicultural character means streetwear and accessories draw inspiration from around the globe. And if you want to go full fashionista, that's okay too. Toronto-born mega-model Winnie Harlow sets a high bar for the couture crowd; while Prince Harry's bride, newly-minted style icon Meghan Markle, still favors local designers like John Muscat and Bojana Sentaler whom she discovered while living here during her Suits days. The best of the bunch strut their stuff during Toronto Fashion Week, held each year in February and September.
Toronto Street Style for Women
Toronto Street Style for Men
FIVE FOOLPROOF OUTFITS FOR TORONTO
1. WHAT TO WEAR SIGHTSEEING IN TORONTO
Chances are you'll be alternating between popular areas (like Chinatown or Kensington Market) and top attractions (think the ROM, AGO or CN Tower). The former can be cold in winter, hot in summer—but, thanks to heating and air-conditioning, the reverse is true of the latter. Be prepared by wearing peel-able layers and bring along a backpack to stow items you aren't wearing; Travelon's anti-theft models are especially good for urban adventures.
Women's Toronto Sightseeing Outfit
Men's Toronto Sightseeing Outfit
2. WHAT TO WEAR TO SEE SPORTS IN TORONTO 
Although The 6ix has pro soccer, rugby, and Canadian-league football franchises, it's most likely you've come to see this city's holy trinity: the Blue Jays, the Raptors, and the beloved Maple Leafs. Happily, the same outfits can work for all three—namely a cute, casual ensemble that underlines your team loyalty. Ladies can rock a raptors tank, and guys can layer a hoodie over their Maple Leafs jersey, since hockey rinks can get a bit chilly. Consider face paint optional.
Women's Toronto Sports Fan Outfit
Men's Toronto Sports Fan Outfit
3. WHAT TO WEAR TO THE BEACHES OF TORONTO 
Those who can't make it to cottage country will want to seek out a sandy city strand on those steamy summer days. Pack up your usual fun-in-the-sun gear, then head east to boardwalk-edged Beach Village, west to Sunnyside Beach with its vintage pavilion or hop a Toronto Island ferry to Hanlan's Point Beach. (Lake temperatures are refreshingly cool—some would say cold—and it's worth checking the water quality at Toronto's SwimSafe page before actually taking a dip.) For women, a one-piece swimsuit and cover-up will do the trick. Men's essentials include swim trunks and quality shades.
Women's Toronto Beach Outfit
Men's Toronto Beach Outfit
4. WHAT TO WEAR TO VISIT THE TORONTO ZOO OR CANADA'S WONDERLAND
Visiting Canada's largest theme park and one of the world's largest zoos—both summertime hot spots—will make you feel like a kid again, so why not go for a playful look? For women, a cute romper, breathable silk-blend tee and colorful aviator sunnies fit the bill.  Remember comfortable footwear, too, as you'll be covering a lot of ground. Guys should opt for casual comfort. Lululemon shorts—which double as swim trunks—are particularly practical if you'll be splashing out at Wonderland's waterpark.
Women's Toronto Zoo or Theme Park Outfit
Men's Toronto Zoo or Theme Park Outfit
5. WHAT TO WEAR TO DINNER OUT IN TORONTO
Planning on canoodling at Canoe and Kōjin, going all out at Alo, or taking in the view from the revolving CN Tower 360? Go for a smart casual look. For women, dress up a dark jumpsuit with some killer accessories—and carry a cover-up to keep you warm right through the final nightcap. The same dress code applies for gents. Choose slim-cut chinos and a crisp shirt (non-iron options stand up well to packing), then complete the look with wingtips and a lightweight blazer.
Women's Toronto Dinner Outfit
Men's Toronto Dinner Outfit
THE *ONE* THING WTP EDITORS ALWAYS PACK FOR TORONTO
If you're coming to Toronto in the wintertime, you better be ready—ready for icy wind, ready for snow, ready for weather conditions that require hybrid words. That's why we always bring a base layer of Heattech, which is Uniqlo's chic answer to thermals. And given that Toronto gets a late start on spring, and an early start on fall, it's worth throwing a pair of these in your bag even if you're coming in seasons less shiver-inducing. —WTP Editors
WHAT NOT TO PACK FOR TORONTO
Here are two things Americans can leave at home without worry: power adapters and converters. Canada shares the same electrical system as the U.S., so there's no need to take up suitcase space with these. Another thing to keep in mind is Canadian politics lean quite far left, so any clothing or accessories trumpeting a right-wing outlook are best left at home, or you might not get a very warm reception. And if you're the type that prefers to buy your toiletries and essentials after you land, Toronto can provide. After all, this is North America's fourth largest metropolis: only Mexico City, NYC, and L.A. top it size-wise, so visitors can get virtually anything imaginable here—legal cannabis included. Just keep in mind that travelers are prone to sticker shock when they see the dreaded HST—the 13% harmonized sales tax applied to almost all goods and services.
TORONTO'S WEATHER AND SEASONS

Toronto is hardly the high Artic: take a look at a map of North America and you'll see that this part of the "Great White North" actually sits farther south than Minneapolis, Seattle or Portland. So it's not so much latitude that dictates the climate here as the so-called Lake Effect, with systems coming in off Lake Ontario creating harsh winters and hot, humid summers. January (the coldest month) sees daytime lows of 12°F—which can feel even more frigid with the wind chill—and, on average, 14.6 inches of snow. Conversely, July (the hottest month) has highs hovering around 80°F before the sweltering humidity index is factored in and gets about three inches of rain, much of it arriving in the form of sudden thunderstorms. As a result, Torontonians spend a lot of time either bundling up or stripping off, making layering a must. Spring and fall, when the weather is more temperate, are considered the sweet spots by locals and visitors alike. Just remember that the former gets off to a late start (trees aren't in full leaf until early May), and once November arrives it is time to whip out the winter wear again.
Note: This data comes from our friends at Weather.com. We recommend using this together with a traditional forecast as you get closer to your departure date.
JANUARY
Plan for day temps between 12 and 27.5 temps
Expect 1.8 inches of precipitation in January
What to Wear in Toronto in January: Bitter temps, biting winds and messy snow can make this month miserable. Protect yourself by bringing down outerwear plus warm, waterproof boots with good treads (you'll need them to negotiate icy sidewalks and slush puddles).
Recommendations: Women's hooded parka, women's boot socks, men's boots
FEBRUARY
Plan for day temps between 12.9 and 29.1 temps
Expect 1.8 inches of precipitation in February
What to Wear in Toronto in February: February is brrr-worthy but specialty items—like long-sleeve thermal tees and "tech fleece" leggings from Canada's own Lululemon help locals stay toasty; add touch screen gloves to keep frostbite at bay when looking up landmarks on Google maps.
Recommendations: Men's thermal T-shirt, women's fleece leggings, touch-screen gloves
MARCH
Plan for day temps between 22.5 and 38.7 temps
Expect 2.2 inches of precipitation in March
What to Wear in Toronto in March: Don't let the Equinox fool you. Despite the rising mercury real spring-like weather feels a long way off. That means you'll still want a cozy coat plus a sweatshirt or sweater for layering (go for one from Roots, a Canadian institution).
Recommendations: Women's teddy coat, women's color-blocked sweatshirt, men's sweatshirt
APRIL
Plan for day temps between 33.1 and 52.7 temps
Expect 2.5 inches of precipitation in April
What to Wear in Toronto in April: April showers bring May flowers, but April snow just creates slush. To combat this potentially cold, wet weather (without over-packing) choose a compressible, easy-to-pack puffer jacket or a hooded coat with a quilted zip-out lining.
Recommendations: Women's packable puffer, men's packable puffer, women's trench with detachable lining
MAY
Plan for day temps between 43 and 65.1 temps
Expect 2.6 inches of precipitation in May
What to Wear in Toronto in May: You can almost hear Torontonians' collective sigh of relief when the thermometer hits the 60s. Now's the time to finally trade down for denim: a jean jacket is great for guys while girls can pair a vintage-look chore coat with a flowery scarf.
Recommendations: Men's jean jacket, women's chore coat, floral scarf
JUNE
Plan for day temps between 52 and 74.5 temps
Expect 2.7 inches of precipitation in June
What to Wear in Toronto in June: If the start of summer isn't reason enough to overdose on color consider this: Toronto hosts North America's largest pride celebration, with events spanning much of June. Top your brightest outfit with an embroidered rainbow cap.
Recommendations: Women's overall shorts, Pride T-shirt, rainbow baseball cap
JULY
Plan for day temps between 57.6 and 80.2 temps
Expect 3 inches of precipitation in July
What to Wear in Toronto in July: Summer-in-the-city staples—like on-trend sunnies and breezy mini dresses for ladies—are perfect for Toronto's hottest month. But don't forget a light sweater: You'll want one for cooler evenings (and air-conditioned venues).
Recommendations: Women's sunglasses, mini dress, women's light cardigan
AUGUST
Plan for day temps between 56.1 and 77.9 temps
Expect 3.3 inches of precipitation in August
What to Wear in Toronto in August: August sees continuing high temps and increased humidity, so pack travel-size anti-frizz hair products to keep your 'do under control and a compact collapsible umbrella or a fold-up waterproof shell for sudden downpours.
Recommendations: Travel umbrella, men's waterproof jacket, hair de-frizzer
SEPTEMBER
Plan for day temps between 48.9 and 69.6 temps
Expect 2.9 inches of precipitation in September
What to Wear in Toronto in September: Cooler, consistently pleasant weather is one draw this month; TIFF (the famed international film festival) is another. If you're here for a screening, stilettos, statement earrings and a chic clutch will get you red-carpet ready.
Recommendations: Women's heels, statement earrings, leopard-print clutch
OCTOBER
Plan for day temps between 38.5 and 57.4 temps
Expect 2.5 inches of precipitation in October
What to Wear in Toronto in October: Clear blue skies and crisp fall temperatures make October a glorious time to visit the city and surrounding countryside. Choose an autumnal palette, layering chunky knits with almost anything made from corduroy or flannel.
Recommendations: Women's turtleneck sweater, men's flannel shirt, women's corduroy pants
NOVEMBER
Plan for day temps between 30.6 and 45 temps
Expect 2.8 inches of precipitation in November
What to Wear in Toronto in November: The weather can take a serious turn for the worse in November, when temps again dip below freezing. Bring seasonal essentials—including headphone earmuffs, moisture-wicking socks, and maybe even some handwarmers.
Recommendations: Headphone earmuffs, warm socks, handwarmers
DECEMBER
Plan for day temps between 18.7 and 32.7 temps
Expect 2.6 inches of precipitation in December
What to Wear in Toronto in December: Dreaming of a white Christmas? There's less than a 50% chance you'll get one in Toronto; but, snow or no snow, you can make the holidays merry and bright by glamming up in silk, velvet or faux fur for a festive night on the town.
Recommendations: Festive tie, off-the-shoulder dress, women's faux-fur bolero
FREQUENTLY ASKED QUESTIONS ABOUT TORONTO

What documents do I need to visit Toronto?
If you're coming in from outside the country, chances are you won't need a visa for stays up to 6 months (the federal government website lists exceptions), but you will need a valid passport or other WHTI-compliant document. According to new entry regulations, visa-exempt foreign nationals also require an Electronic Travel Authorization (eTA) when arriving by air, but again there are exceptions—U.S. citizens among them.
Are there any cheap times to visit Toronto?
Toronto has enough attractions, amenities and events to make it a popular (read pricey) destination year-round. However, lodging costs are lowest when the weather is coldest, making January and February the least expensive months. The good news, especially for sporty types, is that those are also prime times to watch pro basketball and hockey games or take a skate around the iconic rink in Nathan Phillips Square.
Which neighborhoods are best to explore in Toronto?
Six cities joined to form today's Toronto (hence "The 6ix"), but for tourists, a few neighborhoods are at the top of the must-do list. After ticking off major sights downtown, trendy Queen West, the artsy/academic Annex, and boho Kensington Market beckon. Yorkville goes upscale whereas Liberty Village, Leslieville, and the Distillery District (all former industrial areas) boast hip bars, boutiques, and eateries. Chinatown, Little Italy, and the Greek-inflected Danforth, meanwhile, are reminders of Toronto's multicultural mélange.
Does Toronto accept U.S. Dollars and credit cards?
Though individual vendors may accept U.S. bills, their exchange rate will be higher than a bank's, and you'll receive any change in Canadian currency, so it's smarter to just hit an ATM once you arrive. As for credit cards, Visa and Mastercard are widely accepted. Canadian versions (like European ones) use chip-and-pin technology. That said, you should have no problem swiping and signing without pins, except at some self-serve outlets.
What is the 'PATH' system?
Covering over 18 miles, The Path is a network of pedestrian walkways (most of them underground) that allows users to bypass both busy streets and Mother Nature's bad moods. Lined with shops and eateries, it links not only office buildings but also tourist-friendly sights and facilities—including the CN Tower, Hockey Hall of Fame, Air Canada Centre, Rogers Centre, Roy Thomson Hall, Union Station, and assorted hotels.
Related Stories