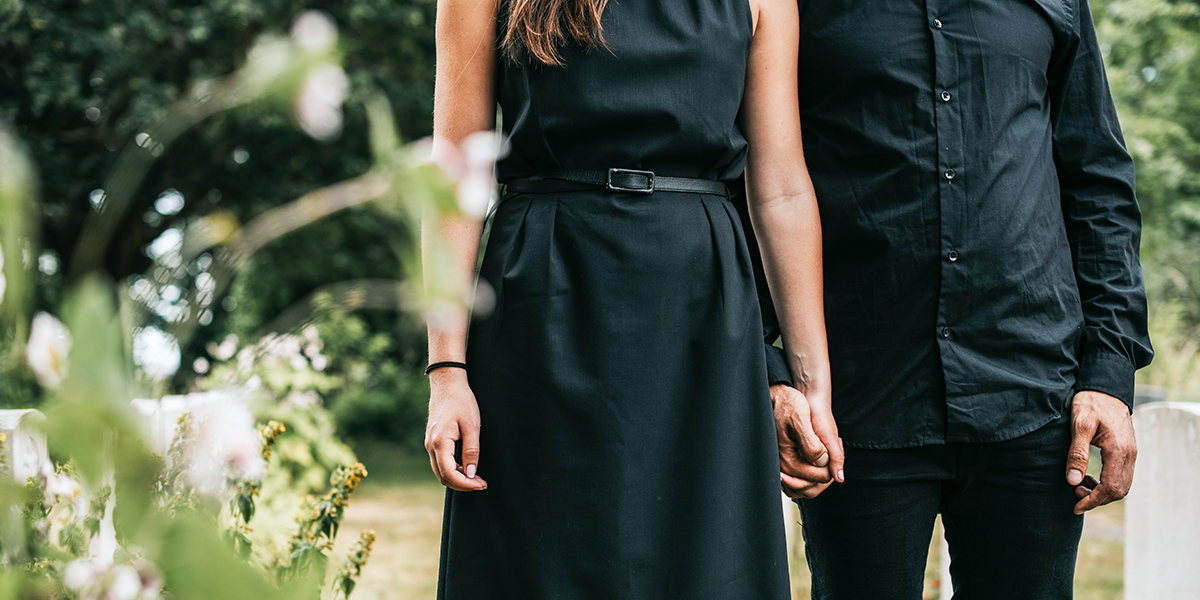 By Trip Type
What to Wear to a Funeral, Plus Etiquette Essentials to Keep in Mind
It's a terrible moment when you get the news that somebody near and dear has passed away. A wave of emotions can wash over you: You might be sad and confused, concerned for the family of the deceased, nostalgic for the times you shared with that person you've lost. In that state, it's hard to focus on the practical things—making travel arrangements for the memorial service, and packing for that trip. Leave the latter to us. Here, we've outlined some essential tips and etiquette for dressing for a funeral, along with a few outfit suggestions for both men and women. Being prepared and appropriately dressed for the occasion means you can go back to focusing on what matters most.
7 Things to Consider When Dressing for a Funeral
1. Dress Conservatively
The number one goal here: Don't be a distraction. This is a fraught and emotional time for everybody involved—a final chance to say goodbye to a loved one—and the last thing you want is to draw focus by standing out for the wrong reasons. To that end, this is among the few times in life you should purposefully avoid expressing yourself through your clothing. Nothing trendy or fashion-forward. Instead, dress the way you would for a job interview at a buttoned-up office: formally, conservatively, clean, and simple.
2. Err on the Side of Being Overdressed
Unless a certain type of clothing is expressly requested by the family (e.g. the person who passed loved Hawaiian shirts, and thus they'd like everyone to wear them as a tribute), it's best to leave anything casual at home. That means no denim, shorts, sundresses, graphic T-shirts, or anything else you'd normally wear on the weekend. Instead, show your respect for the family's loss by dressing up for the occasion. In these situations, trust us—you'd rather be overdressed than under.
3. Wear Darker, Somber Colors
Again, unless specifically requested by the family or the person you're honoring, don't bother packing any bright colors or bold patterns. When dressing for a funeral, black is always the safest bet, but it's by no means your only option. A navy suit or dress, for instance, can be just as respectful. As long as the colors are dark and muted, you're in the clear. Think of packing a necktie or long skirt in a deep shade of maroon rather than a cherry red.
4. Consider Your Footwear
As the old adage goes: You can judge a person by their shoes. That's especially true at funerals, where the footwear you choose goes a long way toward showing the proper respect. Like the rest of your outfit, be as conservative as possible. That means closed-toe shoes for both men and women. Men should wear dark leather dress shoes—ideally black, if possible. Women should wear flats or modest heels—nothing too strappy or showy, like stilettos. And finally, if they aren't fresh out of the box, be sure to give whichever shoes you wind up wearing a good shine. Scuffed or dirty dress shoes are nearly as impolite as flip-flops.
5. Keep Jewelry Simple, and Silent
As you've hopefully gathered by now, the key to dressing for a funeral is to keep things as subtle and toned-down as possible. That note is doubly important for your accessories. In addition to ensuring that whatever jewelry you wear is understated and tasteful—a thin necklace and small ear studs would both be acceptable, for example—you also need to be mindful of it being literally loud. Bangles or dangly earrings that could audibly clatter together in the midst of a quiet service are an absolute no-no.
6. Minimize Makeup, Perfume or Cologne, and Other Scented Products
Your beauty or grooming routine should also stay unobtrusive and discreet. Keep clear of dramatic or flashy makeup looks in favor of softer, more natural applications. Likewise, both men and women should look to avoid strongly scented products—you wouldn't want your perfume or cologne to bother the other mourners or distract from the ceremonies at hand.
7. Consider the Weather
If some or all of the service will be taking place outdoors, be sure to double check the weather forecast and pack appropriately. A somber-toned trench coat would be appropriate for wet conditions, sunglasses are acceptable if it's sunny out, and an umbrella works well in both instances.
Foolproof Funeral Outfits
What to Wear to a Funeral for Women
For info on these editor-selected items, click to visit the seller's site. Things you buy may earn us a commission.
A simple black sheath dress paired with a well-tailored blazer will strike exactly the right tone of respectful, conservative style. The low, ballet-inspired heels are comfortable and refined, and the unadorned clutch is just the right size to carry tissues and whatever else essentials you'll need on the day. Finally, a pair of small silver studs are all the jewelry you need for this somber event.
What to Wear to a Funeral for Men
For info on these editor-selected items, click to visit the seller's site. Things you buy may earn us a commission.
Don't overthink this: a black two-button suit with a pressed white dress shirt and plain black necktie is classic, understated, and wholly appropriate for the occasion. Complete the ensemble with black leather lace-ups—cap-toe oxfords are the formal standard—and a sleek black dress watch that won't distract from the proceedings.
What to Wear to a Funeral in the Summer for Women
For info on these editor-selected items, click to visit the seller's site. Things you buy may earn us a commission.
This long pleated dress is formal enough for the circumstances, but crafted from a light and breathable material that will be comfortable in the heat. Closed-toe flats, meanwhile, can hold up to long hours of standing. Lastly, some pared-down jewelry will tie the look together without being overly flashy, and a low-key pair of black sunglasses will keep the sun out of your eyes during an outdoor ceremony.
What to Wear to a Funeral in the Summer for Men
For info on these editor-selected items, click to visit the seller's site. Things you buy may earn us a commission.
A lightweight suit like this one—with minimal lining and a crisp cotton-blend fabric designed to regulate body heat—will help to keep you feeling cool and looking composed in the face of humid temperatures. Pair it with a dark linen button-down (no tie is necessary for an outdoor service in the summertime) and black leather loafers for a look that is somber and respectful but still seasonally appropriate. Finish things off with a pair of black square-framed sunglasses to shield your eyes from the bright summer sun.
And 3 Things to Bring With You to a Memorial Service
Be sure to bring at least one pack of pocket tissues with you to the service, both for yourself and to offer to others around you. Gifts are not generally expected (though flowers or a donation to an applicable charity might be a nice touch), but be sure to write a sympathy card for the family and hand it to them at an appropriate time. Finally, you will likely be speaking to and interacting with a great number of people throughout the day—have some mints on hand to keep your breath fresh and inconspicuous.
Related Stories
All products have been hand-picked by our writers and editors. Items purchased through links may earn us a commission.