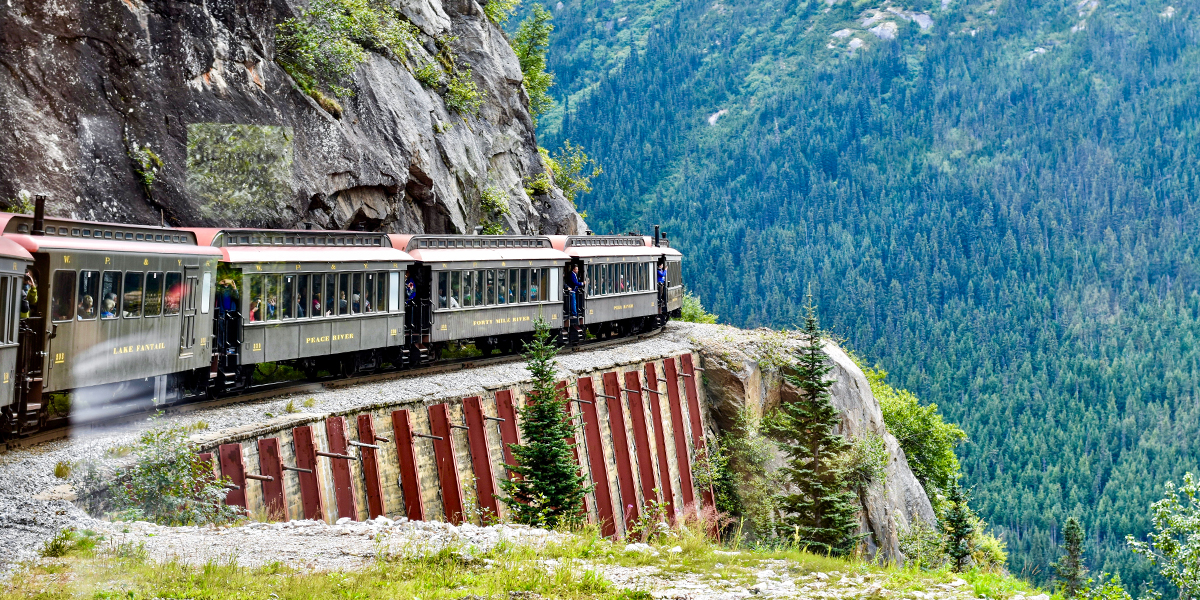 By Trip Type
Train Travel: Your Complete Guide to Luggage on Amtrak, Eurostar, & Beyond
Glamorous air travel may be (mostly) a thing of the past, but a certain mystique remains attached to traveling by train. There's something romantic about taking pleasure in the slow travel journey, and the list of additional pros is lengthy. Travelers often opt for a train over a plane because train stations are in city centers—much more convenient than getting to the airport in the outskirts. Train travel is also generally more economical for distances covered, especially if you take advantage of a rail pass. And liquid restrictions? Not a thing on train travel. One downside? There's no getting away from carry-on and checked luggage allowances, extra and oversize baggage fees, and lists of prohibited and restricted items. Don't get overwhelmed, read on for our complete guide to bringing luggage on Amtrak, Eurostar, and beyond. All aboard!
Amtrak's Baggage Policy
Overall, Amtrak has a generous baggage policy and reasonable fees for additional pieces and oversized luggage. The list of prohibited items isn't exhaustive, and there are no restrictions on liquids, so no need to spend the night before you trip decanting your favorite shampoo into a three-ounce bottle. There are size and weight requirements for carry-on and checked items, along with specific rules that apply to traveling with pets and children. Some stations offer parcel check to ticket-holding customers for a nominal fee of $10 per item for 24 hours, and $20 per item for customers without tickets Keep in mind that some trains don't have baggage cars and not every station has a baggage-holding office, so it isn't possible to check bags on every route. It's best to call 1-800-USA-RAIL or check Amtrak's website before booking. Call ahead.
Amtrak's Carry-On Policy
Passengers are entitled to two personal items, each weighing a maximum of 25 pounds and no larger than 14 x 11 x 7 inches, in addition to two carry-on pieces of no more than 50 pounds and 28 x 22 x 14 inches in dimension. Families traveling with infants under 2 years of age can add baby gear such as a stroller or diaper bag without it counting toward carry-on limits. As for sports equipment, standard bicycles with a maximum tire width of 2 inches can be carried on board as long as they weigh less than 50 pounds. Skis, snowboards, and golf bags must measure 6 feet or less and also weigh under 50 pounds. Cabins in sleeping cars have limited storage space and most can only comfortably accommodate two carry-on bags. Family rooms are big enough to store a total of up to three carry-on suitcases.
Amtrak's Checked Bag Policy
Can't decide on the jumpsuit or maxi dress for a night out? You might be able to bring both, considering Amtrak's generous checked bag allowance. Up to four checked bags are permitted on board, two of which are free of charge and two that cost $20 each. Bags can't exceed 50 pounds or 75 linear inches. Oversized bags 76-100 linear inches are accepted for an additional $20. As previously mentioned, call or check Amtrak's website in advance of your trip to make sure your train has checked bag services, and plan to check luggage at least 45 minutes before your train leaves. If your itinerary includes a transfer en-route, allow roughly two hours between arrival and departure for the train's staff to transfer checked bags to the next train. No extra fees apply for checking baby gear in lieu of one bag; passengers may be required to check those items if there's limited space in the train car. All checked sports equipment must weigh in at less than 50 pounds. Larger bike models are permitted as long as they don't exceed 70 x 41 x 8.5 inches. Skis, snowboards, and golf bags can be checked free of charge in lieu of a piece of baggage, but count as oversized items if they're more than 76-100 linear inches and are subject to an extra $20 fee.
Amtrak's Prohibited Items
There are few surprises here in terms of what you can't bring on board. Explosives, dangerous chemicals, flammable liquids including bleach, propellants (with the exception of oxygen for medical use), sharp objects like swords and knives, and self-defense and martial arts items are all restricted in carry-on and checked bags on Amtrak. Less obvious restricted items are hoverboards and batteries with acid that could potentially leak. Corkscrews and small personal grooming items such as scissors, nail clippers, and razors are allowed in carry-on bags. Amtrak does allow sheathed archery and fencing equipment in checked bags. Some firearms and ammunition are also permitted (with restrictions) in checked luggage.
Other Things to Keep in Mind When Traveling on Amtrak
Bringing food onboard is A-OK—including perishable items—as long as it fits inside your carry-on. Most short-distance trains have cafe cars with table seating for snacks, drinks, and items like packaged sandwiches. Almost all medium- and long-distance trains have lounge cars for full meals, and serve breakfast, lunch, and dinner. Reservations for lunch and dinner are recommended. First class passengers are served meals at their seats. Fancy! Meals are included in the price of sleeper car tickets.
Dogs and cats up to 20 pounds (weighed in with their carrier) are allowed in Coach class on most journeys that are seven hours or less, but pets can't travel in Business or First class, or in sleeping or food service cars. Some routes designate certain cars for people traveling with their furry friends. You can forget about a weekday escape with your pet on Acela Express; it's weekends and holidays only. There are no restrictions for service animals, but Amtrak doesn't make special exceptions for emotional support animals and considers them pets, so restrictions apply. Animals have to be kept inside carriers at all times, which can't exceed 19 x 14 x 10.5 inches, and count as one piece of carry-on luggage.
There's free basic Wi-Fi in most major stations and on select trains, which is fine for checking email. Nail down your binge-watching schedule advance, because you won't be able to stream movies or music, or download large files.
Eurostar's Luggage Policy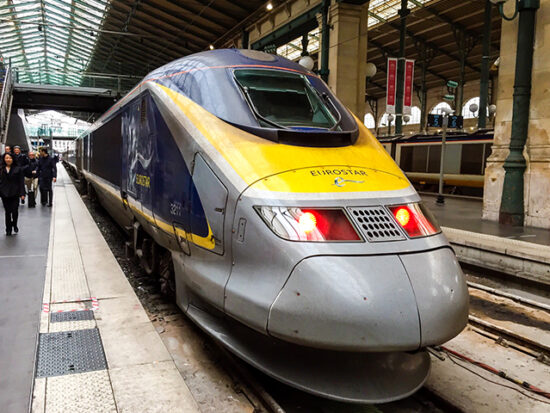 Eurostar's baggage restrictions aren't as generous as Amtrak's. But one major perk of traveling on Eurostar is that there's no weight limit for carry-on bags—but be prepared to hoist them up yourself on the luggage rack. Another huge plus is that there aren't any liquid restrictions, except for alcohol (details below). Carry-on and checked bag allowances are based on the class of ticket for adult and children. Keep in mind that not all routes offer a checked bag option, and in those instances passengers have to follow carry-on rules. Eurostar does offer shipping service to send luggage in advance for an extra fee. Like other lines, checked bags and full-size bicycles and other large sports equipment also incur fees.
Eurostar's Carry-On Policy
Adults with Standard tickets are allowed to bring two pieces of carry-on luggage measuring up to 33 inches long (85 cm), plus one small personal item like a handbag or briefcase. Business Class passengers can add an additional carry-on for free. There are rules for kids, too: they're allowed to bring one carry-on bag and one piece of hand luggage. Strollers don't count toward the carry-on allowance, but they must be folded and secured to the luggage rack. Again, no weight restrictions apply to carry-on bags as long as passengers can lift them without assistance from train staff. Be strong or pack light!
Eurostar's Checked Bag Policy
EuroDispatch is Eurostar's luggage service, which covers both on-board checked bags and its shipping arm to send extra or oversized items (for a fee) in advance of travel. The service is only available on routes between London, Paris, Brussels, and Lille; carry-on luggage allowances apply for all other destinations. You're allowed three checked items weighing 66 pounds (30 kg) or less, for 30 euros per bag. Anything over 33 inches (85 cm) must be checked. Anything longer than 6.5 feet (2 meters) won't be accepted. Passengers can ship luggage a week before traveling—a fantastic perk. Bags to be picked up are held for 14 days at stations' luggage offices.
Fully assembled bicycles, golf clubs, skis, and other large sports equipment costs 30-50 euros. If you're traveling with your bike, be sure to book a space for it in advance, in addition to purchasing your regular train ticket. Note that trains to Amsterdam (a biker's paradise) have very limited space for bikes, so book well in advance if it's your final destination.
Direct trains to skiing centers of Bourg-St-Maurice, Lyon, Avignon and Marseille have extra space on board for skiing equipment, and passengers on these routes are allowed to bring one pair of skis or a snowboard in addition to the standard luggage allowance.
Eurostar's Prohibited Items
Eurostar's prohibited and restricted items list is more exhaustive and detailed than Amtrak's, which makes sense considering that Eurostar trains cross country borders. No explosives, unlicensed firearms, toy guns that look like weapons, or ammunition are allowed on board. Restrictions apply for licensed firearms and authorized firearms that don't need a certificate, swords, and ceremonial and martial arts weapons. Nail polish and hairspray are fine, but all other flammable substances are banned, in addition to things like mace and other self-defense sprays. Folding and pocket knives with blades shorter than 3 inches (75mm) are allowed. There are no restrictions against cigarette lighters or matches, but firelighters, lighter fuel, and any other knife or dagger is prohibited. Restrictions apply to kitchen utensil knives, open and cut-throat razors, and tools such as screwdrivers, drills, and hammers. Furniture is not allowed. Perishable food including meat, fish, and dairy products are also banned. There are no restrictions for fruit.
Other Things to Keep in Mind When Traveling on Eurostar
If you're traveling between the UK and Europe, you'll have to go through security and passport control, so plan on getting to the station at least 45 minutes before your train's departure. It's fine to bring your own food unless it's a restricted perishable item. No worries if there's no time to grab anything; there's a cafe on board for Standard ticket holders to buy snacks, beverages, and small meals. Passengers in higher classes are served meals at their seats. Remember your corkscrew and bottle opener, because four bottles of beer or one bottle of wine per person is allowed. Mixing up cocktails en route is a little more challenging, as no large bottles of spirits are permitted, and larger amounts of alcohol must be checked. Skiers and sports fans will have to drink up in advance. No alcohol is sold or allowed on board night ski trains or trains that ferry passengers to and from major sporting events. Registered service dogs with papers are welcome on board, but Eurostar doesn't allow any other pets, including emotional support animals. Most stations and new or refurbished trains have Wi-Fi, which is free in all classes. There are also USB sockets at seats in Standard and Business class, so you can stay charged.
Rules on Other Major Rail Lines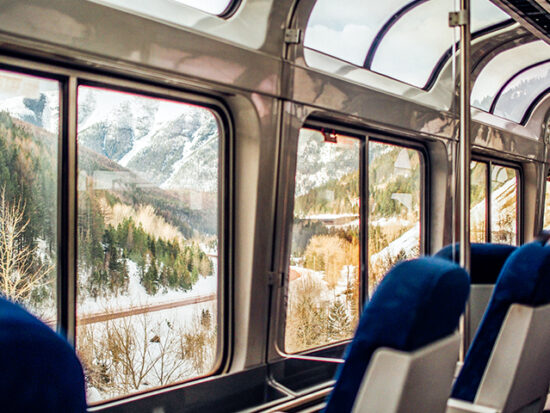 VIA Rail Canada's Baggage Policy
Like Eurostar, carry-on allowances depend on ticket type on VIA Rail Canada. Economy passengers can bring (free of charge) one personal item weighing up to 25 pounds (11.5 kg) and not exceeding 17 x 6 x 13 inches (43 x 15 x 33 cm), and one larger bag weighing up to 50 pounds (23 kg) and no larger than 62 linear inches (158 linear cm). The other option is two small items weighing up to 25 pounds (11.5 kg) and not exceeding 21.5 x 15.5 x 9 inches (54.5 x 39.5 x 23 cm). As for weight limits and baggage fees, travelers can check up to two bags weighing 50 pounds (23 kg) or less for $40 each one-way. Sleeper and Prestige class passengers can bring one personal item and two smaller bags, but extra luggage must be checked. Business class passengers can carry-on an additional larger bag at no cost. Check your bags more than 45 minutes before departure, but, like Amtrak, some trains don't have baggage cars and not every station has a baggage-holding office, so checked baggage service isn't available on every route. Before booking, it's best to call customer service at 1-888-VIA-RAIL or check the website.
Oversized sports equipment like skis and snowboards, foldable bikes, golf bags, hockey bags and sticks, and oversized musical instruments are accepted as carry-on items (except for Renaissance trains), but they count toward luggage allowances and must meet size restrictions. Strollers, car seats, and similar children's gear can be brought on board in addition to carry-on items.
Restricted and prohibited items are similar to other lines, except for rules on liquids, which are allowed in small quantities in carry-on bags but not in checked luggage.
Japan Railway's Baggage Policy
Japan Railway doesn't have the same exhaustive list of policies as other lines, as social etiquette dictates that travelers are expected to use common sense and be considerate of other passengers. Rules for prohibited and restricted items are general: dangerous or "questionable" items, anything that's filthy or smells unpleasant, and you'll need to skip hauling that cooking stove.
Up to two pieces of luggage weighing up to 66 pounds (30 kg) and measuring no more than 98 linear inches (250 linear cm) are allowed on board at no charge. Small pets can be brought on board for a nominal fee and must be kept inside a carrying case that's less than 35.5 inches long (90 cm). Wheelchairs can't be wider than 27.5 inches (70 cm) or higher than 47 inches (120 cm) to fit on the train.
There isn't a lot of room for big pieces of luggage, and train stations are very busy, particularly in Tokyo. Some Shinkansen (high-speed) trains and trains that service the airport, such as the Narita Express and Haruka, have extra space for luggage. All Shinkansen trains have overhead storage racks, which can hold carry-on luggage, but nothing much larger. There's enough room between seats to slide in a carry-on bag, if you're comfortable sitting with your legs squished to one side. People commonly use coin lockers in Japan's train stations to stow luggage, which an option to consider that's handy if you're taking a side trip and don't want to schlep everything with you.
Indian Railway's Baggage Policy
Indian Railway's baggage policies are relatively new. Some rules and fees associated with extra and oversized baggage are vague, so it's best to get as much information as possible at the train station before you travel. Luggage allowances are determined by weight and correspond to class of ticket purchased, and details are a lot to swallow It ranges from AC First Class, where passengers are entitled to 150 pounds of free luggage and an additional 180 pounds for a fee, to Second Class, which allows 77 pounds at no charge and additional 150 pounds for a cost. Several classes with a range of permitted weights fall in between. Children get half the free allowance, and bags can't total more than 110 pounds. Scooters and bicycles have to be checked, and there's a fee attached. Keep tables on your bags' dimensions, because no suitcases, trunks, or other baggage larger than 39 x 23.6 x 9.8 inches (100 x 60 x 25 cm) can be brought on board. Anythinglarger must be checked, and are transported in a van—not on the train—to your destination. Extra charges apply for checked items that weigh more than 220 pounds (100 kg) or are larger than 8 linear feet (1 x 1 x 0.7 meters). Suitcases, trunks, and other extra baggage needs to be brought to the luggage office in the station to be weighed and paid for 30 minutes before your train leaves. Bags can be booked in advance if you purchase your ticket online. Be advised that there's a steep penalty for unbooked or partially booked luggage that's over the designated weight requirements.
Safety Tips for Train Travel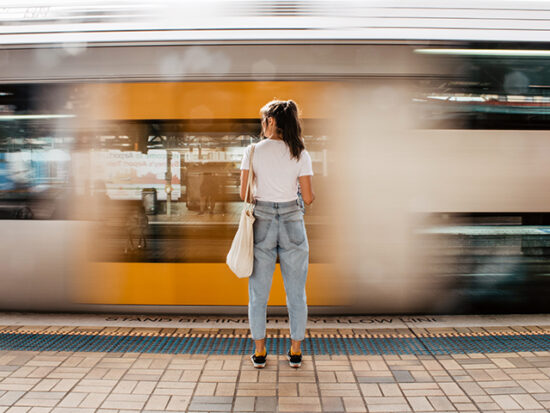 Train travel isn't dangerous, but common sense is required. Keep locks on your carry-on bag, and have a smaller bag for your most essential items including your passport, laptop, phone, and cash—that you can bring with you to the bathroom. The smartest time to get up is when the train is moving—not at the station—so someone doesn't swipe your bag and walk off. It isn't a bad idea to get a short bike wire and a padlock to loop through your bag's handle and attach it to the luggage rack (especially if you plan on sleeping). Put labels and luggage tags on everything, just as you would for air travel.
Three Luggage Picks Perfect for Train Travel
Traveling with spinner wheel luggage is great for wheeling through airports, but it isn't ideal for train travel. You'll definitely want something that's sturdy and won't wheel away. Softside bags made from rugged, ballistic nylon are your best bet. Look for pieces with compression straps and lots of easy access pockets for items you'll want to grab while your luggage is on the overhead rack. If you're fussy about keeping your bag pristine, softside luggage isn't as easy to clean as a hardside piece, so go for a dark color.
Sporty doesn't have to mean sacrificing style. Case in point: this is carry-on from Filson. It's compact, sturdy, strong, and lightweight at 6 pounds 8 ounces, plus it has compression straps and outer pockets. Inside, there are two zippered packing compartments and a silky, luxurious lining. For a weeklong trip, check out this Eddie Bauer bag, which features a drop bottom with lockable zippers, inline skate wheels, and an excellent outer compression system. If you're beyond the years where you're comfortable carrying a frame pack, Billabong makes a rad and roomy softside roller bag. The wet-dry compartment is genius, and it also has lockable zippers and compression straps.
Related Stories
All products have been hand-picked by our writers and editors. Items purchased through links may earn us a commission.