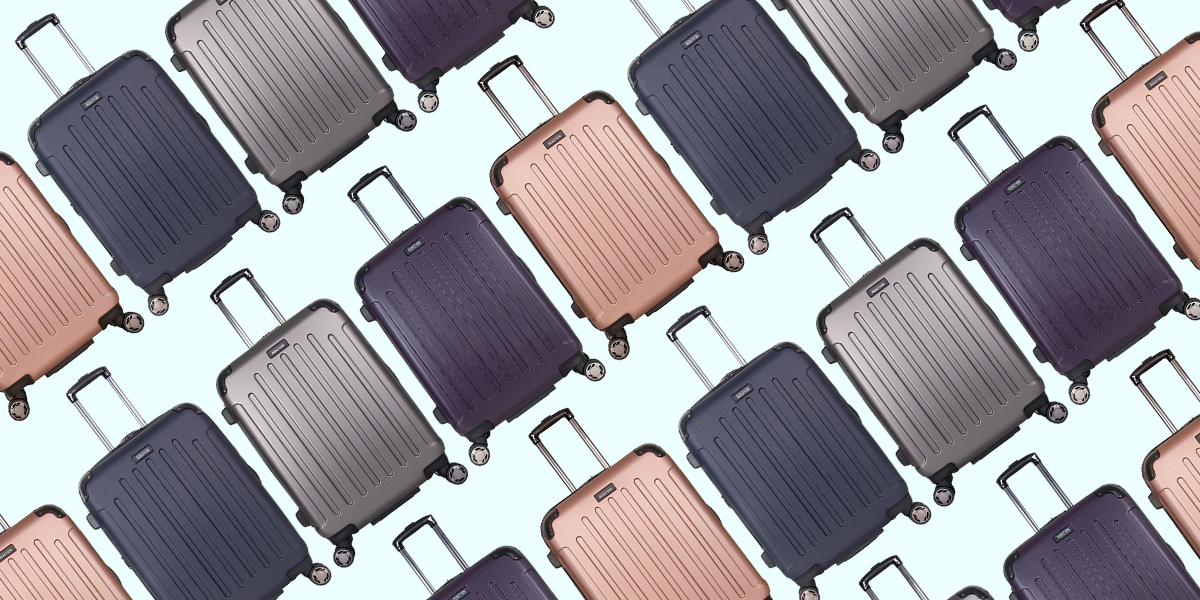 Luggage Expertise
The 11 Best Checked Luggage Bags You Can Buy
You've finally had it with your old checked bag: The seams are splitting, the zipper is forever getting stuck about six inches shy of fully closed, there are more dents and dings on the body than an old junker in a scrapheap. (We tend to get worked up over bad luggage.) In any case, if it's time for a new suitcase, then you've come to the right place. We've rounded up the best of the best checked bags to make your search for a replacement that much easier.
What to Consider in a Checked Bag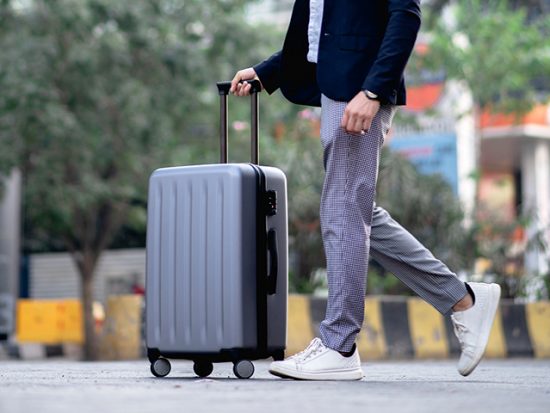 Weight: It makes sense that bigger bags are going to weigh more, but keep in mind that with airline size restrictions also come weight restrictions. Be sure that you're not getting a bag that's too heavy, or you'll be well on your way to hitting said restrictions before you've even packed a thing.
Wheels: Most checked bags nowadays have four 360-degree spinner wheels instead of two two-directional ones, and that's a good thing: They make for less strain on the arm and let you travel with the bag beside you, rather than behind you for someone in a rush to trip over.
Handle: When it comes to toting your things around, a carry-on with a sturdy telescopic handle is the way to go. It should definitely have at least one extension setting on it—make sure it's OK for your height—but bonus points for two or more extensions that can adjust to different heights.
Materials: Look for high-tech fibers—like Samsonite's 1680D polyester or polycarbonate—that improve a bag's durability and water repellency to keep your things safe and dry (and reduce exterior scratches).
The Best Checked Suitcases
1
Delsey Paris Helium Aero 26-Inch Spinner Trolley

The Helium Aero 26-inch suitcase from French brand Delsey is a much-loved pick in the medium checked bag category. The sleek polycarbonate (read: durable) exterior is plenty pretty, and the bag's four smooth-gliding spinner wheels will sprint with you through the airport without slowing you down. The bag can expand an extra two inches, and has two positions on its telescopic handle, perfect if you're handing off bag-toting duties with a shorter or taller travel companion.
Dimensions: 27.25 x 17.75 x 11.5 inches
Weight: 10 lbs., 3 oz.
Available Colors: Brick Red, Cobalt Blue, Peony, Plum, Titanium
$189.99 at eBags
2
Kenneth Cole Reaction Renegade 24-Inch Spinner
This 24-inch checked bag is a step up from a carry-on without being massively oversized; it's a great option for trips that fall somewhere between a long weekend at your folks' and a two-week trek to Bali. We love all the color options available—many make for easy spotting on the conveyor at pick-up. Plus, the bag expands an additional two inches if you do a little shopping (or can't resist tossing in that backup pair of shoes).
Dimensions: 26 x 9 x 12 inches
Weight: 11 lbs.
Available Colors: Rose Gold, Navy, Red, Silver, Teal, Deep Purple, Magenta
$79.99 to $129.95 at Amazon
3
It luggage Megalite Fascia 31.5-Inch Expandable Checked Spinner
Sure, its color options are gorgeous—a sapphire-like blue and deep red—but there's so much more to this suitcase beyond the surface. The soft-sided but durably built Megalite Fascia has smoothly gliding wheels and a two-pocket exterior in front that's handy for stashing passports and boarding passes. The smartly designed interior features two compression straps and a zipped-off interior pocket. 
Dimensions: 31.5  x 20.9 x 11.4 inches
Weight: 8.77 lbs.
Available Colors: Moroccan Blue, Ruby Wine
$89.99 at Amazon
4
Osprey Packs Fairview 70 Women's Travel Backpack
If you're planning to backpack through Europe—or anywhere where the terrain just isn't friendly to rolling bags—Osprey's Fairview 70 is going to be your saving grace. Designed specifically for a woman's body, the bag is built to shift the load to the hipbelt, which means far less next-day soreness than carrying a duffel on your shoulder all day. A durable daypack unclips from the main suitcase, so you're getting two bags for the price. Inside the main bag, dual compression straps keep things from stirring around. 
Dimensions: 29 x 15 x 7 inches
Weight: 4.38 lbs.
Available Colors: Misty Grey, Rainforest Green
$200 at Backcountry
5
Samsonite Omni PC 2-Piece Set
Samsonite makes some of the hardiest suitcases on the market—and if you're in need of a two-piece set of luggage (or just hate the thought of your checked and carry-on bags not matching), you can't beat two top-tier suitcases for a super-reasonable price. The brand's Omni series features stylish hardshell exteriors designed to hide inevitable scratches, as well as great zippers and super-slick spinner wheels.
Dimensions: 19 x 14.5 x 9.75 inches for the carry-on, 28.5 x 20.5 x 13.5 for the checked
Weight: 6.81 lbs. for the carry-on, 10.35 lbs. for the checked
Available Colors: Plum
$229.99 at Amazon
6
Travelpro MaxLite 5 Lightweight Expandable Suitcase, Large
If you're going to bring (and therefore pay) for a checked bag on your flight, you might as well bring the biggest one you have, and the MaxLite by Travelpro is big and expandable. Plus, the fabric is stain-resistant and water-repellant, so you don't have to worry if you get caught in a rain shower during the schlep from the subway stop to the hotel. And check out that price tag!
Dimensions: 29 x 20.5 x 8.5 inches
Weight: 8.5 lbs.
Available Colors: Black, Azure Blue, Dusty Rose, Mocha, Slate Green
$114.99 to $152.99 at Amazon
7
Samsonite 25-inch Aspire with Spinner Wheels
We readily admit we're organization freaks, and we readily co-sign on this suitcase. With two logically sized pockets on the front (versus one huge one that stuff just falls to the bottom of), plus mesh pockets on the inside for keeping your stuff uncluttered, Samsonite's Aspire suitcase really delivers. It even comes with a wetpack on the interior, so you can separate wet bathing suits after you take one last dip at the beach before heading home. And no worries if you picked up souvenirs along the way—this do-it-all suitcase also expands.
Dimensions: 26.5 x 16.25 x 10 inches
Weight: 7.5 lbs.
Available Colors: Red, Blue Dream, Black
$110.40 to $143.99 on Amazon
8
Away The Large
There's a reason Away is all over your Instagram: The brand's sleek, minimalist pieces are stylish, lightweight, and made in dreamy colors that aren't boring. Though the company first hit the big time with their carry-ons, Away's big checked bags are equally amazing. Plus, Away stands behind their products with a limited lifetime warranty that covers broken zippers and damaged exteriors. (That being said, the bag is so durable, it's going to take a lot to get it to that point.) Stylish and built to last? Sold.
Dimensions: 20 x 20.5 x 12.5 inches
Weight: 11.2 lbs.
Available Colors: Black, Navy, Sky, Green, Asphalt, Coast, White, Sand, Blush, Brick
$295 at Away
RELATED: Which Away Carry-On Luggage Should You Get?
9
Tumi Latitude Packing Case
If you're a couple-times-a-month kind of traveler (lucky you!), then might be ready for an investment-worthy suitcase. Tumi makes some of the best out there, and once you work past the sticker shock and break it down into cost per use, their price tags become more justifiable. Besides, you get plenty for your money: Tumi's Latitude Packing Case is lightweight (so you can pack more) and has a handle that locks at three heights; inside, there are two packing compartments with a hanger bracket and many pockets for organized packing.
Dimensions: 30 x 21 x 12 inches
Weight: 9 lbs.
Available Colors: Black, Blush, Navy, Silver
$895 at eBags
10
Eagle Creek No Matter What Rolling Duffel 32
Eagle Creek's updated version of their much-loved everything-and-the-kitchen-sink bag is more stylish than ever—and yes, it holds just as much. This is the bag you want to take if you're quitting your job and backpacking through Southeast Asia or moving abroad. At just over four pounds, the No Matter What rolling duffel incredibly lightweight, giving you more room for packing everything you need—and with a 128-liter capacity, you're not going to be short on space. Plus, you're in more than fine hands with Eagle Creek's generous No Matter What warranty.
Dimensions: 36 x 14 x 15 inches
Weight: 4.19 lbs.
Available Colors: Black, Red Clay, Slate Blue
$89.99 to $129.97 at Amazon
RELATED: Which Eagle Creek Luggage Should You Get?
11
Skyway 28-inch Spinner Suitcase
Never again reach for the wrong black bag on the conveyor belt (and let's be real: luggage mix-ups do happen). The bold exterior of the Skyway spinner will leave no doubt which bag is yours. With a PC alloy exterior that doesn't tolerate bangs or bumps, plus great spinner wheels and the ability to expand the bag, it packs just as much in features as it does in looks.
Dimensions: 28 x 21 x 12 inches
Weight: 14.45 lbs.
Available Colors: Festive Shade
$240 at Amazon
Related Stories
All products have been hand-picked by our writers and editors. Items purchased through links may earn us a commission.