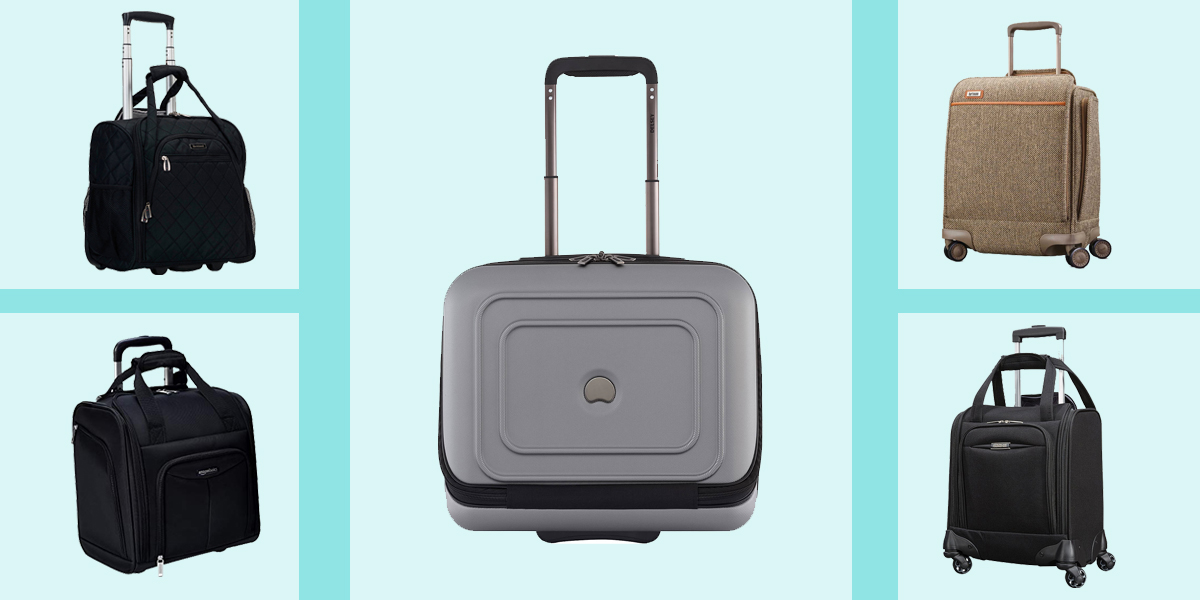 Luggage Expertise
The Best Underseat Luggage That Hold Everything for Your Next Flight
Getting everything to fit in ever-shrinking coach? It's a struggle—especially when it comes to overhead bin space. If you're determined to keep your carry-on with you, consider underseat luggage. These genius bags are specifically designed to slide into tucked away spaces. For travelers booking supersaver fares that charge to use the overhead bin (we're looking at you, Spirit Airlines and EasyJet), these bags will pay for themselves. And minimalists also appreciate how they make travel light and easy. Here are our picks for underseat bags that are big enough to hold a weekend's worth of stuff, yet small enough to avoid luggage fees.
1
Best Underseat Bag for Business Travelers
For short work trips, Delsey's Cruise Lite Hardside is hard to beat. The compact design was created with cramped airline seats in mind. It's roomy enough to hold at least two full outfits and sturdy enough to use as a footrest, without making a dent. A key detail for business travelers: The front zipper pocket, which holds a 14-inch laptop, allows easy access to your computer without opening the entire suitcase. You can fit your cell phone and a book or Kindle in the front section, too.
Dimensions: 13.5" x 15.25" x 9.75"
Weight: 5.6 lbs.
Available Colors: blue, burgundy, platinum
$89.99 at eBags
2
Best Budget-Friendly Underseat Bag
The AmazonsBasics Underseat Luggage lives up to its name. It's got all the features you want in a mini bag—namely several internal pockets and a front pouch—and it's durable enough to hold up to the abuse of frequent flights. The main compartment is just as roomy as some of its more expensive counterparts, fitting a long weekend's worth of clothing. Two wheels (versus four) helps ensure it'll fit under the smallest of seats in puddle-hopping planes.
Dimensions: 13.4" x 14" x 9.4"
Weight: 4.3 lbs.
Available Colors: black, gray, navy, purple, red
$54.99 at Amazon
3
Most Versatile Underseat Bag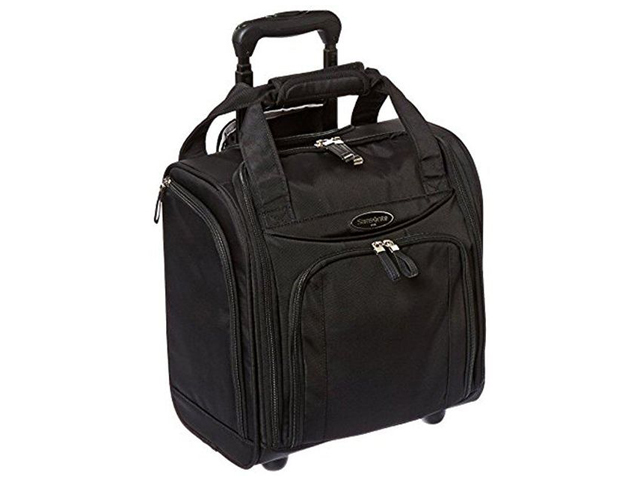 The Samsonite Wheeled Underseater is an Amazon best-seller for a reason. It's packed with interior pockets offering compartments that can handle anything from medication to socks and underwear. And packing pros note they can fit several changes of clothes, shoes, cosmetics, and a tablet in here. Expandable exterior pockets give easy access to a water bottle and smaller items, as well as your 3-1-1 bag for liquids. A back sleeve means it'll attach securely to other luggage handles, but if you're a Marie Kondo minimalist, this might be the only bag you need.
Dimensions: 13" x 13" x 6.5"
Weight: 5.95 lbs.
Available Colors: black, teal, pink, purple
$65.54 at Amazon
4
Best Duffel-Style Underseat Bag
If you prefer to lug your stuff over your shoulder, or you love the versatility of a duffel that can pull double-duty as a gym bag, The Samsonite Silhouette 16 Travel Tote is a great option. This compact duffle is specifically designed to be small enough to fit under the seat, passing as a "personal item" on most airlines. Accordion-style side pockets can hold papers, books or a tablet, and the spacious main compartment is roomy enough for two or three outfits. And at 1.8 pounds, it's one of the lightest options on our list.
Dimensions: 18.0" x 12.0" x 11.0"
Weight: 1.8 lbs.
Available Colors: black, red, teal
$99.99 at eBags
5
Best Underseat Bag for Extra Small Spaces
Trying to decide between a rolling bag and a backpack? Eagle Creek Expanse Wheeled Tote Carry-On covers the best of both. It has the main compartment and exterior small pouch of a backpack with the wheels and long handle of a roller. This petite piece of luggage is ideal as a second bag or can be used for weekend trips for the most paired-down packers. The exterior pouch has several small pockets to organize pens, a wallet, and a smaller tablet. It's also designed with extra-long, cushioned straps, making it comfy to carry as a shoulder bag, too.
Dimensions: 14.5" x 13.75" x 8.5"
Weight: 4.8 lbs.
Available Colors: black, blue, red
$149 at eBags
6
Best Luxury Underseat Luggage
A bag worthy of James Bond. The old-school tweed design of the Hartmann Legend Underseat Carry-On Spinner belies its very modern features. Packed with a cushioned sleeve for a 13-inch laptop, side pockets for easy access, and interior pockets to tuck small items, this bag still leaves enough room in the main compartment for two to three days' worth of clothes and even an extra pair of shoes. The four-wheeled spinner design lets you dash through the airport in style, and the top leather handle makes it easy to retrieve from under the seat. All that's left is to coordinate with your trench coat.
Dimensions: 18" x 14" x 9"
Weight: 7.8 lbs.
Available Colors: natural tweed
$290.81 at Amazon
7
Simplest Underseat Bag for Minimal Fuss
With sturdy zipper pulls, one main pocket, a front pouch, and large handles, the American Tourister Underseat Spinner is a perfect choice for travelers that don't want anything too fancy or complicated. The back sleeve makes it easy to slip onto other suitcase handles, and its four spinner wheels means it glides along with the softest push. It's roomy enough to use as a weekend bag as long as you can keep your wardrobe down to the basics.
Dimensions: 16" x 13.8" x 8.7"
Weight: 7.3 lbs.
Available Colors: black
$53.99 at Amazon
8
Most Kid-Friendly Underseat Bag
We maintain that frequent flyers kids can travel in style, too. The Rockland Rolling Underseat Carry-On in patchwork owl design is cute enough for kids to embrace, without being so childish they'll outgrow it by their 6th birthday. The main compartment offers enough space for three to four days' worth of kids' sized clothing, there are plenty of interior pockets, and outside pouch, too. It's got two wheels and an adjustable handle so kids can maneuver it themselves, as well as large cloth handles if mom or dad need to carry it like a tote.
Dimensions: 14" x 14" x 9"
Weight: 6 lbs.
Available Colors: patchwork owl, red, black
$57.59 at eBags
9
Best Underseat Bag for Commuters
If you're hopping off the plane and onto public transit—or you want a bag that can double as a daily work bag when you're not airport-bound—the Samsonite Wheeled Computer Backpack has you covered. Features check off all the commuter essentials: space for a 17" laptop, a small front pocket for headphones and other little items, a water bottle sleeve on the side, and a spacious interior. When your shoulders get weary, or you're racing to catch that flight, extend the handle and convert it to a wheeled bag.
Dimensions:  21" x 14" x 8"
Weight: 5 lbs.
Available Colors: black, orange, purple, red
$66.99 at Amazon
10
Best Big Tote for Underseat Storage
A mainstay of Parisians, The Longchamp Large Le Pliage Tote is the chameleon of bags. It's a favorite of chic commuters, with plenty of room for a laptop, water bottle, lunch, and a book, and even space for a change of clothes for spin class. Take it along on your next flight, too, as the water-resistant nylon tote is easy to wipe clean, can be zipped shut, and stands up to the wear and tear of being stuffed under airplane seats. The lack of pockets is actually a virtue for lazy packers that just want to dump everything into one big open compartment and call it a day.
Dimensions: 12.25"W x 11.75"H x 7.5"D
Weight: 0.7 lbs.
Available Colors: black, red, pink, gunmetal, honey, navy, khaki
$145 at Nordstrom
11
Best Underseat Bag for Style-Conscious Teens and Tweens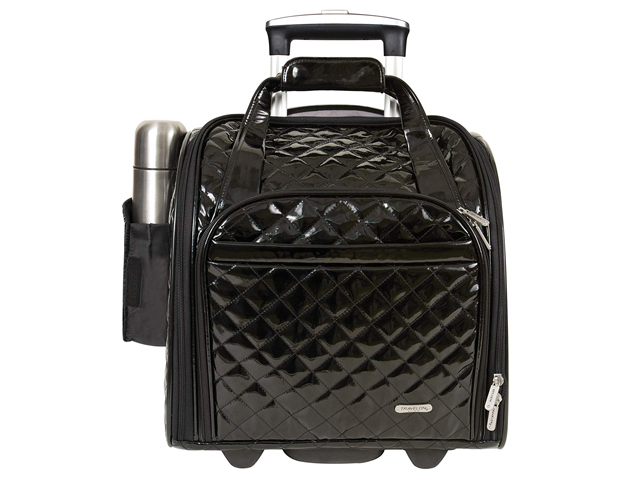 Looking more like a cosmetic case than a suitcase, The Travelon Wheeled Underseat is a high-gloss, PVC quilted suitcase that'll appeal to teens and tweens on the road—and it'll keep them organized. The front pocket unzips to reveal space for a tablet, a toiletry bag, snacks, and little gadgets or games, while the main interior pocket holds a weekends' worth of clothing and features additional pockets. There's also an expandable drink sleeve, perfect for stashing bottled water, or, OK, soda.
Dimensions: 14" x 13.5" x 8.5"
Weight: 5.25 lbs.
Available Colors: black
$78.76 at Amazon
Related Stories
All products have been hand-picked by our writers and editors. Items purchased through links may earn us a commission.