Luggage Expertise
Which Bric's Milano Luggage Should You Get?
With its Northern Italian pedigree and elegant style, Bric's Milano luggage attracts a high-end (read: celebrity) clientele. While there's no shortage of luxury luggage options out there, Bric's tends to outshine the rest when it comes to sophistication. Ever since Mario Briccola (who passed away last April) created the brand in 1952, Bric's Milano has managed to evolve with the times without sacrificing timeless elegance. That has a lot to do with the brand's insistence on using top of the line materials, like Tuscan bovine leather, and traditional design techniques, like vegetable tanning and drum-dying. No wonder, then, that jetsetting fashionistas and business travelers are also frequent Bric's Milano customers. Join the in-the-know club, and choose your next suitcase from our Bric's Milano review.
Pros of Bric's Milano Luggage
Italian heritage worth bragging about to your seatmate on the plane
Sophisticated, classic style that also manages to stand out
Constructed of durable Tuscan leather, flexible polycarbonate, and various tough fabrics that stand up to in-flight bumps and bruises
Roomy yet surprisingly lightweight across the board
Attention to detail by way of spinner wheels, sturdy zippers, TSA-approved locks, and interior lining to match the exterior
Amal Clooney carries it, enough said
Cons of Bric's Milano Luggage
Softside luggage can be wobbly, according to some reviewers
Glossy outer shell of some models is easily scuffed and scratched
Prices can be steep for leather options
Bric's Milano Style Overview

Given that founder Mario Briccola insisted on positive relationships with customers and suppliers over profits, it makes sense that a third generation has joined the family luggage business, and the Briccolas' factories in Como still produce leather collections. That continuity extends to style: Bric's luggage exudes the same polished cosmopolitanism today as it did back in the 1950s. To put it simply, Amal Clooney is a fan. Still, Bric's offers a wide enough variety of carry-ons, large and mid-size suitcases, totes, and duffles to attract travelers with a range of personal styles and budgets. Whether you splash out on leather, choose a practical hard-shell, or break the mold with a crocodile-embossed spinner, you can feel confident in the construction and Italian spirit. Before you write off the brand as too expensive, browse around a bit. There are some surprisingly affordable options (and great sales) to consider.
Where to Buy Bric's Milano Luggage
If you're on the hunt for Bric's Milano luggage, it's worth checking out the brand's website for the sales and the eye candy. Ogle options from nearly 20 different collections, or browse the Bric's Milano Instashop laden with stylish people and stunning places. Bric's Milano is also sold through Amazon and eBags, as well as higher-end department stores such as Nordstrom, Neiman Marcus, and Bloomingdale's. No matter where you buy it, Bric's Milano luggage turns heads.
Which Bric's Milano Luggage Should I Get?
The Three Best Bric's Milano Suitcases
1
Bellagio V2.0 21-inch Carry-On Spinner Trunk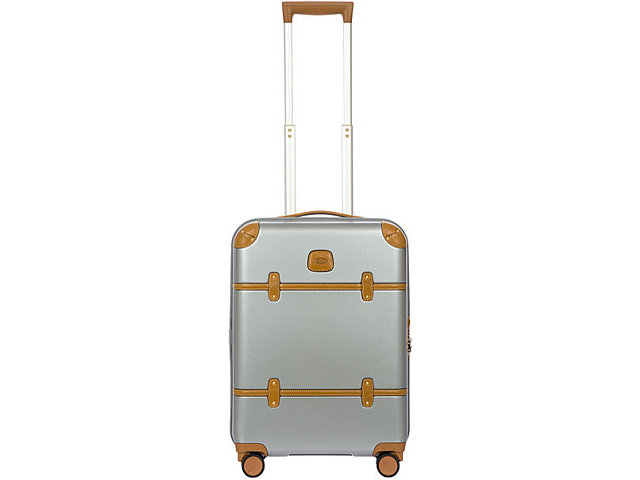 The Bellagio might be the most recognizable of Bric's luggage models, thanks to its striking combination of smooth (and super-flexible) polycarbonate, in classic hues like cream and navy, with warm brown leather accents secured with gold-plated rivets. The look is just the right amount of old-fashioned—it makes us think of early train travel—yet undoubtedly modern, thanks to the clean lines. And the Bellagio also comes through in a practical sense, from the large interior pockets with classy herringbone-patterned lining to the ball-bearing spinner wheels and TSA-approved lock. The occasional caveat, according to a few reviewers, is that the multi-stop handle system can become stuck.
Exterior dimensions: 21 (height) x 14 (Width) x 8 (depth) inches
Weight: 7 lbs.
Primary material: Polycarbonate
Available colors: Black/tobacco, cream, olive, blue/tobacco
Buy It Here
2
X-Bag 25-inch Spinner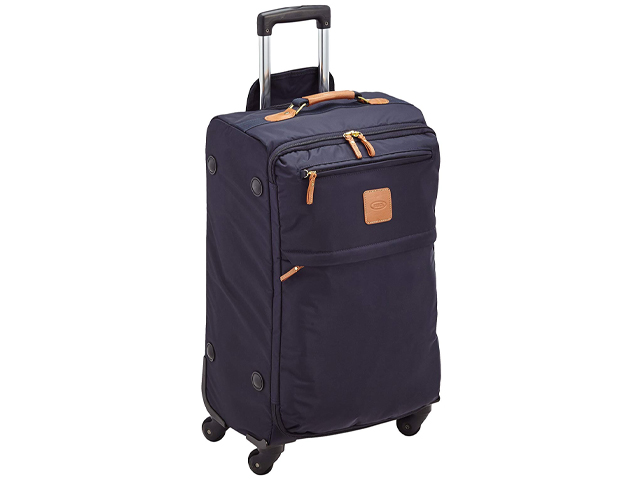 The X-Collection feels like a bit of a departure for Bric's—in a good way. The line is a touch sportier than the brand's other options, with a streamlined U-shaped frame and casually cool, satin-nylon construction dressed up with Bric's signature cognac leather and gold-plated accents. The dual front pockets are ideal for stowing away last-minute packing additions, while the two interior pockets and elastic straps secure enough clothes, shoes, and toiletries for four to five days (more or less) of travel. Like any dependable modern suitcase, this one touts four spinner wheels and is ultra lightweight. An added bonus is simply how good the X-Bag looks—more than one reviewer has received compliments at the airport.
Exterior dimensions: 25 (height) x 16 (width) x 9 (depth) inches
Weight: 6.4 lbs.
Primary material: Satin nylon
Available colors: Black, navy, olive
Buy It Here
3
Capri 30-inch Spinner
The beauty of the Capri is its fusion of Bric's classic Italian sophistication, by way of leather accents and elegant shapes, with a hard-sided shell that looks vaguely futuristic. We're also crazy about the rich color options, beveled polycarbonate surface and glossy- or matte-finish shell options. The 360-degree roller wheels are smooth as can be, and despite the generous size and robust appearance of this suitcase, it doesn't weigh a ton, as reviewers consistently point out, all of which eases your airport experience. Moreover, the flexible shell can take a beating. Inside, water-resistant zippered compartments and an adjustable strap stand in for packing cubes, which means less time getting organized when you arrive and more time soaking up your destination. Don't you look smart?
Exterior dimensions: 30 (height) x 21.5 (width) x 12 (depth) inches
Weight: 11.5 lbs.
Primary material: Polycarbonate
Available colors: Matte blue, night blue, gray
Buy It Here
All products have been hand-picked by our writers and editors. Items purchased through links may earn us a commission.