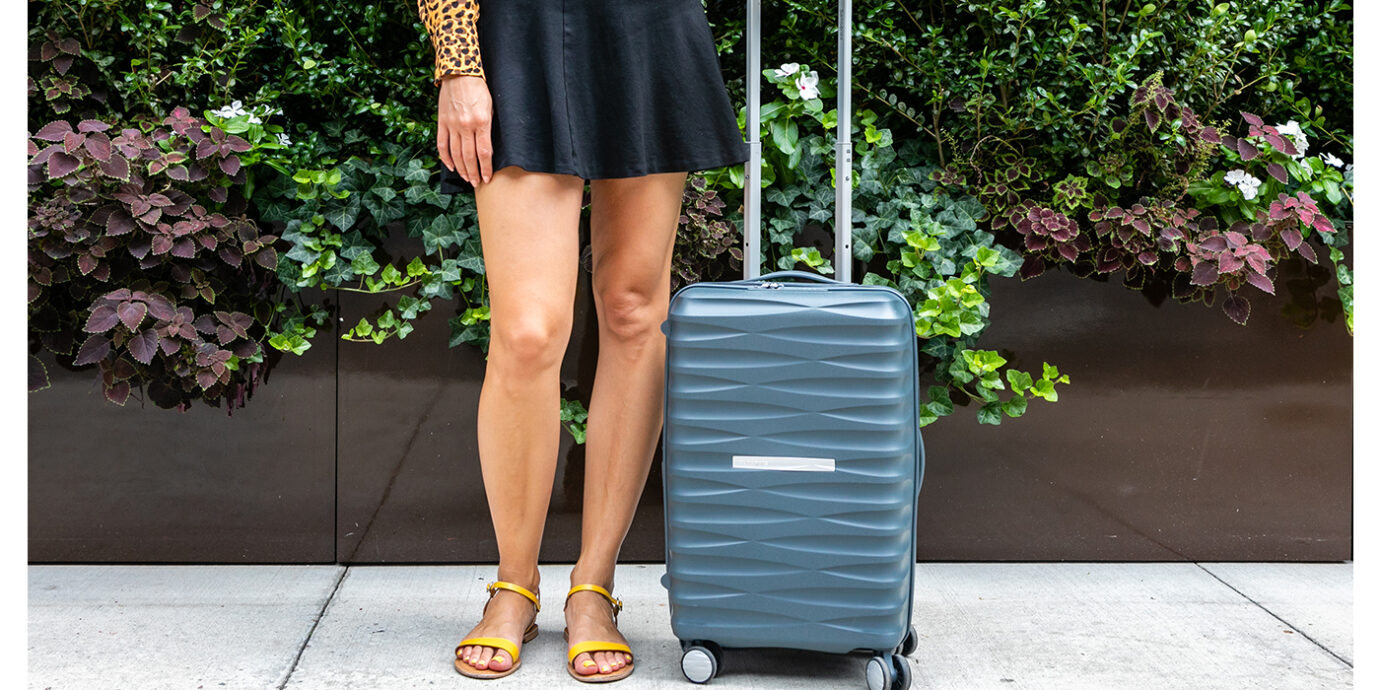 Luggage Expertise
The Hard-Sided Suitcase That Converted Me From a Lifetime of Soft-Sided Suitcases
Aisle seat versus window seat. TSA PreCheck versus CLEAR. United Airlines versus Delta Airlines. And, hard-sided suitcases versus soft-sided suitcases. These are the great travel debates of our time. Before Samsonite provided me with their hard-sided Voltage DLX 20" Spinner for a review, I was firmly in the soft-sided luggage camp. I've visited six continents with my trusted and beloved Bric's rolling duffle, and love how lightweight and easy it is to pack. The hard-sided luggage world of clamshell hinges, dual spinner wheels, and polypropylene exteriors seemed completely foreign to me. Still, the night before my Jetblue flight from New York City to Portland, Oregon, I ignored my soft-sided suitcase, unwrapped the Samsonite Voltage DLX 20" Spinner, and got down to packing. Reader, I'm a hard-sided suitcase convert. Soft-sided suitcase, I'm sorry.
The Samsonite Voltage DLX 20″ Spinner Travel Overview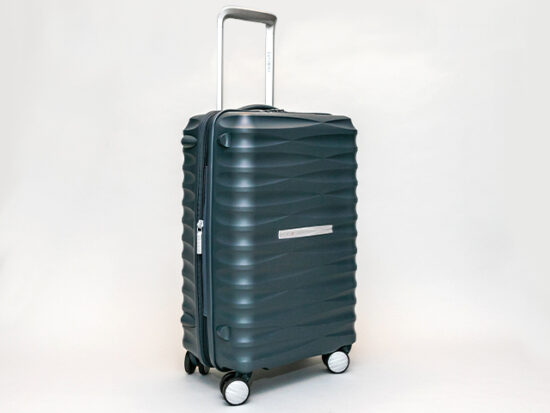 One of the reasons I've remained so dedicated to my Bric's rolling duffle is that it's easy to carry via a shoulder strap if necessary. My suitcases get a lot of use (they've seen cruise ports, cobblestoned European streets, and more South American bus rides than I can count) and I'm hesitant about pulling them anywhere other than in the perfect conditions of airport terminals and hotel lobbies. I don't want the wheels to break, rendering me with the inability to wheel it at all—until I can make an expensive repair. I also like how soft-sided luggage has some extra give for packing. I can usually stuff an extra sweater or pair of shoes inside and still zip it closed. But there are some downsides to my soft-sided luggage, too. Two wheels means I have to drag it behind me and the soft fabric has a few stains (hello, smear of Essie's Saltwater Happy nail polish from the time I tripped over my suitcase before my pedicure dried). I've looked on with curiosity, if not outright envy, at my fellow passengers with their sleek hard-sided luggage featuring built-in luggage locks and USB ports.
Fast forward to me unboxing the Samsonite Voltage DLX 20″ Spinner. I immediately loved the dark graphic color, which highlighted the attractive fluting design on the exterior. As I unwrapped the plastic, I couldn't believe how light the suitcase felt. Empty, I could easily pick up the Voltage with one hand and swing it over my head (I didn't, but I could have). There went my preconceived notions that hard-sided luggage is too heavy. Second, the polypropylene material had a lot of give and flexibility. Yes, it was hard—but the material allows for an extra inch of room (if you want it) via a zipper. There went my preconceived notions that hard-sized luggage doesn't have enough give.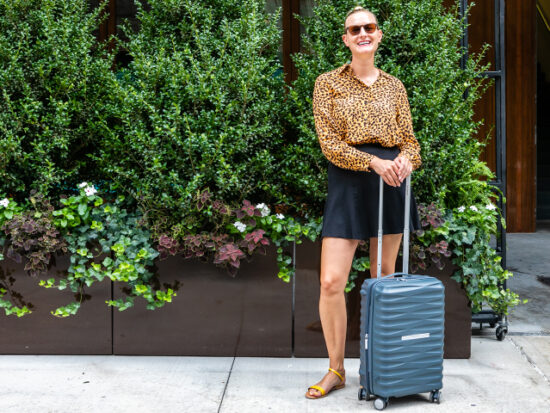 My next test was to get the suitcase from my office back to my apartment, a treacherous one-mile journey through the heart of SoHo and it's uneven curbs and sidewalks (definitely not airport terminal conditions). I liked how easy it was to wheel the Voltage alongside of me, and it was simple to pivot around hordes of tourists waiting for the traffic light to change on Broadway. The wheels held up, and were barely scuffed.
Once I got the suitcase safely home, it was time to pack for my long Labor Day weekend visit to Portland, Oregon. Opening the suitcase required more floor space than I expected, due to the clamshell style hinge that opens like a book. One side of the suitcase featured a large mesh pocket accessible by zipper, plus a second smaller zippered mesh pocket and the WetPak pocket for toiletries. The other side had an open concept, but provided elastic cross straps to keep everything place. I can pack my rolling duffle in a few minutes, it's down to a much practiced science, but I needed to figure out the best way to pack the Voltage.
For Portland, I had a large packing cube with five days worth of rolled clothes, a small packing cube with a swimming suit and five days worth of bras, socks, and underwear (okay, maybe more like 10 days' worth), a toiletry bag with essentials, lightweight clog sandals, flat sandals, and a hardcover book. I also wanted to add a denim jacket and rolled sweater that were too large to fit in the packing cube. I'm happy to report that everything fit, with room to spare, and was securely zippered or strapped in place. I didn't even have to use the expandable section for more space. I'm confident that I could have packed a full week's worth of clothes and another pair of shoes if I needed them.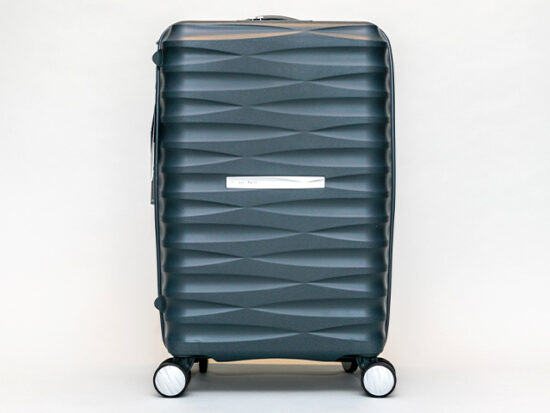 When it was time to leave for the airport, I easily locked the Voltage using the built-in TSA-approved locks. I saw firsthand how the packed Voltage navigated New York's streets, J train, and AirTrain. No wheel or balance problems. Once I arrived at JFK I felt very chic and organized with my sleek hard-sided suitcase. I hadn't purchased an external battery, so I couldn't use the USB charger (if I had one, I'd have to remove the battery from the suitcase before carrying it on). As I boarded the flight, I was nervous about fitting the Voltage into the overhead bin. I'd measured the dimensions and compared the chart online, but I still worried the wheels would stick out and I'd be forced to check my bag. I worried for nothing. The Voltage fit easily in the overhead bin. On arrival to Portland, my cousin hugged me, said hello, and then, "Oooh, nice bag! Where'd you get it?" Success.
Pros of Samsonite Voltage DLX 20″ Spinner
Cons of Samsonite Voltage DLX 20″ Spinner
Where to Buy The Samsonite Voltage DLX 20″ Spinner
Samsonite is one of the oldest and most trusted brands in luggage, so it's no surprise that you can find their suitcases, backpacks, duffels, and weekenders almost everywhere. Ordering direct from Samsonite is a great way to cash in on their multiple sales and promo codes. As of publishing day, the Voltage Spinner is a whopping 40% off on Samsonite. Online retailer, eBags, also carries the Samsonite Voltage Spinner and often runs sales. Currently, the Voltage DLX 20″ isn't on Amazon, but that may change. No matter where you buy the Samsonite Voltage DLX 20″ Spinner, you'll be pleased with your hard-sided suitcase.
Related Stories
All products have been hand-picked by our writers and editors. Items purchased through links may earn us a commission.