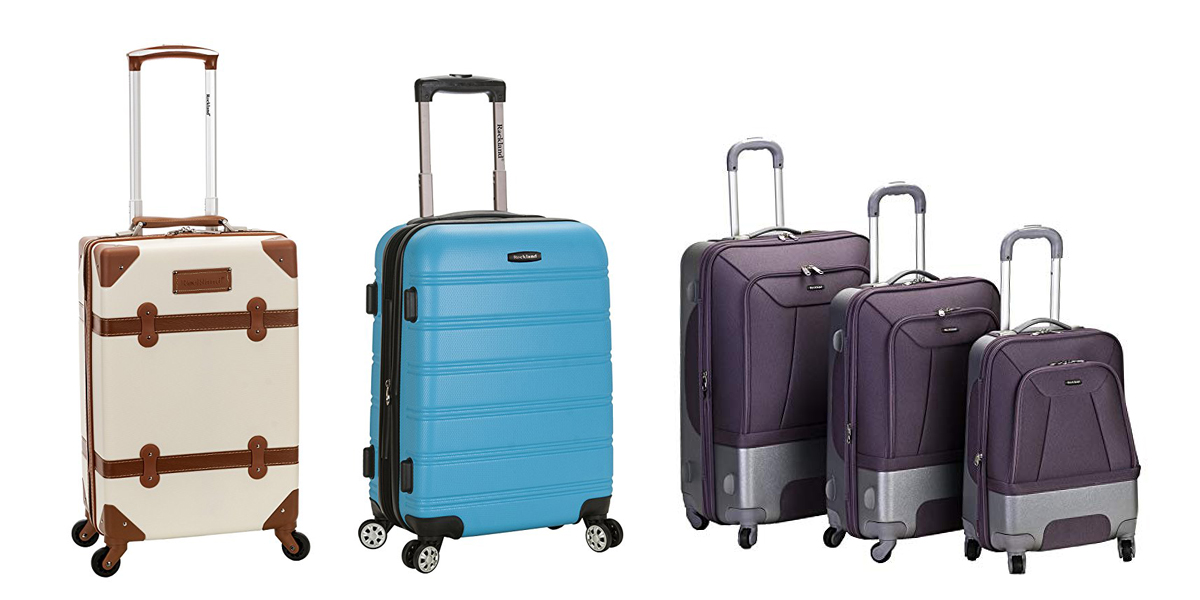 Luggage Expertise
Which Rockland Luggage Should You Get?
Big on looks—with megawatt colors, edgy graphics, and trendy designs—Rockland suitcases know how to make an entrance. These bold and splashy bags sell for a price that can be a fourth of what top luggage brands charge. Cheerful, flashy exteriors aim to appeal to the millennial market that wants luggage that represents their personality, or at least looks good on social media (#vacationlife). In fact, Rockland suitcases are so eye-catching, they're even been used as props in movies and TV shows. Just don't let the bright colors blind you from the fact that these pieces don't always hold up to their pricier counterparts when it comes to durability. On the upside, several models have features often missing on budget lines, like spinner wheels, interior compartments, and telescoping handles. Check out our Rockland luggage review for the best of the best.
Pros of Rockland Luggage
Cheap thrills: four-piece sets can cost less than $100
Signature bright patterns and graphic designs
Ergonomic extendable chrome handle and multi-directional wheels
Helpful details like expandable seams or compression straps
Cons of Rockland Luggage
Straps on certain luggage reportedly wears and tears easily
Scratches and scuffs are easy to acquire according to users
Dimensions of some carry-ons too big for airline requirements
Rockland Luggage Style Overview
Bust out your best runway walk—Rockland bags are usually bright, stylish, and turn heads, so you'll want to strut through the terminal. Hard-shelled Rockland suitcases are sleek with rounded corners reminiscent of Away's carry-on, and they come in vibrant Crayola colors or repeating patterns of owls, polka dots, zebra stripes, tropical mofits, or hearts. Some act as little luggage postcards to destinations like Vegas and Paris, while others are a solid color with cool beveled designs like waves or repeating cubes. Rockland also has a full line of soft-sided suitcases, kids bags, duffels, and other accessories, and they also keep their personality cranked to 11. Duffels in hot pink leopard print or camouflage practically shout their presence. But travelers looking for something more subtle can still find it with bags in various neutral shades or tried-and-true black.
Where to Buy Rockland Luggage
Rockland luggage is widely available online and in big box retail stores, so buy it wherever you like to shop: Target, eBags, Amazon, and Walmart all carry Rockland luggage.
Which Rockland Luggage Should I Get?
The Three Best Rockland Luggage Suitcases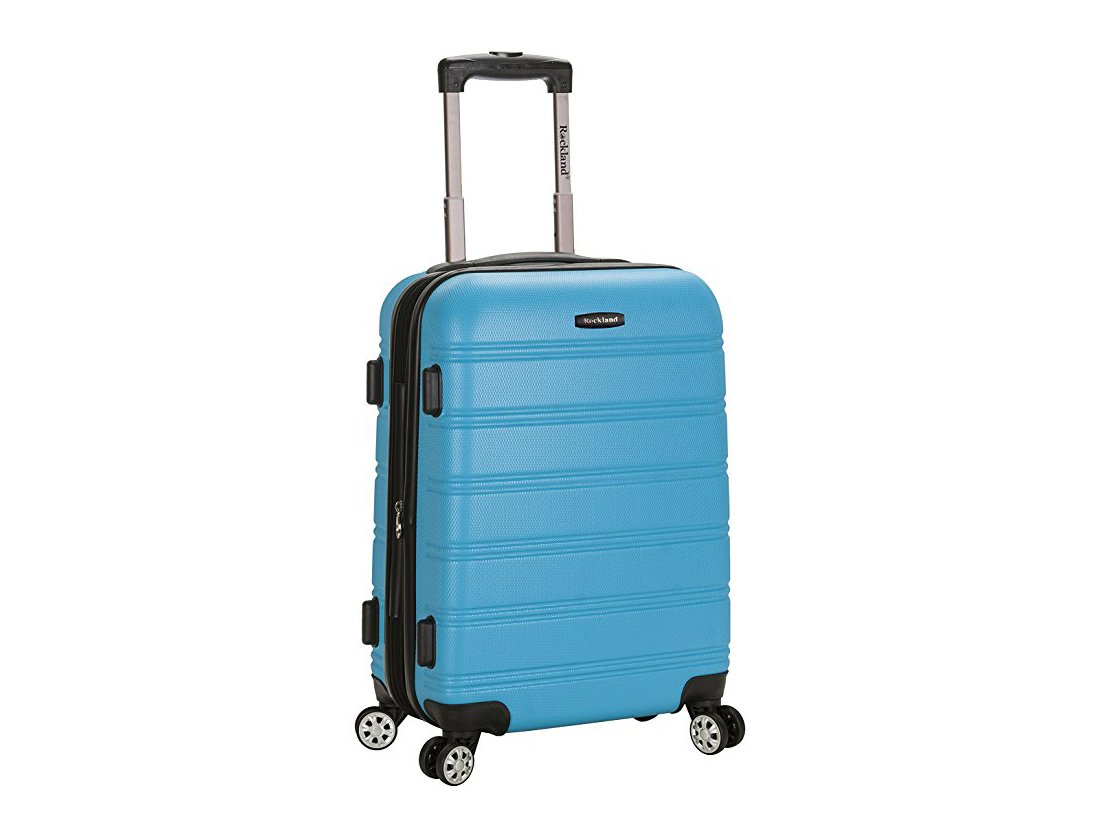 1
Rockland Luggage Melbourne 20 Inch Expandable Carry On Review
Hard-shell suitcases continue to dominate the luggage landscape (and Instagram feeds). The Rockland Luggage Melbourne 20-Inch Expandable Carry-On offers a solid budget version. Not only does it have a sleek and stylish silhouette reminiscent of Away with its segmented sides, it's also full fairly lightweight, thanks to its ABS plastic shell. Helpful extras like swiveling spinner wheels and a telescoping handle are often missing on suitcases at this price-point. (Just don't expect the wheels to glide along as smoothly as pricier brands.) The interior, another place where cheap models tend to skimp, is nicely decked out with an interior divider and multiple pockets, great to keep everything organized and nailed down, especially if you've not on the packing cube bandwagon. And if you find yourself with one too many souvenirs on your trip, the expandable center seam will hook you up with more space. Just be aware that maxing out on this space might make your suitcase a little too stuffed for the overhead luggage bins on some airlines.
Dimensions (including wheels): 20 x 13 x 9 inches
Weight: 7.9 lbs.
Primary material: ABS
Colors: Available in 33 colors, from lime to sterling gray
$42.50 at Amazon
2
Rockland Stage Coach 20 Inch Rolling Trunk Review
Everything old becomes new again. That's why we're feeling the Rockland Stage Coach 20-Inch Rolling Trunk. This vintage-style suitcase looks like your grandmother's trunk as she set off on safari or a transatlantic cruise. (Shuffleboard, anyone?) But its throwback look has been paired with modern-day features. Unlike granny, you won't have to schlep your "trunk" by hand. Its 360-degree spinner wheels and telescoping handle keep it gliding along by your side. And while old-fashioned leather is indisputably chicer, the ABS plastic exterior and PVC corners keep it relatively durable and lightweight. (It's almost two pounds lighter than other standard models.) Organizing buffs will appreciate the two-sided interior that has multiple pockets to store various clothing items plus secure straps, too. Our vote is for the Champagne shade that offers first-class style at coach prices, but those nervous about the inevitable scuffs and marks could also opt for red or "wood grain."
Dimensions (including wheels): 22.6 x 14.2 x 8.9 inches
Weight: 6.5 lbs.
Primary material: ABS
Colors: Champagne and white
$76.60 at Amazon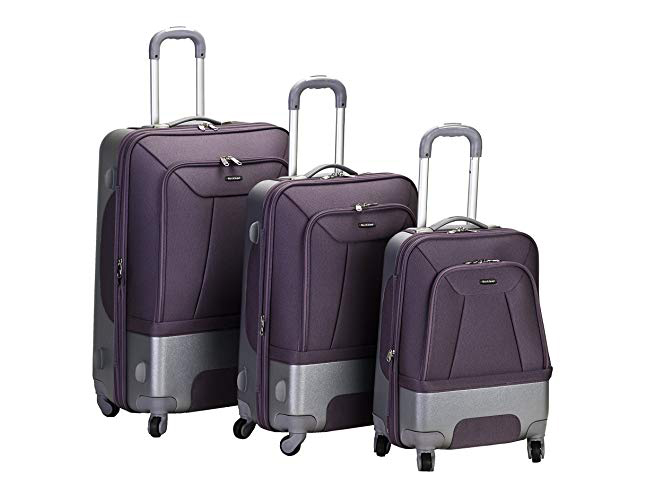 3
Rockland Luggage Rome Three-Piece Set Review
Admittedly, this pick is a bit of a cheat, since we're actually picking three suitcases in one choice. But it's pretty incredible to score three separate pieces of luggage for the price of one mid-range carry-on. For couples or families, your luggge shopping could end here. But this Rockland luggage suitcase set has plenty going for it apart from a stellar price tag. The bags' exterior—part hard-shell, part polyester fabric—combines the best of both worlds with both structure and pliability. And the streamlined design is sophisticated to boot. Ergonomic telescoping handles and spinner wheels will make it easy to push along. Inside, there are multiple pockets to separate smaller items, plus a deep section for bulkier stuff. Best of all, when the suitcases aren't in use, they can nest inside each other, saving precious closet space.
Dimensions (including wheels): 20 x 14 x 8; 23 x 16 x 11; 28 x 19 x 13
Weight: 8, 9, and 11 lbs.
Primary material: Polyester and ABS
Available colors: Lavender and black
$155.78 at Amazon
Related Stories
All products have been hand-picked by our writers and editors. Items purchased through links may earn us a commission.