Shop
How to Shop for Your Next Trip Using Amazon Prime Wardrobe
I buy everything from Amazon, from fishnets to face serum (actual most recent purchases), so why not clothes and shoes for travel? Amazon Prime members can get a leg up on pre-trip shopping with Amazon Prime Wardrobe, a fashion service from the retail giant that lets you select up to eight pieces to try on at home, all with free shipping and returns. It's a similar premise to popular styling services like Stitch Fix and Trunk Club, but minus the whole "styling" part; with Amazon Prime Wardrobe, you select everything you want to try on. With luck, you'll end up with some shoo-ins for your suitcase and closet; everything else you can ship back for free. I put Amazon Prime Wardrobe to the test right before my summer travel schedule kicked into overdrive—and here's what happened.
In This Article:
Amazon Prime Wardrobe Review: What Are the Pros and Cons of Amazon Prime Wardrobe?

Amazon Prime Wardrobe Pros
A free perk for Amazon Prime members

Free shipping and returns for two to eight items; only pay for items you keep

Easy way to try before you buy—for clothes, shoes, jewelry, and accessories

No charge on your credit card unless you keep something

Participating brands include Amazon Essentials, J.Crew Mercantile, Adidas, Ray-Ban, Levi's, Lucky, Calvin Klein, Rebecca Taylor, and Theory

Huge selection for women, men, kids (including babies), plus-size, petite, and maternity

Pick out everything yourself (a con for those wanting the styling services of a Stitch Fix or Trunk Club program)

A full seven days to try on everything at home
Amazon Prime Wardrobe Cons
Only available for Prime members

Not a styling service; you select all the items yourself (a pro for some)

Not all clothing/shoes/accessories—even those marked as Prime—are eligible

You may experience an order cap (more below)

Items may ship separately; won't necessarily arrive in one box

No at-home pickups; boxes must be returned to a UPS location

Wrong items can arrive (the jeans got mixed up in my order)
Frequently Asked Questions About Amazon Prime Wardrobe
What Is Amazon Prime Wardrobe?
Amazon Prime Wardrobe is a fashion service for Amazon Prime members offering free shipping and returns on up to eight pieces of clothing, accessories (think: sunglasses and handbags), and pairs of shoes on Amazon. You pick two to eight eligible items in a single order that's then bundled (as much as possible) and sent to your home with zero shipping costs. Once you receive your box, you'll have a full week to try everything on and decide what you want to keep. Everything else, you pack back up in a reusable Prime Wardrobe box or bag with a prepaid UPS return label. Charges don't hit your card until you check out on Amazon.com.
It's tempting to compare Amazon Prime Wardrobe to fashion services like Stitch Fix and Trunk Club—all three send customers a box of clothes to try on at home, without posting charges until you decide what to keep. A key difference with APW, however, is that what you're trying is entirely up to you. Stitch Fix and Trunk Club use professional stylists to select items, outsourcing the task of shopping; you get little or no vetting on the items you're actually sent. If you're in a fashion rut, need fresh ideas, or want to hand over the search to a professional, you might be better off with one of the many at-home styling services out there, like Stitch Fix, Trunk Club, Frank And Oak, or MM.LaFleur. If you love scouring the internet for fun new clothes to try, and/or if you're already an Amazon enthusiast, you'll prefer Amazon Prime Wardrobe.
Who Can Use Amazon Prime Wardrobe?
Amazon Prime Wardrobe is only for Amazon Prime members—paid, student, and 30-day trial memberships all work. If you're part of a Prime member's "Amazon Household," you're good to go, too.
Amazon Prime Wardrobe Pricing: How Much Is Amazon Prime Wardrobe?
There are no fees for Amazon Prime Wardrobe outside of the overall Prime membership costs ($119 a year or $12.99 a month; discounted memberships available). There is no separate sign-up fee, no program fee, no shipping costs. Because this isn't a styling service and you're selecting everything yourself, there is no stylist fee, a la Trunk Club and Stitch Fix ($25 and $20, respectively).
As for the merch itself, the prices swing from low to high. Eligible products range from these $10 cubic zirconia earrings from Amazon Essentials to a $345 men's zip-up sweater from high-end fashion label Theory. Still, the vast majority of APW items are solidly in double-digit territory, with only the occasional piece surpassing the $100 mark. While we're talking money, I'll point out that Amazon Prime Wardrobe requires the use of a credit card (not a debit or gift card) that's not about to expire. And finally: if you haven't completed your checkout form online by the end of your seven-day try-on period, you'll get charged for the full order.
Is There a Sign-Up Fee for Amazon Prime Wardrobe?
Nope! No fees outside of what you pay for your Prime membership, and what you end up buying through Wardrobe.
How to Cancel Amazon Prime Wardrobe?
Because Amazon Prime Wardrobe is part of the Amazon Prime experience, Prime members can choose to use it or not—there's no separate sign-up or anything. If you cancel your Prime membership, you can no longer access Wardrobe.
Is Amazon Prime Wardrobe Available for Men? What About Kids?
Amazon Prime Wardrobe has stuff for women (including expecting women), men, children, and infants. This monster retailer claims that hundreds of thousands of items qualify—and after hours of combing through Wardrobe search results, I totally believe it—but it's important to note that just because something is closet-related (say a cocktail dress or a pair of loafers) and marked "Prime," it's not necessarily part of Prime Wardrobe. And even if an item is eligible for Wardrobe, the exact color/size you want may not be.
How Does Amazon Prime Wardrobe Work?
If you're familiar with shopping on Amazon, then shopping on Wardrobe will feel commonplace. Same interface, same shopping experience. The big difference is that you don't have to pay for things up front in order to try them on at home—instead, you can add two to eight Prime Wardrobe items to a dedicated Wardrobe cart (separate from your usual Amazon one), and Amazon will send everything to you—hopefully in one box—to test out for yourself before committing to any payment.
Once you receive all of your items, you get seven days to take everything for a spin and see what you think. (Amazon will try to bundle all items into one box, but it may send things separately; if that's the case for your order, your seven-day phase starts once the last item arrives.) Once you decide what you want to keep and what you want to send back, check out online, seal up the reusable box, slap on the prepaid return label, and bring the box to UPS. Easy!
Are All Clothes on Amazon Prime Fair Game?
That's a big no. Only a portion of clothes/accessories/etc. on Amazon Prime are also part of Amazon Prime Wardrobe. Starting your search on the APW landing page is the best way to know what qualifies. If you want to search a particular item—say bike shorts or bathing suits—then click the "Prime Wardrobe" checkbox on the left-hand side of the screen to refine your search. Or just shop as you usually do on Amazon and keep an eye out for a "Prime Wardrobe" logo right beneath an item's price and Prime logo.
What Brands Are On Amazon Prime Wardrobe?
There are hundreds of thousands of products on Amazon Prime Wardrobe from both name brands (Calvin Klein, Adidas, Levi's, Champion, Hugo Boss) and Amazon house brands (Amazon Essentials, Goodthreads, Daily Ritual). High-end shoppers will find more luxury picks by designers like Rebecca Taylor, Theory, and AG Adriano Goldschmied.
How Do You Order a Box?
Once you find some things you want to try, add at least two to your Prime Wardrobe cart. To do this, select your size and then click the yellow "Add to Prime Wardrobe Cart" button that pops up. Both Amazon Prime Wardrobe's add button and cart are separate from Amazon's regular "Add to Cart" button checkout—a nice detail because you can place your Wardrobe order without touching that barbecue sauce or whatever you have kicking around in your Amazon cart. When you're ready, proceed to shipping.
Note that when I test-drove the service the first time, my order was capped at $300 and I had to remove two pieces from my cart—weird, since there are single APW items that exceed $300, like this heart-print wrap dress that starts at $454.28. I tried placing a $300-plus order again weeks later and didn't have the same issue. When I reached out to Amazon for clarification, a representative told me that the company is continuously making changes to the service. So, you may hit an order maximum, or maybe not.
How Long Does Amazon Prime Wardrobe Take to Arrive?
Boxes generally take four to six business days to arrive; it takes a little longer than most Amazon deliveries because the retailer tries to send items in as few boxes/bags as possible. Because of this, there is no expedited shipping available—only standard—and things may come separately. If that's the case, your seven-day period starts once the last item is delivered.
What Happens Once It is Delivered?
Fashion show time! This is when you get to see how everything fits, both on your body and as part of your current wardrobe. The beauty of Amazon Prime Wardrobe is that you can try on multiple things (up to eight) that you've been eyeing online, without paying a penny. Often with Amazon, you may order something with free shipping, only to have to pay for its return. With APW, shipping both ways is guaranteed free. And as with all fashion delivery services, trying stuff on at home beats the in-store dressing-room experience, where you can't tell for sure how clothes and shoes will pair with what's already in your closet.
How Do You Check Out and Make Returns?
You get seven days to figure out what's a keeper, what's a no, and to check out online. For the check out process, go to Amazon's "Your Orders" section and indicate what's being kept or returned (if you don't do this before the end of your try-on period, your account will get auto-charged for the full order). The form will prompt you to select a reason for returns: "Not Needed," "Too Small," "Too Large," etc. Perhaps tellingly, "Wrong Item" is one of the options, suggesting shipping orders aren't always correct. (I had to put the "Wrong Item" button to use myself on a pair of jeans.) After you finish the checkout process, you're charged for items you've kept.
For any returns, pack them up (in original condition, naturally) in the resealable APW box or bag, slap on the free return label, and take the package to a UPS—you can do this anytime within 30 days of the delivery. Note that with Trunk Club and Stitch Fix, you can also schedule an at-home pick up, but Amazon Prime Wardrobe does not offer that luxury. That said, APW does offer a generous try-on window comparatively.
Can You Exchange Sizes on Amazon Prime Wardrobe?
Unlike Stitch Fix and Trunk Club, there is no "Exchange" option at checkout. In order to exchange an item, you'd have to return it, then re-order it in a different size and/or color, either as a one-off item or part of an all-new Wardrobe order.
Amazon Prime Wardrobe vs. Styling Services like Trunk Club and Stitch Fix: How Do These Compare?
Stitch Fix and Trunk Club are styling services that use detailed style quizzes and professional stylists to send customers super-curated boxes of clothes, accessories, and shoes. With Stitch Fix and Trunk Club, you turn over all search duties and decision-making to the stylists. Ideally, you'll end up fun new pieces that you wouldn't ordinarily pick for yourself. Those stylists come at a cost: $20 in the case of Stitch Fix and $25 in the case of Trunk Club, though both services deduct the styling fee off of the price of any item you keep. These services can feel like rolling the dice—you won't necessarily know what's in the box and your assigned stylist is not always going to nail your aesthetic; receiving at least one "dud" pick is pretty much inevitable. And though the stylists work within a budget you lay out for them, you don't know the exact cost of everything until you receive the box.
With Amazon Prime Wardrobe, there is no stylist component—no professional curation, no stylist fee. It's more like typical online shopping where you select every single item that gets added to your cart and sent to you. Because of this, you have full control over the items themselves and their prices. But you're doing all the shopping legwork yourself. In short, the main similarity among all three services is that they send you a box of clothes to try on at home, and you don't pay for any items until you decide what you want to keep. For people who know what they like and want full autonomy over their order (and budget), Amazon Prime Wardrobe will probably be more appealing. However, APW doesn't offer exchanges or at-home pick-ups, two things that Trunk Club and Stitch Fix allow.

Our Amazon Prime Wardrobe Review for Travel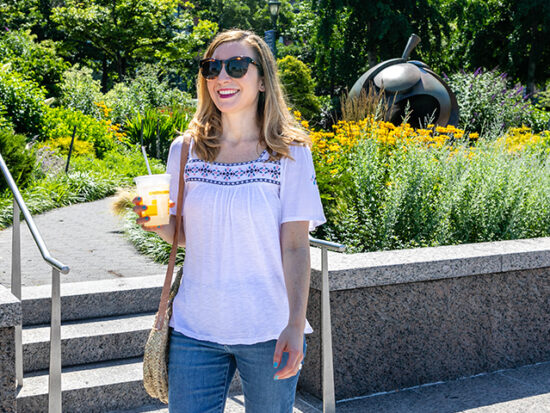 How I Placed My Amazon Prime Wardrobe Order
Confession: I've been a Trunk Clubber since late 2018. I decided to try Nordstrom's styling service to find cool new clothes for a two-week trip to Japan, and to help me out of a style rut. Now, after cycling through eight Trunks and one in-person "Clubhouse" visit, I've revamped my closet for the better. All the same, my stylist has sent me things wildly off the mark—both in terms of my taste and budget—despite my constant feedback. After my June Trunk was a total wash, I decided to get back in the driver's seat of online shopping and test out Amazon Prime Wardrobe, which offers the same "don't buy until you try" benefits.
For the most part, it was really fun and refreshing to put together my own box of clothes and shoes to try out after delegating that to a stylist for so long. I did have one major frustration: A couple of times during my box-building process, something marked for Prime Wardrobe (i.e. with the line "Try it free with Prime Wardrobe") would catch my eye, but my specific size or color preference wasn't eligible. For example, some sizes of these super-cute dot-print shorts by J.Crew Mercantile were available through Prime Wardrobe, but not all. The same shorts in the floral print were available through Wardrobe in every size. Weird, right? And before completing my order, I got hit my an order maximum of $300 and had to remove two items from my cart. This seems strange, seeing as how there are luxury buys on the service that alone are more than $300. When I asked Amazon about this, they simply said that they are constantly making changes to the service. I tried placing a big order a few weeks later, and this road block didn't seem to be an issue.
What I Ordered From Amazon Prime Wardrobe
J.Crew Mercantile Short Sleeve V-Neck, $16.50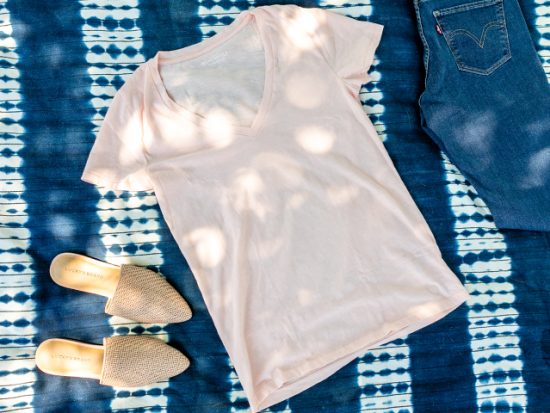 This staple is one perfect piece for simple summer outfits. I wanted it in white in a more fitted size so that I could wear it with my favorite palazzo pants, but APW's almighty stock gods decreed that only the pale pink one with a baggier fit was eligible. Still, this guy will be perfect for my weekend trip to San Diego, where I'll wear it with long denim Bermuda shorts and white sneakers while exploring Cabrillo National Monument with my college bestie. This top will keep the sun off of my shoulders and its feather-light cotton will stay cool even in the San Diego heat. For airport-transit days, it's an essential part of the airplane outfit Holy Trinity, along with joggers and a hoodie.
J.Crew Mercantile Basic Tank Top, $16.50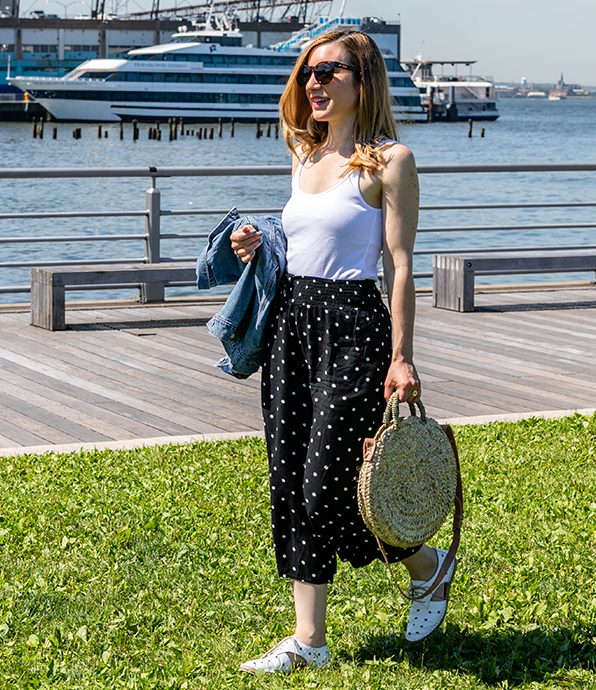 My vision for this tank is to wear it tucked under high-waisted anything: jeans, shorts, skirts, wide-leg cropped jeans. How cute is it with these polka-print pants? I really could have used this outfit earlier this year for Taormina, where it's the perfect look for strolling Corso Umberto and enjoying a midday glass of crisp, ice-cold limoncello.
Levi's Women's Ex-Boyfriend Trucker, $59.99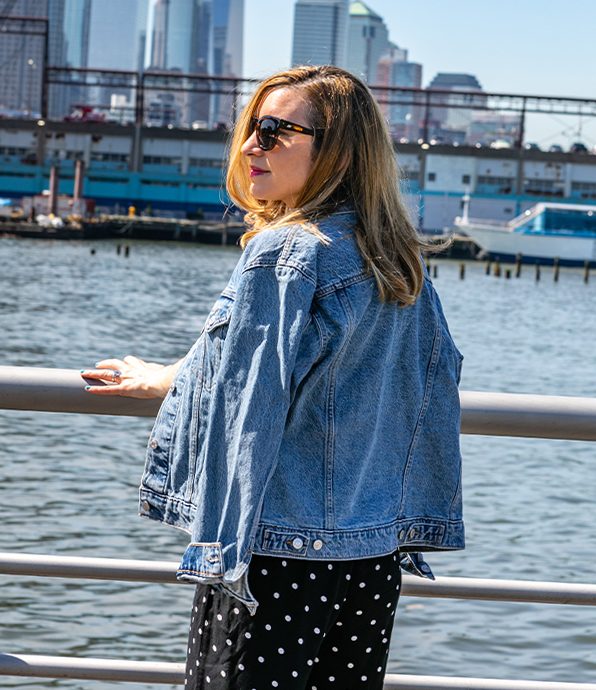 Trucker jackets for the win! This slightly-(but-on-purpose)-too-big jean jacket is perfect for adding cool-girl appeal everything I own, from floral minidresses to sweaty workout gear. It will for sure come into play on my Labor Day weekend trip to Chicago, where the late-summer temps very well may drop into the 50s. (Jacket weather for me.) The Windy City's weather is unpredictable, but I can prepare for those cooler nights by packing this denim jacket.
Levi's Women's 721 High Rise Skinny Jeans, $37.34

Amazon got the brand and the size right, so I guess there's that. But instead of sending the "721 High Rise Skinny" I ordered, they shipped out these baggy mid-rise bootcuts in a very dark wash. Don't get me wrong, I'm open to non-skinny jean styles (these Wedgies have long been an integral part of my weekend uniform), so I did try them on, to be a thorough journalist. But I flat-out refused to put them on for a public photo shoot on account of their epic unflattering-ness. These were only donned in the privacy of my bedroom, where they were barely fully zipped, buttoned, and glanced at in the mirror before they came right back off. No thank you.
Lucky Brand Bradell Flat Mule, $74.69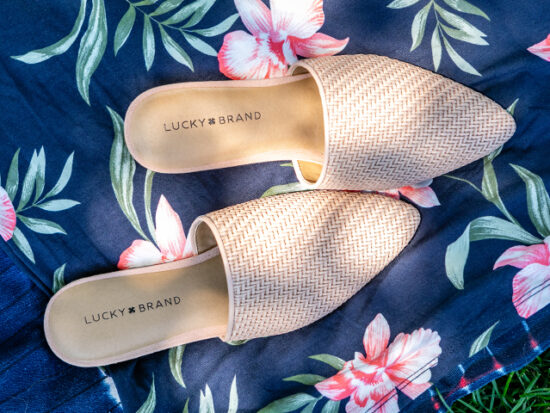 Like the V-neck tee, I wanted these woven flats in white, but that must be true for me and 10,000 other people because the whites are sold out in almost every size. This ballet-slipper-like Maple Sugar makes a very worthy back-up color. The mule's easy slide-on style makes getting through TSA just a little bit more bearable and they pack practically flat and take up little room in a suitcase. The woven material means they're breathable even on hot summer days and memory foam insoles provide a bit of bounce. For San Diego, they'd be perfect with a linen sundress and a floppy hat or cropped kick-flares, a fitted tee, and a cute neckerchief.
Lucky Brand White Embroidered Top, $47.60

This taps right into the peasant look that I've loved since middle school. (See? Amazon Prime Wardrobe won't help anyone escape their stylistic ruts.) Nevertheless, tossing it into the "no" pile was an easy decision because the thin material didn't merit its $59.50 price. The top's current sale price ($47.60) could have earned it a spot in the "maybe" heap.
Amazon Essentials Maxi Dress, $23.85

Please say hello to my new Ideal Dress for Summer Travel. Easy, breezy, comfy, cheap: This maxi dress by Amazon Essentials is the star of the bunch (and you guys it's under $25). I can wear it as a cover-up at the beach, sport it for a full day of sightseeing, or dress it up for dinner. This piece will certainly earn its keep on my annual family beach trip to Wilmington and Figure Eight Island in North Carolina; I can see throwing it on over my swimsuit when a grocery store run is in order or lounging in it for pre-dinner margaritas on the front porch, overlooking the dunes and the waves. The tank dress rolls down to practically nothing in a travel bag, and its rayon material (blended with some elastane for stretch) doesn't wrinkle at the drop of a hat (or the squished pressure of my dopp kit, as the case may be). If it does arrive at its destination with some creases, the floral print provides plenty of distraction.
Finally: Is Amazon Prime Wardrobe Worth It?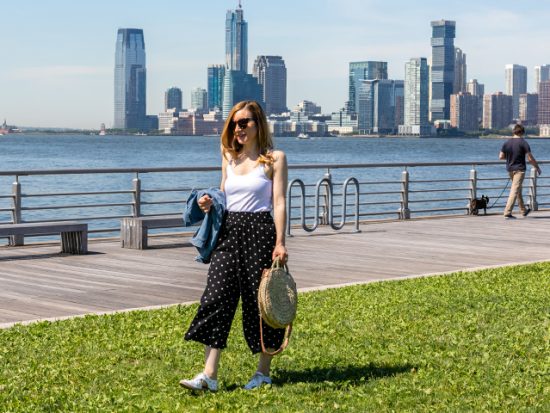 If you already have Amazon Prime, then go for it! The Wardrobe service is 100% worth trying out. It's kind of fun, even—adding stuff you've been eyeing to a special cart that doesn't require payment in advance. OK, that might be dangerous for some shoppers, but seriously, without a literal paywall in front of you, you can pull the "Add to Cart" trigger on things you wouldn't try otherwise. You might even find yourself taking some "wild card" picks for a test drive. If a handful of pieces aren't a good fit—no harm, no foul, no annoying Amazon return fees. Amazon Prime Wardrobe is especially useful if you have travel plans on the books and want to pep up your style before you get there. Instead of shopping around, keeping track of various deliveries, and potentially paying several return fees, you can do everything in one place. Finding Wardrobe-eligible items that you like, in your correct size and color preference, does take some time and trial and error. But with some luck, you'll end up with a winner or three.
Related Stories
All products have been hand-picked by our writers and editors. Items purchased through links may earn us a commission.