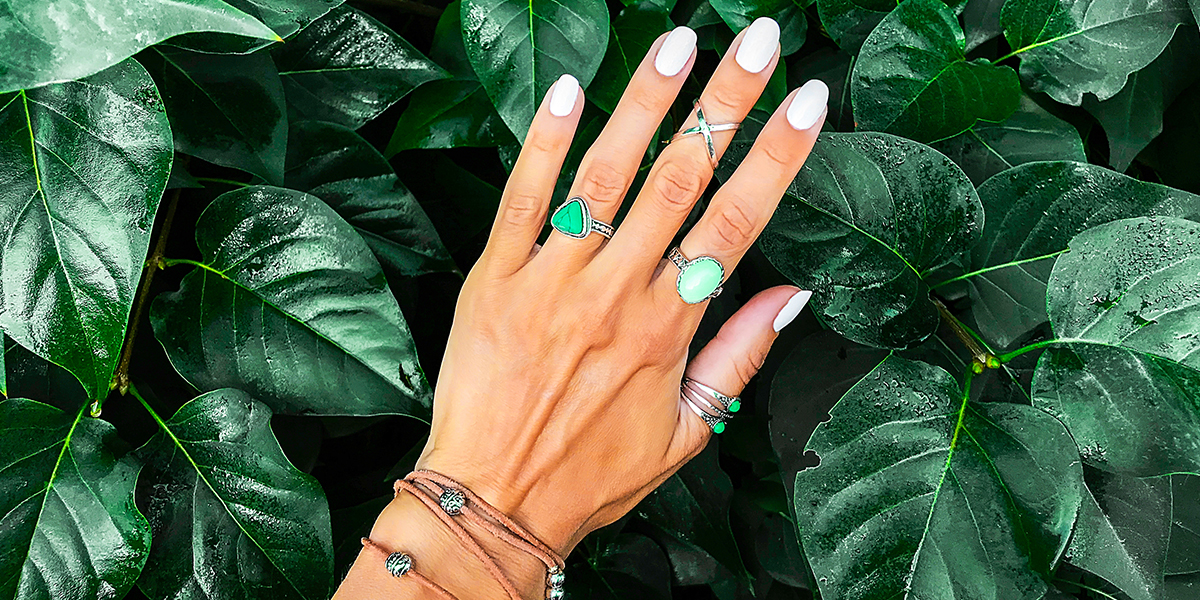 Shop
Best Long-Lasting Nail Polishes for Chip-Free Vacation Nails
Whether you're presenting at an important client meeting in another city, snapping shots of your new favorite gelato by the Trevi fountain, or on a very special trip where you're about to sport a very special ring—perfectly polished nails help keep your travel style in top form. So when you carve out time in the packed days leading up to your trip to get a gleaming mani, it's frustrating to spot a chip before you've even unpacked your bags. A minor hiccup, yes, but one will be documented in photo after photo. We've rounded up everything you need to know to keep your nails in peak condition from take-off to return, from anti-chipping secrets to the best bottles to buy for a manicure that can last as long as some salon gels—in less time, without a UV lamp, and for way less money.
How to Extend Your Vacation Manicure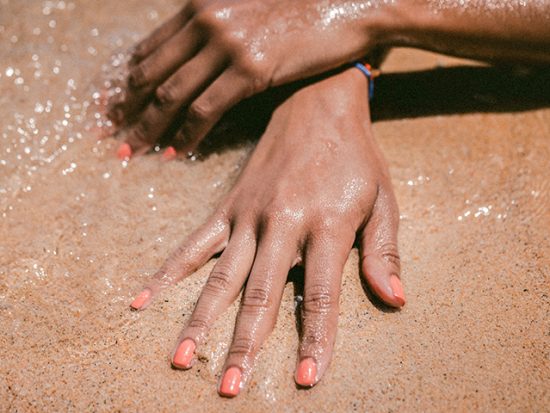 Tip One: Trim Your Nails
The primary culprit when it comes to polish chipping is nail contact with other surfaces. Each tiny impact, even from seemingly innocent things like your tapping at your phone screen, puts pressure on the bonds between the polish molecules, and the more pressure you apply, the more likely you are to see chips or cracks. Shorter nails (no longer than past your fingertips) make less contact with other surfaces, meaning the polish on them will naturally last more time than on longer nails.
Tip Two: Use a Base Coat
While you might be inclined to think of a base coat as little more than clear nail polish, base coats are actually chemically designed to hold onto nails and colored polish more firmly. This makes them essential to a long-lasting mani. Skip versions that claim to work as both a base and topcoat (base coats are meant to be sticky while topcoats are meant to be shiny—two-in-one products tend to split the difference and not do either well). The slightly tacky-feeling Orly Bonder or CND Stickey Base Coat are good options for keeping nail color intact for the long haul. Cult-favorite Chanel La Base also helps protect nails from staining and levels out ridges and snags.
Tip Three: Use a Top Coat
Top coats provide an extra level of shine to make your polish look professional for days longer, but they also act like a sealant, locking down your color and providing an extra layer of protection from the elements. Your best bets? The paraben-free Seche Vite Dry Fast Top Coat has been a favorite of pro nail technicians and home manicurists for decades (5,500 five-star reviews on Amazon don't lie) or celebrity manicurist Deborah Lippmann's Addicted to Speed formula that not only makes polish last longer but also speeds up drying time for the impatient types among us. (Guilty.)
Tip Four: Look for "Gel" Formulas
A nail polish's strength all really comes down to polymerization—the process through which the polish molecules fuse together. True gel manicures (the kind you get in a salon) have formulas that create super-strong bonds when exposed to UV or LED lights so that the polish clings to itself and your nails for weeks. On the flip side, true gels tend to be expensive, time-consuming, and not particularly healthy to your nails. That's what makes innovations in gel-style polishes such a big deal for mani lovers. These formulations either "self-cure" in regular light or else combine with a special top coat that creates a hardening chemical reaction. Either way, you end up with stronger polymer chains and longer-lasting color. Another huge perk is that gel-style polishes come off as easily as traditional formulas—no acetone soak or aluminum foil necessary.
Tip Five: Reminder to Pack Your Nail Polish for Touch-ups
Of course, even the toughest polish can fall prey to long days of sun, fun, and travel. For a manicure that will truly stay flawless until you're back home, be sure to pack your polish for quick touch-ups at the first sign of fraying—the earlier you cover cracks, the less likely you are to see bigger chips in the days to come.
The Best Long-Lasting Nail Polishes
1
Best Overall Long-Lasting Nail Polish: Sally Hansen Miracle Gel
The OG of the gel-style polish world still reigns supreme (it's the top seller of its kind in the U.S.) for its easy application, staying power, and range of shades. Once you combine the color and a top coat, the formula immediately begins absorbing light for an ultra-hard finish. The color lasts almost as long as a salon-grade gel manicure and comes in more than 80 shades so there are plenty of options, from trendy blue vacation nails to a classic, work-trip-worthy red.
Shop Now
2
Best Budget Long-Lasting Nail Polish: Essie Gel.Setter Top Coat
When it comes to polish-boosting bang for buck, it's hard to beat this handy top coat. The dense, crystal-clear formula lends gel-like longevity to any standard polish so you don't have give up your signature shade to get results that last for days longer than usual.
Shop Now
3
Best Cult Status Long-Lasting Nail Polish: Deborah Lippmann Gel Lab Pro Nail Color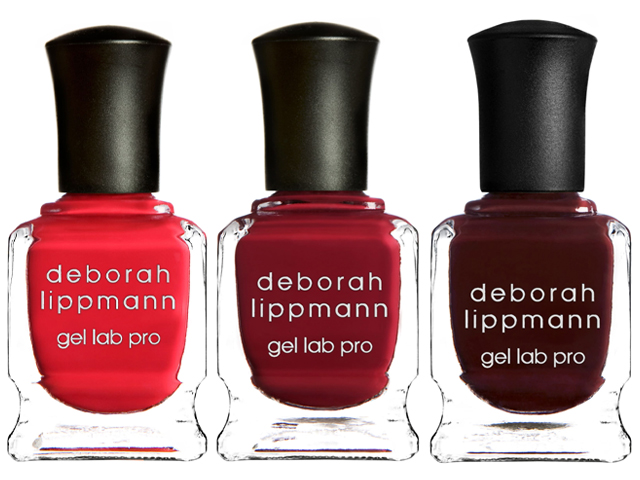 Before she launched her namesake product line, Deborah Lippmann made her name as a manicurist to the stars (Kate Winslet, Reese Witherspoon, Renee Zellweger, and Penelope Cruz all sported her work while accepting their Oscars). So it's no surprise that her Deborah Lippmann Gel Lab Pro Nail Color line carries a serious reputation for shine, crisp color payout, and ability to stay perfectly put.
Shop Now
4
Best Red Long-Lasting Nail Polish: Dior Vernis Gel Shine & Long Wear Nail Lacquer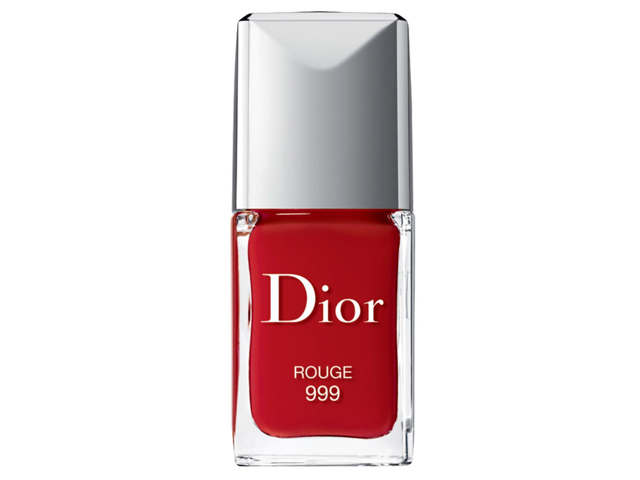 When it comes to iconic reds, Dior's Rogue 999 takes the gateau. Inspired by the glamorous red lipsticks that Christian Dior personally designed for his models, the shade has earned the praise of makeup artists for years. The color is infused into Dior's Gel Shine lacquer, which uses special polymer technology to create a strong, glassy-smooth finish that lasts and lasts—even through a 10-day trip to Paris (mais bien sûr!).
Shop Now
5
Best Long-Lasting Nail Polish Stickers: Vika Nail Jam 3 Gel Nail Sticker Set
For a trendy nail art look that A) you can actually complete, on both hands, at home, and B) doesn't peel off like your standard drugstore sticker, these artsy peel-and-press stickers are the way to go. Made from real gel polish with silk-screened patterns, the set comes with 38 stickers so you can find just the right fit for any nail bed. Press on firmly, trim and file the ends, and you've got a high-style manicure that'll have you looking like an influencer in under 10 minutes.
Shop Now
6
Best Long-Lasting Natural Nail Polish: Zoya Nail Polish
Zoya doesn't specifically market itself as "long-lasting," but let it be known: their decadent polishes have serious staying power. Fans of the polishes (of which there are many—Zoya's colors have earned over 1,200 rave Amazon reviews) swear by their hardiness, telling of manicures that withstand gardening, typing, and camping with nary a chip. "I've never had polish last this long," swears one die-hard. (Now that's what we call a ringing endorsement.) The best part is that every one of Zoya's 300-odd polishes is free of formaldehyde, camphor, parabens, lead, and other chemicals.
Shop Now
7
Best Drugstore Long-Lasting Nail Polish: Essie Gel Couture
When combined with the brand's Gel Couture Top Coat, Essie's shiny, long-wearing polishes promise up to two weeks of glossy results. The shade range differs from classic Essie options, offering two dozen high-fashion-inspired shades that apply just as well as traditional polish. If you happen to leave your backup bottle at home, Essie Gels are easy to find in drugstores at proportionately cheap prices.
Shop Now
8
Best Bold Long-Lasting Nail Polish: OPI Iconic Infinite Shine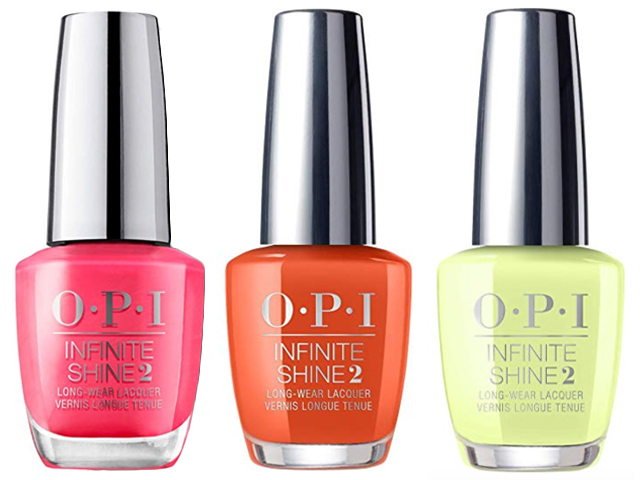 When you're ready to make a statement ("yes, I am Instagram famous" or "I'm here to take charge of this meeting") you need the right shades; OPI's Infinite Shine line gives you access to 150 of them, from favorites like Russian Navy and Strawberry Margarita to eye-popping options like the construction-cone orange Loch-Smith and neon green How Does Your Zen Garden Grow?. Three steps (the color, plus a primer and top coat) coordinate to create polymer chains that not only last extra long—think 10 days or more—but also have a crazy-glossy shine that looks fresh from the salon, even if you dashed it on your hotel balcony on night one of a beach vacation.
Shop Now
9
Best Matte Long-Lasting Nail Polish: Chanel Le Vernis Velvet Nail Color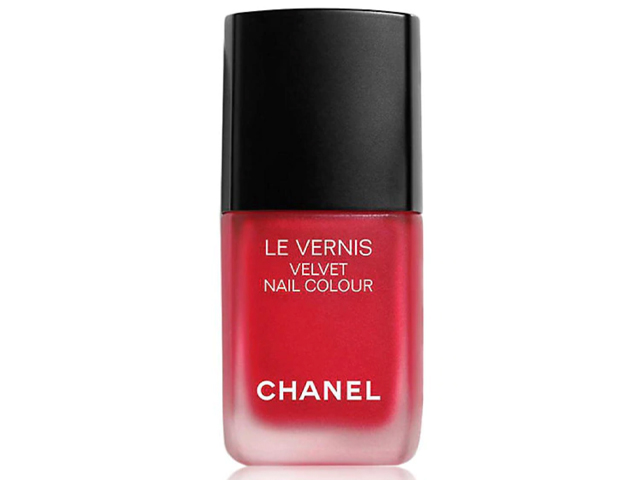 Matte shades are standouts on their own, which makes a classic shade like red—one of only two options Chanel developed for this special formula—a brilliant bet for a sueded look. The color goes on rich and intense, drying down to a velvet finish that looks dense after just two coats. For maximum wear, add in a matte top coat (we like Sally Hansen Big Matte Top Coat) to extend the vivid scarlet shade for a week or more.
Shop Now
10
Best Bridal Long-Lasting Nail Polish for a Destination Wedding: CND Vinylux Weekly Polish
Whether it's sand and surf or snow and ice, destination weddings probably mean conditions that'll put your manicure through the wringer—a serious consideration given how much attention is going to be on your hands once that ring goes on. Since weddings also mean a time crunch, this long-wearing polish that doubles as its own base coat is perfect—unlike traditional polish formulas that break down with wear, it actually gets tougher over time, so you won't have to worry about touching up from the time the wedding party arrives until it's time to head home from the honeymoon.
Shop Now
11
Best Engagement Worthy Long-Lasting Nail Polish for Vacation Proposals: Nails Inc. Gel Effect Nail Polish in Mayfair Lane
For the trip (and the special someone) you just know is the one, choosing the right nail polish is like setting the stage. The key is in choosing an option that won't show any unfortunate chips in your big "I said yes!" pictures to your friends, family, and followers. This blush pink is just the right kind of understated, and the gel-like smoothing effect gives your nails a look that'll make people think you have a manicurist on retainer.
Shop Now
Fun Extras For Keeping Your Vacation Nails Flawless
Related Stories
All products have been hand-picked by our writers and editors. Items purchased through links may earn us a commission.