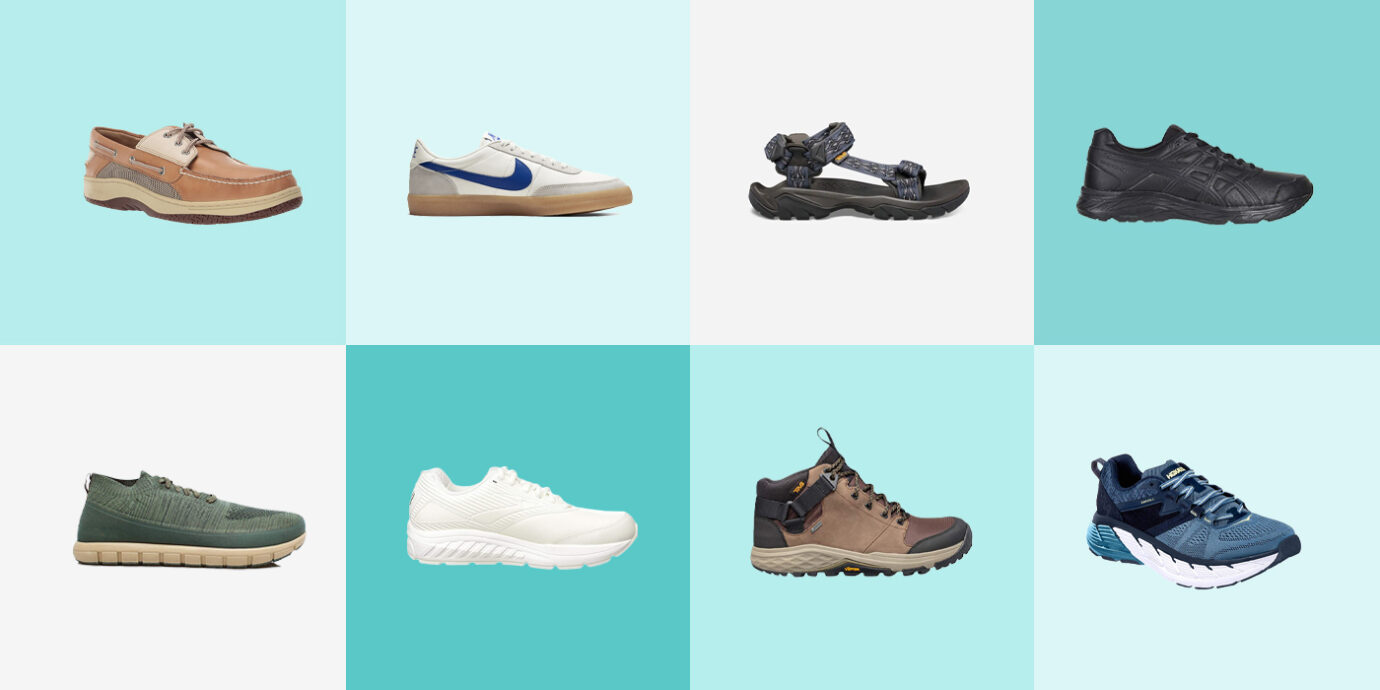 Shop
The Best Men's Walking Shoes for Staying Active and Healthy
Has your step count been abysmal lately? Let's do something about that! If you stand at a makeshift work station in your kitchen or if your solo evening walk is all of a sudden the highlight of your day, you need a proper walking shoe that provides nonstop support and comfort. Luckily, this is one of our favorite topics, so we feel pretty confident when we say that these are the best walking shoes you can buy.
1
Best Walking Shoes for Men Overall

The thing we love about this New Balance walking shoe is that is delivers serious comfort and support while maintaining a cool profile. The rubber sole provides comfortable support, and an acetate midsole molds to your foot over time, making for an exceptionally comfortable pair of walking shoes. Plus, this quintessential New Balance style comes in a variety of colorways to suit all tastes. But if you're asking us, we think the camo is particularly fresh-feeling.
Shop Now
2
Best Lightweight Walking Shoe for Men

When it comes to travel (and you will travel again someday), it's important to find a shoe that's lightweight yet durable—this Altra sneaker hits the mark. It has a cushioned sole that not only keeps you supported while dashing between airport terminals (or—around the park for now), but also makes sure you're comfortable on those long walks, as well. We're a big fan of this shoe's soft, knitted upper, as well. Just watch: on your next trip, it can be jammed into a suitcase, then will pop back to life without missing a beat.
Shop Now
3
Best Men's Walking Shoes Without Laces

Every man should have at least one pair of boat shoes in his closet. But if you've eschewed boat shoes in the past because they don't have the support you seek in a walking shoe, consider this style. While Sperry's Billfish style looks like a traditional boat shoe, it haves an amped-up, shock-absorbing heel cup for added comfort, a cushioned mid-sole for support, and a non-marking rubber outsole to help you find your sea legs even on dry land.
Shop Now
4
Best Leather Walking Shoes for Men

With these Asics you might as well be walking on a cloud. The brand's signature gel technology and a foam midsole ensure you have plush cushioning every step of the way, and a solid rubber outsole provides plenty of support, as well. We were particularly drawn to the high-quality leather upper, which is durable enough to last you for many, many walks to come.
Shop Now
5
Best Men's Trainers for Walking

Nike's iconic "swoosh" logo is an effortless, instant dose of cool for your footwear arsenal. The Killshot 2 is inspired by retro low-profile tennis shoes, and comes in a few different colors, all of which come in soft suedes or smooth leathers. But don't just judge this shoe by its cover, because this shoe has an extra soft rubber gum sole that you'll find irresistibly comfy. Dress them up with khakis, wear them with shorts all summer long—there's nothing these versatile, quintessential trainers can't do.
Shop Now
6
Best Cushioned Walking Shoes for Men

Indulge in maximum comfort with these bad boys from the experts at Brooks. It all begins with the certified slip-resistant sole, which provides a base layer of support for your feet. An "Extended Progressive Diagonal Rollbar" strategically positions arch support to make sure you're perfectly lined-up from heel to head. Pile on layer after layer of plush cushioning and what you do have? One of the most supportive, most cushioned shoes out there.
Shop Now
RELATED: The Best Travel Shoes For Men and Women on Zappos
7
Best Walking Sandals for Men

Sore and sweaty feet, be damned! Teva calls this sandal "the ultimate all-terrain vehicle," and we have to agree. The sport sandals combine the brand's signature breathable, comfortable, long-lasting velcro straps with a molded polyurethane midsole, and ultra-gripping rubber outsoles. They provide the support and durability you expect from a walking shoe, with the look and feel of a sandal. Plus, the straps are created using recycled plastic. Each pair saves five plastic bottles from ending up in landfills—and that's what we call guilt-free shopping.
8
Best Men's Dress Shoes for Standing All Day

It seems like we all have painful memories of having an ill-fitting, stiff pair of dress shoes at one time or another. Not the case with these cap-toe derbies from Johnston & Murphy—the insole is made from a luxurious sheepskin leather that is naturally plush, and molds to your foot over time. Add that to a combined leather and rubber outsole and the result is a polished dress shoe so comfortable, you'll be looking for excuses to dress up.
Shop Now
RELATED: The Best Insoles That Will Make Your Travel Shoes Feel Like Ugg Slippers
9
Best Walking Shoes for Men with Flat Feet

The genius thing about these support shoes from Hoka One One is that they don't look like a support shoe at all—they have the slimmer profile and cool look of any other sneaker. Guys with flat feet will especially love the brand's proprietary J-Frame design, which delivers the extraordinary support you need without the use of rigid materials. They're lightweight as far as support shoes go, they're comfortable, and they look great, to boot.
Shop Now
10
Best Walking Boots for Men

Whether you're just walking around your neighborhood, or planning to practice social distancing by tackling a remote hiking trail, the new-and-improved Grandview GTX from Teva combines waterproof leather with quick-dry mesh and a Gore-Tex inner bootie to seal out the elements. The toe box is comfortably wide to give your toes some breathing room, and a Vibram Megagrip outsole gives seriously slip-proof stability. Wherever you're walking, this boot promises to keep up.
Shop Now
Related Stories
All products have been hand-picked by our writers and editors. Items purchased through links may earn us a commission.