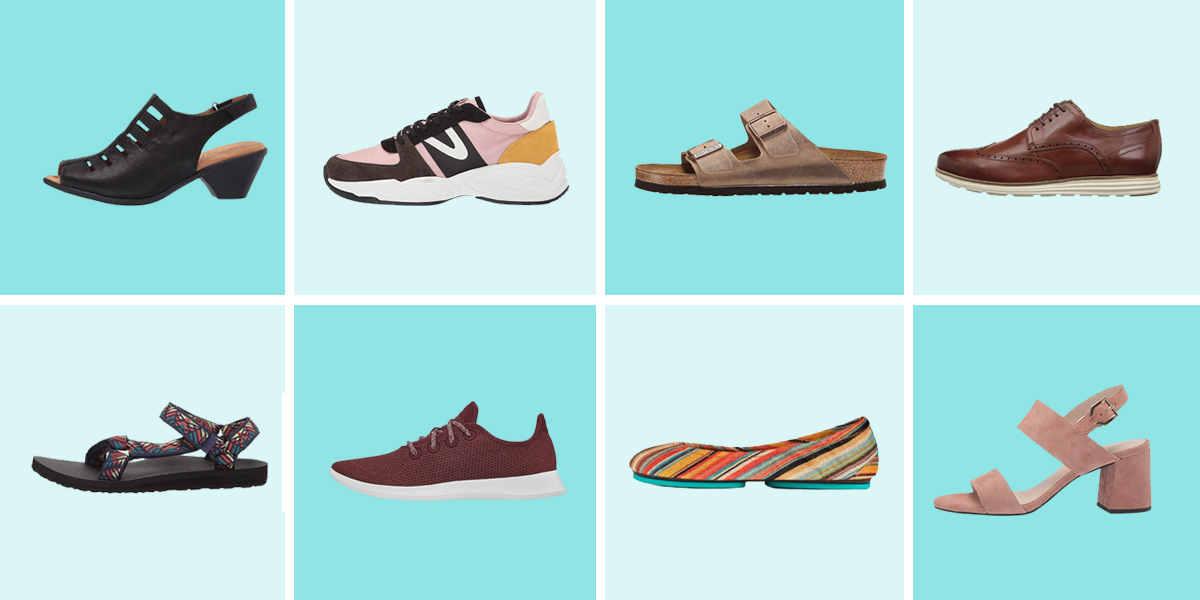 Shop
The Best Shoe Brands We Love to Bring on Every Trip
Even the most savvy of packers can get tripped up when it comes to deciding what shoes to bring. You want versatility, arch support, and granny-shoe comfort, all delivered in an attractive package. Finding shoes that meet these requirements can be a challenge. To help, we've compiled a list of the can't-fail shoe brands we turn to for every trip—from a millennial-loved startup to a straight-from-the-'80s sport sandal that's hotter than ever. Consider this a step up to foolproof packing.
1
Teva
Styles for: Women, men, and kids
If you're not aware that Tevas are having a major moment, then you haven't been paying attention. Yes, the normcore water sandals, beloved by river rafters, outdoorsy types, and dads the world over, have now been embraced by the fashion set in a big, big way. Whether you're wearing them to kayak in Yosemite or go to a late brunch in Williamsburg, you'll be grateful for their foamy-yet-supportive footbeds and resilient rubber soles that can handle all manner of terrain. Bonus: Tevas add practically no weight to a travel bag.
Our pick: Teva Original Universal in Bright White
Shop Teva
2
Suavs
Styles for: Women and men
Made from 3D-printed, sweat-wicking knit fabric, Suavs are super-flexible—as in "can roll into a ball" flexible. These unisex sneakers also have removable, washable insoles (no socks required) and slip-proof gum soles that can handle almost anything, from the rocky beaches of Maine to the cobblestone streets of Barcelona. Get them for your daily commute, for your month-long trek across Europe, or just to impress your friends. Trust us, people really are wowed when they see them folded in half.
Our pick: Suavs The Zilker Gum
Shop Suavs
3
Comfortiva
Styles for: Women
Comfortiva's footwear strikes a nice balance between demure style and durable construction. Whether a sandal, pump, flat, or booty, the brand's shoes have a patented memory foam footbed for extra cushiness, plus soft leather and suede uppers. And here's a big pro: Comfortivas require literally no break-in time. If you're scrambling to find comfy shoes for a fast-approaching trip, these are a sure thing.
Our pick: Comfortiva Blossom strappy sandal.
Shop Comfortiva
4
OluKai
Styles for: Women and men
You know how walking barefoot on firm wet sand at the beach feels deliciously supportive and kind of like an acupressure massage for your soles? Cali-based OluKai aims to mimic that sensation with every step in their line of sandals, shoes, slip-ons, boots, and slippers. All styles—from trainers to chukkas—feature killer arch support and contoured footbeds that properly align your feet. And if your vacation plans include time at the beach, on a river, or by a lake, then OluKai's H2O-friendly sandals are great alternatives to water shoes, which aren't usually the prettiest. If your vacation plans involve a five-mile stroll through Lisbon or boarding a catamaran sunset tour on Waikiki Beach, OluKais are down for the ride.
Our pick: OluKai Nohea Moku sneaker
Shop OluKai
5
Blondo
Styles for: Women and men
For urban adventures or tropical getaways where rain will likely be part of the equation, bringing a pair of Blondos is a no-brainer. Every single pair this heritage brand makes—even their espadrilles, mules, and sandals—are seam-sealed so as to be fully waterproof. Not only does this keep your feet dry should you find yourself in a sudden downpour (if you opt for a closed-toed style), but it also protects the shoe itself from breaking down due to water damage.
Our pick: Peter Waterproof boot in Black Suede
Shop Blondo
6
Tieks
Styles for: Women
Adored by everyone from Oprah to your neighbor to Shelley in Human Resources, Tieks have achieved bona fide cult status. That's not surprising considering their timeless shape, which works equally well with fitted jeans and a blouse to a floral midi dress. Tieks' particular take on the feminine wardrobe staple adds a split sole and super-bendy midsole, which allow the shoes to fold totally in half. Their grippy, robin's-egg-blue bottoms absorb more shock than any flat has a right to, while the soft uppers, made from a single piece of buttery Italian leather, mold perfectly to the shade of your feet. Oh, and you know how the elastic edge of some ballet flats digs at the back of your heel? Tieks would never do you like that; their backs are cushioned rather than tightened with strips of elastic. 
Our pick: Tieks leopard-print ballet flat
Shop Tieks
7
Birkenstock
Styles for: Women, men, and kids
Just try to name a more iconic travel shoe than Birkenstock. The German brand's podiatrist-approved sandals, shoes, and clogs are designed for the long haul—as in several years of regular wear, so of course they can handle Seville, Sydney, or some other city you want to explore. A deep heel absorbs shock and stabilizes your feet, while leather-lined footbeds mold to the exact shape of your soles; once Birks are broken in, they feel custom-made. 
Our pick: Birkenstock Arizona sandal
Shop Birkenstock
8
Cole Haan
Styles for: Women and men
You could conceivably pack the most "outrageous" style Cole Haan makes (in their case, a classical pump with a three-and-a-quarter-inch heel), and the suitcase space would be more than justified. That's because most Cole Haan shoes—sneakers, wedges, penny loafers—feel like walking around in plush hotel slippers thanks to their cushioned footbeds and high-quality construction that keeps your feet stable and supported. Special shout out to the brand's flexible Stitchlite oxfords for packing almost completely flat.
Shop Cole Haan
9
Rothy's
Styles for: Women and kids
Sustainable shoe brand Rothy's received the full "Markle Sparkle" endorsement when the Duchess of Sussex, aka Meghan Markle, sported their black flats on her royal Australian tour last year. The attention was well-warranted: Rothy's uses recycled plastic bottles to make its line of ballet flats, pointy flats, loafers, and slip-on sneakers. The company's irresistible shades and patterns range from sunshine-y yellow and hot pink to zebra print and camo. One more major perk: All styles are machine-washable—just separate the shoe and the insole, throw both in a delicate cycle with cold water, and air dry.
Our pick: Rothy's The Point flat in Marigold 
Shop Rothy's
10
Allbirds
Styles for: Women, men, and kids
Ahh, the all-mighty Allbirds. Travelers the world over pledge their devotion to this brand, and it's easy to see why. Allbirds merino-wool sneakers and slip-ons are insanely comfortable, and light as air in a travel bag. The brand has a real do-gooder streak, too: Uppers are made with moisture-wicking wool certified by ZQ, a program that ensures animal welfare and sustainability standards; insoles are made from castor bean oil; and laces come from 100 percent recycled plastic bottles. Even the boxes are made from recycled cardboard. Another perk? Allbirds are fully machine washable—just tuck them in a garment bag and wash on cold. 
Our pick: Allbirds charcoal Tree Toppers
Shop Allbirds
11
Tretorn
Styles for: Women, men, and kids
Spend much time on What to Pack, and you'll quickly catch on to the fact that we really love Tretorns. We've recommended their perfect white sneaker in our in-depth packing lists for everywhere from Chicago to Marrakesh, but the truth is there isn't a major destination in the world where these shoes shouldn't tag along. These versatile, minimalist kicks go with just about everything (pair them with flowy floral maxi skirts and oversize hoodies if you want to fit in in Tokyo), and their sturdy soles and soft (and often eco-friendly) sock lining let you go just about anywhere.
Our pick: Tretorn Lexis 3 in Neutral Pink
Shop Tretorn
Related Stories
All products have been hand-picked by our writers and editors. Items purchased through links may earn us a commission.