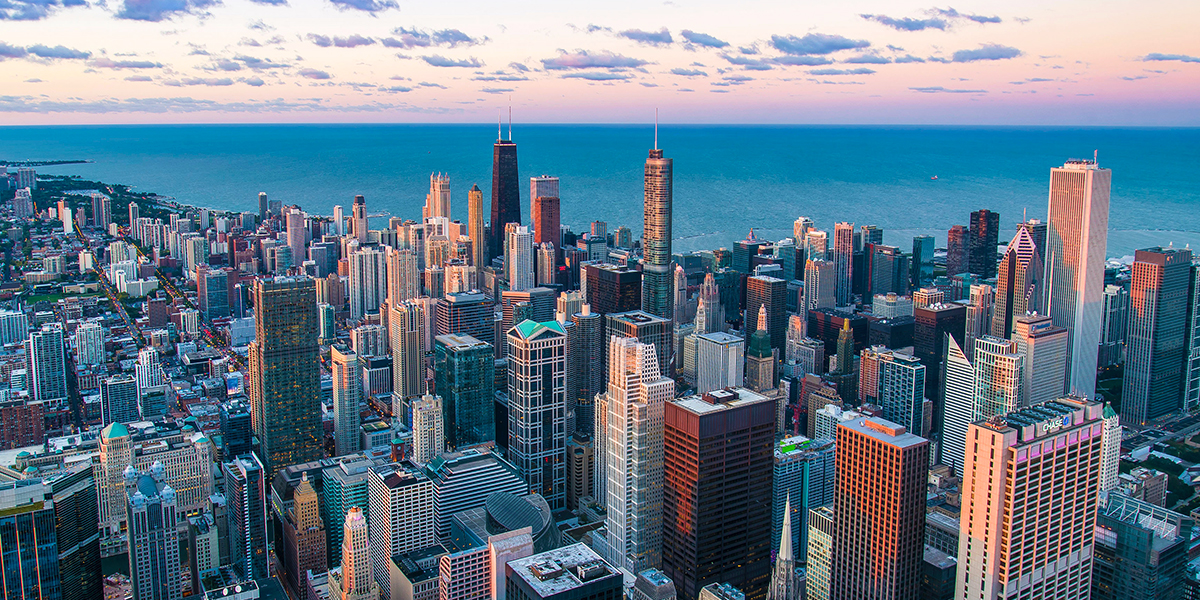 By Destination
The Ultimate Chicago Packing List
With a white-hot culinary scene, swanky boutique hotels, and trendy neighborhoods aplenty, Chicago warms our hearts, even in those infamously brutal winters. From an MLB ballpark and Frank Gehry architecture to world-class art museums and—come on, we weren't going to forget it—cheesy, saucy, deep-dish pizza, the Second City truly has something for everyone. When it comes to packing for a Windy City trip, your main considerations will be the length of your stay and the month's forecasted weather. Below, we dive into both so you'll land prepared. Read on to discover what to wear in Chicago, what not to wear in Chicago, the best walking shoes for exploring, and more.
YOUR SUITCASE PACKING CHECKLIST
*Keep these items in your carry-on
Clothes to Pack
Underwear
Bras/camis/undershirts
Socks/tights
PJs
T-shirts
Pull-on/button-up shirts
Shorts/skirts
Sweaters/sweatshirts
Swimsuit (if your hotel has a pool)
Shoes to Pack
Heels/dress shoes
Sandals/flip-flops
Boots
Accessories to Pack
Purse
Hats/scarves/gloves
Jewelry*
Belts
Toiletries to Pack
Toothbrush
Deodorant
Face wash/makeup remover
Contact lenses/solution
Razor/shaving cream
Brush/comb
Hair elastics/hair accessories
Tampons/pads*
Birth control/condoms*
Hand sanitizer*
Medications/vitamins*
Tech to Pack
Phone/charger*
Portable battery charger
Laptop/tablet/e-reader*
Device chargers*
Camera/video camera*
Memory card/film*
Other Essentials
Wallet (credit/debit cards/ID/cash)*
Keys*
Medical insurance card*
Snacks/gum*
Books/magazines/guidebook*
Helpful Printouts
Emergency contacts*
Boarding pass/hotel and car rental reservations*
Maps/directions*
Bank/credit card contact info*
Copies of passport/ID*
ADD/SUBTRACT FOR LONGER/SHORTER TRIPS TO CHICAGO
Long Weekend
Underwear: 4 pairs
Bras/camis/undershirts: 2 pairs
Socks/tights: 4 pairs
T-shirts: 2
Jeans/pants: 2 pairs
Two-Week Trip
Underwear: 8 pairs (more if you won't have laundry access)
Bras/camis/undershirts: 5 pairs
Socks/tights: 8 pairs (more if you won't have laundry access)
T-shirts: 8 pairs
Jeans/pants: 4 pairs
THE PERFECT LUGGAGE
Successfully packing for a trip to Chicago first requires finding the right luggage. Are you swinging into town for a quick weekend or dropping your bags for an extended stay? Once you know the answer, you can easily decide between a weekender, carry-on, or checked bag. Below, we've picked out one of each, starting with Sole Society's ultra-cute and reasonably priced Mason Weekend Bag. The faux-leather tote's sophisticated design belies its price tag, and a separate zippered compartment on the bottom makes it easy to keep dirty shoes away from white tees. Next up, we've got Rebecca Minkoff's So Connected 22-Inch Spinner. The sleek, black matte suitcase can easily be tucked in an overhead bin, and an integrated 10,500 mAH battery means you can juice up your electronics on the go. If your trip calls for more space, Away's The Large checked bag is an exceedingly popular pick—and for good reason. The polycarbonate hardshell—marketed as unbreakable—features all the regular bells and whistles, plus an interior compression system (overpackers, rejoice!) and a hidden laundry bag.
Luggage for a Long Weekend in Chicago
Sole Society Classic Weekender
Luggage for a One-Week Trip to Chicago
Rebecca Minkoff Carry-On Spinner Suitcase
Luggage for a Two-Week Trip to Chicago
Away Checked Luggage
THE 3 PAIRS OF SHOES YOU'LL NEED FOR EXPLORING CHICAGO
Sorry to break it to you, but a trip to Chicago really doesn't merit more than three pairs of shoes. Hear us out: Ladies and gents alike need to cover two major bases—something for casual sightseeing and something for going out, be it to hearing jazz at The Green Mill, sampling whiskey at Delilah's, or going to an opening night at Goodman Theater. Now, the third pair can be whatever you want it to be—within reason, of course. If you're touching down during winter, your best bet is a heavy-duty pair of cold-weather boots; likewise, during summer, you'll want comfy walking sandals that won't cause blisters. Whatever your style and budget, the most important thing to consider is the distinct purpose each pair will serve, and as a trio, do they fit every event on your itinerary? Below, we've picked out our favorite options, from classic low-top sneakers for long days on the Magnificent Mile to traditional derbys for dinner at one of Chicago's legendary steakhouses or at three-Michelin-star Alinea.
Women's Shoes
Sightseeing
Tretorn Nylite2 Plus Sneaker
Going Out
Marc Fisher Alva Booties
Michelin-Star-Level Fine Dining
1.STATE Saffy Block Heel Pump
Men's Shoes
Sightseeing
New Balance Classics MS247v2
Going Out
M. GEMI The Lucente
Michelin-Star-Level Fine Dining
Cole Haan Warren Cap Toe Derby
WHAT NOT TO PACK FOR CHICAGO
Chicago is a vast metropolis where you can pick up just about anything. For this reason, it's not necessary to pack everything but the kitchen sink (though if you're anything like us, you'll be tempted). While first aid kits and protein bars are smart for island hopping in Thailand, Chicago is a whole different ballpark. Plan to leave behind your essential toiletries and hairdryer (your hotel with have them), impractical shoes (Midwesterners care about comfort, not stilettos), and the five extra just-in-case outfits you laid out. Putting together a suitcase for the Windy City is an excellent opportunity to practice packing light. Chicagoans have mastered the art of layering, so you don't need to pack an outfit for every day—just embrace a mix-and-match approach to dressing.
THE *ONE THING* WTP EDITORS ALWAYS BRING TO CHICAGO
Wet wipes really pull their weight in a place like Chicago. In the summer, they're helpful for staying fresh in the insane heat and humidity, and year round, they're super-handy for cleaning up messy fingers and sticky lips after devouring a two-pound wedge of deep-dish pizza loaded with toppings, a famous Chicago hot dog (with the works, of course!), and roughly two dozen mini doughnuts at the Chicago French Market. —WTP Editors
CHICAGO'S WEATHER AND SEASONS
With four clear-cut seasons, Chicago really goes through the meteorological motions, from red-hot humid summers to bone-chilling winters, and everything in between. Any Chicagoan worth their weight in deep-dish pizza knows that the key to comfort is a closet full of layers. Temperatures are known to swing no matter the season (snow in late April is not totally unheard-of), so it's smart to plan for mornings and nights that are up 20 degrees cooler than the rest of the day. And while annual rainfall clocks in at around the U.S. average, it's never a bad idea to carry a travel-friendly umbrella in your bag come spring. Below, we lay out what weather to expect each month and how best to dress for the elements.
Note: Below is a packing forecast, not a traditional forecast. A packing forecast focuses on how cold it's likely to be in the early mornings and evenings based on historical data. We recommend using this together with a traditional forecast as you get closer to your departure date. This data comes from our friends at Weather Underground.
JANUARY
Plan for day temps between -4° F and 25° F
Temps will drop near -9° F at night and into the early mornings
Expect 0.06 inches of precipitation in January
What to Wear in Chicago in January: Chicago winters are notoriously freezing and January sees the lowest temperatures of the year. To make the most of your time outdoors (though let's be real—you'll be darting between the Art Institute, Shedd Aquarium, and other indoor attractions), be sure to pack plenty of toasty accessories like hats, mittens, scarves, and boots.
Recommendations: Women's long puffer coat, women's shearling lace-up boots, knit hat.
FEBRUARY
Plan for day temps between 5°F and 29° F
Temps will drop near -3° F at night and into the early mornings
Expect 0.18 inches of precipitation in February
What to Wear in Chicago in February: Much like January, February's freezing temps and biting winds call for an assortment of warm layers and weather-resistant outerwear, so be sure to leave room in your bag for gloves, scarves, sweaters, and thick socks.
Recommendations: Women's thick pullover sweater, women's merino-wool infinity scarf, women's cable-knit mittens.
MARCH
Plan for day temps between 27° F and 37° F
Temps will drop near 19° F at night and into the early mornings
Expect 0.06 inches of precipitation in March
What to Wear in Chicago in March: The last month of winter may see temps start to rise, but it's a slow go. If you plan on walking the Magnificent Mile, checking out Millennium Park, or hitting Navy Pier, you're going to want your warmest pieces.
Recommendations: Men's short parka, sturdy men's boots, men's lambswool beanie.
APRIL
Plan for day temps between 30° F and 42° F
Temps will drop near 20° F at night and into the early mornings
Expect 0.10 inches of precipitation in April
What to Wear in Chicago in April: April is when Chicago truly sees the light at the end of the tunnel. While the start of the month hovers in the mid-30s, the last days can see highs in the upper 60s. To pack accordingly, go for a mix of layers than can easily be added and subtracted.
Recommendations: Women's hooded anorak, women's fringy scarf, women's canvas sneakers.
MAY
Plan for day temps between 47° F and 66° F
Temps will drop near 44° F at night and into the early mornings
Expect 0.28 inches of precipitation in May
What to Wear in Chicago in May: With sustained temps in the 60s, it's time to pull out your spring clothes, guys. That means T-shirts, cropped pants, and breathable fabrics. May is more susceptible to rain, though, so throw a small umbrella in your bag.
Recommendations: Women's cropped jeans, women's short-sleeve tee, compact umbrella.
JUNE
Plan for day temps between 61° F and 72° F
Temps will drop near 48° F at night and into the early mornings
Expect 0.31 inches of precipitation in June
What to Wear in Chicago in June: This month is a sweet spot for Chicago, one where the weather is warm but not blistering and the wind is refreshing, not polar. Wear tees, midi dresses, and cropped pants, but still stow a thin sweater in your bag should nighttime temperatures dip.
Recommendations: Women's sleeveless jumpsuit, women's jean jacket, women's classic white Birkenstocks.
JULY
Plan for day temps between 70° F and 77° F
Temps will drop near 59° F at night and into the early mornings
Expect 0.04 inches of precipitation in July
What to Wear in Chicago in July: Shorts, sundresses, and a whole lot of sunscreen are the way to go during Chicago's hottest and typically most humid month. Breezy clothes, a hat, and a water bottle are musts. This is also the time to whip out your swimsuit and go for a dip in one of the city's numerous public pools and beaches.
Recommendations: Off-shoulder midi dress, one-piece swimsuit, women's aviators.
AUGUST
Plan for day temps between 67° F and 76° F
Temps will drop near 58° F at night and into the early mornings
Expect 0.24 inches of precipitation in August
What to Wear in Chicago in August: Though the stifling heat of July starts to slow in August, you can still expect high humidity and lots of sun. Be sure to pack comfortable sandals and accessories—like baseball caps and sunglasses—to avoid harmful rays while outdoor sightseeing.
Recommendations: Men's chino shorts, men's cork walking sandals, baseball hat.
SEPTEMBER
Plan for day temps between 52° F and 69° F
Temps will drop near 42° F at night and into the early mornings
Expect 0.13 inches of precipitation in September
What to Wear in Chicago in September: September weather can be unpredictable in Chicago, but as the city saunters back into fall you can begin to expect crisper days and cooler nights. Travel with a light jacket, short-sleeved shirts, and breathable cotton layers.
Recommendations: Women's denim jacket, women's black jeans, women's slide-on loafer mules.
OCTOBER
Plan for day temps between 39° F and 53° F
Temps will drop near 28° F at night and into the early mornings
Expect 0.18 inches of precipitation in October
What to Wear in Chicago in October: Temperatures certainly start to slip in October, but it's not quite time to whip out your winter-weight coat. Instead, opt for something like a wool overcoat or shearling jacket that can be slipped on over sweaters, sweatshirts, and long-sleeve tees.
Recommendations: Men's long-sleeve tee, men's crewneck sweater, men's shearling jacket.
NOVEMBER
Plan for day temps between 22° F and 35° F
Temps will drop near 17° F at night and into the early mornings
Expect 0.14 inches of precipitation in November
What to Wear in Chicago in November: Chicago sees its weather take a sharp turn in November, so prep for chilly temps and the possibility of snow with ample winter accessories.
Recommendations: Women's cocoon coat, women's cashmere scarf, merino-wool beanie.
DECEMBER
Plan for day temps between 21° F and 33° F
Temps will drop near 16° F at night and into the early mornings
Expect 0.12 inches of precipitation in December
What to Wear in Chicago in December: Without question, plan on packing winter-weather essentials: a heavy coat, hat, gloves, thick socks, and snow boots. Bonus points for thermal long johns.
Recommendations: Men's down parka, men's waterproof boots, thick socks.
CHICAGO FASHION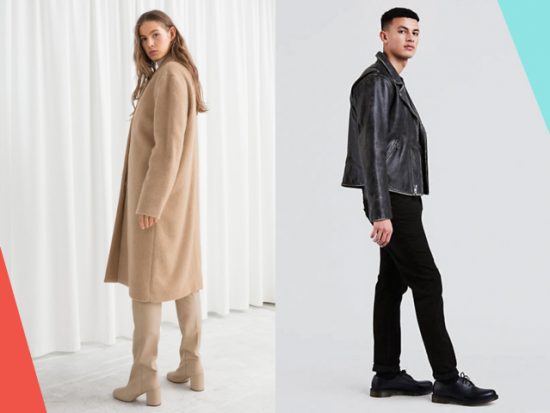 Chicago style strikes a fine balance between practical and fashionable. While residents certainly buy into the same trends that take New York City and Los Angeles by storm, at the end of the day, their Midwestern sensibilities have them valuing comfort and common sense the most. That means when winter's winds zip through skyscraper-lined streets, trenches are traded for puffers and suede heels are replaced by weatherproof boots. If you want to dress like a local, go casual—think tees, jeans, and sneakers. You'd really have to try to stick out as a tourist here. That said, learn to embrace layers and you'll look like a true Chicagoan in no time.
Chicago Street Style for Women
Skinny Jeans | Turtleneck | Leather Moto Jacket | Midi Dress | Long Coat
Chicago Street Style for Men
Chambray Shirt | Slim Jeans | Insulated Jacket | Sweatshirt | Jersey T-Shirt
FIVE FOOLPROOF OUTFITS FOR CHICAGO
1. WHAT TO WEAR ON AN ARCHITECTURAL BOAT TOUR (ASSUMING IT'S A LITTLE CHILLY)
Women's
Jeans | Slouchy Sweater | Boucle Coat | Round Sunglasses | Low-Top Sneakers
There's no need to dress up for an architecture river cruise—Chicago's casual dress code applies here as well. Just be sure to pack a light sweater or windbreaker as chilly winds commonly come off the river. That said, most boats offer indoor and outdoor seating, so you can step inside if you need to warm up.
Men's
Long-Sleeve Henley | Desert Boots | Jeans | Reversible Bomber | Folding Sunglasses
A light bomber and some sunglasses will do you well on a Chicago architecture tour. Should the wind off the river feel too chilly, you can always step inside for a little respite.
2. WHAT TO WEAR TO MILLENNIUM PARK (ASSUMING IT'S WARM)
Women's
Minidress | Crossbody Bag | Denim Jacket | Sandals | Polarized Sunglasses
Whether you're picnicking on the grass, taking selfies at Cloud Gate (or The Bean, as it's better known), or parked on a bench in Lurie Garden, keep things cool with a breezy minidress and some shades. Should it really cool down later in the day—Chicago is known for its dips in nighttime temperature—a denim jacket will also come in handy.
Men's
Cotton T-Shirt | Jeans | Tennis Shoes | Baseball Cap | Aviator Sunglasses
If it's warm outside, opt for breathable cotton tees, a hat, sunglasses, and comfy sneakers. Millennium Park doesn't offer much in the way of shade, so it's also smart to keep a water bottle and sunscreen at hand.
3. WHAT TO WEAR TO A CHICAGO CUBS GAME
Women's
Mock-Neck Sweatshirt | Jeans | Baseball Cap | Shoes | Backpack
Jeans, tees, and caps are the way to go at a Cubs game. But if you'd like to support the team via color coordination, you can't go wrong with a red, white, and blue outfit; we suggest starting from the bottom up with Chuck Taylor All-Stars—the classic sneaks feature all three shades.
Men's
Crewneck Tee | Jeans | Waterproof Jacket | High-Top Shoes | Baseball Cap
Wrigley Field is a jeans-and-tee type of venue, just be sure to pack a windbreaker or sweatshirt in case of rain or wind. If you're really looking to fit in, throw on a Cubs cap, but rest assured no one will heckle you even if you're in support of a rival team (AKA the Cardinals).
4. WHAT TO WEAR TO A JAZZ CLUB
Women's
Jumpsuit | Biker Jacket | Earrings | Strappy Sandals | Mini Crossbody
If you've been jonesing to dress up, now's your chance. Always be sure to check the club's website specifics regarding a dress code, but generally, pairing a nice dress, jumpsuit, or blouse with a pair of heels or booties will suit the night well.
Men's
Dress Shirt | Cotton Trousers | Oxford Shoes | Belt
Now is the time to look dapper, gentlemen. Leave your New Balances back in the hotel room and go for a sharper look. Pair some oxfords or derbys with a smart pair of chinos and a button-up, and your date will be proud.
5. WHAT TO WEAR FOR SIGHTSEEING IN WINTER
Women's
Down Parka | High-Rise Jeans | Cashmere Scarf | Waterproof Boots | Beanie
A long, faux-fur-trimmed parka is the way to go in winter. Block out frosty winds and keep in warmth by adding a scarf, beanie, and mitten.
Men's
Hooded Coat | Skinny Jeans | Knit Scarf | Wool Beanie | Water-Resistant Boots
Protect yourself from the Windy City's bitter elements with a hooded coat, wool cap, and water-resistant boots. If you're visiting in peak winter, throw some hand-warmers into the mix, just to be safe.
FREQUENTLY ASKED QUESTIONS ABOUT PACKING FOR CHICAGO
What should I wear to a Chicago Cubs game?
As we've noted above, Chicago style is pretty casual, so you can expect to see a whole lot of jeans, tees, sweatshirts, and sneakers at a game. That said, throwing on a Cubs cap will certainly help you blend in (and drum up team pride). Depending on the season, it's also smart to pack a sweater, wind breaker, or light coat, as Wrigley Field is famously windy thanks to gusts off nearby Lake Michigan.
What should I pack for winter?
Chicago undergoes notoriously brutal winters. While it's still a magical time to visit—there's ice skating in Millennium Park, sledding in Soldier Field, holiday light shows in Lincoln Park Zoo!—you'll need to come prepared. Pack a heavy winter coat; waterproof boots; thermal long underwear; accessories like hats, gloves, scarves, and hand warmers; and a whole lot of layers.
What is the dress code for going out in Chicago?
You've probably picked up on the fact that Chicago is a pretty casual destination. Jeans, tees, and sneakers are largely accepted, but if you're heading out to an avant-garde cocktail bar or a show at Steppenwolf, you may want to elevate your look. Try throwing on a pair of booties (or leather sneakers, for the gents) and topping off your outfit with a nice jacket or blazer. If you're headed to a jazz club or a white-tablecloth restaurant, check their website to see if they have a dress code. 
What are the best winter boots for a trip to Chicago?
Whether your trip features fresh snow, icy sidewalks, below-freezing temps, or all the above, you'll want a reliable pair of winter boots in your travel wardrobe. Key boot considerations should be warmth, traction, and water repellency. Opt for something like L.L.Bean's shearling-lined waterproof duck boots, and you should be good to go. 
Related Stories