Shop
The Best Smartphone Camera Lenses for Next-Level Travel Shots
It's true that photos taken on a smartphone can't compete with those shot by a professional camera with a powerful lens. But if the idea of spending hundreds (if not thousands) of dollars on a real camera and having to lug it around on your trip doesn't appeal to you, there's an easier—and much cheaper—way. Add-on smartphone lenses are an affordable option for enhancing your iPhone or Android, allowing you to level up your photography skills—think catching more close-up detail or zooming in on a faraway subject—while still traveling light.
1
Best Lens Set: Avoda 10-in-1 Smartphone Lens Kit
Compatible with: Most iPhone and Android smartphones
Number of lenses: 10
Lens types: Fish-eye, macro, polarized, telephoto, wide-angle, and two kaleidoscope, plus filters (flow, radial, and star)
Maybe you're capturing the moment of seeing an elephant on a safari through Kenya, closely documenting every meal you eat in South Korea, or snapping pics of New York City's hustle and bustle. This clip-on set from Avoda is a standout for providing plenty of options for experimenting with the camera built into your smartphone, no matter where you are or what you're photographing. Yes, it has the expected fish-eye and wide-angle lenses—but you'll also get fun filters and kaleidoscope attachments that offer more ways to play around and capture one-of-a-kind shots while traveling.
$24.99 at B&H Photo
2
Best Budget Lens for Smartphones: Amir Lens Set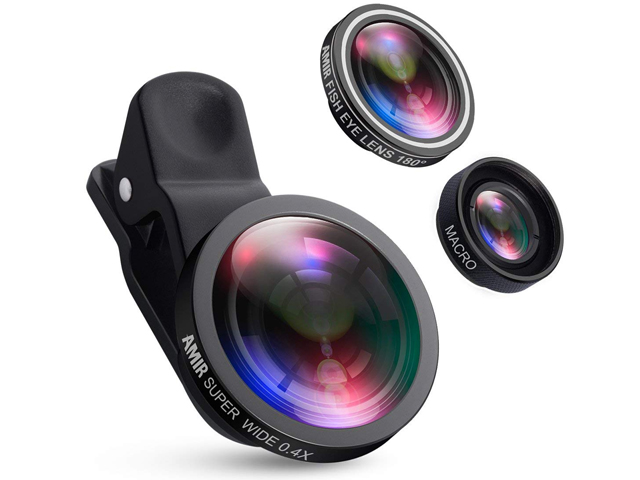 Compatible with: Most iPhones and Android smartphones
Number of lenses: 3
Lens types: Fish-eye, macro, and wide-angle
Lenses sometimes cause unwanted flares or reflections in an image, so the glass used in this set aims to reduce that. This already cost-effective lens kit by Amir also comes with lens covers and a handy carrying pouch so you can keep them all together. As a budget set, they require a bit of getting used to—for example, to capture the fine detail on tulip petals in the Netherlands with the macro lens, you'll have to situate your phone at exactly the right distance from the flowers. Once you get past the learning curve, though, you'll have fun with solid lens set and reap the benefits of its enhanced photos.
$19.42 at Walmart
3
Best Wide-Angle Lens for Smartphones: Bower HD Cinema Wide Smartphone Lens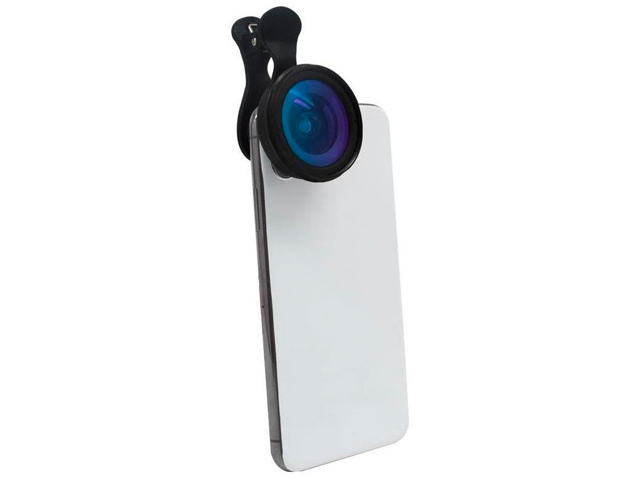 Compatible with: Most iPhone and Android smartphones
Number of lenses: 1
Lens type: Wide-angle
If the biggest gripe you have with your smartphone camera involves never being able to fit everything into the frame, then you need a wide-angle lens in your photography wheelhouse. This Bower wide-angle lens provides 50 times the magnification and an angle of vision of 110 degrees—perfect for sweeping landscape shots of the Grand Canyon or interior spaces with exquisite details in every corner, like at the Palace of Versailles. As a clip-on lens, this lens can be used on the front or rear camera on virtually any smartphone or tablet.
4
Best Telephoto Lens for Smartphones: Moment Tele 58mm Lens
Compatible with: iPhone, Google Pixel, and Samsung Galaxy
Number of lenses: 1
Lens type: Telephoto
Sometimes you just aren't able to get any closer to what it is you want to photograph—an epic Australian rugby game or a regal Canadian elk. A telephoto lens like this one from Moment, made from high-grade metal and glass, will get you closer without requiring you to move an inch, making it a perfect choice for sports or wildlife photography. There is a caveat: to use one of Moment's lenses, you'll have to also use one of the brand's cases, which are designed only for certain iPhones, the Google Pixel, and the Samsung Galaxy.
$119.99 at B&H Photo
5
Best Zoom Lens for Smartphones: Sony DSC-QX10 Digital Camera Module
Compatible with: Most iPhone and Android smartphones
Number of lenses: 1
Lens type: Zoom
Want to focus in for the perfect shot of the Taj Mahal even from afar? Rather than using your phone's zoom, try the Sony DSC-QX10. It's actually more of a small camera—with one tiny exception: no viewfinder—but that's where your smartphone comes in. Simply clip it directly onto your iPhone or Android device and use the phone's display screen for capabilities you'd find on a full-fledged camera, like a menu for settings and touch autofocus. Built-in Wi-Fi lets you easily share the photos on Insta.
$220.99 at Newegg
RELATED: The 12 Best Portable Travel Chargers (via SmarterTravel)
6
Best Macro Lens for Smartphones: Aukey Ora Camera Lens
Compatible with: Most iPhone and Android smartphones
Number of lenses: 2
Lens types: Macro and wide-angle
The struggle is real—once you position your smartphone too closely to a subject, it fights to focus and the end result often looks fuzzy. Luckily, you can get exceptionally close with a macro lens—in fact, 15 times closer. Aukey's macro and wide-angle lens highlights fine details you can't catch in an ordinary smartphone photograph, like all the textures and colors of the embroidery at a Mexican crafts market or the array of pink hues in Japanese cherry blossoms. Normal smartphone images can't even compare to these, which show an outstanding sharpness in even the tiniest of details.
$29.99 at Amazon Prime
7
Best Fish-Eye Lens for Smartphones: Bower Full Frame Fisheye Smartphone Lens
Compatible with: Most iPhone and Android smartphones
Number of lenses: 1
Lens types: Fish-eye
A fish-eye lens puts a unique perspective on the world around you, distorting and magnifying what you see, and they're a fun addition to play with. The Bower clip-on lenses work with most smartphones and offer an angle of vision of 200 degrees. Because the lens adds a curved look to the final image, it's an especially effective tool to photograph the sharp lines and angles of buildings in cityscapes. Imagine staring up at the towering Burj Khalifa in Dubai—a fish-eye lens can help to emphasize its incredible size and how it looms 160 stories overhead.
8
Best Polarized Lens for Smartphones: ZOMEi 37mm Polarizer Lens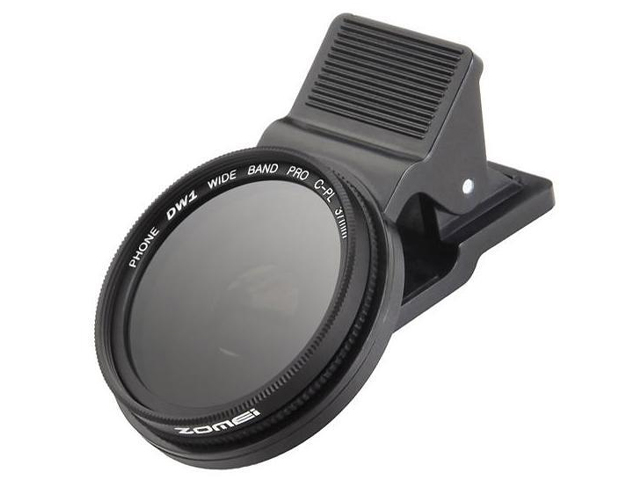 Compatible with: Most iPhone and Android smartphones
Number of lenses: 1
Lens types: Polarized
Have you ever taken a photo and felt disappointed that the vibrancy of the colors simply doesn't come through in the image? The lavender fields of New Zealand don't pop the way they do IRL, that rainbow over a waterfall in Hawaii doesn't look nearly as bright. Meet the polarized lens! A polarized lens like the ZOMEi 37mm makes colors sing and contrasts sharpen without any tweaking in photo-editing apps. It also can help lessen the harsh, sometimes distracting reflections from surfaces like water or glass, which in turn gives you richer detail in your photos.
$15.99 at Newegg
9
Best Lens for iPhones: Olloclip Lens Sets
Compatible with: iPhone
Number of lenses: Varies; typically 3 or 4
Lens types: Varies; set pictured features fish-eye, macro (2), and wide-angle
Designed specifically for iPhones, Olloclip lens sets simultaneously align with the front- and rear-facing cameras to make your photography even more streamlined. The set is not compatible with a case (except for one by the Olloclip brand) and it renders your flash unusable—but if you can get past that, then you have fish-eye, macro, and wide-angle lenses that fit the iPhone perfectly. Whether you're exploring the streets of Bangkok on foot or the waterways of the Florida Everglades by boat, you'll always want to have these convenient lenses close by.
Sets starting from $89.99 at Olloclip
10
Best Splurge Lens for Smartphones: Sirui 3-Lens Mobile Phone Kit
Compatible with: Most iPhone and Android smartphones
Number of lenses: 3
Lens types: Fish-eye, macro, and wide-angle
A camera lens is only as good as its materials, and this set from Sirui features high-quality glass made by German company Schott. The lenses pack a lot of power—for example, the wide-angle gives you a 95-degree angle of vision, and the macro lens magnifies objects up to 10 times. A heavy-duty aluminum carrying case keeps them safe, meaning you can count on them for all your future trips. The sturdiness and reliability promised by this kit make it well worth the higher price tag.
$189.99 at B&H Photo
11
Bonus—Best Smartphone Lens Case: Moment
When you find yourself in a situation where you'd like to switch between lenses quickly and with ease—whale watching in Alaska, for instance—you won't want to waste precious time making sure everything is lined up correctly. A case to which lenses attach makes rotating through lenses a breeze. If you have an iPhone, Google Pixel, or Samsung Galaxy, Moment's lenses are a worthy investment. Each lens (including fisheye, macro, telephoto, and wide angle) twists and locks right into place, so you know your gear is safe and secure as your shoot.
From $39.99 at Amazon Prime
Related Stories
All products have been hand-picked by our writers and editors. Items purchased through links may earn us a commission.