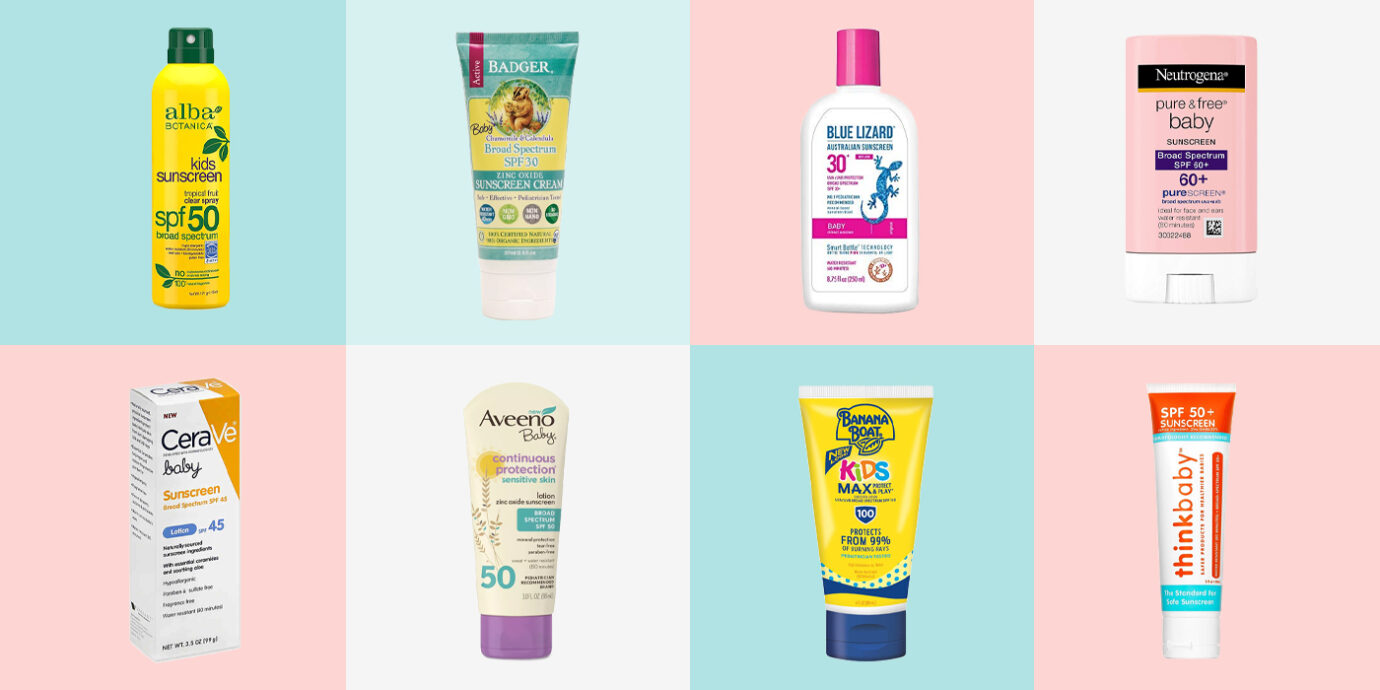 Shop
The Best Sunscreen for Kids (That Your Kids Won't Hate)
Okay, so you've maaaybe skimped on the sunscreen once or twice when it didn't gel with your plan for a tan. But when it comes to kids, you'd never consider letting their skin go unprotected. So for you and for them, we've put together the ultimate list of sunscreens safe for kids and babies, making sure that even concerns like eczema or reactions to harsh ingredients don't keep kiddos from enjoying the sunshine. Now, as for wrangling it on them during your next poolside getaway? Sorry. We've done all we can do here—that's up to you. 
1
Best Sunscreen for Kids Overall

Doesn't matter if you're taking the kids on a sunny hike or need a reef-safe sunscreen for a Hawaiian escape—ThinkBaby won't fail you. It's a lightweight mineral sunscreen that doesn't leave behind the white cast that other physical formulas do, absorbs easily for minimal sunscreen-related whines, and gets rave reviews from swimmers who swear this stuff stays on in the water better than its competitors. Even available in a TSA-friendly 3 oz. bottle, it's the only sunscreen you'll need to pack for a trip to the beach.
Shop Now
2
Best Sunscreen for Babies

Time for baby's first vacation? Badger's got your back. Hypoallergenic, 98% organic, and packed with extra-soothing ingredients like calendula and chamomile, this is the go-to product for parents who want to make sure the first sunscreen they put on their babes is the best. Reviewers note it takes a little effort to rub in, but that its gentle protection is worth the elbow grease.
Shop Now
3
Best Sunscreen for Babies with Eczema

One of just a handful of baby sunscreens granted the Seal of Acceptance from the National Eczema Association, this fragrance-free broad-spectrum sunscreen by CeraVe is extra gentle for delicate baby skin prone to dryness and cracks. As a physical sunscreen formula blocks out the harmful rays, ceramides work overtime to repair irritated skin and lock in healthy oils and moisture.
Shop Now
RELATED: The Best Drugstore Sunscreens To Add To Your Amazon Cart Right Now
4
Best Sunscreen for Toddlers

With a tropical scent, a clear and lightweight formula that blends into skin almost immediately, and a super-easy spray bottle, this pick will win over the wily toddlers who see sunscreen and run. Even better, it avoids the harsh ingredients that many sprays rely on, making it a reef-friendly option for the whole fam.
Shop Now
5
Best Stick Sunscreen for Kids

Kids often squirm when you're trying to get runny lotion over ever inch of their face, so this hypoallergenic Neutrogena stick can be a great tool for making sure their cheeks don't burn. Another one with the thumbs up from the Eczema Association, this is a great all-around, water-resistant sunscreen for kids that hate a thick, gloopy formula.
Shop Now
6
Best Natural Sunscreen for Kids

This Australian concoction checks all the boxes: all-natural, reef-safe, water-resistant, and free of fragrances and grease. But it also adds an element of fun that might get kids more eager to lather on the lotion: the bottle changes color when harmful UV rays are out, letting little tykes see with their own eyes when sun protection is needed.
Shop Now
RELATED: The Ultimate Diaper Bag Checklist: Everything You Need for a Well-Stocked Diaper Bag
7
Best Organic Sunscreen for Kids

On top of solid SPF protection, COOLA uses organic ingredients like avocado oil and shea butter to guarantee extra softness on baby's skin. Some reviewers don't love how thick the formula is, but that makes it ideal for extra-warm destinations, since it doesn't turn into the melty, greasy mess that some runnier sunscreens do in the heavy heat.
Shop Now
8
Best Fragrance-Free Sunscreen for Kids

If you've got a kid who's sensitive to smells, this fragrance-free sunscreen is your best bet. With an SPF of 50 and 100% zinc oxide as the active ingredient, it's a strong protectant. But it leaves skin feeling far softer than most heavy physical sunscreens, thanks to a natural oatmeal in the formula that adds an extra dose of soothe.
Shop Now
9
Best High-Factor Sunscreen for Kids (SPF 60+)

Banana Boat has been protecting kids' skin for decades, and recently upped its game with this lotion that has all the SPF and none of the grease. In addition to being tear- and fragrance-free, this high-factor formula gets extra bonus points from the hundreds of online reviewers who say this is the only product they buy for their kids with albinism or extremely fair skin.
Shop Now
More Sun-Protecting Must-Haves
Related Stories
All products have been hand-picked by our writers and editors. Items purchased through links may earn us a commission.