Shop
The Best Time to Buy Every Item on Your Packing List
You've probably heard Tuesdays are the best time to shop for flights. But what about everything else you need for your trip? Luggage? Phone chargers? Toiletries? Just like with flights, when you buy can actually make a huge difference in how much you have to shell out for travel gear. Retailers generally discount the same things around the same time each year, whether it's because of a holiday, new stock coming in, or a big shopping event like Prime Day or Black Friday. To help you plan ahead—and get the most bang for your buck—we've put together a month-by-month shopping guide to buying everything on your packing list.
January
Workout equipment
No, a Peloton bike won't fit in your luggage, but jump ropes, travel-size yoga mats, mini foam rollers, and resistance bands will. Luckily, they're usually on sale this time of year as well.
February
Cameras
If you don't need the absolute latest model, wait for President's Day weekend to buy a camera. Most brands reveal their new products at the CES trade show in January, so retailers will roll back prices on last year's versions right around the holiday.
Winter coats and accessories
Outerwear starts getting marked down after Christmas and continues to drop through the beginning of the year. You'll get the best deals in February—up to 90% off in some cases—but your options will be limited. If you have your heart set on a particular style (hi, Amazon coat), aim for late December or early January instead.
March
Luggage
Big-box and department stores like Walmart and Macy's need to clear out old inventory before peak travel season, so look for spring-break sales on carry-ons, duffels, suitcases, and more.
April
Raincoats
Raincoat season is a short one. A lot of retailers stock up in early spring then get rid of everything before summer, making April the best time to snag a slicker on the cheap.
Sneakers
Sneaker sales tend to pop up whenever the weather gets nice, as footwear stores try to entice runners and gym-goers who are just coming out of hibernation.
May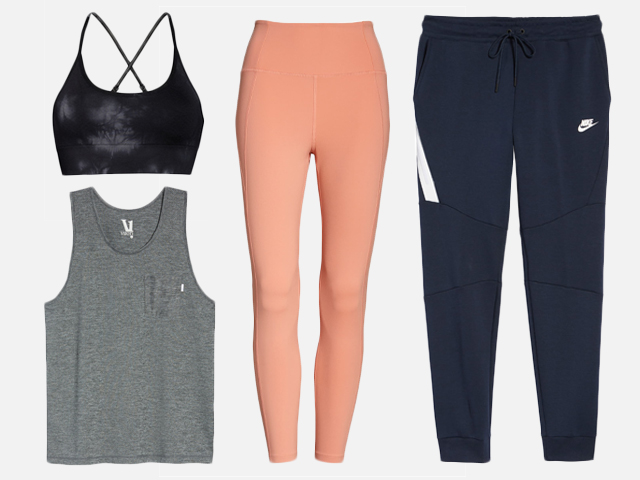 Leggings and workout clothes
A rule of thumb with clothing: You'll always get the best deals at the end of the season, when retailers are clearing out inventory to make room for the new stuff. May is a particularly good month for athleisure, as stores are getting rid of spring merch plus discounting warm-weather gear for Memorial Day.
June
Lingerie and underwear
If there's one thing you want to have enough of on a trip, it's underwear. Intimates retailers like Bare Necessities, Frederick's of Hollywood, and Macy's have started hosting their own sales in June to compete with Victoria Secret's semi-annual blowout, so this is the time to stock up.
July
Amazon devices
In the market for a new e-reader or tablet? Hold out for Prime Day. The best deals of the two-day shopping extravaganza are usually on Amazon's own devices (Kindles, Fire tablets, Echo speakers, and Ring cams).
Outdoor gear
Outdoorsy stores like Columbia and Dick's Sporting Goods often throw big Fourth of July sales, marking down everything from water bottles and hiking boots to backpacks and tents.
Personal electronics
Other retailers have hopped on the Prime Day bandwagon, creating their own "Black Friday in July" sales to keep up with Amazon. Look to Walmart, Target, Best Buy, and Macy's to offer steep discounts on headphones, smartphones, laptops, tablets, speakers, and more this time of year.
Sunglasses, bags, and jackets
Nordstrom's much-anticipated Anniversary Sale, which usually happens mid-July, is a great time to pick up current-season sunglasses, handbags, luggage, jackets, and more at seriously good prices.
Travel accessories
While exact Prime Day deals change from year to year, Amazon (and some of its rivals) has been known to put things like travel pillows, noise-cancelling headphones, packing cubes, adapters, and suitcases on sale as well.
August
Backpacks
Even if you aren't going back to school yourself, you can still take advantage of back-to-school sales. Backpacks, in particular, are usually at their lowest in August.
Laptops
While most tech-related purchases are best reserved for Black Friday and Cyber Monday, laptops are the exception. In August, many stores run back-to-school offers that'll eclipse what you see later in the year.
Swimsuits, flip-flops, and coverups
The end of vacation season—and Labor Day weekend—brings huge deals on resort wear, as shops hustle to make room for sweaters, denim, and coats.
September
Apple products
After Apple announces its new products at its September event, you'll start to see older versions get marked down, both in the brand's own refurb store and at other retailers. If you don't need the latest and greatest, this is a good time to pick up a previous-gen iPhone, iPad, or Apple Watch.
Baby and kids' gear
In September, both Target and Walmart will let you trade in your old car seat for a gift card or coupon toward new baby gear. They also usually slash prices on strollers, car seats, pack 'n' plays, cribs, and other travel accessories around this time.
October
Jeans
Expect deep discounts on all things denim, as shops clear out their remaining back-to-school stock. Consider this the perfect time to pick up a pair of classic 501s or test out the low-rise trend.
November
Beauty and skin-care products
Beauty products rarely go on sale. The exception? Cyber Week. Pretty much everyone—from big retailers (Sephora, Ulta, Violet Grey) to individual brands (Glossier, Tata Harper, Paula's Choice)—offers deals during this time. (Pro tip: If you're a Sephora member, you'll also want to keep an eye out for the company's Insider sales, which usually fall in April and December.)
Cell phones
Every smartphone is on a different release schedule, so if you're a brand loyalist, check to see when the new models are coming out and base your purchase around that. But if you just want the best deal, keep an eye out for Black Friday or Cyber Monday bargains.
Pajamas
Discounted holiday gift sets can be a good excuse to splurge on nice pajamas for yourself. You know, the kind that actually match.
Travel gadgets
This is the best time of year to buy all things tech—tablets, fitness trackers, headphones, hotspots, converters, wireless chargers, smartwatches, memory cards, Bluetooth speakers, you name it. Black Friday and Cyber Monday will likely be your best bets, but retailers sometimes extend sales into December and beyond.
December
Headphones
If you don't find what you want during Cyber Week, hold out till December, when you can usually find great last-minute deals or post-Christmas markdowns on headphones from major brands like Beats, Sony, and Bose.
Related Stories
All products have been hand-picked by our writers and editors. Items purchased through links may earn us a commission.