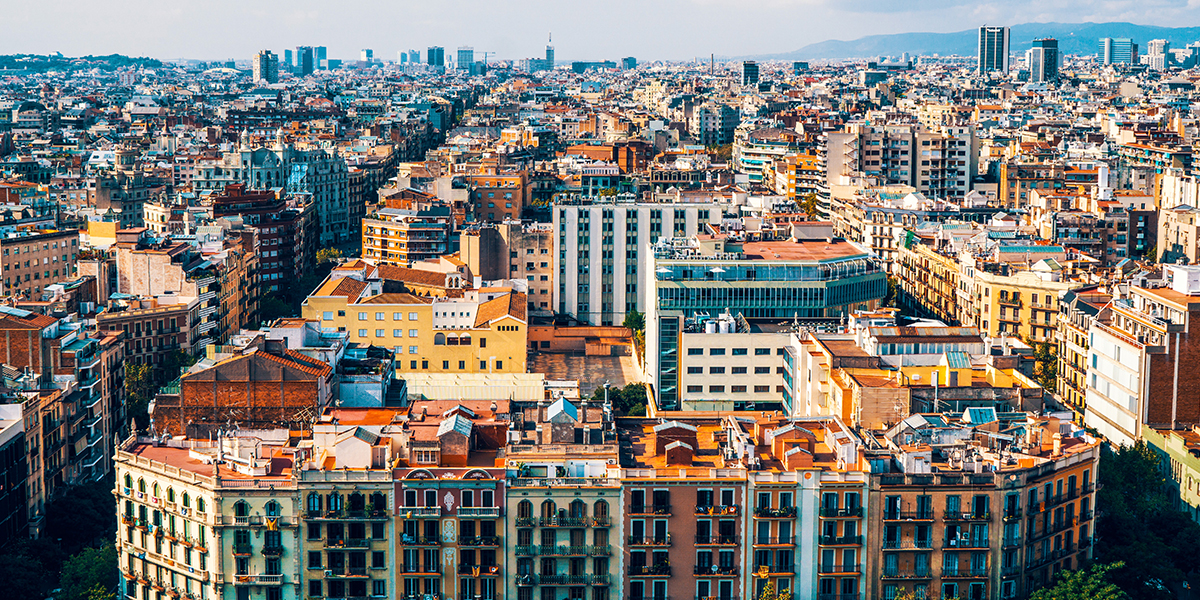 By Destination
The Ultimate Barcelona Packing List
Barcelona is one of those dreamy European cities that looks like something straight out of a fairytale. Picturesque Mediterranean beaches, unbelievable gothic architecture, the tree-lined Rambla, and cute cafes overflowing with bubbly cava and fresh seafood—almost too good to be true. Though it's technically part of Spain, Barcelona is the capital of the Catalonia region, and Catalans view their culture as completely unique—they voted for independence in 2017. While that's still being sorted out, Barcelona's tourism sector is booming at a rapid rate. If you're ready to join the crowds and feel Barcelona's historical magic, let us help you get packing for the journey with our ultimate Barcelona packing list. It contains everything from a comprehensive checklist to a guide for how to dress for every month and occasion (including the strictly enforced cathedral dress codes). Your trip to Barcelona is sure to have a happy ending.
Your suitcase packing checklist
Click items to view travel editor-approved options
THE PERFECT LUGGAGE
It'd be hard to pack for a Barcelona vacation without a handy set of luggage. If you're spending a long weekend in Barcelona, the Everlane Weekender is the perfect travel companion. It's available in a variety of solid colors, has interior and exterior pockets, and is made from water-resistant cotton. The $98 price tag is basically a steal; use the savings for extra bottles of cava. If you're staying in Barcelona for a full week, the x Jen Atkin 25-Inch Suitcase, a collab between Calpak and celebrity hairstylist Jet Atkins, is a solid choice. It combines the durability that Calpak is known for with the irresistible style Jen is known for, thanks to polycarbonate materials and customized stickers. If you're lucky enough to be spending two weeks in Barcelona, it's hard to beat Away's The Large. It's designed to last a lifetime (and they put their money where their mouth is) and has plenty of useful features like a removable laundry bag and zipper slots with combination locks for TSA checks.
THE 3 PAIRS OF SHOES YOU'LL NEED FOR EXPLORING BARCELONA
Unless you're mixing business with pleasure, leave your dress shoes and high heels, which are a rare sight in the walkable city, at home. Instead, pack shoes that you won't mind keeping on your feet all day, like Lora Wrap Sandals or Marco Driving Shoes that are dressed up just enough for some quality time at one of the many great tapas bars, like Cal Pep. If you expect to be doing extra walking—maybe to get a closer look at the beautiful Gaudi architecture—Gola Coaster Sneakers or Nike Cortez Sneakers look sharp and offer foot support. If you feel the need to bust out a fancier style, keep it on the casual end, with something like Clark Desert Boots for men and Gemma Mules for women.
Women's Shoes
Men's Shoes
WHAT NOT TO PACK FOR YOUR TRIP TO BARCELONA
You won't see major fluctuations in temperature in Barcelona, which is a miracle for your packing needs. Leave your heavy coats at home and replace them with thin, easily rollable puffer jackets or heavy sweaters if you're traveling during winter. In the summer, you should expect to see locals dressed in blouses and cropped jeans instead of tight minidresses, so make sure to pack accordingly if you're aiming to blend in. Keep your outfits casual and conservative, which means items like high heels, short shorts, and plunging necklines can stay home. The only exception to this rule is if you expect to hit some night clubs, although Barcelona is not known for them (go to Ibiza for epic nightlife), clubs are easy to find throughout the city. Unlike other cities with beaches, it's rare to see Barcelona's locals out on the town in their swimwear, which means the only reason to pack those items is if you plan on hitting the beaches.
THE *ONE THING* WTP EDITORS ALWAYS PACK WHEN THEY TRAVEL TO BARCELONA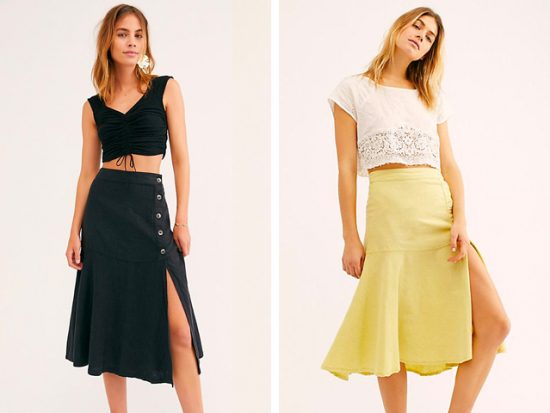 It's been said that Barcelona's style is more Vice than Vogue—the capital city definitely has a sartorial edge. In a city teeming with tourists (32 million tourists in 2017, compared to the 1.6 million locals), it's incredibly important to locals not to be confused for a visitor—so you won't see them in beachy or overly casual looks. There's nothing wrong with being a tourist, but we like to blend in. The Poppy Flounced Midi Skirt does just the trick. It's an ideal piece to have in your Barcelona fashion wardrobe. It has all the length of a midi, and the surprise flirtation of a mini thanks to side buttons and a slit. It can be paired with sneakers for an architecture tour or swapped out for sandals during dinner at a crudo bar. You just might want to order the skirt in all four colors and call it a fashion day. As a Barcelonian would say, this skirt is definitely, "Déu n'hi do!" (Literally, "God is there!" But more like, "amazing").
HOW TO PACK FOR BARCELONA'S WEATHER AND SEASONS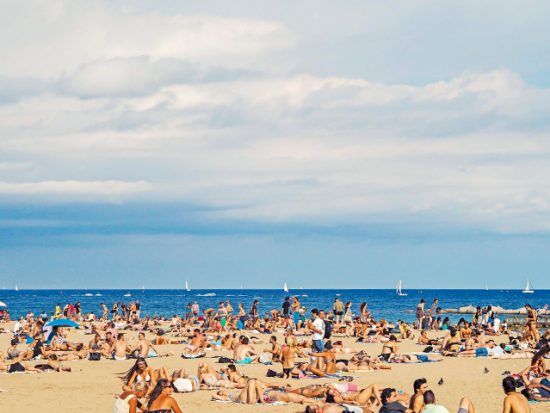 Barcelona's weather is ideal for travel year-round, with an easily approachable winter that rarely hits below 45 degrees during the day. Nights aren't bad either, but if you expect to be going out late during winter, it doesn't hurt to have a scarf packed. Summer is just as easy, where the highest temp you can expect is 80 degrees. Rain is rare, although fall usually brings some light showers—have a small umbrella packed if you're traveling in that season. Barcelona's style is focused on functionality, so you can expect light puffers in winter and t-shirts during the summer. Luckily, there's little daily fluctuation in weather, so layering is exclusively a style option instead of a necessity. In Barcelona, you get to spend less time worrying about the weather and more time sipping delicious cava.
Note: Below is a packing forecast, not a traditional forecast. A packing forecast focuses on how cold it's likely to be in the early mornings and evenings based on historical data. We recommend using this together with a traditional forecast as you get closer to your departure date. This data comes from our friends at Weather Underground.
JANUARY
Plan for day temps between 42° F and 48° F
Temps will drop near 33° F at night and into the early mornings
Expect 0.04 inches of precipitation in January
What to Wear in Barcelona in January: One clothing item that's regularly worn by locals is the ever-functional puffer coat. This puffer from Everlane is thin enough to be tucked into your weekender bag, and will give you plenty of warmth for your entire trip.
Recommendations: Everlane puffer jacket, men's tennis shoes, men's selvedge jeans
FEBRUARY
Plan for day temps between 46°F and 51° F
Temps will drop near 37° F at night and into the early mornings
Expect 0 inches of precipitation in February
What to Wear in Barcelona in February: You can't go wrong with a thick sweater while traveling in Barcelona in February, and this pick from Uniqlo is a winner. Wear pink sneakers for a streetwear-inspired look.
Recommendations: Women's crew neck sweater, pink belted trousers, pink Adidas sneakers
MARCH
Plan for day temps between 46° F and 54° F
Temps will drop near 36° F at night and into the early mornings
Expect 0.06 inches of precipitation in March
What to Wear in Barcelona in March: Although March in Barcelona is far from freezing, the breezy weather is perfect for showing off a turtleneck. Since dress codes are rarely an issue, don't miss the opportunity to explore in your favorite joggers!
Recommendations: Stretch turtleneck, men's field jacket, jersey joggers
APRIL
Plan for day temps between 54° F and 60° F
Temps will drop near 45° F at night and into the early mornings
Expect 0.05 inches of precipitation in April
What to Wear in Barcelona in April: Springtime means loafer-time, and that definitely applies to your trip in Barcelona. If you want to keep warm when the temperature drops to around 54, just throw on a shirt jacket, like this one from Gap.
Recommendations: Women's utility shirt jacket, floral cotton tunic, sophisticated loafers
May
Plan for day temps between 54° F and 65° F
Temps will drop near 44° F at night and into the early mornings
Expect 0.02 inches of precipitation in May
What to Wear in Barcelona in May: It's a breeze to dress for a May day in Barcelona. Just match your favorite pair of jeans (can't go wrong a pair of Levis) with a denim shirt for a look that's unexpectedly chic.
Recommendations: Men's denim shirt, men's dark wash jeans, brown espadrilles
June
Plan for day temps between 66° F and 72° F
Temps will drop near 59° F at night and into the early mornings
Expect 0.06 inches of precipitation in June
What to Wear in Barcelona in June: Barcelona is blessed with a cool early summer, which gives a ton of flexibility with outfits, whether you want to go with a camisole and cardigan combo or something a bit more fun, like this mustard jumpsuit from Mango. If that's not warm enough, throw on a light jacket.
Recommendations: Linen jumpsuit, long cardigan, navy camisole
July
Plan for day temps between 75° F and 79° F
Temps will drop near 68° F at night and into the early mornings
Expect 0.02 inches of precipitation in July
What to Wear in Barcelona in July: Look, if you're spending most of your time on vacation on foot outside, you should be as comfortable as possible. The mid-70s temperature in Barcelona during July is ideal for a t-shirt and midi skirt or a midi dress.
Recommendations: White midi dress, crew neck t-shirt, floral midi skirt
August
Plan for day temps between 74° F and 80° F
Temps will drop near 66° F at night and into the early mornings
Expect 0.07 inches of precipitation in August
What to Wear in Barcelona in August: Summer dressing couldn't be easier in Barcelona; it's hard to get it wrong. Whether you want to go with a simple linen dress or a crisp cotton short-sleeved shirt, you'll blend right in.
Recommendations: Cotton shirt, linen dress, men's oxford shirt
September
Plan for day temps between 67° F and 75° F
Temps will drop near 59° F at night and into the early mornings
Expect 0.02 inches of precipitation in September
What to Wear in Barcelona in September: Barcelona style puts a lot of focus into the quality of the clothing. You can get on board with the help of this French terry hoodie from Everlane. It'll keep you at the perfect temperature during the upper-60 degree September days.
Recommendations: Men's canvas shirt, lightweight hoodie, Vans sneakers
October
Plan for day temps between 52° F and 65° F
Temps will drop near 41°F at night and into the early mornings
Expect 0.10 inches of precipitation in October
What to Wear in Barcelona in October: One of the best things about Barcelona is that it's pleasant to visit all year long. In October, you could easily get by with a light sweater, like this gorgeous one from A.L.C. and a denim jacket.
Recommendations: Denim jacket, low booties, knit sweater
November
Plan for day temps between 52° F and 57° F
Temps will drop near 42° F at night and into the early mornings
Expect 0.13 inches of precipitation in November
What to Wear in Barcelona in November: The temperature doesn't get much colder than mid-50s during the day, so put together a jacket and long-sleeved t-shirt combo. If you're staying out late, the temperature could drop an additional 10 degrees, which means having a light scarf in your bag is clutch.
Recommendations: Men's long-sleeve, Comme des Garcons sneakers, corduroy jacket
December
Plan for day temps between 48° F and 53° F
Temps will drop near 39° F at night and into the early mornings
Expect 0.01 inches of precipitation in December
What to Wear in Barcelona in December: Barcelonians love chunky sweaters, especially in the turtleneck variety. Pair one with some mom jeans and black booties and you'll be mistaken for a local.
Recommendations: Turtleneck sweater, mom jeans, Rag & Bone booties
STYLE FOR BARCELONA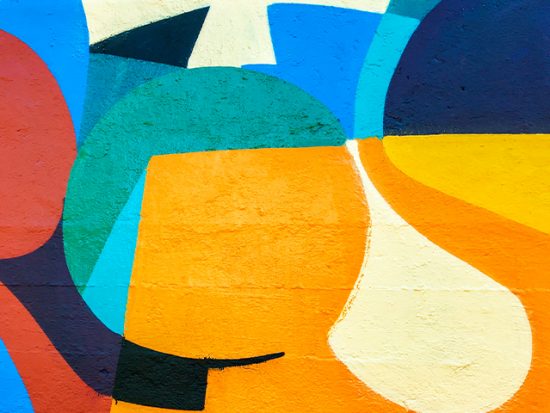 Barcelona's style is generally casual and conservative, but with an artistic edge. The rule of thumb is that stylish function beats outlandish fashion. You likely won't see much blingy jewelry or tight minidresses, but you'll find plenty of creative plays on muted tones. For women, bring your best avant garde blouses, quality sweaters, and tailored pants. For men, stick to classics, like streamlined Nikes and a quality pair of dark jeans. If your Barcelona trip calls for beach time (and it should!), leave the short shorts and tank tops to the sand, locals don't dress like they're on vacation.
Barcelona Style for Women
FIVE FOOLPROOF OUTFITS FOR BARCELONA
1. WHAT TO WEAR TO SHOP AND EAT AT LA BOQUERIA
La Boqueria is the biggest market (with more than 200 traders) in Barcelona and it's one of the most famous in the world. Locals have food shopped here since 1836, and tourists should plan on spending at least a few hours sampling everything from fresh produce to seafood to jamon serrano. That said, dress comfortably from the feet up—and pants with a stretch waist aren't a bad idea either. For women, espadrilles are the queens of shopping shoes for comfort and style. Men can't go wrong with a stylish sneaker. And both genders should come armed with at least one of Baggu's reusable bags, which can hold up to 30 pounds of gourmet goodies.
Women's La Boqueria Outfit
2. WHAT TO WEAR TO TOUR BARCELONA'S CATHEDRALS LIKE LA SAGRADA FAMILIA AND SANTA MARIA DEL MAR
Barcelona's cathedrals are architectural marvels and at the top of the to-do list for every visitor. Cathedrals are also just about the only place in Barcelona where you'll run into a strictly enforced dress code, although it likely won't require too much adjustment. The general rule of thumb is that shoulders and knees should be covered. That's easily done with a midi dress for women and a simple khakis and collared shirt combo for men. Consider throwing a lightweight scarf (to cover the shoulders) in your handbag for summer days when you're in a sleeveless top.
3. WHAT TO WEAR TO SEE BARCELONA "FUTBOL" AT THE FC BARCELONA
Barcelona is absolutely teeming with team spirit for Futbol Club Barcelona, commonly referred to as Barcelona and colloquially known as Barça. Game days are akin to national holidays, which means you're practically guaranteed to have a blast if you catch a game—whether or not soccer is something you follow. There's no excuse to not enter the Camp Nou stadium without a proper jersey (you wouldn't want anyone to think you're cheering for the opposing team). Complete the outfit with a pair of white sneakers and a fanny pack; you'll be ready celebrate with the rest of the city when the game is finished.
4. WHAT TO WEAR TO BARCELONA'S BEACHES (LA BARCELONETA, PORT OLIMPIC)
Barcelona's beaches are iconic, and there's space for everything from sunbathing to kite surfing to stand-up paddleboarding. You won't find as many revealing bathing suits as you would on a French beach, but style is still important. Don't forget a cover-up option, so you can grab a cocktail or seafood at the many casual vendors that line the shore.
Men's Barcelona Beach Outfit
5. WHAT TO WEAR ON A NIGHT OUT IN BARCELONA TO THE CAVA BARS
Barcelona's favorite bubbly drink is called cava—and it gives Champagne a run for its money. Cava is sparkling wine made with native grapes in both red and white varieties, and it's perfectly paired with tapas. You won't miss your chance to try it, especially somewhere like El Xampanyet. What to wear while you're sipping bubbles? Something fun and slightly flirty, just like cava.
Women's Barcelona Night Out Outfit
Men's Barcelona Night Out Outfit
FREQUENTLY ASKED QUESTIONS ABOUT PACKING FOR BARCELONA

I'm afraid of being pickpocketed in Barcelona; how can I keep my belongings safe?
Unfortunately, pickpocketing is one of the few problems in Barcelona, even for locals. Thieves tend to favor Ramblas pedestrian street, central metro stations, and the Sants train station. You can still safely visit these destinations, just keep a few things in mind. The number one rule is to take your wallet out of your back pocket. Don't leave phones or purses sitting on tables (keep them on your lap), and avoid drawstring backpacks and open purses, opting for options that zip closed. Finally, a money belt is not a bad idea, as long as you keep it hidden, since something visible may make you a bigger target.
What is the dress code for visiting cathedrals in Barcelona?
Cathedrals are among the few places in Barcelona to enforce a dress code, but it's not overly oppressive. Men and women are required to cover their shoulders and knees, so avoid shorts, tank tops, short skirts, and sleeveless tops on cathedral visit days. If it's very hot out and you're wearing a top that reveals the shoulders, just pack a lightweight scarf and wrap it over your shoulders like a shawl before you enter.
What are some items I should avoid wearing so I don't stand out like a tourist in Barcelona?
Barcelona style is functional and conservative, but with an artistic edge. Think more about puffy sleeves, asymmetrical hemlines, and floral patterns than tight minidresses and crop tops. Dressing is all about respect, so don't even think about donning a stained t-shirt or super short mini skirt. You also won't catch many locals wearing shorts and beachwear unless they're actually on the beach.
I'm heading to the beaches in Barcelona, how do locals transition from beachwear to streetwear?
You won't run into many Barcelonians wearing swimwear outside of the beach, so follow their lead. Women can opt for a high quality sarong or caftan that's more of a cover-up than a wrap for an easy transition from the sand to the shops. Men should opt for solid-color board shorts instead of traditional swim trucks and simply add a collared short sleeved shirt. Forget about walking around in flip-flops. The easiest thing might to be to bring a change of clothes in a stylish beach bag and simply change.
I'm planning on walking throughout the city, what walking shoes are best to wear in Barcelona?
Footwear in Barcelona is focused on simplicity and functionality, but without missing the style mark. Luckily, sneakers are now considered fashionable enough to pair with dresses or jeans, so you'll want to pack a neutral pair that goes with everything in your suitcase. Go for something with good arch support and a solid color, like white or black. Ecco Soft 7 Sneakers are a good bet. Women can also opt for block heels, ballet flats, or espadrilles. Pro tip: break in your new shoes before you bust them out for a long day of walking in Barcelona, or pack a jar of Second Skin Squares for any blister spots.
Related Stories