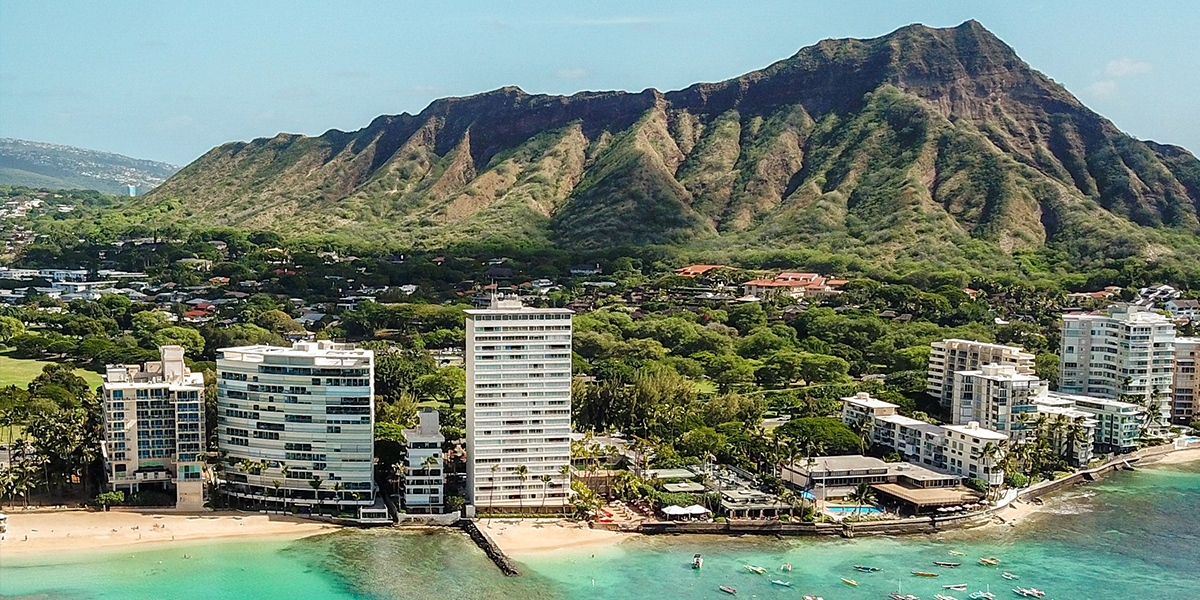 By Destination
The Ultimate Honolulu Packing List
Whether it's a simple sarong or a floor-length caftan, bright boardies or a hibiscus-print shirt—you're going to want to bring big-time color on a trip to Honolulu. And once you've got those rainbow hues packed, grab all the island prints, too. Nothing says Hawaii like getting decked out in vibrant flora and fauna. That said, of course, you'll want to start with the basics. Items like linen pants, cotton shirts, and summery dresses, plus flip-flops, a bathing suit, and a sun hat are obvious. So is gathering up your most stylish athleisurewear to throw in. Not sure where to go from there with your vacation wardrobe? Relax. Have a Mai Tai (bonus points if you top it with lime and an orchid, a la the bar at the iconic Halekulani). We've got you covered. Whatever your personal style, our picks will help you cultivate the perfect Hawaiian Island look.
7-Day Packing List
Click items to view travel editor-approved options
THE PERFECT LUGGAGE
Look for sporty luggage that gets points for style in addition to function. Fitting the bill for short-term travel is this weekender from Target, available in gray or dark blue with camel leather trim (that's right, we said leather). It's lined in a pinstripe-print fabric, and has an inner zip pocket and a removable shoulder strap. For a carry-on, The North Face makes an ultra-durable clamshell suitcase with rubberized corners, a top-loading passport pocket, an outside pocket for dirty clothing or anything you need to quickly stash away. If you're taking a longer trip and checking luggage, this ballistic-nylon piece from Eddie Bauer is a solid choice. Fans praise its many zippered sections and pockets. It comes in several colors, but we love the dark camo and the gray with turquoise and pink details.
THE 3 PAIRS OF SHOES YOU'LL NEED FOR EXPLORING HONOLULU
Women's Shoes
Men's Shoes
Start with a pair of sporty lightweight sneakers that you can wear for walking around downtown and for hiking up Diamond Head. Unless you're planning on active pursuits outside the city, you won't need a rugged hiking boots (sneakers with good treads will likely do), and if you decide last minute to take that surfing lesson at Waikiki Beach, cheap aqua socks are available at drug stores. The same goes for flip-flops, but better to bring along a pair that's broken in, since you'll be spending a lot of time in them. Strappy metallic sandals are perfect for dressing up daytime beachwear or to throw on for an evening out at a restaurant, bar, or luau, as are casual slip-on canvas shoes or espadrilles.
STYLE FOR HONOLULU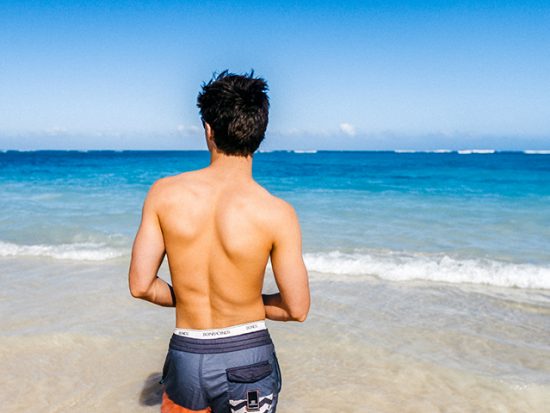 Easy-breezy clothing in natural fabrics, flip-flops, and a swimsuit is the baseline of Hawaii's style. But in Honolulu, the same beachy, bohemian look you'll find in the rest of the state has an urban edge. The influence of skater and surfer culture in clothing is even more apparent, with go-to brands like Billabong, Rip Curl, and Quiksilver dominating the market. Even with this, companies that make sustainability a top priority and carry only local products are more or less the norm in Hawaii, and that's represented here, too. Boutiques often sell a mix of big name brands and locally made clothing, which is nice if you're searching for a dress from a Hawaiian designer and also need to pick up a pair of Reefs. Long, flowy dresses; skirts; and wide-leg pants in bright colors and bold prints is primarily what you'll see on women, along with people wearing cutoffs, graphic tees, and rad sneakers. Dressing up for dinner and a night out downtown is common, but in most places, it isn't a must. Ladies might go for maxi dresses and strappy sandals, and guys will put on chinos with a neat T-shirt or a button-down.
WOMEN'S STREET STYLE
Women's Street Style for Honolulu
MEN'S STREET STYLE
Men's Street Style for Honolulu
FIVE FOOLPROOF OUTFITS FOR YOUR TRIP TO HONOLULU
1. What to wear to Honolulu's beaches
The sun in Hawaii is no joke. And the rip tide? Also not a joke, even for strong swimmers. If you don't have a rashguard, we highly recommend one that's UFP 50 or more; luckily, there are a ton of stylish, sporty options. As for where to go, families like Ala Moana Beach Park for easy access and plenty of soft sand, along with Hanauma Bay, which has excellent snorkeling. If you're up for a surfing lesson and don't mind crowds, Waikiki Beach is the way to go, whereas experienced boarders will want to head to Sandy Beach, which has powerful shorebreaks. For a more secluded spot, check out Halona Beach Cove, where you'll find an active blowhole.
Women's Beach Outfit for Honolulu
Men's Beach Outfit for Honolulu
2. What to wear to explore military memorials
How conservatively you dress at Honolulu's military memorials is personal preference, as there's no dress code. That said, a good option to consider is wide-leg pants or jeans and a T-shirt, paired with comfortable sandals or sneakers. Visiting Pearl Harbor to see the USS Arizona, USS Bowfin, and the USS Missouri is likely at the top of your list. With more time, you can add the Pearl Harbor Aviation Museum (formerly the Pacific Aviation Museum) on Ford Island and the National Memorial Cemetery of the Pacific in the Punchbowl Crater.
Women's Outfit to Explore Military Memorials in Honolulu
Men's Outfit to Explore Military Memorials in Honolulu
3. What to wear to catch incredible views at Diamond Head or to explore Hanauma Bay State Park
Full-on hiking gear isn't a must for climbing up Diamond Head and exploring Hanauma Bay State Park, but you'll certainly want to wear shoes with treads and activewear that wicks away sweat. A pair of shorts or cropped ankle pants and a short-sleeved crewneck are all you'll need to hit the trail, plus good walking shoes and a hat with a brim.
Women's Outfit for Diamond Head in Honolulu
Men's Outfit for Diamond Head in Honolulu
4. What to wear to attend a luau
While shorts and a tank top are completely appropriate for a luau, it's fun to dress up. You may be sitting on the grass, but it's still dinner and entertainment, so break out that cute maxi dress with jeweled slides, plus a cotton crewneck sweater to throw over your shoulders. Guys can put on chinos and a linen button-down shirt. And here's a tip: You'll also want to wear bug repellant.
Women's Outfit for a Luau in Honolulu
Men's Outfit for a Luau in Honolulu
5. What to wear to go shopping and out to eat in Downtown Honolulu and Waikiki
Big-city shopping is on offer in the capital, and the Ala Moana Center in Downtown Honolulu should be your first stop. We love this bright and breezy dress from Anthropologie, which can be worn with a comfy pair of metallic Havaianas. A raffia shopping tote and a jeweled-button cardigan complete the look. If you're feeling a little more casual and less like fussing, shorts with a T-shirt and sneakers or sandals works just as well.
Women's Outfit for Shopping in Honolulu
Men's Outfit for Shopping in Honolulu
WHAT NOT TO PACK FOR HONOLULU
Unless you're heading to Honolulu for a destination wedding or some other special event, a couple of smart-casual outfits for an upscale restaurant or for a nightclub downtown is the most formal thing you'll want to bring. It's OK to skip an outer layer that's warmer than, say, a jean jacket or zip-up shell/windbreaker, though if you're planning on a sunrise hike at Diamond Head, a lightweight fleece isn't a bad idea. Bring along activewear for poolside yoga and other light exercise, but if you aren't planning to pursue major outdoor activities, leave behind the serious gear. The same goes for water sports because you can rent what you'll need at surf shops, but consider packing your own snorkeling mask or goggles to ensure you have a pair that fits well. Travelers who don't want to check luggage or pay excess baggage fees can purchase reef-friendly sunscreen and other toiletries upon arrival. While it does rain in the winter, an umbrella isn't really necessary since rainstorms don't last too long.
THE *ONE THING* WTP EDITORS ALWAYS PACK FOR HONOLULU
You're here for the sun, and Hawaii will deliver with a capital (vitamin) D. But all that time soaking up subtropical rays puts you in harmful sunburn's way. Shield your skin with this reef-safe, all-natural mineral sunscreen, which wards off UVA and UVB rays without harming the environment. (Chemical sunscreens are formulated with oxybenzone and octinoxate—toxins for coral and other marine life—and will be banned in Hawaii effective 2021.) This is the ever-elusive sunscreen that sinks in fast without looking chalky or feeling heavy (or the bigger offender—greasy). In fact, you could mistake this stuff for a nice, thick body cream: that's how silky it feels and smoothly it spreads. Oh, and it doesn't smell anything like a pina colada; cocoa butter and powder gives the the beeswax- and coconut oil-based formula a chocolate-y scent and tea tree oil adds a whiff of eucalyptus that—bonus!—bugs and mosquitoes don't like. —WTP Editors
HONOLULU'S WEATHER AND SEASONS

You can bet on excellent weather in Honolulu, as the city is on the south shore of Oahu, which is dry and sunny for most of the year. Summers can be very warm but they're rarely unbearably hot, and while it can be chilly at night or early morning, temperatures typically don't drop below the 60s. There is a "wet" season from October through March, but storms usually pass by quickly. Trade winds that bringing balmy air to the city can be strong at times, particularly at higher elevations and at the beach, so you may wish to pack an appropriate outer layer. Do note that Hawaii's subtropical location means the sun is stronger than what you might be used to.
Note: This data comes from our friends at Weather.com. We recommend using this together with a traditional forecast as you get closer to your departure date.
JANUARY
Plan for day temps between 65 and 81 temps
Expect 2.91 inches of precipitation in January
What to Wear in Honolulu in January: January is rainy in Honolulu, but you probably won't need to break out an umbrella, as showers tend to move through the city fast. Your best bet is an ultra-lightweight rain jacket with a hood, a pair of pants that'll dry quickly when the sun breaks out, and closed-toe shoes, like huaraches.
Recommendations: Women's huaraches, women's hooded jacket, women's linen-blend pants
FEBRUARY
Plan for day temps between 65 and 81 temps
Expect 1.99 inches of precipitation in February
What to Wear in Honolulu in February: There's slightly less rain in February as opposed to January, but you still might want to bring a jacket along. Again, quick-drying pants and shoes that won't flop off your feet are the way to go.
Recommendations: Women's tennis shoes, jean jacket, cotton pool pants
MARCH
Plan for day temps between 67 and 82 temps
Expect 2.71 inches of precipitation in March
What to Wear in Honolulu in March: Precipitation goes up a notch this month, so don't leave behind that jacket just yet. March is when temps start to rise, which means you should swap those long pants for a pair of Bermuda shorts.
Recommendations: Men's wind jacket, men's chino shorts, men's slip-on sneakers
APRIL
Plan for day temps between 68 and 83 temps
Expect 1.18 inches of precipitation in April
What to Wear in Honolulu in April: Rain starts to taper off in April, and early morning and nighttime temperatures start to hover around 70 degrees toward the end of the month. Ditching the jacket will be fine, though it's a good idea to keep a cardigan on hand in case you're going from rain to a chilly air-conditioned restaurant. You'll be comfortable in a cotton romper and a pair of slides, or something similar.
Recommendations: Short romper, women's boyfriend cardigan, women's foot-forming sandal
MAY
Plan for day temps between 70 and 85 temps
Expect 0.99 inches of precipitation in May
What to Wear in Honolulu in May: It can get hot midday in May, and the sun is strong. You'll stay cool in a button-up shirt, crisp shorts, and comfortable sandals that can get kicked off at any moment.
Recommendations: Men's button-up shirt,  men's navy shorts, slide-on sandals
JUNE
Plan for day temps between 72 and 87 temps
Expect 0.46 inches of precipitation in June
What to Wear in Honolulu in June: Go ahead and start rocking shorts and a short-sleeved shirt, as summer kicks off in June. You likely won't see any raindrops on your trip, as this is the beginning of Honolulu's driest season.
Recommendations: Women's Bermuda shorts, sunny blouse, woven mules
JULY
Plan for day temps between 73 and 88 temps
Expect 0.92 inches of precipitation in July
What to Wear in Honolulu in July: Summer is in full swing by July, so pack lightweight clothing in breathable fabrics like cotton and linen. It's smart to bring along a sun hat for strolling around in addition to soaking up rays on the beach.
Recommendations: Swim trunks, straw fedora, round sunglasses
AUGUST
Plan for day temps between 74 and 88 temps
Expect 0.93 inches of precipitation in August
What to Wear in Honolulu in August: August is Honolulu's hottest month. You can't go wrong with an ultra-lightweight crinkle-fabric skirt and a tank top, along with jellies.
Recommendations: Ruffly skirt, slub tank, gold strappy sandals
SEPTEMBER
Plan for day temps between 73 and 88 temps
Expect 1.02 inches of precipitation in September
What to Wear in Honolulu in September: It's just about as hot in September as it is in August, so the lighter the better when it comes to dressing. Throw on Birkenstocks with cropped pants and a T-shirt.
Recommendations: Linen wide-leg cropped pants, cropped polo, women's slide-on sandals
OCTOBER
Plan for day temps between 72 and 87 temps
Expect 2.33 inches of precipitation in October
What to Wear in Honolulu in October: Daytime temps are still in the high 80s in October, and it's the start of Honolulu's wet season. Because of the heat, you can probably skip the raingear and simply spend a few minutes under cover until the storm passes.
Recommendations: Men's short-sleeve shirt, men's cotton twill pants, wave-print pocket tee
NOVEMBER
Plan for day temps between 70 and 84 temps
Expect 2.98 inches of precipitation in November
What to Wear in Honolulu in November: November is much like October — hot, with the chance of rain. Keep it cool in shorts and short-sleeves, and slip on a pair of easy-to-wear espadrilles.
Recommendations: High-rise cutoffs, women's short-sleeve sweatshirt, leopard-print espadrilles 
DECEMBER
Plan for day temps between 67 and 82 temps
Expect 4 inches of precipitation in December
What to Wear in Honolulu in December: December is Honolulu's wettest month and temperatures drop into the 60s. Pack a rain jacket with a hood, plus you may want to opt for a pair of capris instead of shorts.
Recommendations: Women's rain jacket, women's cargo capris, women's tennis shoes
FREQUENTLY ASKED QUESTIONS ABOUT PACKING FOR HONOLULU

Can you rent a car in Honolulu?
Yes, and if you can, get a convertible for tooling around the city. If you're planning to go on backroads, a Jeep or something with all- or four-wheel drive is advisable.
What is the best place to watch the sunset in Honolulu?
The best place to watch a sunset in Honolulu is Ala Moana Beach Park. On Friday nights there are fireworks, too. Another option is the nearby Kaka'ako Waterfront Park. For a sunset with a cocktail, head over to one of the many restaurants and bars in Waikiki Beach. (FYI, for the best sunrise, hike up Diamond Head.)
I'm staying on the eastern side of the city; should I be prepared for rainfall?
Honolulu and Waikiki are on Oahu's southern shore, which gets very little rainfall. You can more or less count on it being dry and sunny year round, even on the eastern side of the city. It's Oahu's east coast—about a 40-minute drive away from Downtown Honolulu—that's the wettest part of the island.
How should I navigate in Honolulu since directions are given in terms of local landmarks?
After "aloha" and "mahalo," the two most important Hawaiian words to learn are "mauka," which means "toward the mountain," and "makai," which means "toward the ocean." Expect to hear them if you ask someone in Hawaii for directions. Geographical location is also expressed using "windward," which refers to the east and north coasts of all the Hawaiian Islands (which get most rain because of the trade winds) and "leeward," referring to the south and west coasts. So how are you supposed to know what's where? Our best advice is to carry a compass and a good map. (And, don't rely on your phone, especially if you're heading out to remote areas where service might be spotty.)
Is food expensive in Honolulu?
Eating out and buying groceries in Hawaii is pricier on average than most other U.S. states. Dining in Honolulu, like in any other major city, tends to be more expensive than regional areas, so make sure to build that into your budget. That said, there are plenty of cheap eats in Honolulu that'll also give you a chance to try some local food. A "plate lunch" is a Hawaiian staple that's inexpensive, with a couple helpings of rice and a scoop of macaroni salad, plus an entree like kalua pork, poke, or chicken katsu. Don't miss out trying a plate lunch at Rainbow Drive-In, one of the most popular spots for them in the state. Other less expensive options include udon and ramen joints, local markets with take-out, and farmers' markets.
Related Stories