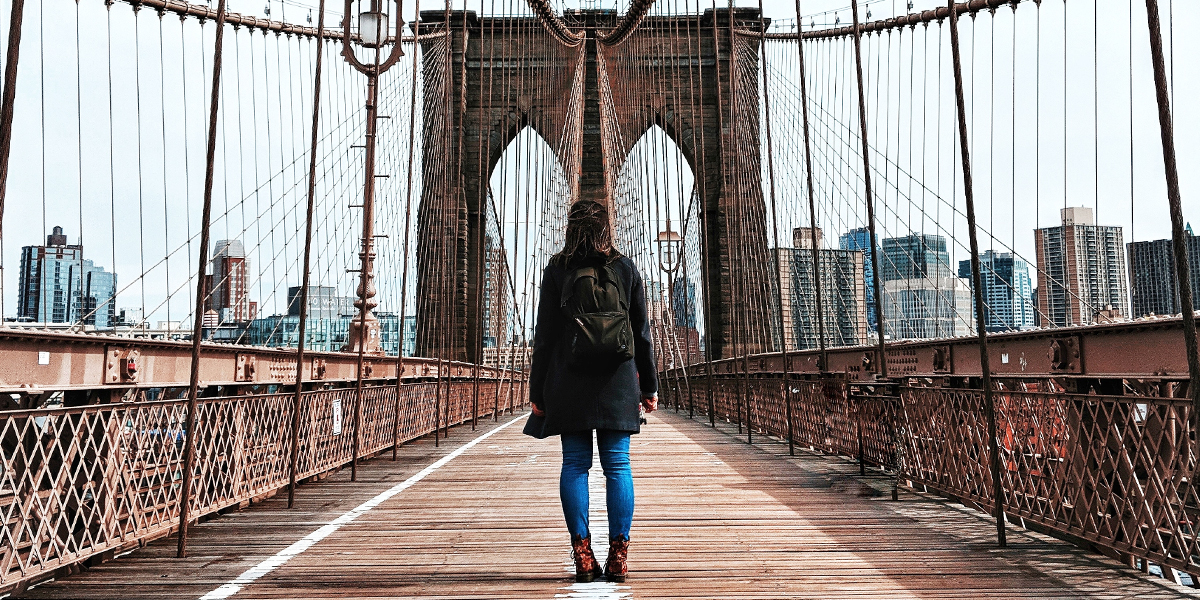 By Destination
The Ultimate New York City Packing List
If the thought of packing for New York City whips you into a tizzy, you're not alone. After all, this is one of the fashion capitals of the world, and no one wants to look dowdy, feel underprepared, or look like a tourist. But what do you wear on a trip that involves tasting dumplings in Chinatown, romping through Central Park, zooming up 86 floors in the Empire State Building, and clubbing in Bushwick, possibly all in the same day? Take a breath and stop stressing, because we've done all the work to nail down chic ensembles for your every NYC activity, from strolling the High Line and grabbing brunch to going out for dinner, drinks, and a Broadway show. Here's the skinny on the best looks for every season in the City that Never Sleeps—plus luggage and shoe recommendations, intel on what not to wear in New York, a handy checklist to ensure all the essentials make it into your bag, and more.
Your suitcase packing checklist
Click items to view travel editor-approved options
THE PERFECT LUGGAGE
A stylish weekend bag is an investment piece that elevates your travel wardrobe and has major jetsetter vibes. You'll want one that's equal parts polished and tough, with short handles and a removable shoulder strap. This roomy leather carryall from Madewell checks every box. For a weeklong trip, we love Away's carry-on for form and function. Our pick has a game-changing front pocket, and all of the brand's rolling bags come with an optional TSA-approved removable charger. For a longer trip, an ultra-lightweight model is the way to go—particularly if you're changing hotels more than once. The glamorous Bric's spinner has generous dimensions (30 by 21 by 12 inches) and weighs under 12 pounds. And its Japanese spinner wheels can handle Manhattan and Brooklyn's cobblestones with barely so much as a peep.
THE 3 PAIRS OF SHOES YOU'LL NEED FOR EXPLORING NEW YORK CITY
For women, breathable ballet flats with a forgiving round toe and excellent tread are perfect to pack for New York (or anywhere). For men, versatile ankle boots work for everything from picnicking in Bryant Park and touring the Met to dinner and late-night drinks in the Meatpacking District. A pair of sporty, stylish sneakers for sightseeing is a standard choice; same goes for dressier shoes for an evening out. A word of caution for the ladies: One pair of walking-friendly heels should be enough. Carrie Bradshaw might have loved outrageous stilettos on "Sex and the City"—but trust us, limping down the sidewalks is not a good look. Plus, you'll slow down your fellow pedestrians, and New Yorkers really hate that.
Women's Shoes
Men's Shoes
NEW YORK CITY STREET STYLE
In New York, smart casual is the way to go. Tourists often think that visiting the Big Apple requires bringing dressy outfits for everything except sightseeing. It's true that New Yorkers tend to skip ultra-casual clothes in favor of something slightly more polished, but you'll definitely see folks running errands in joggers and sneakers. New York's celebration of diversity extends to expression in fashion. More often than not, anything goes. No one will stare if you decide to wear cowboy boots to the ballet or a strapless sequin dress to brunch. People do their own thing.
What you may have heard about New Yorkers wearing lots of black is absolutely true. People wear bright colors and prints year round, but all-black is the standard fallback uniform for looking chic with minimal effort. Otherwise, you'll see women in everything from jumpsuits and booties, black skinny jeans and sneakers, pencil skirts and blouses. Gents tend to go for jeans or trousers with a button-down or sweater. Unless you're in Midtown or near Wall Street, you probably won't see a lot of suits, though people often throw on a blazer to dress anything up.
Women's Street Style for NYC
Men's Street Style for NYC
FIVE FOOLPROOF OUTFITS FOR NEW YORK CITY
1. WHAT TO WEAR TO A BROADWAY SHOW
Dash off to the Great White Way in a fun yet sophisticated outfit that'll take you from Row H, Seat 9 to a nearby wine bar for post-show drinks. For women, we love this warm bodysuit that will keep you warm in a chilly theater, paired with a funky midi skirt that will certainly turn heads as you cross the floor during intermission with a glass of bubbly in hand. Men, summon your inner dapper gent for this occasion, with a well-cut blazer over a lavender button-down, and a marble-faced watch for a hint of drama.
Women's Broadway Show Outfit
Men's Broadway Show Outfit
2. WHAT TO WEAR FOR A DAY AT THE MUSEUM
Brainy-meets-bohemian chic is the key to nailing an outfit for the MoMA, the Guggenheim, or the American Museum of Natural History. A smart dress in flowy fabric will look elegant as you breeze through the galleries. Pair it with a crossbody pocketbook and boots with plenty of ankle support.
Women's NYC Museum Outfit
Go for relaxed with polished edge, mixing a cotton twill shirt with slim straight jeans and vintage-inspired sneakers.
3. WHAT TO WEAR TO CENTRAL PARK OR THE HIGH LINE
You'll want something easy to wear but pulled-together that does double-duty for a walkabout followed by lunch or brunch. Faded jeans, a button-down, a chunky knit, low-heeled booties, and a bright shoulder/crossbody bag fit the bill.
Women's Central Park or High Line Outfit
Think urban-outdoorsy for these activities (read: comfortable but not schlubby). Slim jeans, a structured sweater, chukka boots, and a water-resistant jacket are a winning combo. Throw in a pair of cool sunglasses for good measure.
Men's Central Park or High Line Outfit
Coordinating an outfit for sightseeing that won't make you look like a tourist is easy: start with tailored-looking activewear and elevate it with a few sleek details, like gold-accent sneakers and a minimalist carryall.
Women's Statue of Liberty Outfit
Aim for what you might wear to a casual, hip bar to hear a band, plus a few practical extras. You can never go wrong with an insulated jacket, an old-school baseball cap, and street sneakers with ankle support.
Men's Statue of Liberty Outfit
5. WHAT TO WEAR OUT FOR DINNER IN MANHATTAN
A surefire way to blend in at a Manhattan restaurant is to look like you just came from a social work event—even if it's the weekend. Choose pieces that transition well, like a shimmery cami under a blazer or moto jacket and black pants that hit the ankle, and mix in some fun, glam accessories. Afterwards, you'll be ready for a skyline-view nightcap at the Standard's Le Bain or a 2 a.m. dance party at Good Room in Greenpoint.
Women's Dinner in Manhattan Outfit
What works for ladies works for the gents. Opt for clean-cut pieces and add a few more casual details to balance them out, like no-iron chinos and a fitted chambray shirt with patch pockets.
Men's Dinner in Manhattan Outfit
WHAT NOT TO PACK FOR NEW YORK CITY
Our best advice? Don't pack too much. Unless you're here for a special occasion, like a wedding or a graduation ceremony, stick to one dressy outfit and shoes to match. Resist the urge to throw in "just in case" items and do a few rounds of brutally editing down choices—accessories included. There's too much to do in New York to waste precious minutes contemplating different outfits in a hotel room mirror. Besides, hauling a heavy, overstuffed suitcase up subway steps and along crowded sidewalks is a recipe for grumpiness. Save suitcase space by packing minimal toiletries; instead, just use what the hotel provides. If you need more beauty product minis, there's a Duane Reade pharmacy practically on every other street corner. Also, don't bring uncomfortable shoes or brand-new ones that you haven't yet taken for a spin.
THE *ONE THING* WTP EDITORS ALWAYS BRING TO NEW YORK CITY
New York, we love you, but you bring our glow factor down. Traffic exhaust, pollution, grubby subway air…it all swirls together to make our complexions icky and our pores feel as congested as the Holland Tunnel on a summer Friday. A really good facial cleanser is an absolute must here. We go the cleansing oil route, since they gently break down makeup, dirt, grime, and other city-related contaminants without upsetting skin's natural moisture barrier. (Cleansing oils feel so soothing, they're like treating yourself to a mini nightly spa treatment.) We especially love this olive oil-based cleanser because it's loaded with vitamin E (an antioxidant) and rosemary (an antioxidant and antibacterial). Plus, the bottle looks so cool. And it comes in a travel size if you're not trying to check a bag.—WTP Editors
NEW YORK CITY'S WEATHER AND SEASONS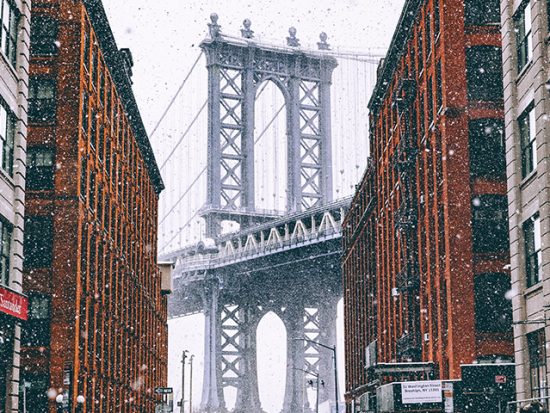 New York has four distinct seasons, with all kinds of wacky, extreme weather making unexpected appearances along the way. Considering how much New Yorkers walk, it is essential to face the elements with weather-appropriate clothes and accessories. In the winter, bundling up with a hat, gloves, and scarf is a must. Come summer, the humidity is brutal and getting stuck on a 100-degree subway platform is a way of life. You'll want to wear clothing that feels as light as a feather and a hat and shades to ward off UV rays. Weather typically turns cold for good by October, and it isn't truly warm again until late May. September is a mixed bag—60s is the norm but 90s is not unthinkable—as is April, when you can see snow flurries one day and sunny 70s the next. One of the reasons women here carry monster bags everywhere is to be prepared for Mother Nature's curveballs at all times. Things like a mini umbrella, a lightweight cardigan, and pair of fold-up ballet flats are good to have on hand year round.
Note: Below is a packing forecast, not a traditional forecast. A packing forecast focuses on how cold it's likely to be in the early mornings and evenings based on historical data. We recommend using this together with a traditional forecast as you get closer to your departure date. This data comes from our friends at Weather Underground.
JANUARY
Plan for day temps between 10° F and 32° F
Temps will drop near 5° F at night and into the early mornings
Expect 0.07 inches of precipitation in January
What to Wear in New York City in January: Bring a super-warm coat (down or heavy wool) and cozy layers underneath, like a thermal long-sleeve shirt and faux-fur vest, to stay extra toasty. Yanking a glove off on a busy sidewalk to check your phone is no fun when it's this cold, so bring a warm pair with screen-friendly fingertips.
Recommendations: Women's quilted parka, women's leather tech gloves, faux-fur vest.
FEBRUARY
Plan for day temps between 24° F and 42° F
Temps will drop near 16° F at night and into the early mornings
Expect 0.22 inches of precipitation in February
What to Wear in New York City in February: While February can be every bit as frigid as January, it's generally wetter. That can mean snow, but more likely a nasty wintery mix of snow, sleet, and freezing rain. A coat with a detachable hood is handy, plus a warm sweater and waterproof boots to navigate the massive slush puddles that form on every street corner.
Recommendations: Men's down parka, men's cashmere turtleneck, men's water-resistant boots.
MARCH
Plan for day temps between 35° F and 41° F
Temps will drop near 27° F at night and into the early mornings
Expect 0.19 inches of precipitation in March
What to Wear in New York City in March: If traveling in the second half of March, swap the puffy for a medium-weight wool coat, parka, or hooded anorak. Wear it over an open-front cashmere cardigan and super-warm leggings.
Recommendations: Women's faux-fur-trimmed parka, fleece leggings, women's cashmere cardigan.
APRIL
Plan for day temps between 38° F and 50° F
Temps will drop near 32° F at night and into the early mornings
Expect 0.21 inches of precipitation in April
What to Wear in New York City in April: Finally, the heavy-duty winter boots can stay at home—basic sneaks will do just fine. Definitely bring a breathable rain jacket, along with a pocket umbrella.
Recommendations: Men's rain jacket, travel umbrella, men's retro sneakers.
MAY
Plan for day temps between 53° F and 67° F
Temps will drop near 48° F at night and into the early mornings
Expect 0.14 inches of precipitation in May
What to Wear in New York City in May: It can still feel a bit chilly in May, so bring a light sweater to wear under a denim jacket. Throw on a breezy print dress with sleeves and buttery soft flats.
Recommendations: Women's denim jacket, ruffly wrap dress, comfy flats.
JUNE
Plan for day temps between 59° F and 72° F
Temps will drop near 51° F at night and into the early mornings
Expect 0.12 inches of precipitation in June
What to Wear in New York City in June: June is the month you can finally ditch the jacket and break out the summer clothes. Button-up jeans, a striped shirt, and wedge sandals is a no-fail look—especially if you're taking the Wonder Wheel for a spin before strolling down the Coney Island boardwalk.
Recommendations: White skinny jeans, espadrille wedges, women's striped tee.
JULY
Plan for day temps between 70° F and 78° F
Temps will drop near 62° F at night and into the early mornings
Expect 0.24 inches of precipitation in July
What to Wear in New York City in July: The oppressive New York summer humidity is in full force in July, so pack items that are light and comfortable. A maxi skirt, neutral sandals, and a button-down cardigan to throw over your shoulders in the AC are perfect.
Recommendations: Wrap skirt, drapey tee, wedge sandals.
AUGUST
Plan for day temps between 70° F and 78° F
Temps will drop near 65° F at night and into the early mornings
Expect 0.32 inches of precipitation in August
What to Wear in New York City in August: August can be brutally hot and humid. Pack a citified version of what you might bring to a beach destination, such as comfortable sandals, brimmed hats, and sunglasses to stave off UV rays while sightseeing outdoors.
Recommendations: Men's chino shorts, men's suede slide-on sandals, baseball cap.
SEPTEMBER
Plan for day temps between 59° F and 71° F
Temps will drop near 54° F at night and into the early mornings
Expect 0.25 inches of precipitation in September
What to Wear in New York City in September: Sometimes sticky August weather relents and New York is treated to a gorgeous, early autumn—but not always, so dressing can be tricky. A dress with long sleeves that roll up works well, especially when paired with collegiate flats and a lightweight scarf that does double duty as a wrap if it's chilly.
Recommendations: Denim shirtdress, cotton bandana, leather loafers.
OCTOBER
Plan for day temps between 44° F and 58° F
Temps will drop near 38° F at night and into the early mornings
Expect 0.13 inches of precipitation in October
What to Wear in New York City in October: Fall arrives in October, so rejoice in breaking out your fave leather jacket. A peasant blouse and slim all-season pants looks crisp and pulled together, whether you're admiring the foliage in Prospect Park or heading upstate for an apple-picking day trip.
Recommendations: Women's leather jacket, silk blouse, slim wool pants.
NOVEMBER
Plan for day temps between 23° F and 45° F
Temps will drop near 15° F at night and into the early mornings
Expect 0.27 inches of precipitation in November
What to Wear in New York City in November: Yes, a 60-degree day or two may pop up, but plan on bringing winter clothes in November. Tailored-looking jeans, a cotton-blend sweater, and a faux-fur-collared coat are great for catching the Rockettes at Radio City, then watching ice skaters fly around the rink at Rockefeller Center (or lacing up and hitting the ice yourself).
Recommendations: Men's black jeans, men's crewneck sweater, men's waxed jacket.
DECEMBER
Plan for day temps between 30° F and 40° F
Temps will drop near 24° F at night and into the early mornings
Expect 0.22 inches of precipitation in December
What to Wear in New York City in December: Winter is in full swing in December, and dressing for it means a heavy coat or puffy, a warm hat, and chunky knits. Believe us, you'll want all warmth you can get when promenading along Fifth Avenue to see the holiday window displays, gift-shopping at the (outdoor!) Union Square Holiday Market, or making your way uptown to see The Nutcracker.
Recommendations: Women's water-resistant parka, women's turtleneck sweater, pompom beanie.
FREQUENTLY ASKED QUESTIONS ABOUT PACKING FOR NEW YORK CITY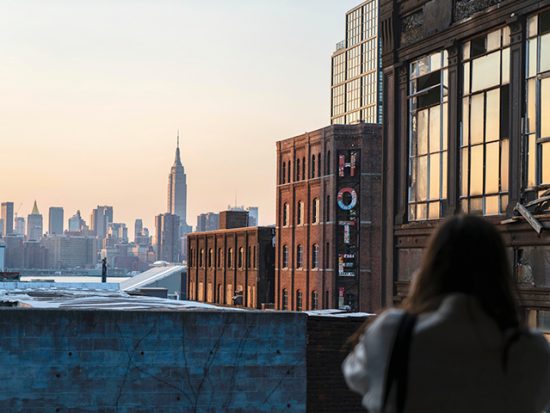 How dressed up do I need to get for a Broadway show?
Not very, unless you want to. Everything from leggings and sneakers to a floor-length dress is perfectly acceptable. Ditto for the opera, ballet, or symphony. Of course, seeing a performance gives you an occasion to dress up, which can be nice.
How many pairs of shoes should I bring?
To some extent that depends how long you're here, but generally no more than three. Try to wear your heaviest shoes on the plane. In colder weather, go for comfortable closed-toe flats, boots, and sneakers. In warmer weather, switch out the boots for sandals. If you don't wear sneakers, include a second pair of all-season, flat or low-heeled shoes. Leave the stilettos at home!
Will I need to bring my bulky, fur- or fleece-lined boots in winter?
There's always the chance of a major snowstorm, but it often melts quickly and the sidewalks get cleared (in Manhattan, anyway, though that might not be the case if you're staying in Brooklyn or other boroughs). The bigger challenge with snow is the slushy ice lakes that pool at street corners. What you need is something waterproof that can clean up easily. Plenty of ladies in New York wear tall rubber boots or true waterproof leather knee-high boots and a pair of wool or cashmere socks. The guys skip the galoshes and brave it in water-resistant lace-ups.
Do I need to carry my money in a fanny pack or an under-clothing money-holder, or can I bring a regular purse? What about a backpack?
We can't tell you not to bring a fanny pack if you'll be most comfortable with that option (and it's true they've come back into vogue), but it isn't a must as long as you practice smarts and mind your bag. Crossbody bags are better than backpacks, and most museums require that backpacks be worn in front, which isn't so comfortable. A zipped tote is better, but if you tote is opened, zip up cash or your wallet in the inside pocket. Keep it on the side closest to your body when you carry it and swing your arm over the top.
Do I need to bring a winter coat if I'm coming in early spring?
The short answer is yes—either a thin, lightweight down coat, a parka or anorak, or leather jacket with quilting or a thick lining. Plan on at least two layers underneath, including a sweater. For some winters, March can be as cold at February and it can snow in April. Don't rely on a true spring coat, like a jean jacket or unlined raincoat until the end of April. No matter what, definitely check the weather right up until you zip your suitcase to leave for the airport.
Related Stories