By Destination
The Ultimate Orlando Packing List
One of America's most-visited destinations, Orlando has a fun factor that just won't quit. This sunny Central Florida city attracts (and caters to) everyone from families to honeymooners to business travelers, thanks to thrill-packed theme parks, world-class resorts, and limitless dining and shopping options. If your family is looking for something to do after Disney, there are tons of fabulous outdoor adventures to keep all members of your gang busy and happy. Think: action-packed water sports, lush botanical gardens and woodlands, plus tons of native wildlife. Depending on what floats your boat, you'll need to pack strategically—and we've got it all in the bag. Yours, that is!
YOUR SUITCASE PACKING CHECKLIST
*Keep these items in your carry-on
Clothes to Pack
Underwear
Bras/camis/undershirts
Socks/tights
PJs
T-shirts
Pull-on/button-up shirts
Shorts/skirts
Sweaters/sweatshirts
Swimsuit
Shoes to Pack
Heels/dress shoes
Sandals/flip-flops
Sneakers/hiking shoes
Accessories to Pack
Purse
Hats (i.e. sun hat or baseball cap)
Jewelry*
Belts
Ties
Fold-down tote
Toiletries to Pack
Toothbrush
Dental floss
Body wash/soap
Deodorant
Face wash/makeup remover
Moisturizer
Contact lenses/solution
Razor/shaving cream
Shampoo/conditioner
Brush/comb
Earplugs/eye mask*
Tissues*
Hairdryer/styling tools
Hair elastics/hair accessories
Tampons/pads*
Birth control/condoms*
Hand sanitizer*
Bandages
First-aid ointment
Bug spray
Medications/vitamins*
Stain remover
Tech to Pack
Phone/charger*
Portable battery charger
Laptop/tablet/e-reader*
Device chargers*
Camera/video camera*
Memory card/film*
Other Essentials to Pack
Wallet (credit/debit cards/ID/cash)*
Passport/visa*
Keys*
Medical insurance card*
Snacks/gum*
Books/magazines/guidebook*
Laundry bag
Helpful Printouts to Pack
Emergency contacts*
Boarding pass/hotel and car rental reservations*
Maps/directions*
Bank/credit card contact info*
Copies of passport/ID*
ADD/SUBTRACT FOR LONGER/SHORTER TRIPS TO ORLANDO
Long Weekend
Underwear: 4 pairs
Bras/camis/undershirts: 3 pairs
Socks/tights: 4 pairs
T-shirts: 4 pairs
Jeans/pants: 2 pairs
Two-Week Trip
Underwear: 15 pairs (7 if access to laundry facilities)
Bras/camis/undershirts: 5 pairs
Socks/tights: 15 pairs
T-shirts: 12 pairs
Jeans/pants: 4 pairs
THE PERFECT LUGGAGE
Heading to Orlando for the weekend? The mid-sized Filson Rugged Twill Medium Duffle offers just the right amount of space. Three exterior pockets are ideal for stashing electronics or paperwork and the U-shaped dual zip allows for easy access. If you're spending a week in the Sunshine State, the lightweight Briggs & Riley Baseline Domestic Carry-On Expandable Upright is a great pick. Its extra-roomy, expandable interior compartment gives up to 25 percent more space for all those souvenirs you might pick up. For longer trip, we recommend Away's Large Suitcase, which is lightweight, durable, and stylish. Bonus: the removable nylon laundry bag keeps your dirty clothes in one place.
THE 3 PAIRS OF SHOES YOU'LL NEED FOR EXPLORING ORLANDO
Women's Shoes
Men's Shoes
There's so much to do in Orlando, active-minded travelers need the right footwear for the job. Theme-park fans know that you've got to have super-comfy walking shoes that'll also do double duty and look sharp while sightseeing or shopping. Spending some time poolside? Ladies, add a little bling to your feet with sparkly flip-flops that show off your vacation pedi. A closed-toe espadrille works for dinner out, and dancing afterward—without the searing pain of stilettos. Men can slip on snappy boat shoes for a casual day look that's still elegant enough for a night on the town.
FIVE FOOLPROOF OUTFITS FOR ORLANDO
1. WHAT TO WEAR IN DISNEY WORLD AND UNIVERSAL STUDIOS
So much to see! And so many long lines till you get there! Theme-park survival is all about choosing comfortable, breathable options such as a breezy ruffle blouse paired with retro-looking high-rise denim shorts, plus classic canvas sneakers that provide extra cushioning. And don't forget a packable straw hat that can be squished into a sturdy canvas backpack.
Women's Disney World Outfit
You can never have too many pockets when exploring a theme park, so cargo shorts that even provide a spot to store your water bottle are ideal paired with a soft-wash crew-neck T-shirt, and an embroidered twill ball cap professing your love for all things Disney. Sturdy sneakers keep away aches and pains, and a slim leather wallet offers hidden features that allow you to stash your cash while protecting your credit cards and ID.
Men's Disney World Outfit
2. WHAT TO WEAR AT THE POOL IN ORLANDO
A classic black one-piece swimsuit coupled with a lace-trimmed V-neck cover-up dress is the perfect go-to pool look. Leather sandals with an orange pop introduce some color to your feet, while pink oversized sunglasses and a wide-brim vented straw hat with a pretty satin ribbon trim protect you from the sun.
Women's Pool in Orlando Outfit
When the sun is strong, you'll be glad you chose lightweight board shorts that are fade-resistant and quick drying between dips. Stay cool wearing a 100 percent cotton garment-dyed T-shirt and comfy, durable slides. Top it all off with 1960s-inspired sunglasses.
Men's Pool in Orlando Outfit
3. WHAT TO WEAR TO THE KENNEDY SPACE CENTER
Layer a classic denim jacket over a pretty white blouse and you'll be ready for any type of weather. Skinny polka-dot pants with just the right amount of stretch offer a tailored silhouette, and your feet will thank you for slipping on a pair of cushioned leather sandals that give you all-day staying power.
Women's Kennedy Space Center Outfit
Lightweight and water-repellent, a short-sleeve button-down shirt works well with dri-fit shorts. Channel your inner James Dean with a vintage-vibe windbreaker and suede low-profile sneakers.
Men's Kennedy Space Center Outfit
4. WHAT TO WEAR AT A CONFERENCE IN ORLANDO
Get in the networking groove by donning a feminine moss-crepe shift dress with bow trim and leather crisscross wedge sandals that work as hard as you do. Gather up those conference handouts and business cards in a roomy calfskin leather tote trimmed in gold tone hardware.
Women's Conference in Orlando Outfit
Cut a relaxed yet tailored look with an unstructured, slim-fit suit jacket and pants in a cotton-linen blend that stays crisp all day. A sharp floral tie and blue herringbone dress shirt with French cuffs adds class without needing to be ironed after you unpack your suitcase, and cap-toe Italian leather oxfords complete the professional look.
Men's Conference in Orlando Outfit
5. WHAT TO WEAR FOR A NIGHT OUT IN ORLANDO
For a romantic evening out, go tropical by slipping on a yellow midi dress, block-heeled sandals to dance the night away, and a Brazilian-inspired wicker clutch. Speckled Lucite and wood hoop earrings are lightweight and glam.
Women's Night Out in Orlando Outfit
Orlando nights call for classic slim black wash stretch jeans, an untucked blue poplin shirt with enough stretch to show off your moves, and a neutral denim jackets for when a chill sets in. Brown canvas vulcanized sneakers dress up the look while providing a comfy natural rubber sole.
Men's Night Out in Orlando Outfit
WHAT NOT TO PACK FOR ORLANDO
Even if you're traveling to Orlando in mid-January, here's one thing you can happily leave behind: your down parka. Temperatures may dip at night, but as long as you've packed several light layers, you'll be good to go.
Planning to immerse yourselves in all things Disney? Be sure to take a peek at the long list of items the security folks will insist you leave at the gate. Things like drones, large coolers, folding chairs, glass containers, and selfie sticks are all major no-nos. Other theme parks, such as Universal Studios Orlando, also have restrictions, and don't pack T-shirts with snarky slogans that can be deemed offensive.
Locals and tourists tend to dress more on the casual side, so skip the slinky heels and fancy evening wear. Men won't need a full three-piece suit and women should think in terms of maxi dresses over cocktail dresses. That is, unless you're hitting the conference circuit. (See our networking outfit suggestions below.)
THE *ONE THING* WTP EDITORS ALWAYS BRING TO ORLANDO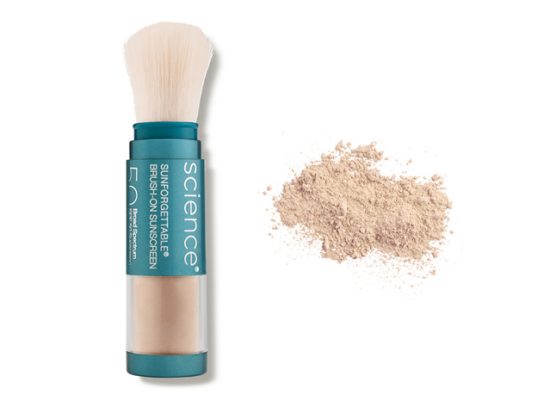 Florida means sunshine. And sunshine means sunscreen. Not just the kind that you dab on in the morning before you dash out the door. No, we're talking about the kind to keep at the ready to do battled with those serious UV rays. As any good dermatologist will tell you, sunscreen degrades over time, so your best bet is to keep reapplying like clockwork. Hey, we'd like our Orlando souvenir to be a pair of mouse ears, not premature wrinkles or—yikes!—a brush with skin cancer. If you're topping up your sunscreen, skip the messy, gloopy bottles and do a simple, quick dusting of this powdered option from Colorescience.  —WTP Editors
ORLANDO'S WEATHER AND SEASONS
While the weather in Central Florida can be unpredictable, you can rest easy knowing that you'll never hit a snowstorm. One of Orlando's biggest selling points is its mild weather. It averages 233 sunny days per year, making it a great place to visit and tour year-round. Generally, July offers plenty of humidity and sweltering temperatures of up to 90° F, and January can be fairly frosty with lows hovering around 28° F at night. Rain is most common in June, and you can expect some summer showers through August. For most months, shorts, sandals, and light tops are perfect for daytime, while evenings will call for a wrap or sweater to ward off the breeze or strong air-conditioning. And if you're popping in during the coldest months, a warm jacket, scarf, and even lightweight gloves are a good bet.
Note: Below is a packing forecast, not a traditional forecast. A packing forecast focuses on how cold it's likely to be in the early mornings and evenings based on historical data. We recommend using this together with a traditional forecast as you get closer to your departure date. This data comes from our friends at Weather Underground.
JANUARY
Plan for day temps between 40° F and 59° F
Temps will drop near 28° F at night and into the early mornings
Expect 0.06 inches of precipitation in January
What to Wear in Orlando in January: Since January is the coldest month of the year in Orlando, plan on wearing a toasty warm jacket, light scarf, and convertible gloves that allow you to text.
Recommendations: Women's lightweight puffer jacket, women's thin scarf, beanie, convertible gloves.
FEBRUARY
Plan for day temps between 61°F and 72° F
Temps will drop near 50° F at night and into the early mornings
Expect 0.01 inches of precipitation in February 
What to Wear in Orlando in February: A classic trench coat or a super soft wrap are ideal for February's warmer days and cooler night. This is a great month to show off cute bright red suede booties, without fear of snow and salt ruining them.
Recommendations: Women's trench coat, women's booties, women's luxe wrap.
MARCH
Plan for day temps between 56° F and 66° F
Temps will drop near 43° F at night and into the early mornings
Expect 0.08 inches of precipitation in March
What to Wear in Orlando in March: If you're braving the spring break crowds at the theme parks, plan on wearing ultra-comfortable shoes, because you'll be standing in lots of lines. A waterproof jacket that folds up super small is also a must-have this month, as is a convenient lanyard to hold your park passes and credit cards.
Recommendations: Women's packable jacket, men's waterproof shoes, lanyard.
APRIL
Plan for day temps between 64° F and 74° F
Temps will drop near 54° F at night and into the early mornings
Expect 0.05 inches of precipitation in April
What to Wear in Orlando in April: Pleasant weather means you can strip off heavy outer layers and feel that Florida sunshine on your face! Be prepared for short-lived showers, though, by stashing an umbrella in your daypack.
Recommendations: Compact umbrella, daypack, women's light jacket.
MAY
Plan for day temps between 73° F and 77° F
Temps will drop near 64° F at night and into the early mornings
Expect 0.26 inches of precipitation in May
What to Wear in Orlando in May: Although most locals don't jump into the pool at these temperatures, tourists are always welcome to break out the shorts and tees.
Recommendations: Women's cargo shorts, men's short-sleeved polo, women's Mickey tee.
JUNE
Plan for day temps between 78° F and 83° F
Temps will drop near 71° F at night and into the early mornings
Expect 0.11 inches of precipitation in June
What to Wear in Orlando in June: Water lovers, it's time for swimsuits, flip flops, and statement sunnies. June is a great month to take a dip in the hotel pool!
Recommendations: Women's swimsuit, women's sunglasses, men's swimsuit.
JULY
Plan for day temps between 80° F and 83° F
Temps will drop near 72° F at night and into the early mornings
Expect 0.18 inches of precipitation in July
What to Wear in Orlando in July: During the hottest month of the year, less (clothing) is more. Choose sweat-wicking active wear, lightweight dresses, and re-apply sunscreen often.
Recommendations: Men's mesh T-shirt, women's tee dress, sunscreen.
AUGUST
Plan for day temps between 81° F and 83° F
Temps will drop near 73° F at night and into the early mornings
Expect 0.28 inches of precipitation in August
What to Wear in Orlando in August: Humidity shows no signs of letting up in August, so breathable clothing is your best bet. Too much sun? You'll want to slather on aloe lotion, too.
Recommendations: Aloe lotion, men's sun-shielding shirt, women's swimsuit cover-up.
SEPTEMBER
Plan for day temps between 81° F and 84° F
Temps will drop near 75° F at night and into the early mornings
Expect 0.12 inches of precipitation in September
What to Wear in Orlando in September: Plenty of sunshine this month, so a wide-brimmed sun hat will be your go-to protection. Dress shorts and cropped jeans are perfect eveningwear for the warm temperatures.
Recommendations: Women's sun hat, women's cropped jeans, men's dress shorts.
OCTOBER
Plan for day temps between 65° F and 79° F
Temps will drop near 55° F at night and into the early mornings
Expect 0.05 inches of precipitation in October 
What to Wear in Orlando in October: Locals say October is the best month to visit Orlando, because it's not too humid, and there's very little rain, so a light sweater is all you need at night.
Recommendations: Women's sweater, men's jeans, women's sandals.
NOVEMBER
Plan for day temps between 48° F and 70° F
Temps will drop near 39° F at night and into the early mornings
Expect 0.04 inches of precipitation in November
What to Wear in Orlando in November: Since you never know what November brings weather-wise, best to pack light layers.
Recommendations: Women's moto jacket, men's fleece zip, women's lightweight sweater.
DECEMBER
Plan for day temps between 49° F and 64° F
Temps will drop near 39° F at night and into the early mornings
Expect 0.03 inches of precipitation in December
What to Wear in Orlando in December: While you may not have a white Christmas in Orlando, you're likely to face a chilly one, so stock up on warm layers this month.
Recommendations: Women's cardigan, men's packable puffer jacket, women's gloves.
FREQUENTLY ASKED QUESTIONS ABOUT PACKING FOR ORLANDO

We're going to Orlando during the winter; do we need to pack gloves or a hat?
As we mentioned in the weather and seasons guide above, Orlando temperatures vary during winter months, so everything from long-sleeved tees to a zippered fleece should get thrown into your suitcase. Don't be like those clueless tourists forced to fork over big bucks for a Minnie Mouse hoodie when temperatures dip below tank-top weather! A light scarf and finger gloves take up little space, so if you tend to get cold, bring them along—just tuck them into a sneaker when you're packing.
We're avoiding the theme parks and are planning on some active adventures outside of Orlando—what should we bring?
Board shorts are perfect if you'll be water-skiing or kayaking. Sunglasses with a sports strap and a hat that won't fly off during your parasailing stint or that airboat ride through the swamps of Kissimmee are must-haves. Long-sleeved moisture-wicking tops come in handy, too, and don't forget to slather on lots of sunscreen, even if you think the sun's not strong.
Our family will be spending lots of time at waterparks and the resort pool. What do we need?
Since you'll be splashing and dashing from slides to chutes to lazy rivers, bring plenty of—you guessed it—waterproof sunscreen. Tote along some long-sleeved rash guards for the kids if they're prone to sunburn. Make sure everyone's wearing sturdy athletic sandals or water shoes, as you'll be on your feet all day. Roll up a couple of quick-dry towels for your visit to the parks, and have a dry change of clothing on hand. And pop a few reusable water bottles into your daypack so you can all stay hydrated.
We want to hit the stores and shop till we drop; what should we pack?
Orlando's renowned Florida Mall has 270 stores and spans nearly two million square feet, so wear comfortable and supportive shoes rather than suffer the blistered consequences. Dress in light layers, since indoor malls usually have one temperature: arctic freeze. And don't wear anything with lots of complicated buttons or zippers if you plan on trying on lots of clothes. Pack some portable snacks in your daypack, such as granola bars, trail mix, and bottled water.
What's the dress code at night in Orlando?
Relaxed attire works in most dining and entertainment venues, since so many visitors head there straight from the theme parks. During the warmer months, dress shorts and a collared polo works for men, while women will be fine in a sundress or capris with a cute top. And remember that most restaurants and clubs blast the AC, so be sure to carry a light jacket, cardigan, or wrap with you.
Related Stories