Packing Tips
The 10 Best Travel Shoe Bags, According to Amazon Shoppers
Given the variety of packing cubes and pocket-equipped suitcases available, you might overlook travel shoe bags. But their utility is undeniable, even if you don't consider yourself a hyper-organized packer. Typically nylon or cotton with zippered or drawstring closures, travel shoe bags are a simple solution for maintaining an orderly suitcase, as well as keeping the dirt and grime on your soles (ew) away from your clothes. And there are options for all types of travelers, whether you tend to pack multiple pairs, need space for slim sandals or bulky sneakers, or tend to explore the great outdoors. Here are the best travel shoe bags, according to Amazon shoppers. Get organized! 
1
Best Overall Shoe Travel Bags
The beauty of these travel shoe bags is their translucent window. You can see immediately which pair is inside—so no more rummaging around in your suitcase to find your white sneakers or hiking boots. Lermende improved the bags' overall design based on buyer feedback, adding the window as well as a convenient top handle, more durable zipper, and easy-to-clean fabric. That seems to be paying off: 84 percent of Amazon ratings are five-star. Writes one reviewer, "These combined with packing cubes also make frequent packing and unpacking (e.g. when moving around between different hotels) much easier and faster." Sold!
Shop Now
2
Best Multi-Pack of Travel Shoe Bags
Yamiu Travel Shoe Bags (Set of 4)
A muddy hike in Ireland or a long walk through London in the rain could leave your boots or sneakers seemingly unpackable. Next time—before you find yourself in such a predicament—be prepared, with these waterproof nylon bags from Yamiu. This four-pack includes two standard-size bags (for shoes under size 10) and two x-large-size bags (for men's shoes size 10 to 14), complete with sturdy zippers and a lifetime warranty. That's just smart shopping.
Shop Now
3
Best Versatile Travel Shoe Bags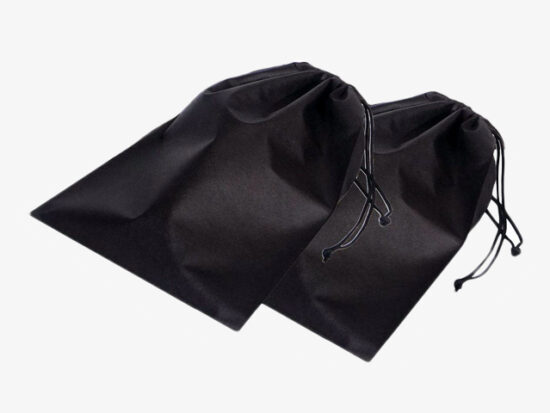 Diommell Travel Shoe Bags (set of 10)
Whether you're prepping for a trip (like a destination wedding) that requires numerous shoe changes, or want to have extra bags on hand for dirty laundry, this set of 10 jumbo-size travel shoe bags from Diommell will do. The substantial non-woven fabric keeps scuffs at bay, so you can rest easy knowing your shoes will look sharp during your travels. The thick drawstrings make for quick and easy access, and the generous sizing means you can "stack sandals and use vertical space for heels," according to one reviewer. Plus, they're large enough for packing a wet kids' beach towel and swimsuit. Versatile!
Shop Now
4
Best Travel Shoe Bags for Family Travel
Misslo Portable Nylon Travel Shoe Bags
If you're the kind of traveler who ends up shoving your family's shoes into plastic grocery bags while you're on the road, there is a better way. One reviewer who admitted to the aforementioned "tacky but practical" method is now a convert to these tear-resistant, zippered nylon Misslo travel shoe bags. And the four-pack allows parents and kids to pack their favorite shoes for the road. Writes one reviewer, "It held several pairs of shoes for our little ones (toddler sizes 6, 9/10). I was able to fit up to two pairs for myself (size 7 U.S.). My husband had a couple for him (size 11.5/12 U.S. men)."
Shop Now
5
Best Cotton Travel Shoe Bags
These simple and sweet Misslo travel shoe bags are made from breathable cotton, so you can toss them in the washing machine after a trip. The drawstrings pull closed to keep sneakers and shoes free of dust—and keep your suitcase neatly organized. Misslo's cotton bags are available in a few different sizes, but the small version is best for shoes, including pricier ones. Says one reviewer, the pouches are "a must have for any owner of high end shoes." Fortunately, they do the job without breaking the bank.
Shop Now
6
Best Travel Shoe Bags for Flats and Sandals
It's easy to tuck sandals or flats into these non-bulky white mesh bags by Plusmart. The polyester fiber fabric is super lightweight and breathable, with blue anti-slip zippers to keep shoes securely in place. Writes one reviewer, "At times I am able to carry two pairs of shoes in one bag, it just depends on the type of shoe (usually sandals and/or flats)." Moreover, she uses them for trips to the gym, to keep her shoes separate from her clothes. "Using the travel shoe bag makes it more convenient to pack all items inside of my workout bag," she writes.
Shop Now
7
Best Travel Shoe Bags for Overpackers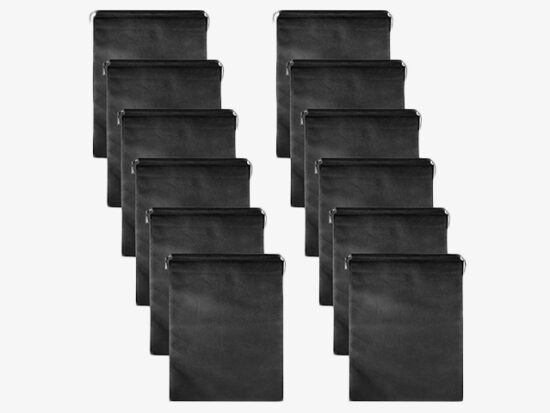 JoyousBuy 12-Piece Travel Shoe Bag
Water repellency and durability are musts when it comes to travel shoe bags, and these drawstring versions from JoyousBuy offer both. The 210 Denier Polyester fabric is sturdy and keeps your shoes clean and dry (even ankle boots, according to one reviewer). While the pouches are plain black, they can be customized with a bit of creativity. One crafty reviewer used fabric paint to "distinguish what type of shoes are in each bag." Moreover, the 12-pack is a great buy for shoe hounds who tend to pack multiple pairs for each trip.
Shop Now
8
Best Patterned Travel Shoe Bags
Zmart Portable Travel Shoe Bags
Keep your shoes clean and your luggage looking colorfully organized with these flower-patterned shoe bags by Zmart. Along with being stain resistant, water-repellant, machine-washable, and made of tough nylon fabric, these zippered pouches will make you smile when you open your suitcase. One pitfall might be the size of the bags, however. "I wear a size nine (women's) shoe, and some of my shoes were a tight fit in," said one reviewer. Comes with a one-year guarantee.
Shop Now
9
Best Durable Travel Shoe Bags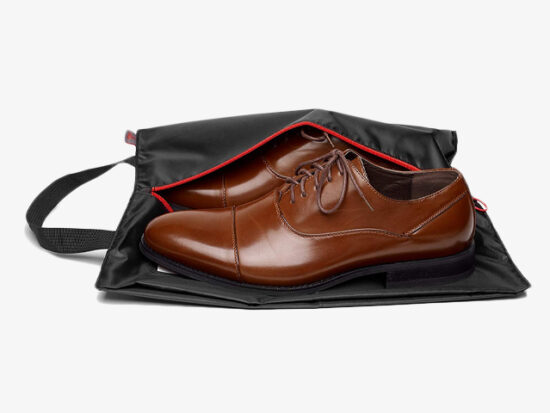 Tuff Guy isn't playing around: the brand's drawstring-closure travel shoe bags are made of waterproof ballistic nylon, a high-performance material originally developed for World War II airmen flak jackets. This package includes four bags, each large enough to hold a pair of size-14 men's shoes. Different reviewers claim that one bag can fit two pairs of women's shoes, or a large pair of men's sneakers, or a pair of mid-calf women's boots.
Shop Now
10
Best Budget Travel Shoe Bags
Richards Homewares Travel Shoe Bags
If you want an inexpensive, no-fuss solution to keep your shoes separate from your clothes, then this set of three 12-by-15-inch pouches by Richards Homewares could be just the ticket. The water-repellent nylon will keep your shoes in place, but these bags are best suited to shoes that you're not planning to get too muddy, wet, or dirty. As one reviewer notes, any debris or moisture could slip through the drawstring closure and relatively thin fabric. Still, it's hard to beat this price.
Related Stories
All products have been hand-picked by our writers and editors. Items purchased through links may earn us a commission.