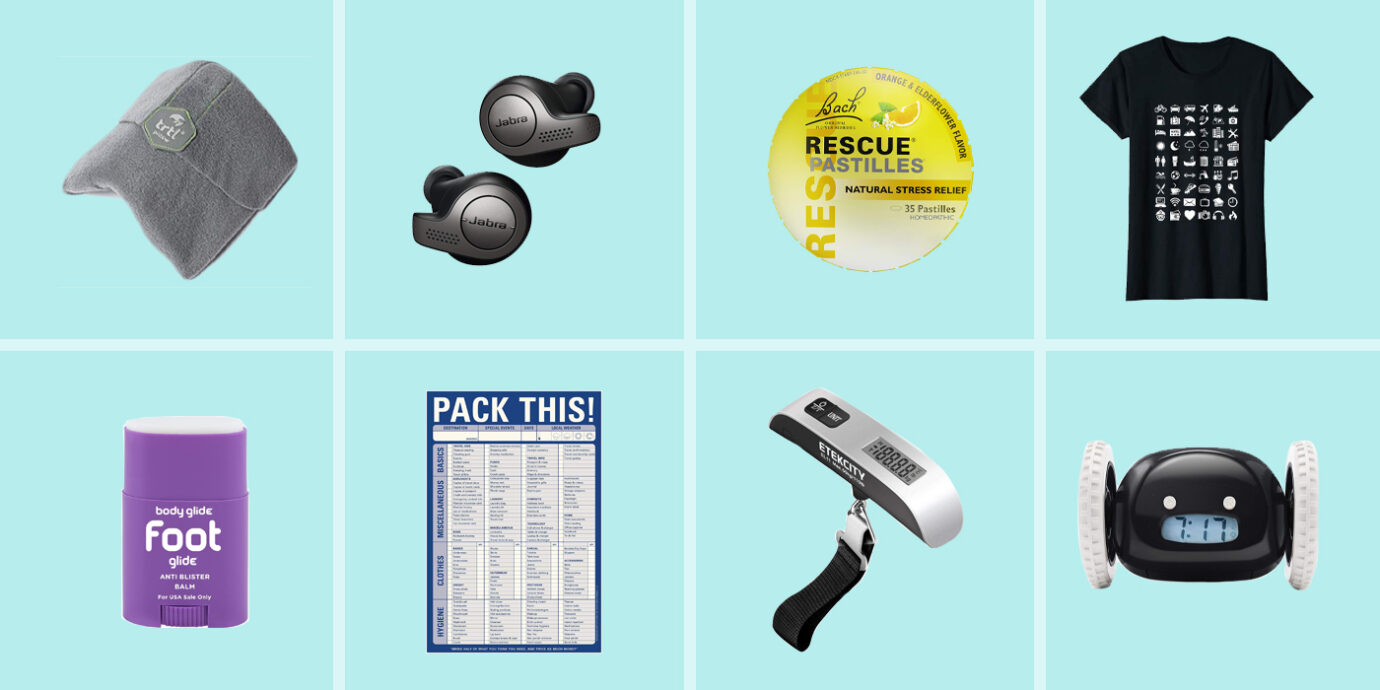 Gear
Innovative Amazon Gear That Reduces Holiday Travel Stress and Anxiety
You've booked a holiday trip and couldn't be more excited, but there's one small hurdle to get over: travel anxiety. Don't fret. If you fall into the "nervous traveler" camp, the right travel gear and prep can tone down your anxiety and bring some much needed relief. We've found 15 products on Amazon to help you feel better, so you can get back into vacation mode. Read on for the items that'll calm those frayed holiday nerves.
WORRY #1
I'll Sleep Through My Alarm and Miss My Flight!
Solution: Clocky, the Original Runaway Alarm Clock
How does anyone fall asleep before an early morning flight? The night-before-a-flight jitters are real. Just as you're about to doze off, you jolt wide awake. "What happens if I turn off my alarm and fall back to sleep? I'll sleep straight through my flight!" If you only fall asleep long enough to have stress dreams about the airplane taking off without you, you need to buy Clocky, the Original Runaway alarm clock. Sure, it has a silly name, and you'll curse it as you chase this rolling, squawking alarm clock around your bedroom in the morning. But, you'll also thank it when your feet are on the floor and you're wide awake—with plenty of time to get to the airport.
WORRY #2
I'll Forget Things or I'll Pack Too Much!
Solution: Knock Knock Pack This! Pad
Tossing things into a suitcase at random is beyond stressful—and it's how you end up in Aruba without any underwear. That's why we offer packing lists with loads of advice by destination. Or, use our Foolproof Universal Packing List. However, if you're the type that prefers doing things on paper, you can grab the Knock Knock Pack This! Pad packing list. It has categories for basics, hygiene, clothes, and miscellaneous. Spaces at the top allow for special events and the weather forecast. Simply check items off the list as you add them to your suitcase, and you'll never forget your underpants again.
WORRY #3
My Items Become a Jumbled Mess Inside My Suitcase!
Solution: Stow-N-Go Portable Luggage System
Keeping your suitcase streamlined, easy to carry, and organized is the ultimate weapon in your battle against packing anxiety. The Stow-N-Go Portable Luggage System is just the thing. It's a compression system, organizer, and on-the-go closet in one tidy package. Durable hanging shelves extend upward to give you a spot to stow everything—extra helpful when your hotel room lacks drawers or closet space. Even packing cube fanatics have switched over to the Stow-N-Go. On arrival, simply unroll the compartments accordion-style and hang it in the closet or over the back of a door—all your stuff will be wrinkle-free and right at your fingertips. You'll feel like a packing magician.
WORRY #4
All My Chargers Turn Into a Tangled Ball!
Solution: Brouk & Co. Travel Cord Roll
Phones, cameras, laptops, and tablets have all made travel more convenient, but their various chargers and wires create an unsightly mess of tangled cords in your suitcase or backpack. Fight cord mayhem with a travel cord roll, like this one from Brouk & Co. Each roll neatly holds up to eight cords and the two small pockets are perfect for stashing plugs. After you neatly place everything inside, simply roll the case up and secure it with the vegan leather tie. Voila! The mess is banished.
WORRY #5
My Suitcase Will Weigh Too Much and I'll Get Slammed With Fees!
Solution: Etekcity Digital Hanging Luggage Scale
Overpackers know the pain and humiliation of hauling a huge suitcase on to the airport scale and watching the numbers tick over the weight limit. Packing a suitcase that's too heavy either means paying excess fees (sigh) or tearing your suitcase apart in the terminal, trying to move shoes and books to your carry-on (double sigh). There's a better way. Check out our guide to luggage weight restriction and fees, and then buy the Etekcity luggage scale so you can be sure your bag isn't too heavy. This electronic scale is lightweight, easy to use, and very accurate. It's much simpler than stepping on a body scale while holding your packed suitcase, that's for sure.
WORRY #6
I Won't Sleep on the Plane and I'll Be Exhausted!
Solution: Nidra Deep Rest Eye mask
You might feel a little silly wearing this eye mask on a flight, but it's one of the best ways to ensure sleep. The Nidra Deep Rest Eye Mask not only blocks out natural light, it's designed to help you relax and fall asleep faster. The contoured eyecups rest over your eyes (not flat against them) which allows for more movement (and won't mess with your mascara) and the unstructured nose gap works with all face shapes. Just be sure to ask your neighbor to wake you up for the breakfast cart.
WORRY #7
I'll Be in the Middle Seat With Nowhere to Rest My Head!
Solution: Trtl Pillow
Getting the dreaded middle seat on a red-eye is a bummer, but the Trtl Pillow makes it more manageable. This ingenious travel pillow has over 2,000 five-star Amazon reviews for a reason—it's comfortable. Think of it less as a pillow, and more of an ergonomic neck adjuster. The tortoise-like shape keeps your neck supported and aligned while you're sitting up, which you definitely are if you're stuck in the middle seat. Essentially, the pillow gently prevents your head from nodding forward as you sleep, which can jerk you awake. And, the Trtl is machine washable, in case germs also make you nervous.
WORRY #8
I'll Be Seated Near a Screaming Baby!
Solution: J
abra Elite 65t Earbuds
Screaming babies or overly chatty seatmates can wreck your flight. It pays to be prepared with top-tier earbuds. Jabra Elite day 65t earbuds are our go-tos for in ear comfort and durability. They're wireless and have a solid five hours of battery life. Download a white noise machine sound (or crickets, if that's your thing) on your phone and drift off to slumberland. You can even set an alarm that won't bother your neighbor.
WORRY #9
My Suitcase Will Get Lost!
Solution: GEGO Luggage Tracker
The fear of airlines misplacing your luggage isn't all in your head. Airlines mishandled 21.8 million bags in 2014. There's little you can do to ensure your suitcase won't get lost, but GEGO Luggage Tracker is the next best thing. Simply place this small gadget in your checked luggage, and then track its journey through the smartphone app. The rechargeable battery is incredibly long lasting and the tracker meets TSA requirements. If your bag goes missing, you can use the tracker information to tell the airlines exactly where your suitcase is—ensuring a faster reunion between you and your clothes.
WORRY #10
I'll Lose My Important Documents!
Solution: Zoppen RFID Blocking Passport Wallet
Organization is key to making sure you don't lose anything while on the go, but it can be hard to keep track of everything when you're rushing through airport security and boarding. This streamlined wallet has ample space for all your travel documents: passport, boarding pass, three credit cards, driver's license, SIM card pouch, cellphone pouch, billfold, key holder, pen holder, and zippered pocket for coins. Phew! That's a complete list. Bonus, the RFID blocking ensures credit cards are secure from electronic thieves. Pro tip: take the time to put everything back where it belongs inside of the wallet, instead of throwing your driver's license in your purse or pocket. That's a great way to misplace something invaluable.
WORRY #11
My New Shoes Will Hurt My Feet!
Solution: BodyGlide Anti Blister Balm
Buying new shoes for a trip is a great idea, but you don't always have time to break them in before it's time to pack them up. To prevent blisters and sore feet, add a stick of anti-blister balm to your suitcase. BodyGlide is made from plants, like apricot and comfrey leaf essentials, and one quick swipe will prevent uncomfortable rubbing that leads to blisters and pain. If it's good enough for marathon runners, it's good enough for vacation strolling.
WORRY #12
I Can't Communicate—I Only Speak English!
Solution: Travel Icon T-Shirt
Headed to a country where you haven't fully mastered the language? Sure, you should download translation apps or carry a travel dictionary, but why not cover all your communication bases and don this travel icon T-shirt. Simply point to images of everything from a train to a toilet to get your needs met. And, if you're looking to make new friends—this shirt is definitely a conversation starter in any language.
WORRY #13
I Won't Find Anything I Like to Eat!
Solution: Sriracha Keychain
Trying new foods and sampling different cuisines is the best part of travel for many people. For others, the thought of finding something to eat on a new menu can be a source of stress. Enter: the Sriracha Keychain. Simply fill the miniature container with your favorite condiment of choice, and spice up whatever you order with familiar flavors of home. Beyoncé kept hot sauce in her bag, you can keep it on your keychain.
WORRY #14
Someone Will Swipe My Money!
Solution: Undercover Money Belt
Theft can happen anywhere. But if you're especially nervous about traveling with cash and credit cards, check out Eagle Creek's money belt. This small silk pouch is designed to sit smoothly under your clothes and stay completely hidden. The silk fabric is moisture wicking and feels soft against the skin. And accessing your money isn't too tricky, since you can pull it out from your waistband. Ladies can also consider the brand's beloved "bra stash."
WORRY #15
I Don't Know, I'm Just Nervous!
Solution: Bach Rescue Pastilles for Stress Relief
If you reach for candy when you're stressed, then Bach Rescue Pastilles will kill two birds with one stone—or pastille. They're available in four tasty flavors (black currant, cranberry, lemon, and orange and elderflower) and use floral ingredients to help you calm down and relax. The homeopathic remedy (over 80 years old) brings a natural sense of calm, without making you feel groggy or light headed. It's more soothing than a sedative, just what you need for any pre-travel nerves.
More Stress-Relieving Items from Amazon
Related Stories