Shop
The 12 Ultra-Luxe Beauty Products We're Buying From the Nordstrom Anniversary Sale
We covet ultra-luxe beauty products all year long, but the price tags make us pause. (Diptyque candles cost how much?) That's why we're flipping out over the Nordstrom Anniversary Sale, with deals on everything from La Mer's miraculous moisturizing cream to Dior's cult-following lip kit. And—bonus—these ultra-luxe beauty products make ideal holiday gifts, if you're the type to shop ahead. Read on for our favorite splurge-worthy ultra-luxe beauty products at reduced prices—your makeup bag is about to get seriously upgraded.
1
La Mer Mini Miracles Gift Set
La Mer consistently ranks at the top of every Hollywood A-lister's must-have beauty list. The most ultra-luxe of all ultra-luxe beauty products, this iconic French cream provides serious softness. These discounted minis offer a great way to test out the treatment lotion, eye concentrate, and moisturizing soft cream. But we're sure Chrissy Teigen will skip the minis and go straight for the jumbo eight-ounce jar. 
On sale for $90
2
Laura Mercier Signature Eye Palette
Laura Mercier's beautiful and blendable portable palette gives an easy way to master the perfect eye shadow look. Nine soft shades (from nude to gold shimmer) are designed to offer glamour on-the-go. Build layers on top of each other, or swipe the black color along your lash line for a fast and finished eyeliner style. The high quality eyeshadow brush and mirror go everywhere you do.  
On sale for $59
3
GloPRO® Microneedling Regeneration Head-to-Toe Glo Set
Curious about at-home microneedling, aka the process of triggering your skin's natural collagen production and delivering products below the surface? The GloPRO set is a great place to start. It's stocked with everything you need from skin prep pads to the regeneration tool (with stainless-steel micro needles) to an anti-aging serum. This tool can be used on your face or body so you can skip the dermatologist and opt for the privacy of your own bathroom. Sign us up! 
On sale for $179
4
Voluspa Maison Blanc Mini Tin Candle Set
Banish stale hotel room smells for good with cult-favorite Voluspa travel candles. Scents like prosecco bellini and macaron linger for hours after you extinguish the flame. And haven't you always wanted to be the type of glamorous traveler who lights a candle before sinking into the bathtub? 
On sale for $17.90
5
Tom Ford Soleil Blanc Shimmering Body Oil Mini Duo
Straight from the Editor's Choice in our Ultimate Las Vegas Packing List, Tom Ford's Soleil Blanc Shimmering Body Oil will add a subtle sexy sheen and intoxicating white floral fragrance to whatever look you pair it with. We suggest highlighting your collarbone for day and going for a full-body application at night. Shine on! 
On sale for $72
6
Supergoop! Invincible Setting Powder & Refill Set
Sunscreen is a daily requirement, and with a deal this good on Supergoop!, you can freely reapply. The 100% mineral (read: powder) and sweat-resistant formula is spill proof and completely portable, making it easy to reapply broad-spectrum UV protection AND reset your makeup on the road. This is also loaded with ceramides and olive glycerides to provide moisturizing and protective properties. If you're looking for an ultra-luxe beauty product in sunscreen form, this is it. Goodbye sun damage, hello summer days. 
On sale for $39
7
T3 Cura Hair Dryer
A professional-style hair dryer that fights frizz in a fraction of the time at a fraction of the cost? It's a win-win. The T3 Cura Hair Dryer uses ion technology and digitally controlled heat to smooth and dry hair cuticles. Rose gold details elevate it above the usual hair tools, so you can leave it on the bathroom vanity proudly. 
On sale for $155
8
Dior Addicted to Glow Deep Glow Set
Dior's Glow line revolutionized the "no makeup" makeup look. Equal parts lip care and lip look, this trio (in a chic pink Dior makeup bag with a star-accented zipper) consists of a moisturizing balm, lacquer stick for shine and color, and a lip plumping gloss for pout. Swipe, swipe, swipe, and go. 
On sale for $70
9
Jo Malone London Miniature Fragrance & Body Set
Did you know Jo Malone London fragrances were designed to be layered? Well, thanks to this fragrance and body set you can afford to buy more than one scent. Start with the English Pear & Freesia Body Cream, then spritz on a layer of Wood Sage & Sea Salt, and top with Nectarine Blossom & Honey. And we promise, the fragrance lasts all day, which makes this an even smarter buy.
On sale for $47
10
Kiehl's Facial Fuel Energizing Moisture Treatment Duo
Kiehl's Facial Fuel is a godsend for men who want to slather on one cream and be done. It's packed with chestnut extract, soy, and vitamins C and E, for moisturized and soft skin. This deal is a duo, so you can keep one bottle in the medicine cabinet and one in your dopp kit. One and done. 
On sale for $60 (for two)
11
neuBROW® Brow Enhancing Serum Full Size Duo
Raise your hand if you want thicker, fuller eyebrows. This product uses an effective cocktail of amino acids, keratin protein, and peptides to repair damage and encourage hair growth. Most users see noticeable results after a month of use, and the serum is a whopping half-off during the anniversary sale. For over-pluckers, it's a miracle in a tube. 
On sale for $100
12
Living Proof Perfect Hair Day Deluxe Trio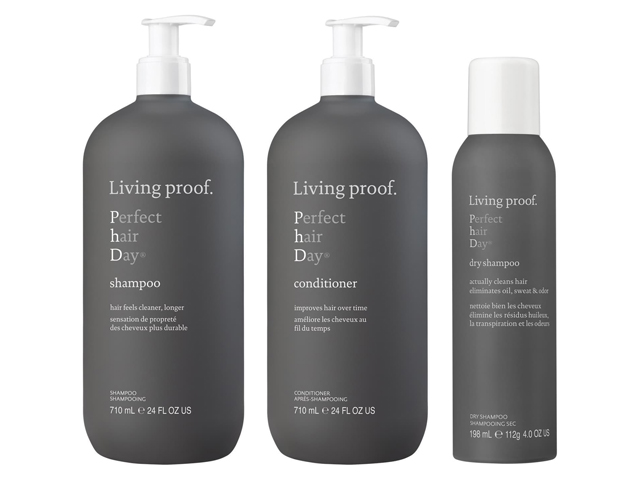 The value on this perfect hair day deal could be the best of the bunch: Super-size 24 oz bottles of Living Proof shampoo and conditioner usually retails at $60 each, and then it's another $25 for the award-winning dry shampoo (which got our seal of approval). But for the Nordstrom Anniversary Sale, all three ultra-luxe, hair-changing products are $89. Dreamy, hair-commercial-level good hair is now accessible. 
On sale for $89
Related Stories
All products have been hand-picked by our writers and editors. Items purchased through links may earn us a commission.