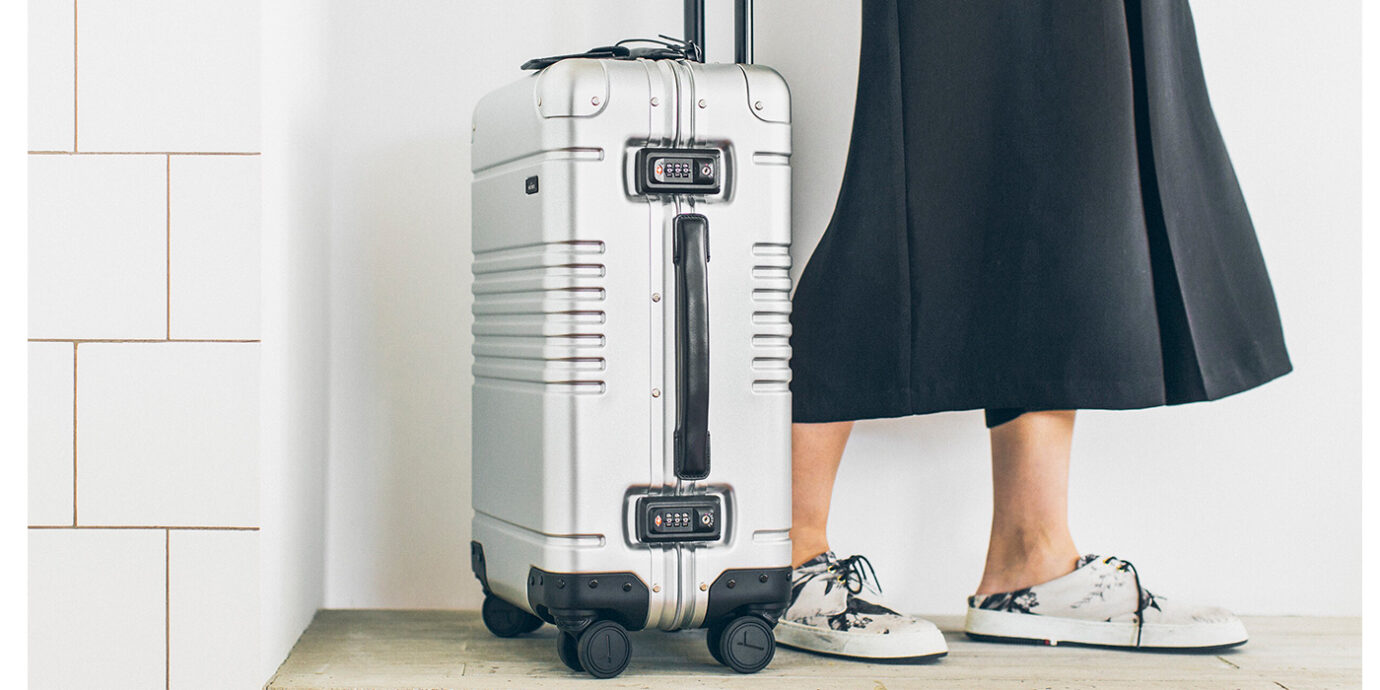 Shop
13 Insane Luggage Deals on Offer This Labor Day
If you're bummed about summer's end and September's sudden arrival, consider this serious silver lining—Labor Day sales! Frequent flyers know this is the time to score a deal on luggage, and this Labor Day has them in spades. We searched the internet high and low to find the best deals on carry-ons, checked bags, packing cubes, duffels, and more.
1
Samsonite Freeform 21-Inch Spinner
This could be the best deal of the bunch: Not one, but two promo codes—double the thrill on one suitcase purchase! This 21-inch Samsonite spinner bag is already a great buy, with a super-high-quality case, multidirectional wheels, and a built-in TSA lock. The lightweight expandable hard-side, ordinarily priced at $320, comes down to $160 with the code LABORDAY. Throw in code EXTRA20 next to see an additional $32 fall off the price. People, that's $192 in total savings! The double promo-code fun is on offer now through September 3.
Buy Now at Samsonite
2
Columbia Rail Trail Loop 24-Inch Expandable Spinner
Columbia's hard-shell rolling case is a great fit for trips clocking in at around a week. Four spinner wheels turn on a dime, top and side handles make the occasional lift a breeze, and expandable zippers come in handy if you go overboard on the souvenirs. Best of all, it's HALF off through September 3.
Buy Now at Columbia
3
Kooba Leather Zip Tote Bag
Nordstrom Rack's legendary Clear the Rack event is right around the corner (August 30 to September 2, to be exact). It's a bonanza of super-discounted clothes, shoes, and accessories for men, women, and kids. But what really catches our eye is this spacious leather tote—it's the perfect size for a personal item or, for the ultra-light packers out there, an overnight bag holding a change of clothes and essentials like toiletries and undergarments. During Clear the Rack, take an extra 25% off, bringing the total price down to around a quarter of its original $398 price tag.
Buy Now at Nordstrom Rack
4
Eagle Creek Expanse Carry-On
We named Eagle Creek's best-selling Expanse Carry-On bag one of our favorite pieces of lightweight luggage, so you can imagine how thrilled we were to see it marked down. Sturdy and dependable, this suitcase checks every box: compression straps, lockable zippers, and an expandable body. Not only is this bag 25% off from now until September 3, but it's covered for life by Eagle Creek's fabulous "no matter what" warranty.  
Buy Now at Eagle Creek
5
Bric's Bellagio 2.0 21-Inch Rolling Carry-On
Technically this 21-inch Italian leather-accented case by Bric's is part of a larger fall sale, but it gets a shoutout here because it is currently a whopping 30% off the usual price. Made of lightweight yet highly resilient polycarbonate, this swanky little spinner swirls around on four double Hinomoto wheels and features a clamshell design whose two compartments allow you to easily organize your stuff. 
Buy Now at Nordstrom
6
The North Face Base Camp Duffel Bag
When it comes to duffels, we're big fans. They deliver plenty of room for weekend getaways or even multi-day trips. This eye-catching version in hard-core nylon from The North Face features a 50-liter capacity, as well as interior and exterior pockets for stashing essentials and grab handles and a padded strap that make it easy to carry. Plus, it's 20% off with code LABORDAY through August 29.
Buy Now at Asos
7
Mark & Graham Terminal 1 Checked
Classy and chic, this hard-side, leather-trimmed bag from Mark & Graham's Terminal 1 line looks like it just rolled out of the revolving doors of Le Bristol in Paris. But looks aside, this checked bag has a host of great features and perks, like a durable polycarbonate exterior, spinner wheels, a telescoping handle, a personal lock, and an array of eye-candy colors (the Terminal 1 is available in silver, camo, cranberry, or blush). The already-marked-down price is a steal, but through September 2, you can nab an additional 30% off the sale price plus free shipping with the code LABORDAY.
Buy Now at Mark & Graham
8
Eagle Creek Packing Cubes
If you have something of a packing problem (hi, friends), then packing cubes are a godsend. This three-piece set of water-resistant nylon cubes gives everything you want to bring a neat little home within your suitcase—from jeans and tees to underwear and electronics. Most packing cube devotees swear they're the best travel purchase they've ever made. Join their ranks and snap up a set for 25% off.
Buy Now at Backcountry
9
Oughton Rolling Duffle
This beaut is made in the same northern Italian mill as super-luxe Prada products, and boy does it show. Oughton's handsome waxed-canvas duffle looks ready to roll through Malpensa International Airport on its way to a posh luxury resort on the banks of Lake Como. No one will know that you scored the bag for $130 off at Orvis' Labor Day sale.
Buy Now at Orvis
10
Samsonite Fiero 20-Inch Carry-On Hardside Spinner
If you're looking to make a solid, practical purchase, Samsonite's spinner-wheel Fiero has you covered. It's compact, reliable, and up-to-speed with all the modern carry-on features. Basically, it's the Toyota Corolla of luggage. And its hard polycarbonate shell is designed to withstand scratches—so treatment from even the most harried handler won't leave a mark. As part of eBag's Labor Day Sale, this top-rated bag is now available for almost half the usual price.
Buy Now at eBags
11
Kate Spade Kingston Drive Simona Backpack
What cuteness! This darling pebbled leather backpack is just the thing for toting headphones, a book, bottled water, and other essentials on to a flight. Plus it can double as a daypack when you're sightseeing around town. And the fact that promo code TAKETHECAKE takes a cool $75 off its sale price between now and September 3 just makes it even more irresistable. 
Buy Now at Kate Spade
12
Everlane The Twill Weekender
If you draw the line at $100 for a quick getaway bag, Everlane's cool weekender is a perfect match. Available in inky black or forest green, this streamlined carry-on bag is a winner with details like an outside slip pocket for phones and boarding passes, and a durable canvas body treated to resist water. The brand is celebrating Labor Day with free two-day shipping until September 2, no promo code needed.
Buy Now at Everlane
13
American Tourister Arona 3-Piece Luggage Set
The Labor Day "Savings Center" over at Walmart is pretty epic, with prices cut on everything from patio furniture to karaoke machines. Of course, we've got our eyes on the luggage, and this three-piece set from American Tourister (parent company: Samsonite) manages to stand out in a sea of incredible deals. With a price reduced by almost half, the collection includes hard-side spinners measuring 20, 25, and 29 inches—all with features like TSA-approved locks and retractable handles.
Buy Now at Walmart
Related Stories
All products have been hand-picked by our writers and editors. Items purchased through links may earn us a commission.