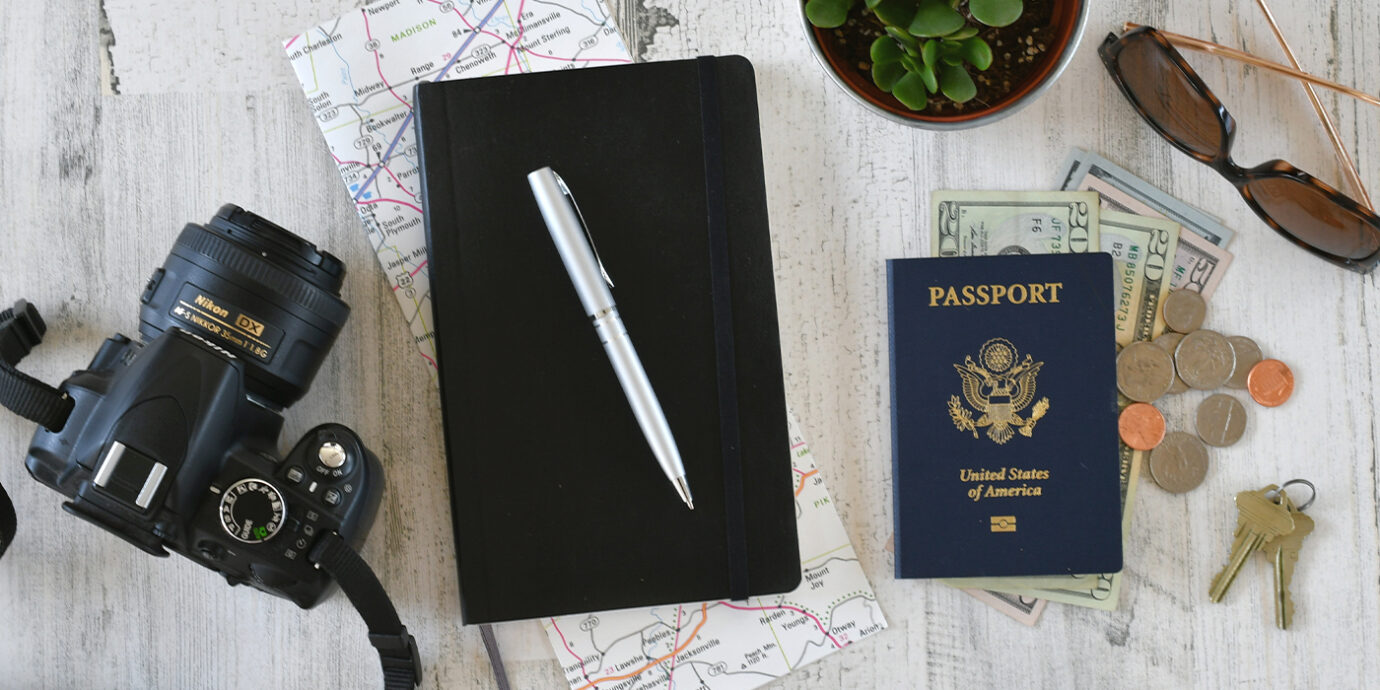 Shop
The Travel Journals We Take With Us to Record Every Trip
Let's talk travel journals—not apps or social feeds, but regular, old-school paper. Even if you're the type to chronicle every on-the-road moment via Instagram, documenting your trip in a journal lets you be in the moment in a way that screen-time simply can't. It's a tactile, real-time recording of what you're experiencing, with the option of leaving room for doodles and keepsakes. It's also available to you whenever you're stranded without Wi-Fi, and makes a great people-watching prop. And best of all, when you return, you'll have the ultimate keepsake. Check out our favorites below for every type of traveler.
OUR FAVORITE TRAVEL JOURNALS OF 2019
1
The Best Travel Journal with Prompts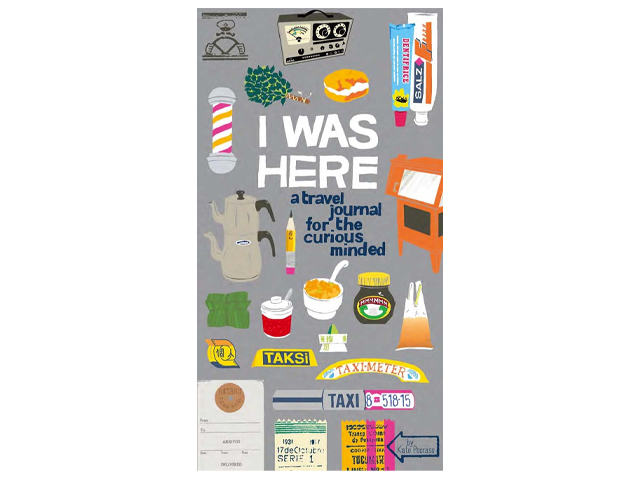 If you're the type of person that's always wanted to keep a journal, but the blank page is too intimidating, the I Was Here travel journal is the perfect solution. With travel-themed prompts and daily questions, this beautifully illustrated notebook makes journaling a snap. The journal also features fun ideas for experiencing destinations in different ways. One page suggests buying foreign toiletries while another proposes a photography bucket-list. There are places to record restaurant orders, conversation snippets, and local pop culture, helping travelers to capture a smattering of memories from different perspectives.  
$10.62 on Amazon
2
The Best Blank Travel Journal
Avid journal-keepers know different life events require different journals. Your trip to London, scribbling in pubs, needs a different notebook than your trek around Montreal, sampling poutine. When you need a fresh journal for your next jaunt, we recommend this lovely green one by The School of Life. The hardback-book design isn't just elegant, it also protects your pages as they get stuffed in and out of backpacks or purses. Its dot-grid pages mean you can write in any direction, and the understated "Journeys" design on the cover with a few leaping A to B dots will help you distinguish your travel diary from the rest of your notebook collection.
$20 at Anthropologie
3
The Best Travel Journal for Organization
Sure, there are a million apps to get organized, but some of us like to lay things out on a page. If you're that type of traveler, the Moleskine Voyageur journal will be your favorite sidekick. Made by an Italian papermaker that knows a thing or two about quality journals, the Voyageur notebook covers all the bases. From planning to budgeting to journaling, the Voyageur acts as a command central with detachable packing lists, world maps, daily planning timetables, and places to record important names and addresses. There's also an expandable inner pocket for storing tickets and travel documents. Plus, the Voyageur features fun extras, like vacation-inspired stickers and colorful ribbon bookmarks.
$22.95 on Amazon
4
The Best Travel Journal to Give as a Gift
It's tricky to buy a present for a travel-obsessed friend. After all, you can't spring for a plane ticket or luxury luggage. But this beautiful leather-bound travel journal by William Sonoma affiliate Mark & Graham makes a great go-to gift. Its soft leather cover comes in a variety of colors and can be monogrammed with your friends' initials (or home airport code!) for extra personalization. Inside, the journal features color maps of major cities, world weather info, and international dialing codes, along with plenty of blank pages for recording memories. 
$70 at Mark & Graham
5
The Best Waterproof Travel Journal
Here's the situation: You want to keep a journal during your travels, but you won't have time indoors to do it. Enter, the Indestructible Field Book by Elan Publishing. Made from synthetic materials, this pocket-size waterproof, tearproof journal is completely indestructible. Take it rafting, kayaking, or scuba diving, or pack it with your fishing gear. It's perfect for camping trips or boating excursions, or trips where you anticipate spending a lot of time in the rain. (Looking at you, Seattle.)
$11.49 on Amazon
6
The Best Leather Travel Journal
Journaling is all about touching the written page, and there's no better feeling than gliding your hand across a leather-bound journal. If you love the idea of putting your trip notes into a well-worn folio, this Poromo Leather Journal is the perfect leather-bound vessel. The journal's two-flap cover and leather rope ties give it an antique look — perfect when you want to feel like a great explorer documenting the day's discoveries. And its lined, sepia-toned pages make it easy to stay organized.  
$20.35 on Amazon
7
The Best Travel Journal for Scrapbooking
Magpie travelers who save every napkin, coaster, and hotel keycard need a journal that's more than just blank pages for thoughts. Thankfully, this leather-bound notebook is up to the task. It's equipped with three different types of paper and plastic pouches that can store pictures and tiny mementos. Use it as a miniature scrapbook, a sketchpad, or trip organizer. Its compact size makes it easy to toss in your pocket, backpack, or carry-on.
$12.74 on Amazon
THE PERFECT PENS, PENCILS, AND MARKERS TO COMPLIMENT YOUR TRAVEL JOURNAL
8
The Best Pen for Journaling
Ever gotten a thrill from writing with a beautiful pen? If the answer is no, then maybe you've never had a truly great one—one where the ink spools out so elegantly, it makes your grocery lists look like poetry. Our vote for best pen goes to The Uni-Ball Jetstream. Sold in a pack of three with an affordable price point, the Jetstream is a handy go-to. It's great for everyday journaling, with smooth ink that won't bleed or smudge, even for lefties. Plus the sleek silver clip easily attaches to notebooks, so you don't have to worry about losing your pen while traveling. 
$9.89 on Amazon
9
The Best Markers for Journaling
For those that love multi-hued bullet journals or color-coordinating entries with pure, rainbow abandon, this set of 18 colorful markers will bring you to your happy place. These Journal Planner Pens by iBayam are made with quick-drying, acid-free ink for minimal bleed and feature ultra-fine tips for writing and doodling. Use the markers for calendar organizing, note-taking, sketching, illustrating—or just drawing a million Skittles-hued loop-de-loops.
$7.99 on Amazon
10
The Best Pencil for Journaling
If you're sketching, shading, or just want something with a big ol' eraser to get rid of mistakes, you'll want to keep a pencil handy with your journal. We're fans of The Paper Mate Clearpoint Elite 0.7mm Mechanical Pencil that combines the appeal of a pencil with the comfort of a pen. Remember those painful finger calluses you developed as a kid in school? That's not an issue here. Plus, the Clearpoint Elite's jumbo twist-up eraser allows for easy, smudge-free do-overs, so go ahead and get the lead out.
$8.99 on Amazon
Related Stories
All products have been hand-picked by our writers and editors. Items purchased through links may earn us a commission.