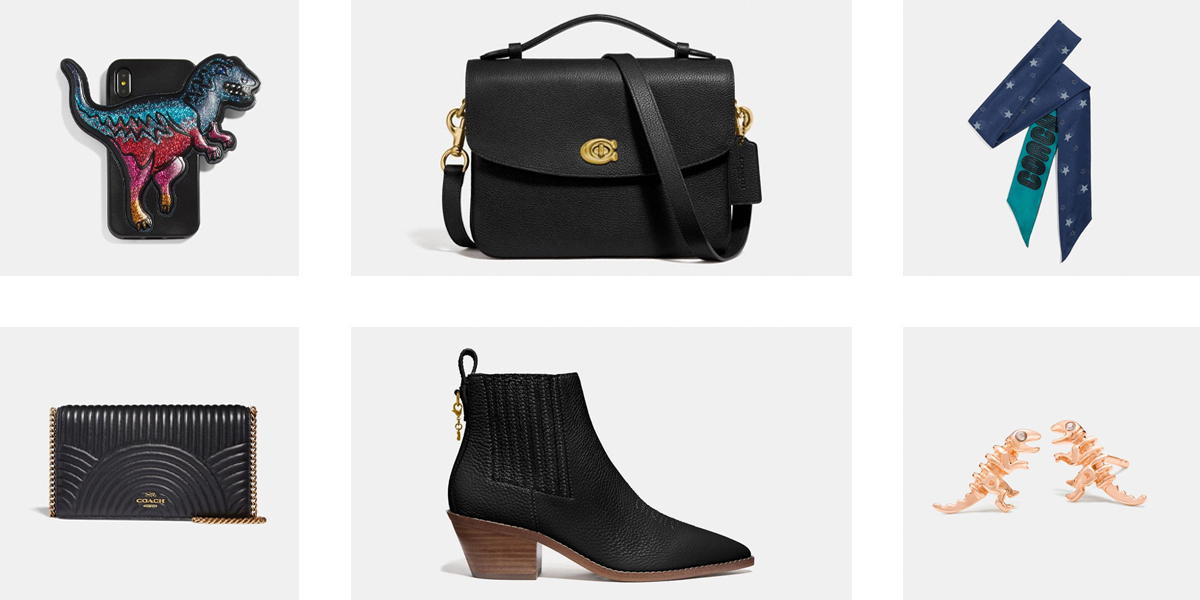 Shop
10 Coach Products WTP Editors Are Obsessed With
Here's a weird confession: If you were to check our browser's search history, you'd notice that roughly 80% of it is Coach.com. It's true; we regularly visit the site to indulge in some 3 p.m. fantasy shopping, or just to check in on Rexy, the cutest mascot ever. If you ask us, this dino is the best thing that's happened to Coach since the turn-lock closure (you know, the thing that's triggered many a vintage-Coach-bag bidding war on Ebay). Take a look at the Coach products that Team WTP can't stop thinking about—we swear, not one resembles the nylon Coach bag that was everywhere in the mid-aughts.
1
Cosmetic Case 17
"When it comes to feeling organized and sophisticated while traveling (we can all try, right?), it's all about the details. Coach's hot pink Cosmetics Case 17 in Bright Cherry is the perfect item to add a touch of classic luxury to any trip. Not only does the fun color draw the eye, but the bag is made with high-quality materials like crossgrain leather and polished metal hardware that are sure to last a lifetime—and bring a lot of glam to the bathroom vanity counter."—Megan Wood, Editor
Shop This ($75)
2
Iphone X/Xs Case With Rexy
"Literally every time I look at the picture of this phone case with a big glittery dino, it elicits some sort of positive reaction: a giggle or a dopey little smile. I am perfectly content with my iPhone7 from 2016, but this squee-worthy case might just have me upgrading to the X years ahead of schedule. Apple should thank Coach for that sale."—Anne Olivia Bauso, Editor
Shop This ($75)
3
Cassie Crossbody
"I love the vintage Coach vibes of this Cassie Crossbody bag, and it's the perfect size to hold all your essentials for a day of sightseeing or for a night out on the town. Best of all, the strap is interchangeable, so you can add your own personal touch to this little black bag. While my New York wardrobe demands all black everything, I'm adding a strap with subtle floral detailing to switch things up a bit."—Liz Allocca, Senior Photo Editor
Shop This ($350)
4
Signature Magic Star Print Silk Skinny Scarf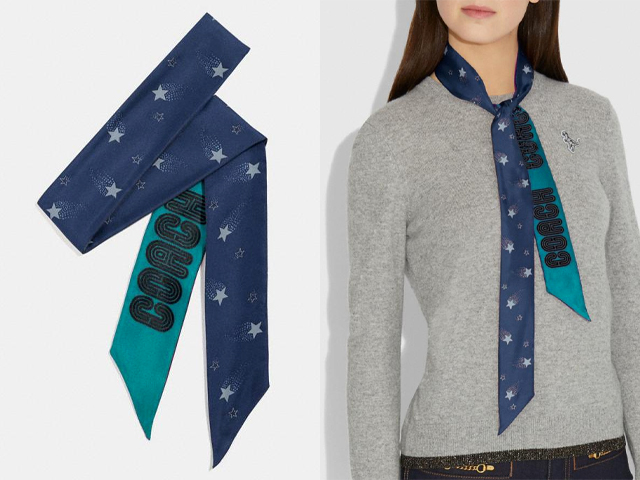 "Behold the skinny scarf—a mighty multitasker! Lighter to pack than jewelry, these silk ribbons can swap in for a necklace or a bracelet, or knot back your hair in a ponytail or headband with a subtle "Grecian goddess" look. When not in use, it can brighten up your handbag straps or mark your suitcase. And Coach's version is perfection. It avoids any fussy or grandmotherly prints, in favor of navy with stars, all of which feels a bit Ziggy Stardust to me. I'm sure David Bowie would approve."—Maria Teresa Hart, Executive Editor
Shop This ($75)
5
Disney X Coach Bambi Sweatshirt Dress
"For years, my preteen niece and I have been dreaming about swapping our annual North Carolina State Fair weekend for a big Disney trip. When that wish finally comes true, here is the outfit I'll wear every single day we're there: crisp white sneakers, big UV sunglasses, a little mouse-ears headband, and this short-sleeve Disney X Coach sweatshirt dress. The Bambi imagery is beautiful and haunting, and the basic T-shirt shape will keep my shoulders safe from the sun. If I do in fact need a second outfit, I'd be willing to mix it up with the oversized tee version—I especially love how the moody graphic is set against a sweet pink background. It's the perfect way for a New Yorker to show her Disney spirit, by keeping things just a little dark."—Anne Olivia Bauso
Shop This ($175)
6
Urban Hiker Boot + Academy Backpack
"I've been meaning to snag a new pair of stylish boots for those classic summer to fall hikes and I'm thinking these Urban Hiker Boots are exactly what I'm looking for. The fact that they're fitting for not only the woods but also the city is a big plus—I won't feel as bad about trying to shove bulky boots in my already stuffed closet. In a perfect world I'd pair them with Coach's Academy Backpack and make a whole outfit out of it."—Tyler Schoeber, Production Editor
Shop This ($295)
7
Callie Foldover Chain Clutch With Deco Quilting
"Take it from me, a Coach clutch can make all the difference between avoiding a pickpocket or finding your wallet gone when you go to pay for gelato. You can swap the straps on these bags for various lengths, and I like to keep mine short enough that the bag fits snugly under my arm—ain't no way someone's sticky fingers are going to creep in there, they'd have to pry my arm off first! Another excellent option is keeping it cross body in front of your hip where you can keep an eye on it, even in crowds. Practicalities aside, the swooshing Art Deco lines and chain-link strap make this a classic reminiscent of a bag ten times the price. (Cough, Chanel, cough.)"—Maria Teresa Hart
Shop This ($162.50)
8
Mini Demi-Fine Rexy Stud Earrings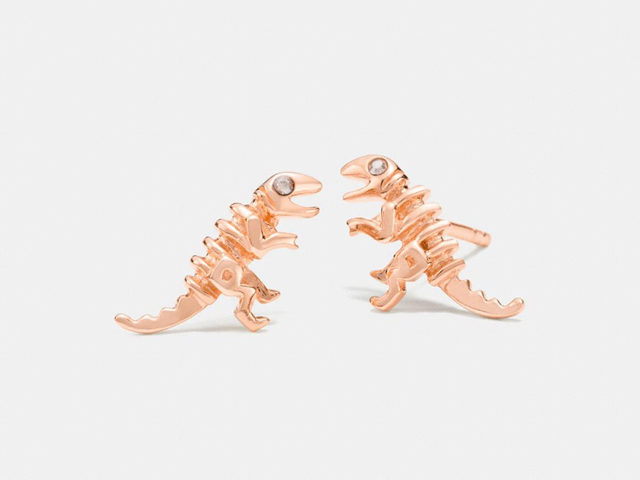 "It feels like Coach is appealing directly to millennials with these rose gold dinosaur studs—and it's working. I couldn't scroll past without immediately adding them to cart, and at $65, they feel like a steal. The entire Rexy Collection could easily bankrupt me, from this $395 wool and cashmere Rexy Sweater to this $250 Highline Rexy Tote. I got my Rexy fix with these cute and fun earrings; now I'm saving for that cashmere sweater."—Liz Allocca
Shop This ($65)
9
Melody Bootie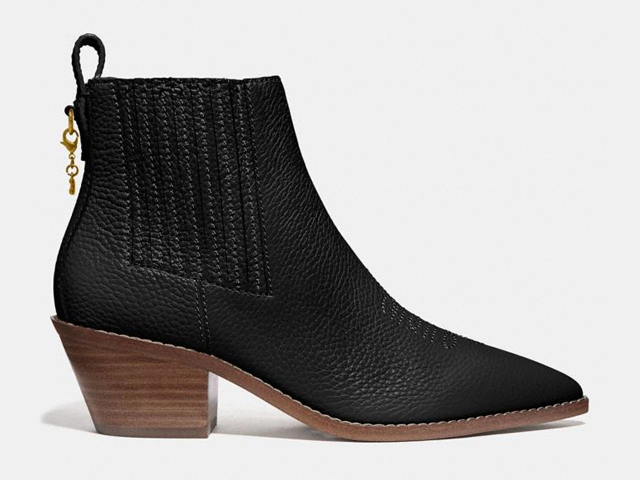 "Every year I spend around $100 on the perfect pair of new black booties. My criteria? Pointy toe, low heel, and a little bit of attitude. The kind of boots that can edge up a sundress and look great with jeans on casual days. These Coach Melody Booties completely fit the bill, and thanks to the sale, they're right in my price range. I love the dangling gold chain on the pull tab for a little something extra. I might not even need a new pair next year. Or should I order a second pair in white?"—Megan Wood
Shop This ($137.50)
10
Printed Military Dress
"This is like cross between Laura Ingalls Wilder and Trinity from "The Matrix" in dress form, and I freakin' love it. Its price tag puts this airy-yet-edgy dress squarely in "pie-in-the-sky" territory, but everything else about it suits me to a T. The fitted bodice and slightly flowy skirt gives it really flattering cut, and I love how the twee little ruffles at the neck and the dainty floral print are toughened up by all the black piping. It's delicate and ladylike enough to wear to attend a summer wedding (the silk material is lightweight and breathable, and takes up no room in a suitcase), and would look so cool with a moto jacket and combat boots come fall."—Anne Olivia Bauso
Shop This ($695)
Related Stories
All products have been hand-picked by our writers and editors. Items purchased through links may earn us a commission.