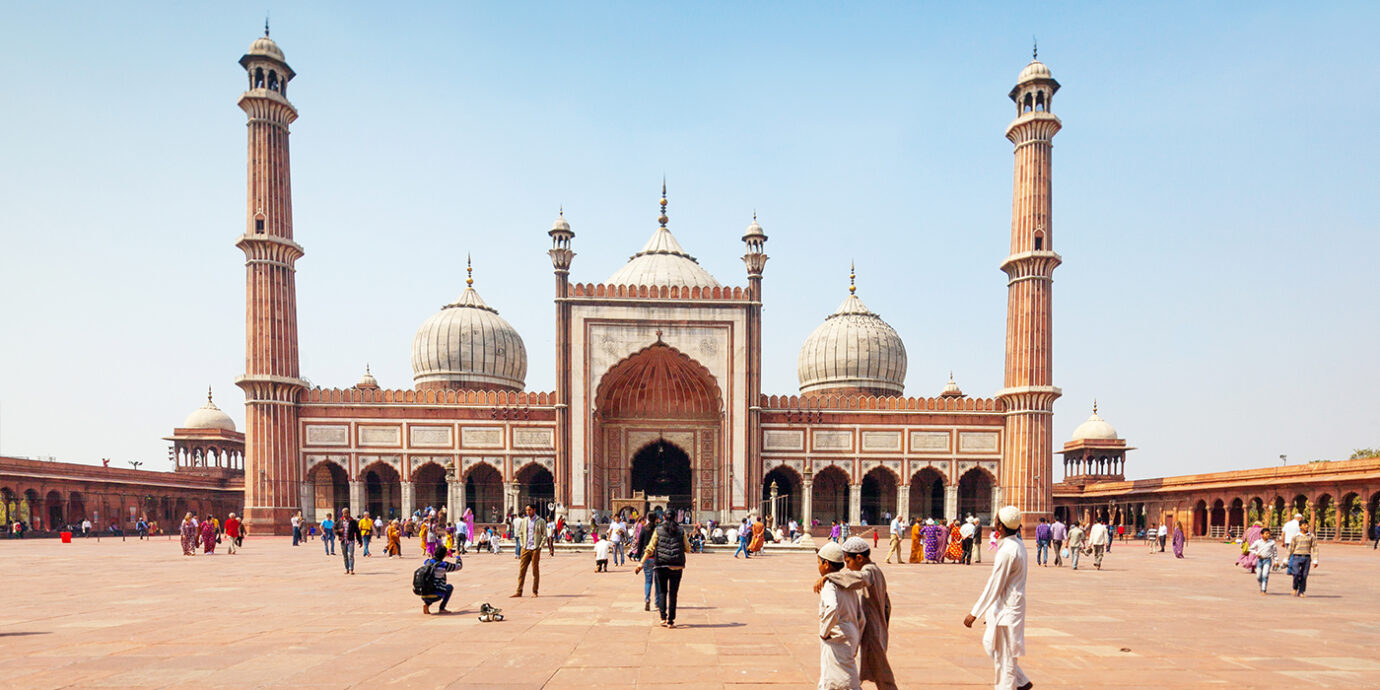 By Destination
The Ultimate New Delhi Packing List
New Delhi is magic. The exciting capital city is scattered with colorful bazars and astounding historical monuments, like Humayun's Tomb (said to have inspired the Taj Mahal) and it's one of the city's three UNESCO World Heritage Sites. The  and sounds of sizzling kebab stands, fragrant marigold vendors, and stunning religious temples commingle for an out of this world experience. It's also one of the trickiest cities for packing. New Delhi does have seasons—five of them, in fact. But no matter the temperature or rain fall, clothes need to be modest—ie cover the shoulders and knees. Figure out whether you should bring your rain slicker or a sweater (yes, Delhi can get that chilly), in our packing guide below. It includes a month-by-month breakdown of the weather, outfit suggestions, and pro packing tips—like how to save your tummy from the dreaded Delhi Belly and save space in your suitcase for souvenir pashminas.
Your suitcase packing checklist
Click items to view travel editor-approved options
THE PERFECT LUGGAGE
Travel light with The Mover Pack from Everlane, a high-capacity hybrid duffel/backpack made with lightweight, waterproof material and featuring plenty of straps and pockets, including a separate shoe compartment. If you're planning a grand tour of the Golden Triangle (Delhi, Jaipur, Agra), it makes an especially excellent alternative to a wheeled bag because it's a cinch to navigate through rugged streets, busy transport hubs, and narrow train aisles. If you gotta have more space, The Carry-On from Away is the darling of Instagram travel influencers everywhere, thanks to its sleek design and standout details, like separate compartments for clothes and shoes, a space-saving compression pad, and even a phone charger. If you're packing with a partner or just need more space, the Spectra is a durable, hard-cased checkable spinner with compression straps, TSA-approved locks, and, the piece de resistance—an expandable center that boasts 45% more capacity, meaning you can pretty much pack your weight in jewel-toned saris, silk pashminas, and embroidered pillowcases.
THE THREE PAIRS OF SHOES YOU'LL NEED FOR EXPLORING NEW DELHI
You're likely to take an auto rickshaw (often referred to as a tuk-tuk) if you're traveling more than a few blocks in New Delhi, since the sidewalks are often crowded and uneven. You'll still spend a lot of time in New Delhi on your feet exploring UNESCO World Heritage Sites, wandering through bazaars, or taking the jaunt down Rajpath, which connects the massive presidential palace to the iconic India Gate. For both men and women, we recommend a breathable, comfortable sandal from a trustworthy brand like Teva (especially during monsoon season) or Birkenstock. If you're worried about the dusty roads getting your feet dirty, or if you just want a super-packable alternative to sandals, we recommend an easy, close-toed shoe like these cult-favorite slip-ons from TOMS. Finally, for a night out sampling Delhi's delicious cuisine—from out-of-this-world butter chicken to rich Nihari stew—women can step it up in a playful block heel, while men might opt for a sleek leather sneaker. Add these shoes to your New Delhi packing list.
Women's Shoes
Men's Shoes
STYLE FOR NEW DELHI
While you may be tempted to break out shorts for New Delhi's blistering summer heat, dressing modestly is required, for women and men. A good rule of thumb is to cover your shoulders and knees. Tourists should skip shorts, and instead choose longer bottoms that offer an airy drape—midi-skirts, maxi dresses, and harem pants (even for men) made from breathable, natural materials (like linen and cotton) are a great bet. If you want to wear form-fitting bottoms, like leggings or skinny jeans, pair them with longer tunics or dresses to cover the behind. If you decide to wear a tank top (especially one with spaghetti straps), drape a scarf over your shoulders. And while hemlines may be more conservative in New Delhi, Indian women often where colorful saris or tunics, so don't be afraid to pack playful prints and jewel tones. Men can also play up their fashion choices with embroidery, relaxed pants, and bold colors. No matter the season, our number one recommendation is a scarf, shawl, or pashmina. You can wear it as a headscarf in a mosque, over your mouth during dust storms or on bad air quality days, as a shawl to cover bare shoulders, or as an actual scarf during cooler evenings. It's a versatile accessory that'll make repeat ensembles look totally new. Pro tip: Pack one, and buy the rest in New Delhi as souvenirs.
Women's Style for New Delhi
Men's Style for New Delhi
FIVE FOOLPROOF OUTFITS FOR NEW DELHI
1. WHAT TO WEAR TO VISIT QUTUB MINAR OR THE RED FORT
Qutub Minar and the Red Fort are two UNESCO World Heritage Sites worth a visit for their impressive red sandstone architecture. Pick footwear that you'll be comfortable in for at least an hour wandering around Qutub Minar and at least two hours at the Red Fort. You'll spend most of your time outdoors in both complexes, so airy, breathable clothes and sun protection, like sunglasses and hats, are a must.
Women's Qutub Minar or Red Fort Outfit
Men's Qutub Minar or Red Fort Outfit
2. WHAT TO WEAR TO VISIT HUMAYUN'S TOMB OR AKSHARDHAM
While it's particularly important to dress modestly at spiritual and religious sites in India, covering up doesn't mean you can't be casual, stylish, or both. At both sites, you'll likely be walking around outside for several hours, making breathable linen shirts and comfortable footwear great choices for men and women. At Akshardham, guests are required to cover their shoulders, upper arms, chest, belly button, and knees—it's a pretty good guideline for any spiritual site in New Delhi. Both these outfits fit the bill.
Women's Humayun's Tomb or Akshardham Outfit
Men's Humayun's Tomb or Akshardham Outfit
3. WHAT TO WEAR SHOPPING IN NEW DELHI
Whether you're hitting the bustling bazaars of Old Delhi or upscale shopping at Connaught Place, this is a city for shopping—spices, teas, pashminas, saris, embroidered wares, and jewelry are all favorite buys. To shop in Delhi, you can go as casual (but still modest) or as fancy as you please, but we decided to dress up jeans (or wide-leg pants) with a blouse and a button-down for all of those colorful spice-market photo-ops. Don't forget comfortable walking shoes and a safe place to stash your cash.
4. WHAT TO WEAR TO GO OUT TO DINNER IN NEW DELHI
Whether eating the largest (and most expensive) piece of naan in your life at Bukhara or catching 360-degree views at Parikrama, smart-casual is the way to go for a night out exploring Delhi's restaurant scene. For women, pack an airy, colorful caftan with woven block heels, raffia statement earrings, and a black leather clutch. For men, we suggest pairing breezy linen pants with a bold button down and smart accessories. Eat well and look good.
Women's Restaurant Outfit
5. WHAT TO WEAR TO VISIT RASHTRAPATI BHAVAN AND INDIA GATE
Because of the heat, pollution, and distance between sites, tourists typically don't travel far by foot in Delhi. But if you like to walk, the trip down Rajpath, a ceremonial avenue that runs from the presidential palace, Rashtrapati Bhavan, to the iconic India Gate is perhaps the most scenic place to do it. Start with comfortable footwear—the walk from end to end will take at least a half-hour, but probably more if you plan to explore. For men, go for easy, breathable cotton chinos with a playful button-down shirt. For women, we dressed up a tiered maxi dress with a silk scrunchie and tasseled earrings. Let's be real—you want to look good for those selfies at India Gate.
Women's Rashtrapati Bhavan and India Gate Outfit
Men's Rashtrapati Bhavan and India Gate Outfit
THE *ONE THING* WTP EDITORS ALWAYS PACK FOR NEW DELHI
New Delhi is a food lover's dream. You may think you know good Indian food, but your local takeout joint just doesn't compare to the Indian food feasts on offer throughout the city. Different regions of India are individually known and celebrated for differing cooking techniques and distinct spices, but New Delhi is a literal melting pot for the far reaches of India's nuanced cuisines. You'll find all kinds of fare, from experimental molecular gastronomy at Masala Library to street nibbles of fresh mango to just about every kind of savory curry, spiced tandoori, and fluffy naan ever created. But "Delhi Belly" is more than a cute rhyme—most travelers will get a touch of upset stomach while visiting India—whether from unfamiliar spices or picking up a stomach bug. It's smart to pack a small medicine kit with Imodium caplets, Pepto Bismol, and a packet of electrolyte replacements. You may not need any of it, and it's possible to pick up these medicines in pharmacies in New Delhi, but tummy troubles tend to strike at the least opportune times (like when you're meandering through the Taj Mahal) so it's always better to be prepared. As a precautionary rule, avoid drinking any tap water and be sure to wash your hands often. Then, dig in to New Delhi.—WTP Editors
NEW DELHI'S WEATHER AND SEASONS
New Delhi manages five distinct seasons: Summer, Monsoon, Fall, Winter, and Spring. Summer is hot and dry with the occasional dust storm, reaching a crescendo in May when temps hover daily in the triple digits. Despite the sweltering heat, we don't recommend packing shorts or any skirts above the knee. Indians tend towards more conservative wear, particularly women, so choose airy and breathable, but modest pieces, such as harem pants or midi-skirts, which also offer great coverage from the dust and sun. Monsoon season, which peaks in July and August, is hot and humid, with heavy rains sometimes flooding roads. October and November mark autumn, and are popular travel months thanks to dry, warm, pleasant weather, not to mention the splendor of Diwali. Winter is cool and dry, with high winds and serious haze (we're talking blotting out the sun and delaying trains) which can make the mid-60 degree days feel even cooler. This is jacket weather, especially at night, when overnight lows can dip into the 40s. Like fall, spring is also pleasant, with March featuring sunny, warm days in the mid-80s. In conclusion, your New Delhi packing list needs will differ month to month.
Note: This data comes from our friends at Weather.com. We recommend using this together with a traditional forecast as you get closer to your departure date.
JANUARY
Plan for day temps between 45 and 69
Expect .8 inches of precipitation
What to Wear in New Delhi in January: Sweaters and jackets are in order for New Delhi's coldest month, which sees daytime highs hover in the mid-60s and overnight lows dipping down into the 40s. Winds and fog, which can block out the sun (seriously), make the month feel even cooler.
Women's recommendations: Fuzzy jacket, pullover sweater, floral wide-legged pants
Men's recommendations: Cardigan sweater, twill pants, navy pea coat
FEBRUARY
Plan for day temps between 50 and 74
Expect .8 inches of precipitation
What to Wear in New Delhi in February: By the end of February, New Delhi starts to feel spring-like, but the beginning of the month is still solidly winter. Daytime temps will gradually increase from the 60s into the mid-70s, but don't forget that overnight temps can dip into the wool scarf-worthy lower 40s.
Women's recommendations: Maxi dress, wool scarf, Chelsea boots
Men's recommendations: Wool scarf, slim-fit jeans, Nigel boots
MARCH
Plan for day temps between 59 and 85
Expect .6 inches of precipitation
What to Wear in New Delhi in March: Sunny and pleasant, March is ideal for travelers thanks to temperatures gradually rising from the mid-70s to the upper 80s by the end of the month. Pack a mix of summer and spring apparel to cover the variation.
Women's recommendations: Daisy jumpsuit, block heels, cuff bangle bracelets
Men's recommendations: Collared shirt, performance jeans, leather sandals
APRIL
Plan for day temps between 71 and 97
Expect .8 inches of precipitation
What to Wear in New Delhi in April: New Delhi's hot, dry summer season starts in April, with temps reaching the mid-90s most days. Pack warm-weather clothes that keep you protected from the sun and also give you some coverage for those overnight lows that dip into the 60s.
Women's recommendations: Midi skirt, relaxed poplin shirt, embroidered sandals
Men's recommendations: Linen-cotton shirt, linen chinos, Birkenstock sandals
MAY
Plan for day temps between 79 and 103
Expect 1 inch of precipitation
What to Wear in New Delhi in May: May is scorching in New Delhi, with temps hitting 100 degrees almost every day. Pack airy, breathable warm-weather ensembles, but stay respectful with modest choices that are practical, too—long sleeves and pants can protect against sun exposure and dust storms.
Women's recommendations: Maxi shirtdress, Superga sneakers, Panama fedora
Men's recommendations: Fedora, harem trousers, pin-striped button-down
JUNE
Plan for day temps between 82 and 101
Expect 2.8 inches of precipitation
What to Wear in New Delhi in June: Summer is still in full swing in New Delhi, with temps hovering in the 100s, so pack summer apparel like harem pants, which are breathable and airy but cover the knees. If you're traveling at the end of the month, consider bring wet-weather options, as you may get a sneak peek at rainy season.
Women's recommendations: Harem pants, ribbed shirt, pointed flats
Men's recommendations: Harem pants, moisture-wicking polo, Birkenstocks
JULY
Plan for day temps between 80 and 95
Expect 9 inches of precipitation
What to Wear in New Delhi in July: Arguably New Delhi's most uncomfortable month—July is rainy, humid, and hot with daytime temps still in the triple digits at the start of the month and dipping into the 90s by the end. Focus on packing items that will keep you cool and dry. And you need a serious umbrella.
Women's recommendations: Harem pants, Repel umbrella, waterproof Chelsea boots
Men's recommendations: Repel umbrella, rain poncho, joggers
AUGUST
Plan for day temps between 79 and 92
Expect 9 inches of precipitation
What to Wear in New Delhi in August: For one of New Delhi's rainiest months, a top priority is staying dry, so pack rain jackets, ponchos, and waterproof bags. And while it's still in the 90s most of the month, overnight lows in the upper 70s will offer some relief.
Women's recommendations: Transparent rain jacket, waterproof crossbody bag, RecTrek pants
Men's recommendations: Waterproof bag, linen harem pants, hooded rain poncho
SEPTEMBER
Plan for day temps between 77 and 94
Expect 4.5 inches of precipitation
What to Wear in New Delhi in September: In September, New Delhi's weather remains humid and hot, in the mid-90s most days. While rainy season is coming to a close, you'll still want plenty of rain gear to keep you dry.
Women's recommendations: Convertible pants, rumple blouse, waterproof Chelsea boots
Men's recommendations: Cropped linen pants, striped t-shirt, Tevas
OCTOBER
Plan for day temps between 67 and 91
Expect .7 inches of precipitation
What to Wear in New Delhi in October: October sees the rain dissipate and temperatures decrease from the 90s to the 80s, making it a popular month for travelers. Loose-fitting dresses and cotton shirts make breathable options for warm days, but also offer coverage for overnight lows that can dip into the 50s.
Women's recommendations: Polka dot maxi dress, espadrilles, classic bandana
Men's recommendations: Butterfly shirt, wide-leg jeans, canvas sneakers
NOVEMBER
Plan for day temps between 56 and 83
Expect .4 inches of precipitation
What to Wear in New Delhi in November: Dry and relatively cool, November is one of the most pleasant months in New Delhi. A mix of classic springtime apparel can help bridge the gap between daytime highs in the mid-80s and overnight lows that can dip into the 50s.
Women's recommendations: Floral blouse, cropped wide-leg jeans, ankle-strap block heels
Men's recommendations: Nike sneakers, relaxed jeans, long-sleeved polo
DECEMBER
Plan for day temps between 47 and 73
Expect .4 inches of precipitation
What to Wear in New Delhi in December: Pants, jackets, and close-toed shoes are standards for December in New Delhi, when daytime temperatures hit the mid-60s by the end of the month and can dip into the 40s overnight. Don't forget that temperatures can feel chillier due to winter winds.
Women's recommendations: Denim jumpsuit, Madewell mules, top knot headband
Men's recommendations: Nike sneakers, relaxed jeans, storm field jacket
FREQUENTLY ASKED QUESTIONS ABOUT DELHI

What is the best mode of transportation in New Delhi? How should I get around?
For tourists, auto-rickshaws (small three-wheeled motorized vehicles with open doors and paid drivers) and taxis are the best way to get around New Delhi. While taxis might have AC, they tend to cost about double. The driver is unlikely to use the meter, so to avoid being overcharged, agree on a price before you take the ride. If you want to avoid haggling altogether, take a pre-paid auto-rickshaw. These are available at designated police booths throughout the city.
How bad is the pollution in New Delhi? How can I prep for it?
New Delhi tops the list of most polluted cities in the world, but some times—of the day and of the year—are worse than others. If you are particularly worried about pollution, consider avoiding traveling to Delhi in the winter, when the air quality is worse, or around Diwali celebrations, when fireworks significantly increase the smog. On bad air quality days, avoid strenuous outdoor activities and take air-conditioned transportation, particularly during rush hour. If you have a respiratory condition, you may want to consider a simple surgical mask or even a respirator mask to breath easier. Many travelers bring a scarf to wrap around the face, which offers some protection.
How could I get to the Taj Mahal from New Delhi?
It's fairly convenient to get from Delhi to Agra by train. The quickest options are express and superfast trains, which can take as little as two hours, though delays (especially in winter due to haze) are not uncommon. Many of these trains are air conditioned and run every day, and sleeper trains are also available. Book tickets in advance to ensure seats and check out our train travel guide for luggage restrictions. Once you're in Agra, you'll need to take a taxi or auto-rickshaw to get to the Taj Mahal. Plenty of transportation offices are available at the train station, but be wary of scams and remember to agree to a price beforehand.
How can I protect against traveler's diarrhea?
In Delhi, enough people get traveler's diarrhea that it's got its own name: Delhi Belly. The starting point for avoiding tummy issues is good hygiene and food/water safety. Wash your hands frequently and bring hand sanitizer for situations where soap and water aren't available. While washing with tap water is fine, avoid swallowing it (you may want to brush your teeth with bottled water). Avoid ice and don't eat foods washed with tap water, such as cut fruit or green salads. A good rule of thumb is to stick to food that has been freshly cooked right before eating it. Some travelers avoid street food altogether, while others wouldn't dream of missing out. As a prophylactic, consider taking Pepto-Bismol. If you get traveler's diarrhea, remember to stay hydrated with bottled water. Imodium can also help alleviate symptoms. Find more info about traveler's diarrhea on the CDC's website.
Should I visit New Delhi as part of a tour group?
Absolutely. Visiting New Delhi as part of a tour group is an excellent way to see the city, especially if you're feeling intimidated or nervous about traveling through the crowds and chaos on your own. G Adventures focuses on sustainable tourism and small groups led by highly trained (and fun) local guides. Tours vary, but you can count on seeing New Delhi's favorite tourist spots and some behind the scenes opportunities such as Kitchen With a Cause and City Walk (a tour led by former at-risk youth). Stay safe, have fun.
Related Stories