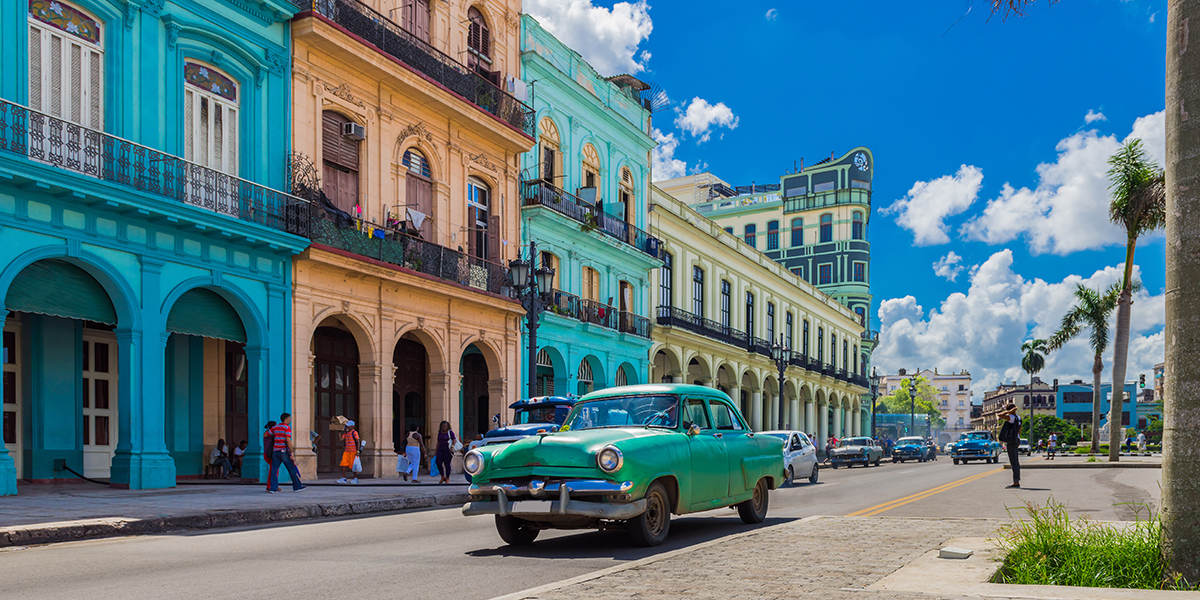 By Destination
The Ultimate Havana Packing List
Vintage convertibles, colonial architecture, and Old World watering holes all show a side of Havana that feels frozen in time, but the city is very much alive in the here and now. Cuba's capital is home to buzzing bars, a vibrant art scene, and international film and jazz fests. Pack casual, lightweight apparel to beat the heat, comfortable footwear for sightseeing, and rain gear if you're traveling during the wet season (June through October). Remember, it's difficult to find essentials in Cuba, so take along any and all drugstore standards you might need, like toiletries, first-aid supplies, pain relievers, tampons, sunscreen, and even toilet paper and hand sanitizer for public bathrooms. Since you're unlikely to find easy Wi-Fi here, bring physical copies or pre-downloaded versions of important reference information, such as maps and an English-Spanish dictionary. Here's our detailed breakdown of what to know and what to bring, including packing lists, outfit ideas, and month-by-month must-haves.
Note: Current U.S. Travel Restrictions to Cuba
Be aware that Americans are not allowed to travel to Cuba as tourists, with new restrictions announced in June 2019. U.S. citizens can still visit the country under the 12 legal reasons for travel, including the "support for the Cuban people" category, which requires visitors to interact with locals rather than, say, lounge on beaches. Americans in Cuba are forbidden from spending money at certain establishments (such as military-owned businesses), should stay at homestays rather than hotels, and must keep detailed receipts and itinerary of their visits.
YOUR SUITCASE PACKING CHECKLIST
*Keep these items in your carry-on
Clothes to Pack
Underwear/socks/bras
Camis/undershirts/PJs
T-shirts (ideally cotton or linen)
Pull-on/button-up shirts
Shorts/skirts
Dresses/suits
Light sweaters/sweatshirts
Swimsuit
Lightweight rain jacket
Shoes to Pack
Wedge sandals or heels
Sandals/flip-flops
Accessories to Pack
Purse/fanny pack/daypack
Sun hat
Low-key jewelry*
Belts
Toiletries to Pack
Toothbrush/toothpaste/dental floss
Body wash/soap
Deodorant
Face wash/makeup remover
Moisturizer
Contact lenses/solution
Razor/shaving cream
Shampoo/conditioner
Brush/comb
Earplugs/eye mask*
Tissues*
Hairdryer/styling tools
Hair elastics/hair accessories
Tampons/pads*
Birth control/condoms*
Hand sanitizer*
Bandages
First-aid ointment
Bug spray
Medications/vitamins*
Stain remover
Toilet paper
Moist towelettes
Tech to Pack
Phone/charger*
Portable battery charger
Laptop/tablet/e-reader*
Device chargers*
Voltage convertor or power adapter
Camera/video camera*
Memory card/film*
Other Essentials to Pack
Wallet (credit/debit cards/ID/cash)*
More cash—particularly if you only have U.S.-based credit cards
Passport/visa*
Keys*
Medical insurance card*
Snacks/gum*
Water bottle with filter (empty)*
Books/magazines/guidebook*
Spanish/English dictionary (pocket-sized or pre-downloaded on device)
Laundry bag
Luggage locks
English-Spanish dictionary
Helpful Printouts to Pack
Emergency contacts*
Boarding pass/hotel and car rental reservations*
Maps/directions (paper or pre-downloaded onto device)*
Bank/credit card contact info*
Copies of ID*
THE PERFECT LUGGAGE
For a long weekend, this Canvas Overnight Bag from Madewell is equal parts stylish and functional. The durable canvas carryall has a cavernous main compartment with three interior pockets, including a long pocket for a laptop. It also has two carry options: an adjustable (and removable) crossbody strap or top handles. For a weeklong trip, Herschel Supply Co. makes a Caribbean-ready version of their staple Trade Carry-On. This 21-inch, four-wheeled spinner features a durable hard shell and a TSA-approved lock, plus functional interior details like garment straps and a mesh compartment. Finally, for even longer trips, this muted red hard-side from Amazon Basics is a solid 28-incher with four multidirectional wheels, a TSA-approved lock, and a compression pad to help you squeeze in that bottle of Havana Club rum you picked up.
THE 3 PAIRS OF SHOES YOU'LL NEED FOR EXPLORING HAVANA
Women's Shoes
Men's Shoes
To cultivate that island vibe, women could consider the Original Dali from Soludos, a lightweight espadrille that looks just as good at Fusterlandia as the historic Hemingway haunt, Floridita. Men can slip on a pair of Birkenstocks, one of the few slide-on sandals that are comfortable to walk in all day, in part due to their contoured cork footbed. For a sultry night at the famous Tropicana, ladies can get playful in strappy block-heel sandals, while men will need a good-looking closed-toe option, like a classic Dockers boat shoe. And finally, a no-nonsense walking shoe (or two—especially in the rainy season) is a must for Havana. For wandering the streets of Old Havana or promenading down the Malecón, women will do well with a classic pair of cushy canvas Keds available in a range of easy-wearing neutrals. For men, the Brooks Revel 2 offers a breathable mesh construction and hefty insole support.
STYLE FOR HAVANA
Casual, warm-weather style is the name of the game in Havana. The heat here means that natural fabrics like cotton and linen beat out less breathable synthetics. Men often wear shorts paired with a casual T-shirt or a short-sleeve button-ups (like the classic Guayabera shirt), while women might wear shorts, skirts, tees, or casual dresses. Straw details—like fedoras and espadrilles—are both fun and functional. Don't wear (or travel with) expensive jewelry, as this will make you stand out as a potential target for pickpockets. In cooler months, jeans are perfectly acceptable for either gender, and you'll want a long-sleeve layer for those overnight lows. For a night on the town, it's standard to dress up, though even this sways toward the casual. Note that men will want non-denim pants, a collared shirt, and closed-toe shoes for fancier joints like Tropicana. For the rainy season, a lightweight rain jacket and an umbrella are essential.
Women's Street Style for Havana
Men's Street Style for Havana
FIVE FOOLPROOF OUTFITS FOR HAVANA
1. WHAT TO WEAR TO WANDER THROUGH OLD HAVANA
With its picturesque pastel buildings, narrow streets, and boho bars, Old Havana is a place that begs to be seen on foot, so plan your ensemble around functional style starting with excellent footwear, like classic Keds and cushiony OluKai sandals. Add breathable button-downs and neutral bottoms that are easy to mix and match throughout your trip.
Women's Outfit for Old Havana
Men's Outfit for Old Havana
2. WHAT TO WEAR TO TOUR FUSTERLANDIA
There's no way you can leave the whimsical, mosaic-tiled wonderland that is Fusterlandia without taking a million pictures, so playful, photo-ready attire is your best bet here. For women, a summery sundress with subdued rainbow stripes pairs perfectly with tropics-ready huarache sandals and a crochet bag. And it's the ideal time for men to step out of the box by pairing classic chinos and easy-wearing slip-ons with a funky floral button-down.
3. WHAT TO WEAR TO GO OUT DRINKING AND DANCING AT NIGHT
From famed cocktail bars with live traditional Cuban music to the open-air, high-energy cabaret at Tropicana, going out in Havana is an occasion that calls for dressing up. But even Tropicana's dress code of "casual elegance" speaks to the city's breezy style. Men should opt for a collared shirt and avoid shorts, jeans, or open-toed shoes. Classic chinos and oxfords fit the bill, and pair perfectly with a playful button-down. For a women, a breathable but sexy dress is an ideal base for fun accessories like a wicker purse and big raffia earrings. This chunky block heel supports a night of dancing, too.
Men's Outfit for Havana Nightlife
4. WHAT TO WEAR TO STROLL EL MALECÓN
A seaside stroll along El Malecón means hours on foot and in the sun, but practicality doesn't have to play second fiddle to style. These breathable linen and cotton ensembles are casual-chic and look great with warm-weather accessories like a seashell-covered purse and dapper old-school sunglasses. For carefree feet, choose shoes that can handle every step of the five-mile amble—and beyond.
5. WHAT TO WEAR TO HEMINGWAY'S FLORIDITA
We know, we know, you'll find more foreigners at Floridita than Habaneros (Havana residents), but it's hard to pass up the opportunity to have a daiquiri at Hemingway's favorite watering hole. (Make it a "Papa Doble"—more rum, less sugar—if you're really feeling the Hemmy vibes.) While you don't have to dress up, it's best to look smart for your photo op with the life-size bronze statue of the renowned novelist that's parked at the bar. For women, tie-front shorts with a botanical print are the perfect foil for a fitted tank, while raffia earrings and a circle bag add easy charm. For men, chinos, driving moccasins, and a leather watch are timeless options, not to mention a stylish match for a palm-covered button-down. Papa would be proud.
WHAT NOT TO PACK FOR HAVANA
Havana style tends toward the casual, so you can leave your formal wear (including expensive jewelry) at home. Since it's unlikely to dip below 60 degrees even on the coldest of "winter" nights, you also don't need to pack cold-weather accessories. Finally, there is a list of items you're forbidden from bringing to Cuba, including drones, GPS units, narcotics, walkie-talkies, pornography, and anti-Cuba literature. Be wary of traveling with too many electronics, like multiple cameras, or large quantities of any one item, as there are restrictions on the number of commercial goods coming into the country.
THE *ONE THING* WTP EDITORS ALWAYS PACK FOR HAVANA
We really must stress that there is virtually no commerce in Havana—no 24-hour pharmacies, no chain drugstores, even convenience stores are hard to come by. Hotel gift shops carry things like postcards and magnets, but not much in the way of actual essentials. (And what you can find will likely be imported and therefore expensive.) Forgetting a crucial toiletry like sunscreen would quickly turn your Caribbean adventure into a hellish ordeal. Save the sizzling for the Buena Vista Social Club dance floor, and keep your skin safe from the blazing midday sun by bringing lots of strong sunscreen. We love this organic sun-care kit by Coola (good for about a week's worth of travel); it features a SPF 50 facial moisturizer, a SPF 30 lip balm, an aloe-based after-sun lotion, and an SPF 50 mist that smells like guavas and mangos—perfect when you're having a pina colada in Hotel Nacional de Cuba's beautiful sea-view gardens, complete with roaming peacocks.
HAVANA'S WEATHER AND SEASONS
Havana has a warm, humid, tropical climate with two seasons: dry and wet. Most people travel to Havana during dry season, which runs from November through April. These months are warm and sunny with temperatures in the mid-70s to mid-80s. The wet season runs from May through October. These months are rainy, muggy, and hot, with temperatures in the mid-80s to lower 90s, but visitors still travel during this time for cheaper rates or to attend popular festivals. To hold your own in the heat and humidity, choose clothes made from breathable, natural fabrics like cotton and linen. In the cooler months, consider adding in some mid-weight spring apparel and a light layer for overnight lows that dip into the 60s. In the rainy season, pack an umbrella, rain jacket, and mosquito repellent. And, no matter the season, pack sun protection like a hat, sunglasses, and sunscreen (which can be difficult to find in Havana).
Note: This data comes from our friends at Weather.com. We recommend using this together with a traditional forecast as you get closer to your departure date.
JANUARY
Plan for day temps between 78.4 and 65.5
Expect 2.5 inches of precipitation
What to Wear in Havana in January: January is Havana's coolest month and—no coincidence!—peak tourist season. Daytime temps are a pleasant mid-70s, so pack springy apparel, and remember that overnight lows are in the cooler mid-60s.
Recommendations: Women's white cardigan, women's relaxed-fit linen shirt, men's linen scarf
FEBRUARY
Plan for day temps between 79 and 65.5
Expect 2.7 inches of precipitation
What to Wear in Havana in February: Like January, February is a popular month for tourists due to mild days in the upper 70s. Warm-weather apparel is appropriate, though consider packing a few mid-season spring options for an unexpectedly cool day and cooler nighttime temperatures.
Recommendations: Women's silk-blend scarf, women's wide-leg cropped linen pants, women's packable straw Panama hat
MARCH
Plan for day temps between 81.7 and 67.5
Expect 1.8 inches of precipitation
What to Wear in Havana in March: Travelers in March can bet on pleasant weather, with sunny days in the 80s. In addition to sunscreen, pack hats and a portable sunscreen stick for easy touch-ups throughout the day.
Recommendations: Neutrogena Ultra Sheer Non-Greasy Sunscreen Stick SPF 70, khaki baseball cap, Columbia men's UPF shirt
APRIL
Plan for day temps between 83.5 and 69.6
Expect 2.1 inches of precipitation
What to Wear in Havana in April: As the last month of the dry season, April in Havana tends to be warm and sunny with temps in the lower to mid-80s nearly every day. Pack breathable and summery apparel, like woven shorts and slub-cotton tees.
Recommendations: Women's paperbag shorts, durable cat-eye sunglasses, men's Air Henley shirt
MAY
Plan for day temps between 85.6 and 72.3
Expect 3.9 inches of precipitation
What to Wear in Havana in May: May heralds the start of the rainy season, but expect a combination of sunny and damp days. The mercury is rising with an increase in humidity and temps solidly in the mid-80s most of the month.
Recommendations: Travel umbrella, packable straw fedora, Pacifica Beauty deodorant wipes
JUNE
Plan for day temps between 86.9 and 74.1
Expect 7.2 inches of precipitation
What to Wear in Havana in June: Rainy season is in full swing in Havana, and June competes with October for both the rainiest and most humid month. Pack for temps in the upper 80s, but don't forget the rain gear.
Recommendations: Water bottle with filter, sweat-resistant sunscreen, Rains waterproof backpack
JULY
Plan for day temps between 88.3 and 74.8
Expect 4.2 inches of precipitation
What to Wear in Havana in July: In July, expect scorching temps that can touch the 90s, as well as downpours. Pack with an eye toward staying cool and dry.
Recommendations: Portable fan, Lululemon baseball cap, Rains rain jacket
AUGUST
Plan for day temps between 88.9 and 75.4
Expect 3.9 inches of precipitation
What to Wear in Havana in August: August is officially Havana's hottest month and it's in the middle of the rainy season, so pack hot-weather essentials in addition to rainy-day apparel.
Recommendations: Women's tie-front camisole, water bottle with filter, packable hooded rain jacket
SEPTEMBER
Plan for day temps between 87.8 and 74.8
Expect 5.7 inches of precipitation
What to Wear in Havana in September: The height of hurricane season, September is hot, humid, and wet. Wear breathable linen clothes as well as your usual scheduled rain gear.
Recommendations: Women's cami, travel umbrella, mosquito-repellent wipes with DEET
OCTOBER
Plan for day temps between 84.6 and 73.4
Expect 7.1 inches of precipitation
What to Wear in Havana in October: Though temperatures cool down a dash in October (expect the mid-80s most days), this month is Havana's rainiest. You can expect rain about half of the days, so focus on packing items that will keep you dry.
Recommendations: Men's Columbia watertight jacket, women's Marmot lightweight rain jacket, women's waterproof sandals
NOVEMBER
Plan for day temps between 81.9 and 70.3
Expect 3.5 inches of precipitation
What to Wear in Havana in November: Pack warm-weather apparel for temperatures in the lower 80s. Even though rainy season is over, you still might need an umbrella, depending on the forecast.
Recommendations: Women's linen short-sleeve shirt, women's Lululemon On The Fly pants, slimline travel umbrella
DECEMBER
Plan for day temps between 79.7 and 67.1
Expect 2.3 inches of precipitation
What to Wear in Havana in December: At a balmy 80 degrees, December weather is pleasant. Pack summer apparel, but consider a few lightweight spring layers, as overnight lows can dip into the mid-60s.
Recommendations: Wide-leg cropped linen pants, Madewell Rainbow Stripe scarf, men's Everlane short-sleeve linen shirt
FREQUENTLY ASKED QUESTIONS ABOUT HAVANA

Is Havana safe to visit?
Havana is fairly safe. Violent crimes are relatively uncommon, and tend to happen out of the tourist zones. While the "sonic attacks" against U.S. embassy officials have been a hot topic on the news, regular tourists don't appear to be at risk. Still, as with most cities, tourists especially will want to be mindful of potential dangers. Pickpockets are the biggest threat, and American tourists, who are considered wealthy, can be a target. Guard against theft by not flaunting money (don't show off expensive electronics or wear expensive jewelry). Consider wearing a money belt, and definitely keep cash out of easy-to-reach places like your back pocket. Also, be aware of the occasional scam aimed at tourists, which can include hustling or currency exchange scams. Roads throughout Cuba are notoriously problematic, so tourists should also be cautious if they're planning to drive, particularly at night.
What are the latest restrictions?
As of June 2019, U.S. citizens are no longer allowed to travel to Cuba as tourists. Americans can still visit Cuba under one of the 12 legal reasons for travel, including the broadest of the categories, "Support for the Cuban People." This category requires visitors to participate in activities such as meeting with Cuban business owners and visiting independent museums and markets. Americans should note that it is illegal for them to spend money at certain establishments, including military-owned businesses. Americans traveling to Cuba should keep their trip records (receipts, itinerary) for five years.
Are there American retail stores (Walmart, CVS) in Cuba where I can pick up essentials?
This is critical: Pack all your essentials! We repeat: Pack all of your essentials! Cuba doesn't have American retail stores—or even corner convenience stores. Hotel gift shops carry a small selection of souvenirs like cigars, postcards, and T-shirts, but not many practical items. Commerce is practically non-existent, and many items that are easy to find in the U.S. are difficult or near-impossible to find in Cuba. Pack personal toiletries (like shampoo, tampons, and sunscreen) and first-aid items (like bandages, pain relievers, and medications). We also recommend toilet paper and hand sanitizer, since not all public toilets will provide soap or TP.
Can I bring back Havana Club Rum and Cuban Cigars from my trip to Havana?
Yes, you can bring back rum and cigars as long as you are over 21 and they are for personal use. As of this writing, the rules are as follows: these items will be duty free as long as you don't bring back more than $800 worth of souvenirs, more than 100 cigars, or more than one liter of alcohol (for further details or updates on these guidelines, visit the U.S. Customs and Border Protection website).
Does Uber or Lyft run in Havana? How late do taxis run in Havana?
No, Uber and Lyft don't run in Cuba. You'll have to either rent a car, hire a car and driver, or use a taxi. Taxis are plentiful in Havana, and there's a huge range of options, including classic metered cabs, vintage convertible cabs, bike taxis (Bicitaxi), tri-wheeled coconut-shaped Cocotaxis, or shared taxis. Make sure you agree on a fare before you get in the cab. Taxis are available day and night.
What food best represents Havana? What's a must-eat dish?
Rice, beans, and plantains are staples of the Cuban diet. Some must-try dishes included ropa vieja (shredded beef with onions and peppers), roasted pork, chicharrones (fried pork rinds), moros y cristianos (white rice and black beans, also known as arroz congrí), and yucca, either fried or marinated in lime, garlic, and olive oil ("yuca con mojo"). Sandwiches like the mixto (ham, roasted pork, melty Swiss cheese, pickles, and mustard) and the medianoche (same ingredients, but on a challah-like egg bread) are iconic, cheap, and tasty as heck—especially after a night of dancing. Other must-trys? Café con leche, rum-based cocktails, churros, and flan.
Related Stories