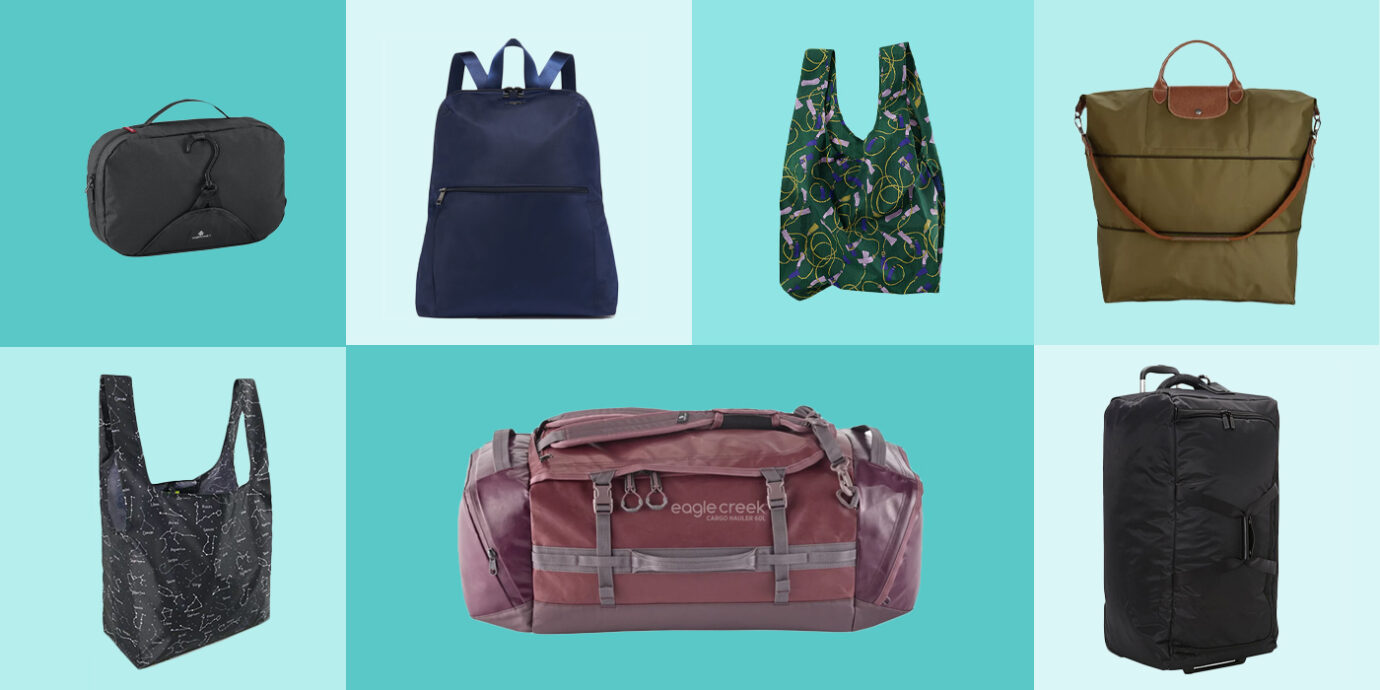 Shop
The Best Foldable Bags and Foldable Luggage That Are Perfect for Travel
"Oh, this? I bought it in a flea market in Paris." If you're one of those people who come home from a trip with more stuff than you brought with you, welcome to our club. Shopping—ceramics from Japan, boots from Barcelona, a dress or four from Rio—is one of the joys of travel. But getting your loot home can be a challenge. If you like love to shop when you're exploring a new place, then take this recommendation to heart: pack a piece of foldable luggage into your suitcase. That way, you can carry it to your destination for free and then fill it up and check it (or maybe even carry it on) on the return home. Another bonus—foldable luggage also takes up little storage room between shopping trips, we mean, vacations. Read on for nine of our top picks for foldable luggage, from foldable backpacks to luxury checked bags, for every trip. Then, go ahead and get your shop on.
1
Best Foldable Backpack

Sleek and polished, Tumi's foldable travel backpack is perfect for anyone who needs to hop between their day-to-day city routines to a trip abroad with ease. It holds a lot—a lot—more than you might expect for its compact size and 10-ounce weight. Although it still qualifies as a purse-size carry-on, you can fit your everyday handbag, lightweight jacket, and daily necessities, like a water bottle, snacks, and a book, in it for your trek through the airport. Plus, the zip top opens really wide, so you can truly cram in all your goodies. Or, if you're planning on filling it up with souvenirs for the way home, it folds up tightly into its own pouch for storage in your suitcase. Cleverly, that pouch can also double as a makeup bag. Don't worry about getting the backpack dirty, either: the nylon material is easy to wipe clean.
Shop Now
2
Best Foldable Bag for Shopping

It's hard to find a foldable bag for grocery runs or cruising European market stalls that really does the job. Sure, you've got all those free canvas totes you've picked up over the years, but they're likely stained with mystery meat or veggie juice. BeeGreen's reusable grocery bag set is made of ripstop polyester, which means you can wipe it clean—or, in the case of buying a very stinky French cheese, you can throw the bag in the washing machine. The five bags pack down to a tiny square that can fit in your pocket, so you can easily store it in your purse for those "Oh, I need to pick up…" epiphanies. Plus, the squared bottom keeps items in place and how cute is that polka dot print?
3
Best Foldable Duffel

Eagle Creek is known for value-priced, durable luggage, and its Packable Duffel is a great example of just how much bang for your buck the brand can deliver. Although the design is pretty simple—a single 40-liter compartment accessed by a U-shaped zipper—you don't need a lot of frills if all you're looking for is an extra bag to tote your shopping haul. When the bag is folded down, you'll see it take up less than 10 inches of space. Plus, the bag has a lifetime warranty—a sure sign of a company standing behind their product—so if something happens to go wrong, you know that you'll be reimbursed. It's a win-win!
Shop Now
RELATED: Luggage Brands That Stand Behind Their Gear: The Best Warranties and Return Policies
4
Best Foldable Luggage Bag

It's surprising that a bag this large (60 liters!) could pack down so small, but that's the brilliance of the Eagle Creek Hauler Duffle bag. It folds down right into its front compartment, which makes it easy to slip into a tight space in the closet when you're back from your trip—or tuck in your suitcase for extra shopping while you're abroad. There are plenty of other smart details packed into this compact case, too: The bottom is foam-padded (making it it extra-protective if you should happen to buy something lovely and breakable like ceramics), and it has doubled-up reinforcement where the bag's most likely to take on some stress. If you really want to get adventurous, it even has lash points to attach to a roof rack on your next road trip (luckily, it's water-repellant too).
Shop Now
RELATED: Which Eagle Creek Luggage Should You Get?
5
Best Foldable Nylon Tote Bag

Baggu makes some of the best foldable nylon tote bags of all time—in fact, they're one of the companies that popularized the concept of reusable bags back in 2007. But Baggu isn't all solid colors and one note. The company often collaborates with other designers to make artistic tote bags that stand out from the crowd—and, thanks to the design-driven aesthetic, look pretty polished on the street, too. Baggu's collaboration with the Portland-based and beloved Pendleton brand is especially pretty with Native American-inspired patterns. The bag packs down into a six-by-six-inch pouch for easy carrying wherever you go, and if you're in Portland, the first stop should definitely be Portland Saturday Market. No worries about seams bursting, either: Bags are built to hold up to 30 pounds, so shop away.
Shop Now
6
Best Collapsible Travel Bag With Wheels

Lipault has a solid reputation for quality when it comes to luggage, and for many devotees of the brand, the Paris foldable rolling travel bag is a godsend. Not only does the Paris bag fold down, but it comes with its own storage case to reduce bangs and bumps. The two wheels allow you to move easily without weighing the bag down further—although it's already quite lightweight at seven pounds. It also comes with a three-year guarantee, so the company will stand by the product if something goes awry. Just be careful of overpacking it—it's so spacious that it's tempting to risk violating some of the airlines' weight restrictions.
Shop Now
RELATED: 9 Ways to Make Your Suitcase Stand Out at the Luggage Carousel
7
Best Foldable Luxury Bag

Everyone knows about Longchamp's iconic Le Pliage bags, but their Expandable Travel Duffle Weekender really shows off the magic Longchamp can pull off with nylon. The Weekender folds in from its full 20.5-inch length to a tidy 14-inch hang, and the construction means that it's easy to roll up and store in your suitcase or at home in your closet when you don't need it (although it's pretty handy for the gym, too). The canvas strap clips on and off, and it's long enough to use cross-body style to ease shoulder strain. Thanks to Longchamp's legendary quality, it's a bag that will last for years and shopping trips, to come.
Shop Now
8
Best Foldable Toiletry Bag

This might not be the most glamorous toiletry bag on the market, but when it comes down to practicality—and, after all, that's one of the most important things you should look for in luggage—there's little that can beat Eagle Creek's Pack-It Wallaby bag. Not only is it stain- and water-resistant (shampoo leaks are no fun) but it also has two zippered pockets, three slip pockets, and a handy swivel hook for hanging in hotel room or cruise ship bathrooms. Backpackers staying in hostels, where mirrors aren't exactly plentiful, will appreciate that it includes a shatterproof mirror built right in. Plus, it's made from a polyester micro-weave, meaning that this handy bag will hold up for trip after trip. Pro tip: wrap any delicate items you buy (like perfume or glass) in tissue paper and stash them in your toiletry bag, the additional padding will provide extra protection.
Shop Now
9
Best Foldable Garment Bag

Garment bags have one job, and it's to get your suits, shirts, and dresses wrinkle-free from point A to point B. The Slim Garment Bag by WallyBags hits that mark and then some. It attaches nicely to a carry-on bag, making it easy to haul through the airport, and when you get to your destination (or return home) there's no need for special hangers. You can hang your suits up straight out of the bag, and then fold it in half again to store it when it's not in use. Bonus: There are two zippered shoe pockets, plus an additional pocket for jewelry, pocket squares, or ties. It's also lightweight, water repellant, and durable, thanks to its polyester construction and it cleans easily with a quick wipe. Try this garment bag once and it will be difficult to travel without it again.
Shop Now
Related Stories
All products have been hand-picked by our writers and editors. Items purchased through links may earn us a commission.