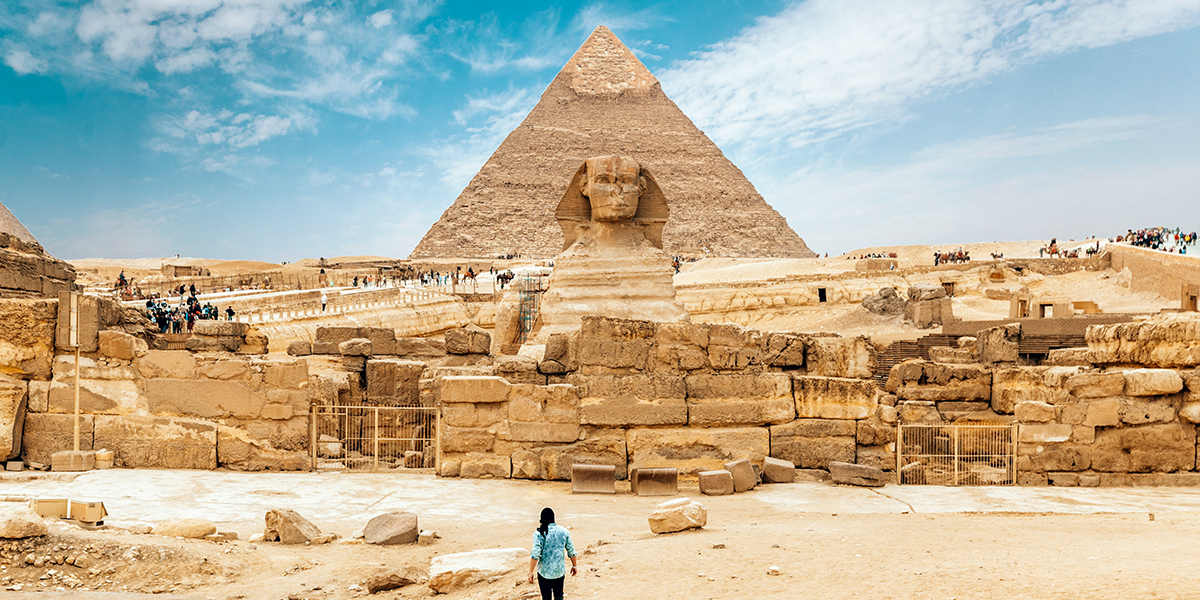 By Destination
The Ultimate Cairo Packing List
Cairo is one of the more difficult places to pack for, as it's a desert metropolis where covering up is part of the culture. If your warm-weather wardrobe is missing maxi skirts, loose fitting pants, and tunics, it's time to go shopping. One of the handiest items you'll want to include is a linen or lightweight cotton long-sleeve button-down, which can be layered over a T-shirt and looks cute knotted at the waist. It's fun to buy colorful scarves at the city's markets, but do pick one up before your trip to have on hand. There's a lot more to know for navigating how to dress in Cairo, so read on for our best advice on pulling together a fail-safe Cairo travel wardrobe, plus travel tips and an essential packing list. Selfie in front of the pyramids, here you come!
YOUR SUITCASE PACKING CHECKLIST 
*Keep these items in your carry-on
Clothes to Pack
Underwear
Bras/camis/undershirts
Socks/tights
PJs
T-shirts
Pull-on/button-up shirts
Skirts
Sweaters/sweatshirts
Swimsuit
Jacket
Shoes to Pack
Heels/dress shoes
Sandals/flip-flops
Sneakers
Boots
Accessories to Pack
Purse
Jewelry*
Belts
Ties
Fold-down tote
Toiletries to Pack
Toothbrush
Dental floss
Body wash/soap
Deodorant
Face wash/makeup remover
Moisturizer
Contact lenses/solution
Razor/shaving cream
Shampoo/conditioner
Brush/comb
Earplugs/eye mask*
Tissues*
Hair-dryer/styling tools
Hair elastics/hair accessories
Tampons/pads*
Birth control/condoms*
Hand sanitizer*
Bandages
First-aid ointment
Bug spray
Medications/vitamins*
Stain remover
Tech to Pack
Phone/charger*
Portable battery charger
Laptop/tablet/e-reader*
Device chargers*
Power adapter (international travel)
Camera/video camera*
Memory card/film*
Other Essentials to Pack
Wallet (credit/debit cards/ID/cash)*
Passport/visa*
Keys*
Medical insurance card*
Snacks/gum*
Water bottle (empty)*
Books/magazines/guidebook*
Travel pillow/blanket/wrap*
Laundry bag
Helpful Printouts to Pack
Emergency contacts*
Boarding pass/hotel and car rental reservations*
Maps/directions*
Bank/credit card contact info*
Copies of passport/ID*
THE PERFECT LUGGAGE
While this carry-on piece from eBags is constructed from Makrolon Polycarbonate, its ribbed mirror finish and high-end Hinomoto spinner wheels make it look like a pricey aluminum suitcase. If you need a little more packing room and don't mind checking luggage, the sleek Samsonite Englewood hardside is an excellent choice. It's made from lightweight polycarbonate, and has spinner wheels and a TSA-approved lock, plus it expands up to 1.5 inches (perfect if you plan on coming home with souvenirs). For a longer trip, we love Away's Large suitcase, which comes with a lifetime warranty and is available in nine attractive colors. It has an interior compression system along with a zippered mesh section and a hidden laundry bag that's super useful if traveling for more than a week.
THE 3 PAIRS OF SHOES YOU'LL NEED FOR EXPLORING CAIRO
The streets of Cairo are dusty, so wearing lightweight, closed-toe shoes is the way to go—flip-flops are not. Bring sandals that are comfortable enough to switch out with your city walking shoes, such as flat espadrilles with a rubber sole or a pair of stylish sneakers. Sporty sandals are good for more active pursuits, like for a side-trip to see the pyramids. Gladiator sandals work at the hotel pool by day and just as well in the evening with a maxi dress. Guys can opt for huaraches to check the same dual-purpose box, and add something comfortable and casual, such as slip-on canvas shoes, which are extremely versatile.
Women's Shoes
Men's Shoes
STYLE FOR CAIRO
Style in Cairo is influenced by Muslim observances with regards to dressing—especially for women. Headscarves and modest clothing that cover arms and legs, like jeans, lightweight pants, or a long skirt with a tunic or caftan, is the go-to for casual wear. In winter, blazers, open cardigans, and denim jackets are added. Ladies often throw on heels for a night out and accessorize with earrings, bangles, and sparkly necklaces. Men in Cairo are smartly dressed, typically in trousers, a button-down shirt, and polished dress shoes. Jeans are neat, worn with fitted t-shirts, polo shirts, and blazers. While tourists won't be held to the exact same standards as locals (Western women don't need to cover their heads unless they're visiting a mosque), Egypt is a conservative country and visitors should dress modestly.
Women's Street Style for Cairo
Men's Street Style for Cairo
FIVE FOOLPROOF OUTFITS FOR YOUR TRIP TO CAIRO
1. WHAT TO WEAR TO SHOP KHAN EL-KHALILI MARKET
Wandering through bustling Khan El-Khalili Market is a must on a first trip (or a fifth trip) to Cairo. Go for an outfit that's comfortable, washes easily, and dries quickly, such as this brilliant jersey skirt from Lands' End paired with a loose-fitting cotton top. Lightweight linen pants work just as well for men. Sandals are fine, but lightweight closed-toe shoes are a better choice.
Women's Khan El-Khalili Market Outfit
Men's Khan El-Khalili Market Outfit
2. WHAT TO WEAR TO TOUR THE GIZA PYRAMIDS
For most of the year the sun is brutal in the Sahara Desert, and while it may seem counterintuitive, covering up with ultra-lightweight cotton or linen will keep you coolest. Wide-leg pants with a linen shirt are the perfect combo. Strap on chunky sandals that won't flop off your feet in the sand and are rugged enough for climbing. A sun hat is an absolute must for blocking rays and whipping sand.
Women's Giza Pyramids Outfit
Men's Giza Pyramids Outfit
3. WHAT TO WEAR TO VISIT THE CAIRO CITADEL
The Citadel is one of Cairo's top sights. Its grand rooms and expansive courtyards call for an outfit that's polished but comfortable, since you'll likely spend the better part of a day touring. An easy-to-wear skirt and lightweight top fits the bill. Guys can opt for cotton trousers and a polo shirt.
Women's Cairo Citadel Outfit
Men's Cairo Citadel Outfit
4. WHAT TO WEAR FOR A HOOKAH LOUNGE CRAWL
Cairo's shisha (hookah) joints range from causal tea-sipping cafes to sceney bars with dim, sexy lighting. Wear jeans, rather than a dress or skirt, to comfortably relax on low seating. White denim always looks sharp, and works well with a striped tunic top. Slim-fit dark jeans, a black button-down, and a belt with a brushed sliver buckle is standard for guys.
Women's Hookah Lounge Crawl Outfit
5. WHAT TO WEAR ON A NILE CRUISE
To cruise down the Nile in style, pack a nice outfit for evening, as people tend to get dressed up for dinner. A maxi dress in a summery fabric worn with strappy sandals is a no-fail option. Ditto for a pair of tailored linen pants and a button down. You'll also need tourist essentials of sunglasses and a camera bag.
Women's Nile Cruise Outfit
WHAT NOT TO PACK FOR CAIRO
Weather conditions in Cairo rarely call for anything heavier than a denim jacket or trench coat with maybe a scarf. You probably won't need an umbrella for rain, but it's useful if you want shade while sightseeing. If you do bring one, choose a light color that you won't bake standing under. Men and women should leave any clothing that's too revealing at home. That means no tank tops, cropped shirts, or too-short shorts. Don't bring flimsy footwear that easily flops off your feet, as the streets are dusty and uneven. If your night out won't include taking a taxi or Uber, skip the high heels.
THE *ONE THING* WTP EDITORS ALWAYS PACK FOR CAIRO

Okay, we know this is technically labeled as a Turkish towel, but hear us out. These lightweight towels make excellent travel wraps. Don't think of it as a towel (though you could certainly dry yourself off with this after swimming) just think of it as your high quality, lightweight, and lovely travel shawl. Throw it in your bag for an easy head or shoulder cover at a mosque or on the street—or use it to battle air-conditioning drafts during a dinner of chicken sharkaseya at Le Pacha 1901. The wrap comes in 21 pretty colors, but we like a simple blue with white fringe to match most outfits. Sure, you'll probably pick up several scarves and shawls while shopping at Khan El Khalili in Cairo, but we promise that this Turkish towel wrap will be your go-to travel companion through all of Cairo and on multiple trips to come.
CAIRO'S WEATHER AND SEASONS
The sun is brutally hot year-round in Cairo, with very dry conditions and almost no rain. The good news is that even in the height of summer, when the thermometer soars past 90 degrees midday, it cools off significantly at night. Temps can drop more than 20 degrees, and it's pleasant to dine outside on balmy evenings. December and January are the coldest months—and a comfortable time of year to travel—but it can be breezy, and evenings are often chilly, dipping below 40 degrees. March and April are also windy, and with spring comes the occasional sandstorm. Expect highs in the mid-70s and low 80s during the day.
Note: This data comes from our friends at Weather.com. We recommend using this together with a traditional forecast as you get closer to your departure date.
JANUARY 
Plan for day temps between 49 and 65
Expect 0.2 inches of precipitation
What to Wear in Cairo in January: January is Cairo's coldest month, so be sure to bring a lightweight jacket and a pair of jeans. As for footwear, a pair of boots or lace-up shoes will keep your feet warm.
Recommendations: Wide-leg women's jeans, women's utility jacket, black ankle boots
FEBRUARY
Plan for day temps between 50 and 68
Expect 0.2 inches of precipitation
What to Wear in Cairo in February: February is only slightly warmer than January. You may not need a jacket if sitting outside midday at a cafe, but it gets too cold after the sun goes down to be without one. Pack a few pairs of tights to wear underneath skirts, plus a few long sleeve t-shirts.
Recommendations: Striped maxi skirt, chunky clogs, pullover women's sweater
MARCH
Plan for day temps between 54 and 73
Expect 0.1 inches of precipitation
What to Wear in Cairo in March: Weather warms up in March, but spring is windy and can bring the occasional sandstorm. Pants and a button-down with roll-up sleeves is a smart choice, and won't get caught in the breeze like a skirt or dress.
Recommendations: Men's linen pants, women's chambray shirt, men's linen shirt
APRIL
Plan for day temps between 59 and 82
Expect 0.1 inches of precipitation
What to Wear in Cairo in April: Windy conditions continue through April, but it's also the first truly warm month of the year, when the thermometer hits 80. Opt for lightweight, comfortable fabrics, like tissue-thin tees and maxi skirts.
Recommendations: Jersey maxi skirt, women's 3/4 tee-shirt, men's long-sleeved tee
MAY
Plan for day temps between 64 and 89
Expect 0 inches of precipitation
What to Wear in Cairo in May: Summer is in full swing in May. Wide-leg cotton pants are just as comfortable as a long skirt and look great with a tunic. Invest in stylish, practical comfort sandals for your trip—and a pair of high-quality polarized sunglasses.
Recommendations: Women's wide-leg pants, fitted boyfriend shirt, women's Sorel sandals
JUNE
Plan for day temps between 70 and 93
Expect 0 inches of precipitation
What to Wear in Cairo in June: Staying cool can be a challenge in June, when temps start to soar past 90 degrees. Stick to loose-fitting items and don't forget a wide-brim hat to keep the sun off your face.
Recommendations: Women's floppy straw hat, mustard midi dress, baseball cap
JULY
Plan for day temps between 72 and 93
Expect 0 inches of precipitation
What to Wear in Cairo in July: July is Cairo's hottest month, and lightweight items that offer coverage are key. Don't expect to find AC wherever you go, but you'll appreciate long sleeves and ankle-length skirts in a chilly hotel or restaurant.
Recommendations: Linen relaxed shirt, knit maxi skirt, Madewell lace-up sandals
AUGUST
Plan for day temps between 72 and 92
Expect 0 inches of precipitation
What to Wear in Cairo in August: August is more or less the same is July. Bring all the linen in your closet, plus a pair of strappy sandals.
Recommendations: Women's linen tie front shirt, women's linen matching pants, strappy sandals
SEPTEMBER
Plan for day temps between 69 and 90
Expect 0 inches of precipitation
What to Wear in Cairo in September: September is a little cooler than August, but not by much. The sun is just as brutal, so plan midday indoor activities, like visiting churches and museums. You can't go wrong with a breezy cotton  skirt, tie-front top, and a pair of Keds.
Recommendations: Patchwork skirt, scoop neck blouse, Keds sneakers
OCTOBER
Plan for day temps between 65 and 85
Expect 0 inches of precipitation
What to Wear in Cairo in October: October brings the first hint of relief from the heat, but clothes should still be lightweight and easy to wear. A large bandana can keep things conservative and fashionable.
Recommendations: Men's collarless button-down, tiger bandana, women's linen trousers
NOVEMBER
Plan for day temps between 58 and 75
Expect 0.1 inches of precipitation
What to Wear in Cairo in November: A welcome blast of cooler weather comes in November, one of the most pleasant months to visit Cairo. Swap the super-summery clothing for denim and heavier-knit shirts.
Recommendations: Lucky women's white jeans, striped boatneck top, black espadrilles 
DECEMBER
Plan for day temps between 51 and 67
Expect 0.2 inches of precipitation
What to Wear in Cairo in December: It can be downright chilly in December, but getting dressed is effortless in comparison to summer, when figuring out how to cover up without sweltering can be a challenge. Throw on jeans, a relaxed sweater, and boots.
Recommendations: Frayed skinny jeans, men's soft cotton jeans, men's boots
FREQUENTLY ASKED QUESTIONS ABOUT CAIRO

Is Cairo, Egypt safe in 2019?
As of this writing, the U.S. State Department advises exercising "increased caution" due to terrorism. Traveling to the Sinai Peninsula (with the exception of travel to Sharm El-Sheikh, by air), the Western Desert, and the Egyptian border areas are off limits. That said, tourism in Cairo has made a significant rebound since 2016 following years of political turmoil. There are no warnings for major tourist areas in and outside of Cairo, but it's a good idea to keep an eye on the news and check government websites just prior to travel.
What are some lesser-known sights to see when visiting Cairo?
For a less crowded pyramid experience, head to the Pyramid of Djoser (aka the "Step Pyramid"), located in Saqqara, about an hour outside Cairo. Al Manial Palace on Roda Island on the Nile and the rococo Aisha Fahmy Palace, which reopened in 2017 as an arts center, are both well-worth including on your itinerary. Art and design enthusiasts may want to check out Museo Mevlevi and the Gayer-Anderson Museum. Don't miss the Monastery of Saint Simon, an impressive church that occupies a cave in southeastern Cairo. For a break from the city's hectic streets, take respite at Al-Andalus Garden.
Do I have to dress modestly in Cairo?
Dressing modestly isn't required by law, but it shows respect and good manners, which is even more important if visiting during holy periods such as Ramadan. It also can open doors, often leading to deeper, more authentic travel experiences, like getting invited into someone's home or participating in local customs or events. When visiting a mosque, absolutely cover your head and shoulders. Be prepared by keeping a headscarf and lightweight shawl in your bag. You'll certainly see tourists in shorts and t-shirts, and while that's acceptable—as long as they aren't too skimpy—do consider wearing wrist- and ankle-length clothing. Even at hotel pools that cater to Westerners, you may be more comfortable swimming in a cover-up. Better yet, bring a rashguard, which serves two purposes (sun protection and modesty). Traveling here can be hard enough—particularly for women—so the more you blend in, the better. With wide-leg pants, tunics, and maxi skirts in style, it's easy to make the effort. We recommend it.
Is sexual harassment an issue in Cairo?
Crime against women is an issue in Cairo, and the majority of female visitors experience some sort of sexual harassment on the street. Unwanted attention or assault is never the victim's fault, but minding a few best practices will increase the chances of staying safe. Making eye contact with men is considered flirting and may lead to unwanted encounters. Sunglasses with dark or mirrored lenses are a smart workaround. If you're a woman traveling solo, slipping a simple wedding band on your ring finger isn't a bad idea if you aren't already wearing one. Sadly, being accompanied by a man is perhaps your best defense again harassment. Be extra street-savvy, too, and avoid walking around at night alone, particularly in desolate areas
What is the fastest way to get around Cairo?
There's a lot of traffic congestion in Cairo, and so for convenience and cost-effectiveness, you'll want to take the metro. It's well maintained, inexpensive, and easy to navigate. Plus, the stations have artful murals and replicas of museum masterpieces. Three lines meet in the city center (Line 1 is Marg to Helwan; Line 2 is Shubra to Giza; and Line 3 is Attaba to Korba). There are women-only cars on each train. Uber is surprisingly affordable and a viable option for destinations beyond the reach of the metro. Taxis have metered fares. Skip taking the buses and microbuses, which tend to idle in never ending traffic.
Related Stories