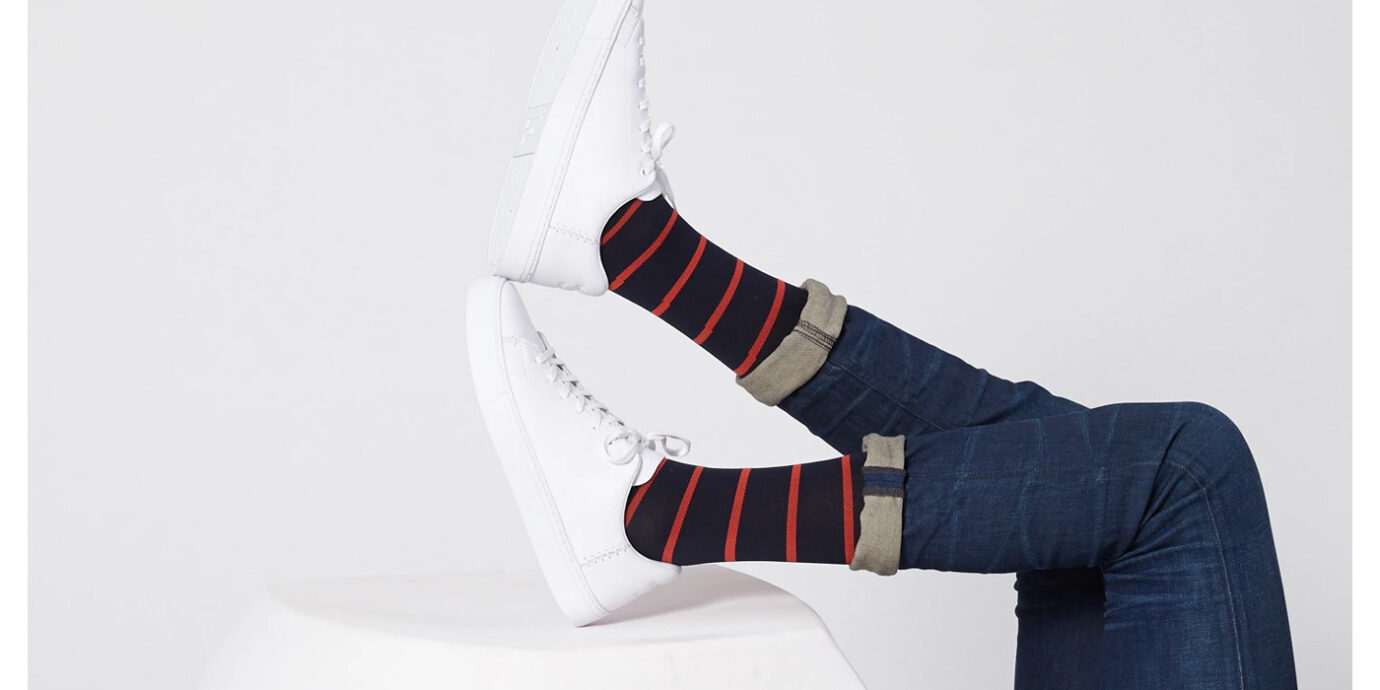 Shop
The 10 Best Socks for all Your Travel (And Daily) Needs
When it comes to clothes, socks are sadly underappreciated. Raise your hand if you've got more than one pair of holey, mismatched, or stretched out socks taking up space in your drawer. It's time to toss those for good and upgrade your sock game. A good sock can make an outfit, and keep your feet free of blisters, odors, and moisture. Here are the 10 best socks for wherever your journey takes you—whether it's a long-haul flight, a hike through Yosemite, or your daily office commute. Show off your socks!
1
Best Women's Socks

Just like a beloved sweater, these comfy, colorful socks from Smart Wool will become a wardrobe staple. Not too tall, not too short, the wool-blend socks are softly cushioned at the bottom, provide gentle arch support, and are designed to be cleaned in the washer and dryer. The biggest problem is deciding which of the 15 color patterns to choose. But hey, they're the perfect socks, so go ahead and order an extra pair—or three.
$22.95 at Amazon
2
Best Men's Socks
If you want an upgrade from the economy pack of supermarket socks, try out Darn Tough's crew socks. The fine-knit merino wool is blended with acrylic for easy care, and they are pretty breathable, too, making them a good choice to wear to the office or gym. One Amazon reviewer puts it perfectly, "I'm ordering more as we speak, working toward an entire collection of only these socks." #sockgoals
$21.95 at Amazon
3
Best Compression Socks

Long flights are hard on your body and can be dangerous for circulation. Fight back with Comrad's compression socks. They put a gentle squeeze on your legs to keep the blood circulating when you're sitting, walking, or standing, which ultimately means happier feet and legs. Oh, and anti-microbial technology is odor- and moisture-wicking for complete comfort and no smelly feet. Once you become a compression sock convert, you may just find yourself wearing them during workouts, and to the office, too. Good thing they're available in enough colors and patterns to be paired with every outfit in your closet.
$29 at Comrad
4
Best Socks for a Flight

If you don't want the hug of compression socks, but still want to keep your feet warm and snug on those overly air conditioned long haul flights, the over-the-calf style from Darn Tough fits the bill. Made of ethically-sourced merino wool, the sole is soft and cushioned, and the fibers are naturally antimicrobial. But please, don't walk around the airplane, especially the bathroom, without wearing shoes!
$25.95 at Amazon
5
Best Cozy Socks

Whether on a romantic ski vacation or curled up at home alone during a cold, snowy day, thermal socks are the best bet for warm feet and cozy vibes. Heat Holders are designed to keep your body's heat in, while still being breathable so you don't suffer the doubly tragic fate of sweaty feet and damp socks. The brushed interior fabric adds an extra layer of comfort. Pair them with our favorite waterproof boots if you're venturing into the snow.
$15.99 at Amazon
6
Best Ankle Socks

Thankfully for your feet, it's considered high-fashion to coordinate sneakers with skirts, pants, or just about any outfit. These Bomba ankle socks pair perfectly with sneakers. The rolled ankle cushion prevents heel blisters and the honeycomb stretch fabric provides added arch support. It's the extra boost you need to power you through that last mile of your day and keep you looking cute, whether touring the Taj Mahal or wandering the streets of Rome for gelato.
$21.99 at Amazon
7
Best Crew Socks

When it comes to dependable, everyday socks that you need as a workhorse, Hanes' crew socks are a go-to favorite on Amazon and beyond. They feature a reinforced toe and heel, and are easy to wash and dry without any shrinkage. Really, you can't beat the value. At less than $8 for a six-pack of black (or white) socks, you won't curse the dryer the next time it mysteriously eats one, leaving you with the sad, loner sock.
$7.63 (for 6 pairs) at Amazon
8
Best Men's Fashion Socks

For a fashion splurge and pop of color, Missoni's knitted socks can liven up a minimalistic travel wardrobe. The fine-knit design remains true to Missoni's world famous aesthetic, with zig-zagging color blocks and enough texture to look cool without feeling comical on your feet. Don them for dinner with your special someone or as your power socks of choice for your next client meeting. Also good for any days that require a little pep in your step.
$45 at Zappos
9
Best Fun Socks

Wearable souvenirs? Yes, please. Hot Sox's travel series socks are a playful pop of color and sense of place for your outfit. Choose from a number of iconic destination designs from Cuba to California, with fun vintage-inspired details like roses for Portland and a Florida sunset. No plane ticket required.
$5.67 at Amazon
10
Best Hiking Socks

Don't skimp when it comes to hiking socks or boots. And who do we trust more than Danes when it comes to design and style? An Amazon bestseller, these colorful hiking socks by Danish Endurance provide extra cushioning and support whether you're hiking El Camino or a coastal California trail. This all-important sock base layer protects your feet from painful blisters and helps regulate temperatures. It's not recommended these socks ever see the inside of a dryer, but chances are high that you're hand-washing these socks in a stream, anyway.
$28.95 (for 3 pairs) at Amazon
Related Stories
All products have been hand-picked by our writers and editors. Items purchased through links may earn us a commission.